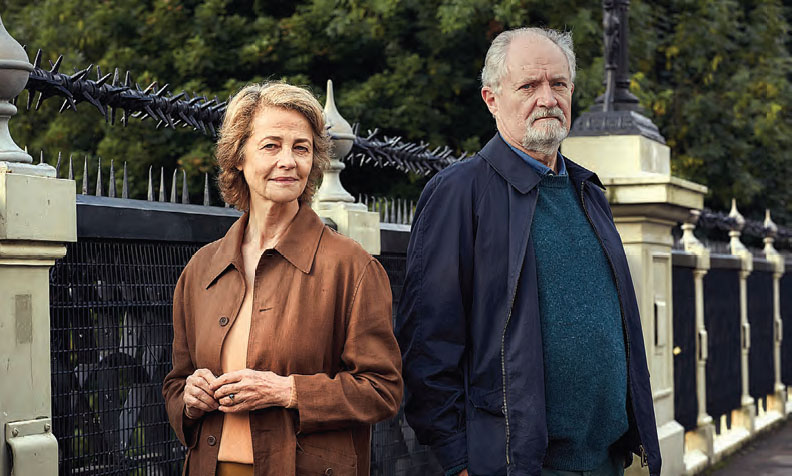 Things to do on this side of the pond
Royal Shakespeare Company's The Tempest
11
S
imon Russell Beale is Prospero in a high-tech staging that transforms Ariel into an animated character! You'll have to see it to believe it, but all that digital magic doesn't take away the gravity and pathos of this critically acclaimed production directed by Gregory Doran. Screenings in US theaters start on March 1.
Check rsc.org.uk for locations near you.

The Sense of an Ending
11
J
im Broadbent stars in a meditative mystery about selective memory and a youthful misunderstanding that haunts a man four decades later. Charlotte Rampling and Michelle Dockery (yes, Lady Mary!) also star in this adaptation of Julian Barnes' devastating 2011 Man Booker Prize-winning novel.
Opens March 10.
Desert Island Discs:
11
T
he classic Brit radio show's huge archive of intimate celeb interviews is now available! Download decades of episodes to learn things like Princess Margaret's earliest memory, Judi Dench's inspiration and Julian Fellowes' thoughts on class in between the eight pieces of music they'd take with them to a desert island.
Go to iPlayer Radio at bbc.co.uk and iTunes.

Witness for the Prosecution
11
This brand-new adaptation of the Agatha Christie story comes out on DVD April 25, so you'll be able to rewatch all the courtroom drama and shocking twists over and over. It stars Toby Jones (
Detectorists
) and Andrea Riseborough (
Bloodline
) with Kim Cattrall (
Sex and the City)
as the glamorous, wealthy murdered widow.
On sale April 25. acorndvd.com
National Talk Like Shakespeare Day
I
f reciting "To Be or Not to Be" and getting through your workday while spouting iambic pentameter sounds impossible, doth not pain thyself, sirrah! Just substitute "thee" or "thou" for "you" and add "th" onto your verbs to celebrate the Bard's birthday in the linguistically appropriate style!
Mark your calendars for 
April 23!
The 2017 New York Tartan Day Parade
11
S
how off your Scot pride by marching up Sixth Avenue alongside all the bagpipes, kilts and green plaid a lad or lassie could desire. (Check out
Outlander's
Sam Heughan as last year's grand marshal (left). It kicks off at 2 p.m. on Saturday, April 8. Visit
nyctartanweek.org
to find out about events before and after and register to join the parade.

Turner's Modern and Ancient Ports
11
M
ore than 30 of J.M.W. Turner's oil paintings, watercolors, sketchbooks and prints will be on display for a major exhibition at New York's Frick Collection. If you enjoy British naval history, boats entering a harbor or magnificent displays of light and color, this is for you.
frick.org; 212-288-0700


National Theatre Live
11
Tamsin Greig (Showtime's Episodes) plays Malvolia in a new production of Twelfth Night directed by Simon Godwin. Viola and Sebastian shipwreck into a tale of unrequited love, crossdressing and mistaken identity. The "live" broadcast hits cinemas in the US (just a few hours later) on April 6.
The Royal Oak Foundation Lectures
11

B
HT
readers can hear award-winning author Sally Bedell Smith discuss her new biography about the man who will be King,
Prince Charles: The Passions and Paradoxes of an Improbable Life
. Smith will appear in New York on 4/5, LA on 4/17 and San Fran on 4/20 before visiting Chicago, Boston and other cities throughout the spring.
Check dates and dress code and register after February 22 at royal-oak.org/lectures or call 212-480-2889, ext. 201. Use the code 17SBHT for the discounted member price!

My Fair Lady
11
Y
ou can watch Professor Henry Higgins and Eliza Doolittle dance all night (or at least for two acts) in the much-loved musical based on George Bernard Shaw's
Pygmalion
. Performances begin at the Lyric Opera of Chicago on April 28.
lyricopera.org
;
312-827-5600
Yale Center for British Art
C
atch
Enlightened Princesses: Caroline, Augusta, Charlotte, and the Shaping of the Modern World before
it leaves for Kensington Palace on April 30. With nearly 300 objects from public and private collections, the exhibit celebrates three Hanoverians— Caroline of Ansbach, Augusta of Saxe-Gotha and Charlotte of Mecklenburg-Strelitz—who married Brit royalty and shaped both society and culture.
britishart.yale.edu

;

877-274-8278
[caption id="Anglo-File_img12" align="aligncenter" width="253"]
11
Johan Joseph Zoffany, Queen Charlotte, 1771, oil on canvas, Royal Collection Trust, UK[/caption]