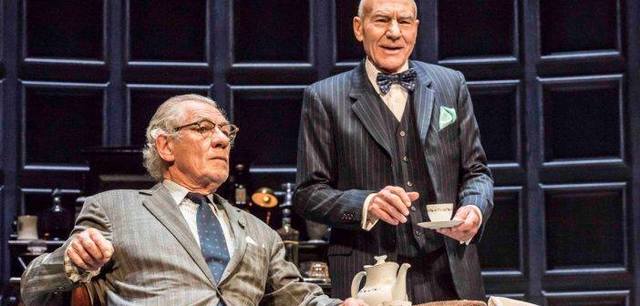 This podcast series from Masterpiece on PBS takes you behind the scenes of all your favorite series—from Downton Abbey to Poldark to the upcoming Victoria—featuring interviews with some of the biggest stars.
10
Don't miss Poldark's Aidan Turner's interview on Nov. 28 after you watch the final episode of season two. pbs.org/masterpiecepodcast

Fantastic Beasts and Where to Find Them
10
Seventy years before Harry Potter bought his wand, Newt Scamander (Eddie Redmayne) lost a case filled with magical monsters. This might seem out of place for us, but plenty of anglophiles, especially those who came of age reading about the kids at Hogwarts, miss the stylish wizarding world J.K Rowling created and are hugging their inner child in anticipation. Opening Nov. 18
10

A
s part of The Royal Oak Foundation lecture series,
Modern Aristocrats: Ancestral Houses and Their Stories
author James Reginato will be sharing tales about Britain's greatest homes and the current occupants keeping their heritage alive (such as David and Rose, the 7th Marquess and Marchioness of Cholmondeley, seen here at Houghton Hall in Norfolk). You can hear Reginato in Philadelphia on Nov 1 and Atlanta on
Nov 29.
To find out more, visit
royal-oak.org/lectures.
10
T
his February, classic and current movies from around the world—but, as promised, mostly from Britain—come to the Bay Area. The lineup for the ninth year hasn't been finalized yet, but expect an amazing mix of old (like
A Hard Day's Night
, the Fab Four's best movie) and new from many different genres—including some Q&As with filmmakers. Start making your plans to head to San Fran this winter!
Feb. 16—23, 2017
mostlybritish.org
10
T
hough they normally appear together as mutants in the
X-Men
movies, Sir Patrick Stewart and Sir Ian McKellen switch things up by playing drunken writers in this dark, comic play by one of Britain's greatest playwrights, Harold Pinter. The "live" broadcast (usually delayed just a few hours here in the States) will be beamed from Wyndham's Theatre in London on
Dec. 15
to movie houses across the U.S.—with encore performances to follow. Check
ntlive.nationaltheatre.org.uk
for the screening closest to you.
10
I
f you've missed any episodes this fall (or just want to watch them over and over), you can buy the season two DVD on
Nov. 22.
That's 10 full hours of smoldering Ross, feisty Demelza, beautiful Elizabeth and scheming Warleggan in 1790s Cornwall.
shoppbs.org
10
S
ee the works of British-Nigerian artist Yinka Shonibare until
Dec. 11.
Shonibare explores colonialism and Britain's history through different mediums with a particular interest in the life, death and legacy of Admiral Lord Nelson, whom "the artist uses as an emblem of Britain's imperial past." You can check out the original scale model of Nelson's Ship in a Bottle; the bigger version was unveiled in 2010 in Trafalgar Square.
britishart.yale.edu
10
S
hakespeare performed with "a series of lovingly made miniatures and a collection of everyday unextraordinary objects," this production, made in association with the British Council, sounds about as experimental as it gets, so be prepared to see the Bard as never before at the Center for the Art of Performance at UCLA.
Dec. 6-11.
cap.ucla.edu

10
E
nter a virtual world of Regency England based on the works of Jane Austen. Unlike other games, "it's not about kill or be killed but invite or be invited. Gossip is our weapon of choice. Instead of raids, we will have grand balls. Instead of dungeons, we will have dinner parties." The game isn't released yet, but Janites can sign up and play Lizzie at
everjane.com.