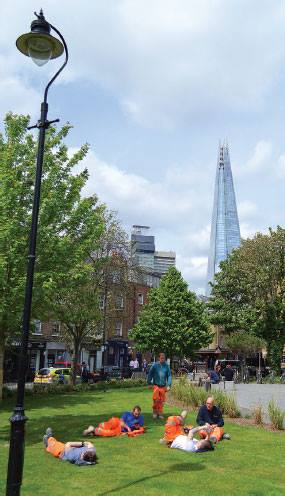 Just five minutes and a world away
[caption id="StrollingBermondseyJustfiveminutesandaworldaway_img1" align="alignleft" width="285"]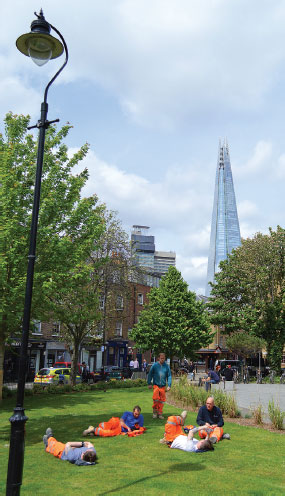 4
The towering presence of the Shard makes it impossible to get lost in Bermondsey.
[/caption]
MUCH LIKE SPITALFIELDS in the 1980s and '90s, no one really talked about Bermondsey. They certainly never went there. It was another part of London that gave the city its foggy reputation– industrial, poor, difficult to get to. If you were sensible, you'd get out of there as quickly as possible, across Tower Bridge to the City of London. Even when the great gentrification of the South Bank happened a decade or so ago, everyone went west to Borough Market and Shakespeare's Globe.
Just like Spitalfields, however, the area around London Bridge station has fabulous historic streets, shop fronts and pubs. Just like Spitalfields, the area had been so poor no one noticed Georgian town houses, Queen Anne doorways, Victorian window shutters and curious historic buildings hidden under the grime. And just like Spitalfields, that very poverty had saved them–no one had bothered to modernize. A few years ago the artists moved in, closely followed by the "creative industries." Now Bermondsey is the place to be, if you're into anything artsy, or increasingly public relations and advertising-related. A fascinating, vibrant area rapidly becoming gentrified, now is the perfect time to see one of the last undiscovered areas of London before Big Business muscles in and the charm is lost.
[caption id="StrollingBermondseyJustfiveminutesandaworldaway_img2" align="alignright" width="412"]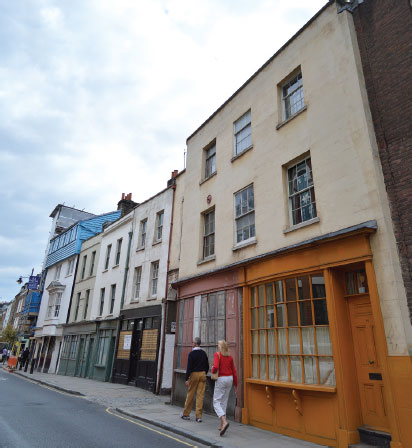 4
Georgian and Victorian shop fronts and doorways have been left unaltered along Bermondsey Street.
[/caption]
Not too many celebrities chose to live here in the past–the area's most famous son, Charlie Chaplin, couldn't wait to get out, having been brought up in various workhouses–but along with the artists, the celebrities are moving in. Actors Chris O'Dowd and Patrick Stewart both live here, as does fashion designer Zandra Rhodes.
Arriving at London Bridge station, the Shard towers above you. It will be impossible to get lost as, wherever you go, its glass needle will tell you exactly where you need to get back to. Instead of joining the crowds going to Borough and the South Bank, head down the shiny new escalator and walk back into history.
BERMONDSEY STREET is clearly marked on signposts. It's a five-minute walk, and once upgrade work on London Bridge station is done, it will be even easier. If you're here on a Saturday, you could continue along the railway arches to Maltby Street Market, the place for foodies bored with all the tourists at Borough Market. Find fresh breads, cakes, meats, cheeses and preserves, and more lunch than you could possibly ever eat. The rest of the week sees an architectural salvage company trading from the same place, a delightful link with Bermondsey's earthier past.
Strolling down Bermondsey Street, you'll find fabulous Queen Anne doorways, Georgian shutters, Victorian warehouses, interesting alleyways (it's worth taking detours if your eye catches an interesting garden or curious vista) and not a few oddities—quirky old signs, bizarre pub signs and even, in one window, a stuffed dodo.
The street is mainly craft stores and cafes these days, but you'll not want to miss the Fashion and Textile Museum, founded by long-term resident Zandra Rhodes. You only need to look at the street names, Tanner Sreet and Leathermarket Street, and buildings such as the historic Leather, Hide and Wool Exchange, or pubs like the Woolpack, to know Bermondsey has long associations with the textile industries. Most of the museum's exhibitions tend toward the more glamorous end of the fashion industry. I am looking forward to their next one, 1920s Jazz Age Fashion–featuring fringed flapper dresses, beaded evening wear, modern sportswear and naughty silk pajamas.
[caption id="StrollingBermondseyJustfiveminutesandaworldaway_img4" align="alignleft" width="279"]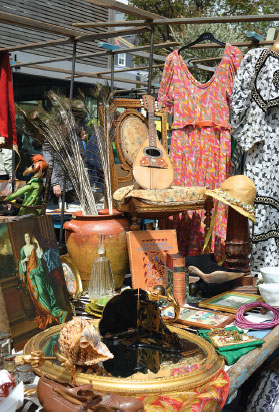 4
Nowadays the goods at the Bermondsey Antiques Market were all acquired legitimately.
[/caption]
Near the end of the street, look out for the old Watch House. Many 18th-century churchyards were built with watch houses to guard against "resurrection-men" or grave robbers. The body snatchers around these parts supplied the anatomists at nearby Guy's Hospital. This charming Regency confection was attached to 17th-century St. Mary Magdalen church, but the trade in corpses has diminished since the Anatomy Act of 1832. Happily the house has found a new purpose as the trade in artisan coffee has increased. If it's sunny, it's worth getting yours to take away and sitting among the ancient gravestones in the churchyard, now a park.
It's quite astonishing that medieval marché ouvert ("open market") laws, which used to govern the opening hours of (among others) Bermondsey Antiques Market were abolished only in 1995. Under this most dubious of statutes, the provenance of goods sold between 4 a.m. and noon could not be questioned.
Today the area, on the site of the old Bermondsey Abbey, has cleaned up its act. Friday morning antiques vending now starts at 6 a.m. and though early birds still catch some splendid worms, they've generally been lawfully acquired. Last time I was there, I met a delightful record collector called Bob, who carries a portable player and headphones around with him to check for quality. We went to Hej, a fantastic coffee shop in one of the surviving Georgian buildings around the square, where he regaled me with stories of old Bermondsey.
ALL OF THIS IS 10 MINUTES' WALK from London Bridge station and, as Bermondsey Street meets Tower Bridge Road, you suddenly realize it's not much further from the Tower of London itself. It just seems like a whole other world.
To fully immerse yourself in that other world, a visit to Manzes, the oldest surviving Pie and Mash shop, is essential. This London institution has hardly changed since 1902. To get the full experience, visit on a weekday lunchtime, when the wooden-boothed, bench-lined, marble topped tables are heaving. Office workers in suits, construction workers and local mums with pushchairs rub shoulders as they munch simple, classic London food. The girls at the counter chat and joke as they dole out pies with mash and liquor (traditional parsley gravy, not alcohol) and that Cockney favourite, jellied eels. Everything is prepared in the shop, on the day. Even the potatoes are mashed to order. Expect to pay 80p for a coffee–it will be three times that in any of the swanky eafes you'll have passed to get here.
Don't try to visit the early 20th century public toilets in the traffic island opposite. It's worth having a drink at Bermondsey Arts Club cocktail bar if only to see how they've managed to keep the original art deco feel and introduce glamor to an ex-public loo in what used to be the worst part of town.
One last oddity, if you have the time and inclination: The story goes that Russell Gray, a local landowner, developer and all-around character, applied for planning permission by Southwark Council to install "a tank" on a site. The council, assuming he meant a septic tank, agreed. Now, 25 years later, on the quiet, residential corner of Pages Walk and Mandela Way, you can still visit Stompie, a (nonfunctional) ex-Soviet T-34 tank, whose gun turret is, allegedly, trained on Southwark Council's offices. Residents regularly repaint the much-loved local landmark in jazzy colors reflecting the seasons and current events.