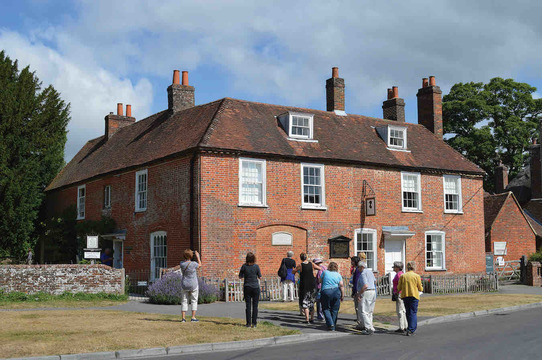 On BHT's Jane Austen tour with Sandra Lawrence
"Family connections were always worth preserving, good company always worth seeking,"
writes Jane Austen in her Bath-based novel
Northanger Abbey.
In fact,
British Heritage Travel's
Celebrating Jane Austen 2017 tour did enjoy a "happy accident" of family (more on that later), but it veritably overflowed with good company from the very start. Indeed, I was lucky enough to join the trip for three days, and not a moment went by without excellent company.
[caption id="" align="alignleft" width="318"]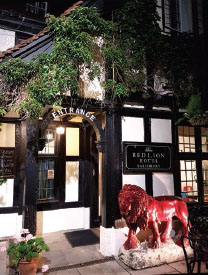 9
Our 13th-century base in Salisbury[/caption]
[caption id="" align="alignright" width="204"]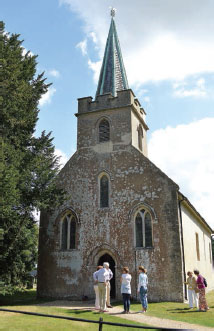 9
The Seventon village church[/caption]
Celebrating Jane Austen was similar to 2016's Jane Austen's West Country Charms, but with some tweaks that made things flow even more smoothly than last year. The biggest change was that we were based in one hotel throughout our stay, which meant no packing and repacking. Best Western's Old Red Lion is a stunning 13th-century coaching inn. It boasts one of the most delightful half-timbered courtyards you could hope to see, draped in 250-year-old Virginia creeper. Inside is just as fascinating. Don't miss the bizarre grandfather clock in the hallway, with tiny brass "dancing" skeletons, carved by prisoners of war from the Spanish Armada.
One single base makes for easy excursions, but it also enabled us to get together in the evenings to eat, drink and enjoy a chat—often about Jane Austen herself.
The house in Steventon where Jane was born and grew up is, sadly, long gone, but the quaint little church where she worshipped, and her father preached, is still going strong. We visited on Sunday morning and were treated to a lovely talk before wandering round the churchyard, seeking out family graves, and meeting the locals on their way to morning service. The sun was high, and so were our spirits.
[caption id="" align="alignleft" width="290"]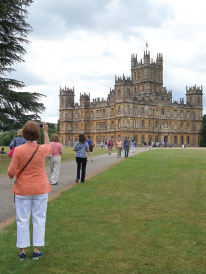 9
Highclere Castle[/caption]
Spirits rose even higher in the afternoon when we visited Highclere Castle. Of course, the stately home that stands in for TV's Downton Abbey has nothing to do with Jane Austen, but hey—it's Downton Abbey! The house doesn't overplay its celebrity, though it does include photos of shooting various scenes in appropriate rooms. Rather, it celebrates other, real events in the family's history. Nowhere does it do that better than in the basement, where an extraordinary, imaginative exhibition about Lord Carnarvon's connections with the discovery of the tomb of Tutankhamen in 1922 has a real "wow" quality.
One of the highlights for any Jane Austen fan has to be the cottage in Chawton, Hampshire, where she spent many years and wrote some of her most famous novels. It's a delight in itself, from the charming, flower-filled garden to the very writing desk upon which she wrote the likes of Emma and Mansfield Park, but we were lucky enough to meet Jeremy Knight, Jane's great-great-great-great-nephew. A delightful man and deeply knowledgeable about every aspect of his ancestor's world, he was happy to chat and answer questions from some serious Janeites, including members of the Jane Austen Society of North America.
[caption id="CelebratingJaneAusten_img4" align="aligncenter" width="457"]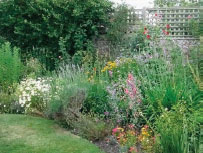 9
The gardens at Jane Austen's House in Chawton still give much pleasure to visitors.
[/caption]
Jeremy grew up in the "big house" of the village, erstwhile home of Jane's brother Edward. Edward inherited the house from family friends on the condition he change his name to theirs: Knight. Jeremy Knight told us how he used to play in the rooms that have now been beautifully restored as an archive of early women's literature, courtesy of American philanthropist Sandy Lerner. It was a joy to walk the quarter-mile to Chawton House Library, knowing the experience was largely unchanged since the days when Jane would have done it herself on a regular basis.
Jane also often visited the cathedral city of Winchester and, on a sadder note, passed away there too, exactly 200 years ago. We made a pilgrimage to the house where she died, just a few steps from the cathedral. It's not open to the public, but we stopped, paused and heard of her final hours. A few doors away, happier ponderings were to be found in the shop where Jane had her first books bound by a local binder.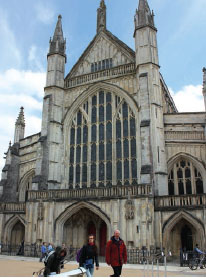 9
Jane Austen lies in the magnificent Winchester Cathedral. The inscription on the stone slab makes no mention of her as an author; this was put to rights later in the century when a fine brass memorial was placed a few feet away from her grave.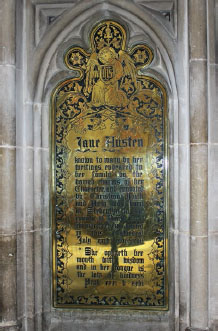 9
Most evenings we ate together in the hotel; always jolly affairs, with delightful serving staff, who definitely got to know us! One particular night, though, we chose ourselves where to eat. I joined a group visiting the New Inn. Oddly, "new" is not one of this gorgeous tavern's many features—it is 14th-century and originally accommodated the builders working on the nearby cathedral. It has the best pub garden in which I've ever had the pleasure to enjoy a glass, and the food was superb.
[caption id="CelebratingJaneAusten_img7" align="alignleft" width="276"]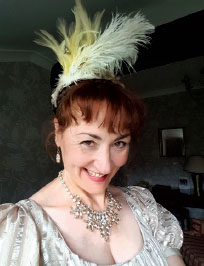 9
Sandra Lawrence recreates the fashions of the novelist's Regency world.
[/caption]
Bath is a must on any Jane Austen experience—she lived in the city for several years and it's easy to follow her footsteps as she buys ribbons for bonnets, goes dancing and takes the healthful spa waters. Our walking-tour guide showed us some of the places where Jane stayed, shopped, visited and even revealed the store where her aunt was (wrongly) accused of shoplifting!
There are so many places to enjoy that free time in the city was gratefully accepted. Some visited Number One, the Crescent, a beautifully restored Regency house; others went to the Assembly Rooms where Jane danced and whose basement now houses an excellent fashion museum. A few took the opportunity to visit the Roman baths, undiscovered in Austen's day, while others sought out afternoon tea in the Pump Rooms, which were most definitely discovered, and written about at length by Jane in Northanger Abbey. Of course some people made like Jane herself and hit the shops.
Previous commitments prevented me staying the whole tour, and my last night with new chums was bittersweet indeed. We spent the evening discussing Jane's writing over a glass of something splendid in the hotel bar, and the next day made our fond farewells. My traveling companions were on their way to some classic Austen filming locations: Lacock Abbey, Montacute House and Stourhead gardens; I was back to London and my desk. It doesn't take much guessing as to which I would have preferred. That "good company" Jane was talking about was most definitely worth seeking out.
[caption id="CelebratingJaneAusten_img8" align="aligncenter" width="617"]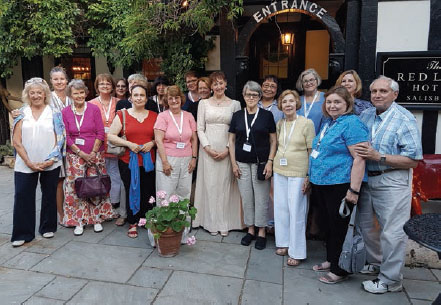 9
Our merry band of Janeites gathered in the courtyard of the Red Lion Hotel.
[/caption]