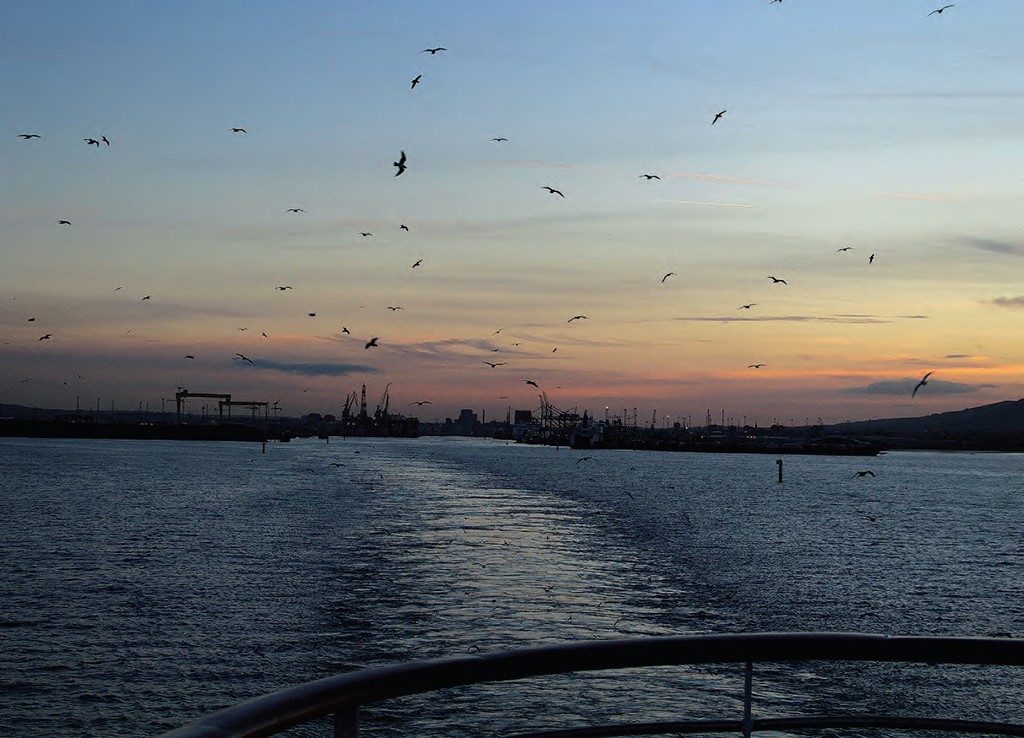 A British Heritage report from the stern of the Bridge Deck
Y
ou may have noticed from the Winter issue, or this one, that Fred Olsen Cruise Lines has become a regular presence in 
British Heritage
. That seemed a little jarring to me. In truth, though I've explored Britain by car, coach and train for three decades, it had never really occurred to me that traveling our sceptered isle by ship was a viable, desirable option. Moreover, I can't think of anyone in my vast American ken that has ever done Great Britain in this way. As I've used the line many times over the years: Inquiring 
British Heritage
 readers want to know. And so, this autumn I stowed away on 
Boudicca
 en route through the Hebrides to the Orkney Islands.
Though I can drive from Penzance to Inverness without a map or motorway, the one region of the UK that I'd never seen was the Scottish Islands. It's just practical; getting to and seeing those islands is time-consuming, expensive and logistically complex from Glasgow or Edinburgh, let alone from London. As I learned, in fact, seeing them on 
Boudicca
 (or another itinerary circumnavigating Great Britain), may well be the easiest and least expensive way to get there—and certainly the most comfortable.
Sometimes serendipity smiles. While I was circling Wales by car, 
Boudicca
 set to sea from Newcastle on an 11-day "Myths and Legends of Britain and Ireland" journey through the islands. Fred Olsen was happy to have me join the ship, and the party, in progress. 
Boudicca
 had already spent a day in Portsmouth, Falmouth and Cork, when I flew on a Sunday morning from Manchester to Dublin and joined the ship in the Port of Dublin.
[caption id="" align="alignnone" width="1024"]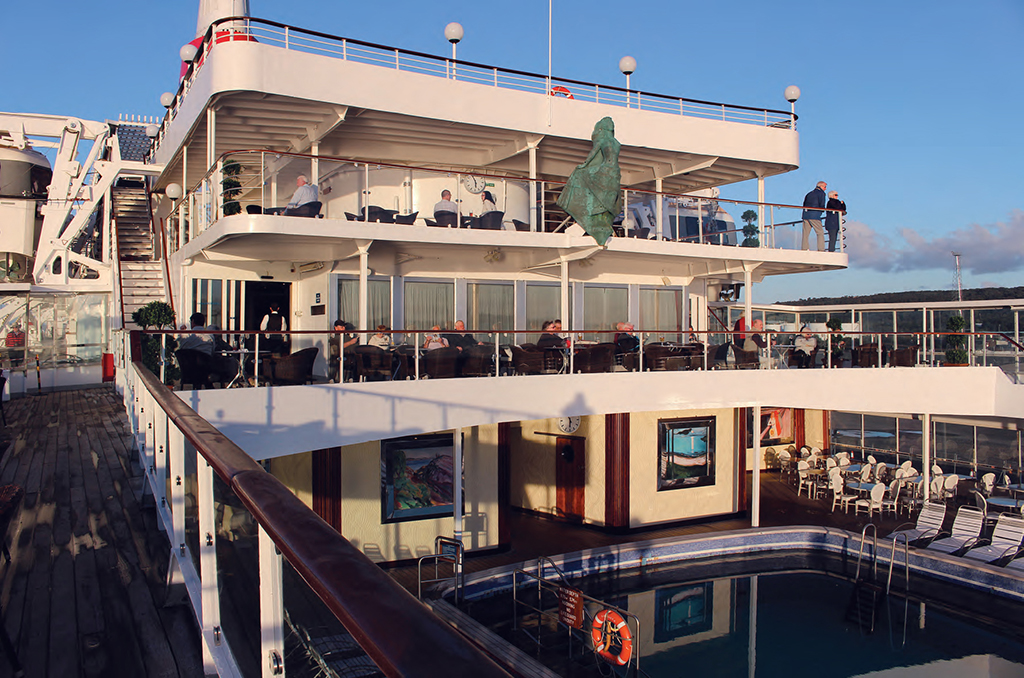 11
Boudicca's bowsprit actually adorns the stern, mounted on the rails of the Bridge Deck—an ideal vantage point for people and seascape watching.[/caption]
Most people's idea of cruising is the Caribbean and tropical climes in winter, not the North Sea in mid-October; there would be no lying around the pool. By cruise ships standards, Boudicca is small, and thus more personal and easier to learn, with seven passenger decks instead of 17, and circa 800 passenger berths. That smaller length of 660-feet also facilitates getting in and out of ports and smaller harbors. Though I had never been on any kind of cruise before, and thus have no frame of reference for any aspect of the cruise experience, those in the know spoke glowingly of the ease of getting around the ship, disembarkation in port, and of the variety of shore excursions available in every port.
After a day in Belfast, I was on deck for sunrise the next morning over the Western Highlands of Scotland. We circled Fingal's Cave and the unihabited Isle of Staffa in the early sun, and spent the day heading north amongst the islands, between with the Isle of Skye to starboard and the Isle of Harris and Lewis to port. The sun shone, the Irish Sea was calm, and temperatures sustained comfortably in the mid 50s. Once again, those who knew marveled at our good fortune. I spent much of the day on the aft of the Bridge Deck, a broad oasis for puffing on my pipe and taking pictures across 270 degrees of the skyline. The constantly changing views were indescribable.
[caption id="CruisingtotheNorthernIsles_img2" align="aligncenter" width="612"]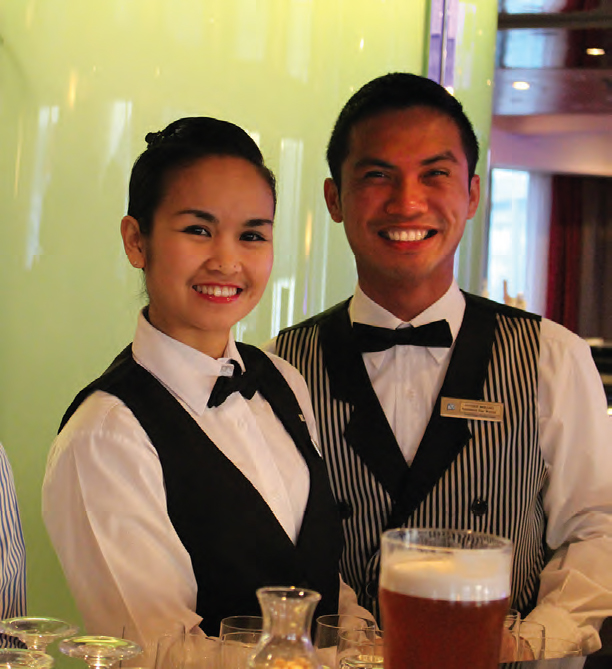 11
Boudicca's

young international crew, many from the Philippines, were unfailingly smiling, polite and friendly—and took great pride in the ship.
[/caption]
Meanwhile, a day at sea brought a full calendar of activities on board. Admittedly, a more accurate term might be "passivities" for most: bingo and bridge, a painting class and yoga, quoits on the Lido Deck, roulette at the gaming tables and afternoon tea in the Secret Garden Café. By midafternoon, there were a lot of folk dozing in their chairs in the library and several lounges.
Another pipe smoker I often chatted with on the smoking deck was a retired Ohio State professor—one of three other Americans I found on board. And therein lies what I found to be the secret treasure of this cruise experience for many British Heritage travelers. Almost all the genial passengers onboard Boudicca were British, and most were retired folk. Fred Olsen is a British-based cruise line of four ships. In addition to the British Isles, their ships travel the world—but their market and their traveling style is designed for older Britons. Cuisine, entertainment, activities and appointments are decidedly British.
Breakfast, whether taken at table in one of the several dining rooms or buffet-style in the café, includes the all staples of the full English breakfast and much more, certainly with proper tea. In addition to magnificent luncheons and well-served five-course dinners, of course, each afternoon highlighted a full English cream tea, replete with scones, cakes and pastries to swoon over. English roasts and seafood of every sort were a standard, punctuated with assorted curries, of course, and English traditional favorites like steak & kidney pudding. I never did manage the themed midnight buffets.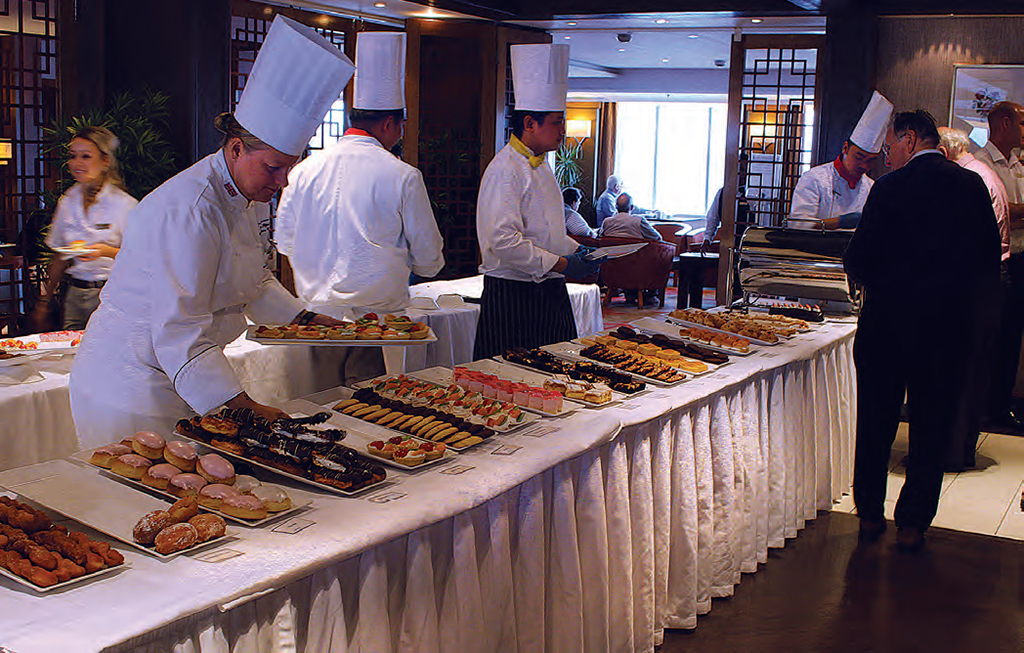 11
Each late afternoon and evening found low-key, live music in the several lounges. The principal entertainment venue, the Nepture Lounge, featured a nightly show that might best be thought of as an English "end of the pier" show, with a small house orchestra, dancers, singers, comics and a magician. All the patter and cultural references are British. One evening, the daily quiz was on the topic of children's TV shows. That's British children's shows, of course. I was clueless.
After passage through the Western Isles, we woke up the next morning docking at Kirkwall, capital of the Orkney Islands. Coaches of passengers scuppered off to tour the island, to the famed prehistoric stone village of Skara Brae, or Scapa Flow, scene of so much World War I naval history, or the Highland Park Distillery for a tour and wee dram.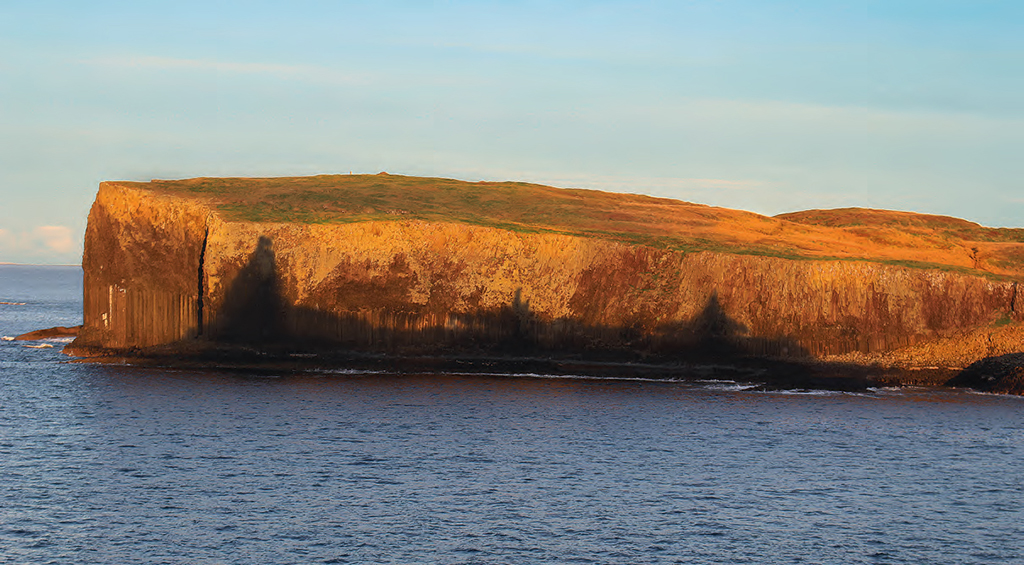 11
[caption id="CruisingtotheNorthernIsles_img6" align="aligncenter" width="1024"]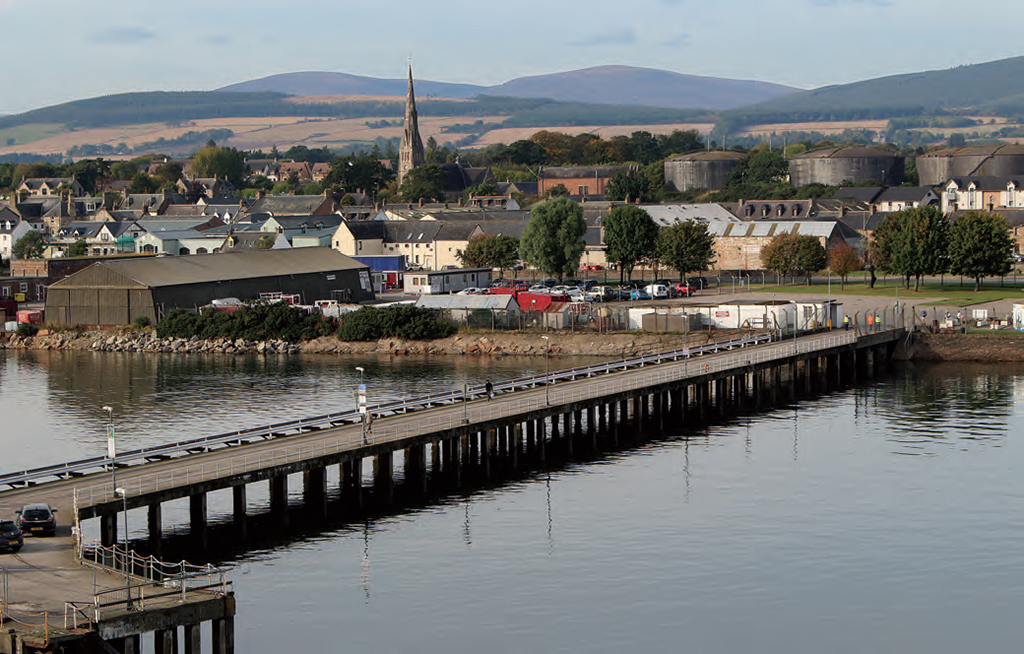 11
The Highland town of Invergordon on the Cromarty Firth (pop. 4,000) boasts 17 colorful wall murals along its High Street depicting the town's history.
[/caption]
I took the short shuttle into town, to explore the history and local culture of a place so old that the Vikings were newcomers. That's another story, to be told next issue; it was a day well spent. From horizon to horizon across the island, there is not a single tree in sight—but a few wind turbines on the landscape spun constantly.
As truly British as life was aboard Boudicca, the 370-strong compliment of staff and crew were at least 80 percent young Philippinos, with Thai, Indian and 15 other nationalities represented on board. They were unfailingly superb, well-turned out, well-trained, polite, with a smile of greeting and flawless English—whatever their role aboard. Perhaps the most popular event in the Neptune Lounge was that evening's traditional "Crew Show" presented by the international cast. Among the highlights, the Philippino lads of the deck crew, proud and grinning, danced a sailors-hornpipe version of "YMCA"; an Indian couple gave a Bollywood belly-dance; Thai ladies swirled with bright color through intricate traditional dance; and an unassuming cabin stewardess brought the house down with a passionate performance of "Give Me One Moment in Time." Meanwhile, Boudicca sailed south in the darkness toward the Scottish mainland.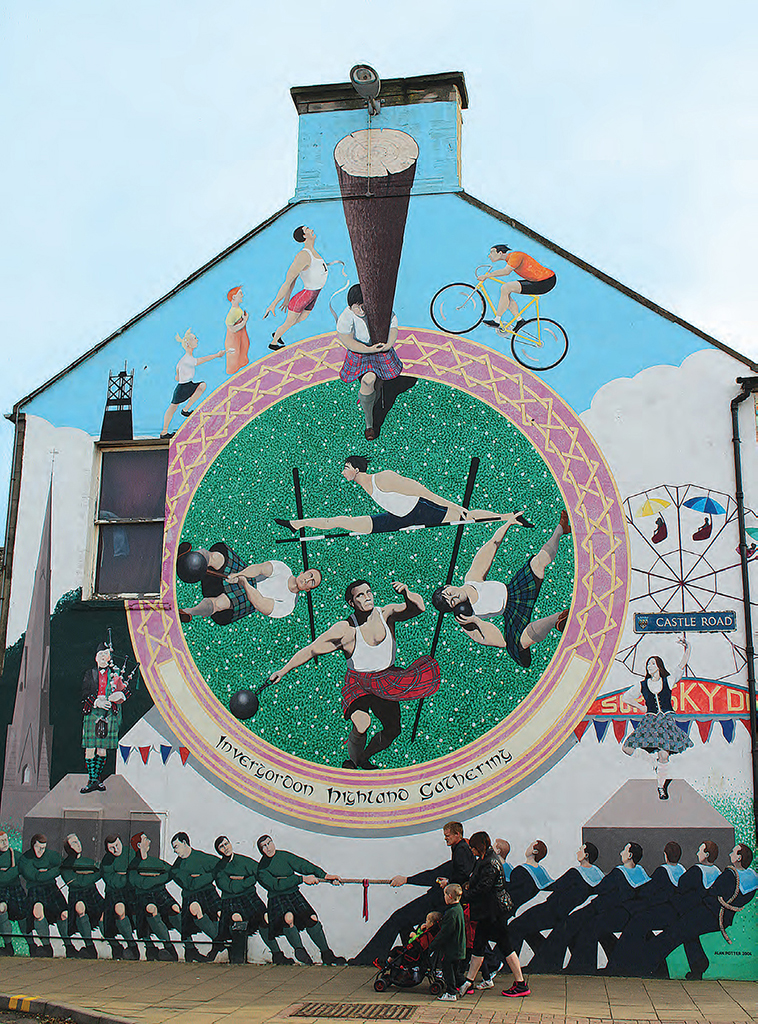 11
We woke up in the Cromarty Firth, docked in reasonable proximity of seven complete oil drilling platforms anchored in the Firth—mothballed there until the price of oil goes up. The one-commercial-street town was Invergordon, easy walking distance from the pier. Invergordon is the staging port for excursions to Loch Ness, Urquehart Castle and Inverness. Having visited each on more than one occasion, I wanted to explore the small town and its local museum. Visits by such cruise ships contribute mightily to the local economy, and shop window signs welcomed
Boudicca
passengers to town. The old stone Church of Scotland with its austere steeple was beautifully landscaped, immaculately maintained, and welcoming, as well. Inside, a large screen offered greetings to
Boudicca
guests. In the right transept, folks of the church were serving free tea and coffee to ship visitors. In the left transept, the church offered a free internet café for the ships' crew members that were on shore leave. We were the 65th cruise ship to dock in Invergordon this year. The jovial minister told me this was standard practice for the town. Invergordon is also known for having the leading community theater in the Highlands and for broad, colorful murals that seem to decorate every block of the downtown.
In a relatively short amount of time on Boudicca I made a lot of nice friends. That evening, I was saying good-byes as we sailed south through the North Sea toward Edinburgh. When the sun broke in the morning, I was on the aft deck with camera and coffee cup and the early morning regulars as we entered the Firth of Forth, with the kingdom of Fife to starboard and Leith Harbour to port. We passed under the Forth Bridges and docked Fifeside in Rosyth, just down the quay from where they are assembling Prince of Wales, Britain's next aircraft carrier. Boudicca would be sailing back on to Newcastle, and her passengers enjoying a day exploring Edinburgh or St. Andrews. But here is where I jumped ship and made for Waverley Station and a train for London.
[caption id="CruisingtotheNorthernIsles_img7" align="aligncenter" width="1024"]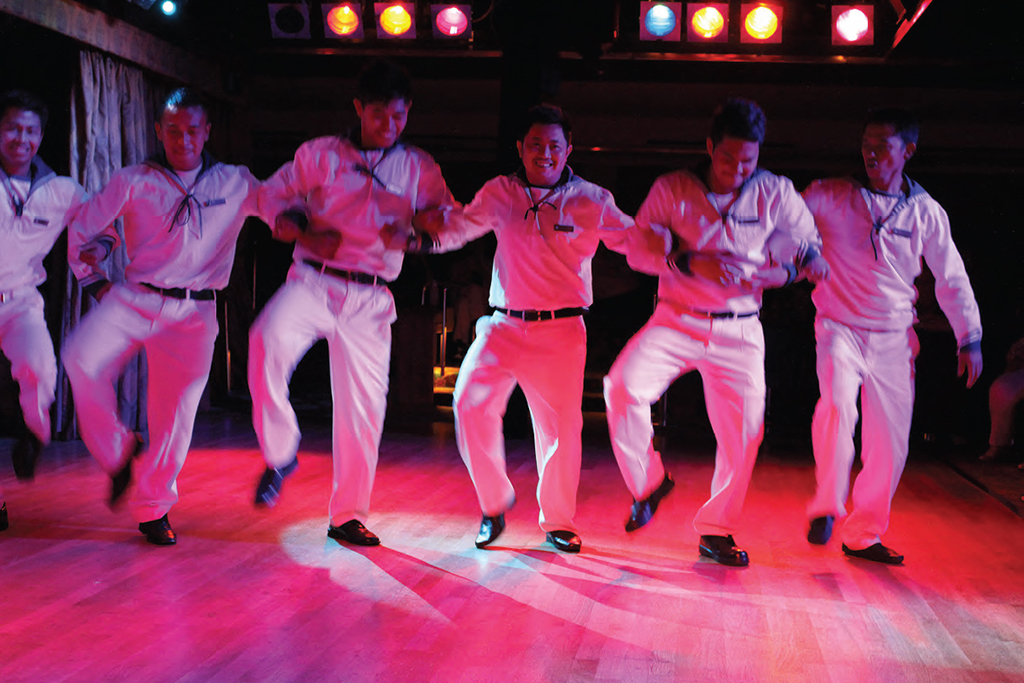 11
The deck crew of

Boudicca

dance a sailor's hornpipe to "YMCA" during the Crew Show.  
[/caption]
[caption id="" align="aligncenter" width="1024"]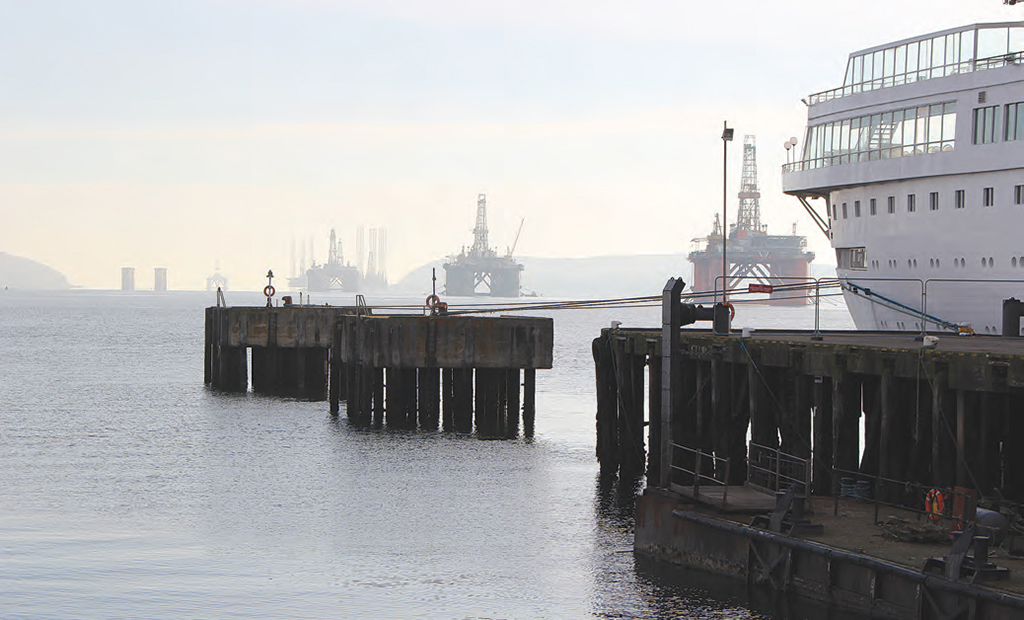 11
Boudicca lies at dock in the Cromarty Firth, with a row of oil rigs brought in from the North Sea until the price of oil rises.[/caption]
[caption id="" align="aligncenter" width="1024"]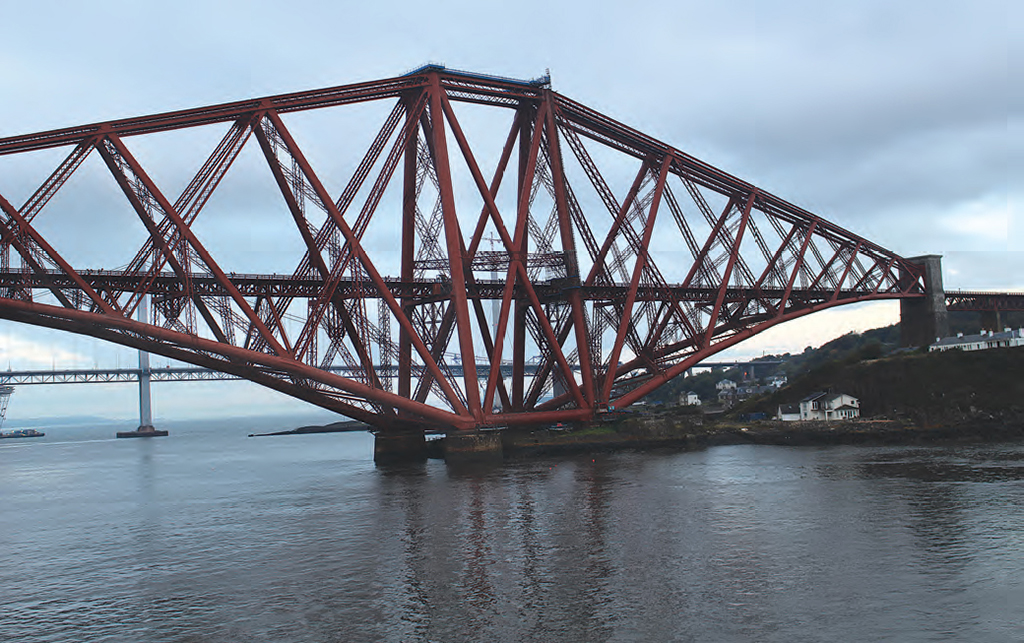 11
Boudicca passes under the famous Forth Bridges to Rosyth.[/caption]
So, here's the verdict. I was unexpectedly delighted and found it a great experience. Those "in the know" nice friends were interesting British folk from Sunderland or Salisbury. Joining a cruise like this wouldn't be for everyone; there were no young people on board. It wouldn't be the way to see Britain for first time tourists that hadn't yet seen Bath and York, for instance. For veteran visitors to Britain, such as many British Heritage readers, however, Boudicca and her sisters offer the best opportunity I've found to visit with and befriend interesting people from all over Great Britain.
This cruise travel was eminently comfortable in style—including my well-appointed, well-cared for cabin, and an armchair for that journey through the Western Isles. After decades of slinging my bag and tattle into car boots and trains, and up to a second floor room, it was rather nice to wake up in a different place every day without moving.
Finally, costing it all out—the cruise price, with a variety of excursions, and getting to and from home to your English port of embarkation—a cruise of the British Isles comes in somewhat less than the average British Heritage reader spends per diem on a trip to Britain. After all, it includes dining, travel and accommodation. The food is fabulous, the environment comfortable, and traveling companions interesting and friendly. No, a cruise like this will not take the place of exploring market towns and landscapes, castles and cathedrals across this green and pleasant land. But for many of our travelers, this is an experience to be had.

Boudicca

Trivia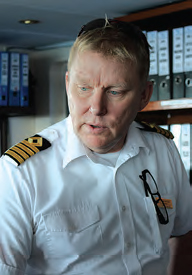 11
Captain Lars Kjeldsen reports that Boudicca is powered by four 3,500 hp engines. Its ample pure fresh water supply comes from its on-board desalinization of 250 metric tons of water a day.
Boudicca's kitchen serves up 5,000 meals a day for passengers and crew, with a staff of 70. This cruise stocked 22,500 tea bags—that's more tea than eggs.
Click here to book a Fred.Olsen cruise or contact Pisa Brothers Travel at 877.318.6228
[gallery link="file" size="full" ids="eyJ1cmwiOiJodHRwOlwvXC9icml0aXNoaGVyaXRhZ2UuY29tXC93cC1jb250ZW50XC91cGxvYWRzXC8yMDE1XC8xMlwvVmlldy1mcm9tLXNob3JlLWUxNDUwOTM5NzY5MjgwLmpwZyIsInRpdGxlIjoiVmlldyBmcm9tIHNob3JlIiwiY2FwdGlvbiI6IiIsImFsdCI6IiIsImRlc2NyaXB0aW9uIjoiIn0=,eyJ1cmwiOiJodHRwOlwvXC9icml0aXNoaGVyaXRhZ2UuY29tXC93cC1jb250ZW50XC91cGxvYWRzXC8yMDE1XC8xMlwvVmlldy1mcm9tLXNoaXAtZTE0NTA5Mzk4MjI1ODUuanBnIiwidGl0bGUiOiJWaWV3IGZyb20gc2hpcCIsImNhcHRpb24iOiIiLCJhbHQiOiIiLCJkZXNjcmlwdGlvbiI6IiJ9,eyJ1cmwiOiJodHRwOlwvXC9icml0aXNoaGVyaXRhZ2UuY29tXC93cC1jb250ZW50XC91cGxvYWRzXC8yMDE1XC8xMlwvc3Vuc2V0LXZpZXctZTE0NTA5Mzk4NjYyNTIuanBnIiwidGl0bGUiOiJzdW5zZXQgdmlldyIsImNhcHRpb24iOiIiLCJhbHQiOiIiLCJkZXNjcmlwdGlvbiI6IiJ9,eyJ1cmwiOiJodHRwOlwvXC9icml0aXNoaGVyaXRhZ2UuY29tXC93cC1jb250ZW50XC91cGxvYWRzXC8yMDE1XC8xMlwvc2hpcC1wb29sLWUxNDUwOTM5OTIzMzc4LmpwZyIsInRpdGxlIjoic2hpcCBwb29sIiwiY2FwdGlvbiI6IiIsImFsdCI6IiIsImRlc2NyaXB0aW9uIjoiIn0=,eyJ1cmwiOiJodHRwOlwvXC9icml0aXNoaGVyaXRhZ2UuY29tXC93cC1jb250ZW50XC91cGxvYWRzXC8yMDE1XC8xMlwvc2NlbmljLXZpZXc0LWUxNDUwOTM5OTU0MzY0LmpwZyIsInRpdGxlIjoic2NlbmljIHZpZXc0IiwiY2FwdGlvbiI6IiIsImFsdCI6IiIsImRlc2NyaXB0aW9uIjoiIn0=,eyJ1cmwiOiJodHRwOlwvXC9icml0aXNoaGVyaXRhZ2UuY29tXC93cC1jb250ZW50XC91cGxvYWRzXC8yMDE1XC8xMlwvc2NlbmljLXZpZXczLWUxNDUwOTM5OTk1ODQ4LmpwZyIsInRpdGxlIjoic2NlbmljIHZpZXczIiwiY2FwdGlvbiI6IiIsImFsdCI6IiIsImRlc2NyaXB0aW9uIjoiIn0=,eyJ1cmwiOiJodHRwOlwvXC9icml0aXNoaGVyaXRhZ2UuY29tXC93cC1jb250ZW50XC91cGxvYWRzXC8yMDE1XC8xMlwvQm91ZGljY2EtZTE0NTA5NDAwNDMyMTYuanBnIiwidGl0bGUiOiJCb3VkaWNjYSIsImNhcHRpb24iOiIiLCJhbHQiOiIiLCJkZXNjcmlwdGlvbiI6IiJ9,eyJ1cmwiOiJodHRwOlwvXC9icml0aXNoaGVyaXRhZ2UuY29tXC93cC1jb250ZW50XC91cGxvYWRzXC8yMDE1XC8xMlwvQ3J1aXNpbmctdG8tdGhlLU5vcnRoZXJuLUlzbGVzLWUxNDUwOTQwMDc4MzQ3LmpwZyIsInRpdGxlIjoiQ3J1aXNpbmcgdG8gdGhlIE5vcnRoZXJuIElzbGVzIiwiY2FwdGlvbiI6IiIsImFsdCI6IiIsImRlc2NyaXB0aW9uIjoiIn0=,eyJ1cmwiOiJodHRwOlwvXC9icml0aXNoaGVyaXRhZ2UuY29tXC93cC1jb250ZW50XC91cGxvYWRzXC8yMDE1XC8xMlwvc2NlbmljLXZpZXctZTE0NTA5NDAxMTQ2NjMuanBnIiwidGl0bGUiOiJzY2VuaWMgdmlldyIsImNhcHRpb24iOiIiLCJhbHQiOiIiLCJkZXNjcmlwdGlvbiI6IiJ9,eyJ1cmwiOiJodHRwOlwvXC9icml0aXNoaGVyaXRhZ2UuY29tXC93cC1jb250ZW50XC91cGxvYWRzXC8yMDE1XC8xMlwvc2NlbmljLXZpZXcyLWUxNDUwOTQwMTQ3NjI3LmpwZyIsInRpdGxlIjoic2NlbmljIHZpZXcyIiwiY2FwdGlvbiI6IiIsImFsdCI6IiIsImRlc2NyaXB0aW9uIjoiIn0="]