[caption id="GagaatGarterDayandJazzatStGiles_img1" align="aligncenter" width="223"]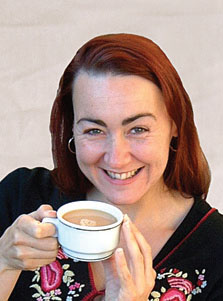 5
[/caption]
[caption id="GagaatGarterDayandJazzatStGiles_img2" align="aligncenter" width="1024"]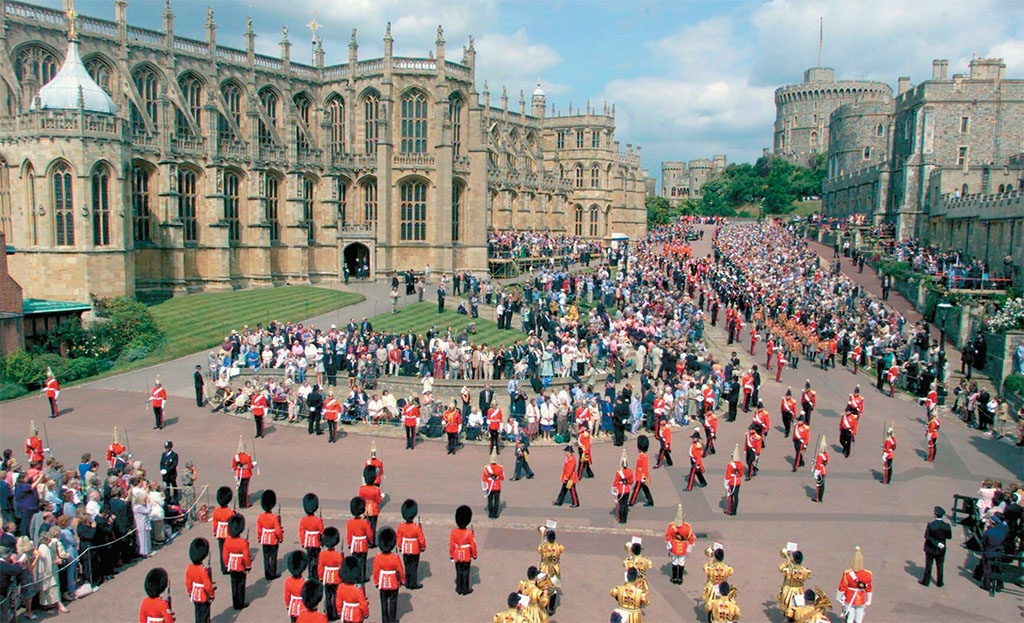 5
GARTER DAY AT WINDSOR CASTLE
[/caption]
ON SEEING A PLUMP,
brown envelope plop through my letterbox "On Her Majesty's Service," my first thought was that I'd managed to get a court summons. It was with some relief I discovered it actually contained a couple of intriguing-looking tickets emblazoned with the Royal crest.
I've talked before about the nightly Ceremony of the Keys, for which the charmingly retro practice of booking in advance via proper paper letter is required, but another Royal freebie is the annual Garter Day in Windsor.
The monarch of the day has been formally gathering the realm's most senior knights, the Order of the Garter, every June since 1348, and although it's almost impossible for ordinary plebs like me to get into the church itself that day, it's easier to come by tickets for the parade route, where Her Majesty and her knights in full regalia process to St. George's Chapel flanked by Constables, Beefeaters and Her Majesty's Foot Guards.
Personally, I'd never drive to Windsor. It's a pig to park; the train is more fun, only takes an hour and costs about £11 return to Windsor&Eton Riverside from Waterloo. My pal Frances and I arranged to get there an hour before the procession. Arriving a bit earlier would have got us nearer the front.
At the Tower of London, the Yeomen of the Guard usually wear their informal blue uniforms. On Garter Day, it's the Full Red Monty with more golden "scrambled egg" than you could shake a pike at. We were right up by the castle entrance, so we got to see comings and goings of people we half-recognized as we munched our picnic and chatted to the people round us.
The actual procession didn't take long at all, though seeing Her Majesty, Prince Charles, Princess Anne, Prince William, et al., parade by in long cloaks, velvet hats and ostrich plumes was more impressive than I had expected it to be and for sheer Britishness you don't get much more traditional. Online applications open in January each year and the (free) tickets are sent out in April.
SIR GEORGE GILBERT SCOTT cut his architectural teeth on St. Giles church in Camberwell before going on to projects such as the Albert Memorial and the Midland Grand Hotel at St. Pancras. I suspect he'd be surprised to know that people these days come from all over to visit its basement. I don't know what it is about jazz and crypts, but it's amazing how many little clubs seem to be underneath London's churches. Jazz Live at St. Giles, every Friday night, is one of the best-known. My keyboard player Gary was playing there with his Hammond trio, the Deptford Rivieras, so I went along to check it out and was delighted to find a proper jazz dive, rather than the sanitized, squeaky-clean-but-a-bit-soulless commercial clubs that have been springing up around town lately. I can understand why top acts are happy to travel Down South to play there. I'm happy to say that by the time Gary's Hammond swung into the second set, everyone was up dancing.
[caption id="GagaatGarterDayandJazzatStGiles_img3" align="aligncenter" width="619"]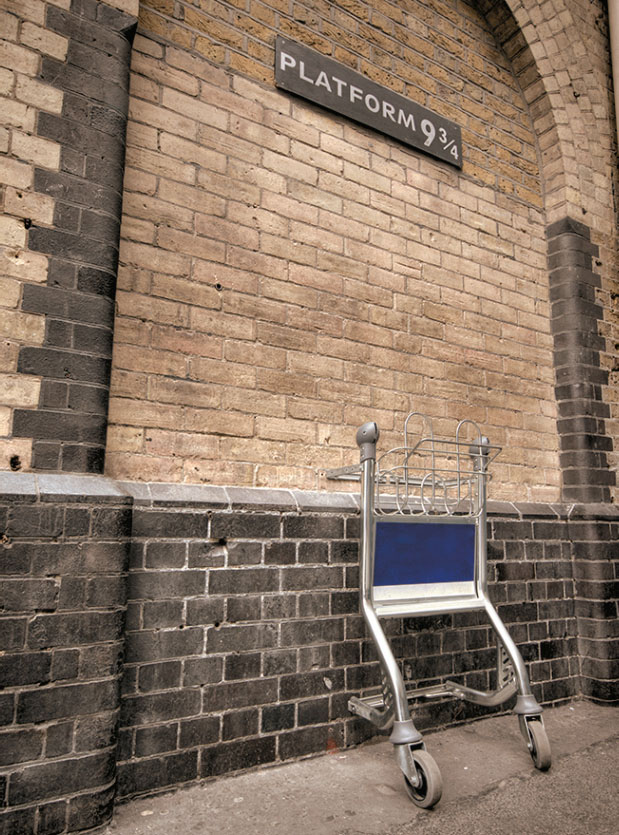 5
KING'S CROSS STATION
[/caption]
THE NEXT MORNING I had to get up for a conference near Kings Cross Station. Kings Cross used to be one of my least-liked terminals, but now the nasty 1970s frontage has been stripped away to reveal a beautiful Victorian edifice. There's a groovy glass roof inside and interesting places to sit. It took me a while to work out that the queue of kids by a seemingly dull-looking wall was the ultimate photo-op for all Harry Potter fans—half a trolley set into the wall on Platform 9 ¾. I refrained from purchasing a wand, or even a Gryffindor scarf, in the gift shop next door.
That evening I continued my quest to visit all of the Magnificent Seven, a macabre necklace of cemeteries built in the 1830s to accommodate London's growing population of the dead. They all sport incredible tombs, overgrown headstones, carved angels, giant sepulchres and famous people. Each is worth visiting for its own unique atmosphere. West Norwood Cemetery, not far from Crystal Palace, is better kept than most, but it is still full of creepy monuments and strange tales, especially after dark. "What Dreams May Come" was the latest offering from London Dreamtime, a collective of interesting arty individuals that put on London folklore-centred events. We arrived as the sun was sinking in the sky, and made our way through a series of twilit, art installations around crumbling monuments and ivy-clad tombstones to where wealthy Greek Victorians had created a mini Athens of the Dead. Around 100 of us enjoyed an evening of music, creepy stories and quirky historic facts.
As the dusk turned to darkness we were led back to civilization by a solo singer and spooky, illuminated, bamboo-and-tissue-paper horse, along a lantern-lined graveyard path. It's worth keeping an eye out for the next event. I don't know what it will be, but I can guarantee something out of the ordinary.
LET IT BE, at the Savoy Theatre, is as different from London Dreamtime as they come. It's a trip down memory lane (or maybe Penny Lane) for Beatles fans, but don't expect much in the way of plot. When I say there is no script I really mean that—not one word spoken. I went with my friend Don, who happens to be a specialist in music copyright, who theorized this probably has something to do with rights-release. It is essentially a superior Beatles tribute act in a West End setting. The lighting and sound are great and the tunes well-rendered in concert form, but if you go expecting a traditional West-End musical you will be confused. Not that it seemed to bother the people around me—it got a standing ovation at the end.
London, as capital cities go, is pretty safe. There are few places I wouldn't go alone. Nevertheless, I had an unpleasant call from my allotment society secretary to say that nine sheds on our plot had been broken into. If I'm honest, very little was taken; almost certainly the work of bored kids, but it shook several of the older plotholders. The reason I write about it here is the way the police dealt with it; I hope that it will reassure potential visitors.
First, there are two well-known numbers for the police in Britain—the famous 999, for life-or-death matters, and the less well-known 101, which is used for urgent calls, but nonemergencies. But there's another number, one that few folk know about: 020 7230 1212. This is the direct number for Scotland Yard, and from it they will put you in touch with any local police station in London. They do actually pick the phone up and they take you seriously. In fact, the whole incident was taken seriously, despite its smacking of an inferior Miss Marple mystery (we all turned into amateur sleuths, eagerly looking for footprints and checking for prints on abandoned pruning knives). We all agreed that while none of us expect anyone to be caught, the police did what they could, and were respectful and attentive. I hope you never have to use that number—but stick it in your wallet anyway. You never know.
Next month, I'll be well into my see-everything-at-the-Globe marathon, discovering circus isn't just for kiddies and stargazing with the experts.
THIS MONTH'S CONTACTS
[caption id="GagaatGarterDayandJazzatStGiles_img4" align="alignleft" width="619"]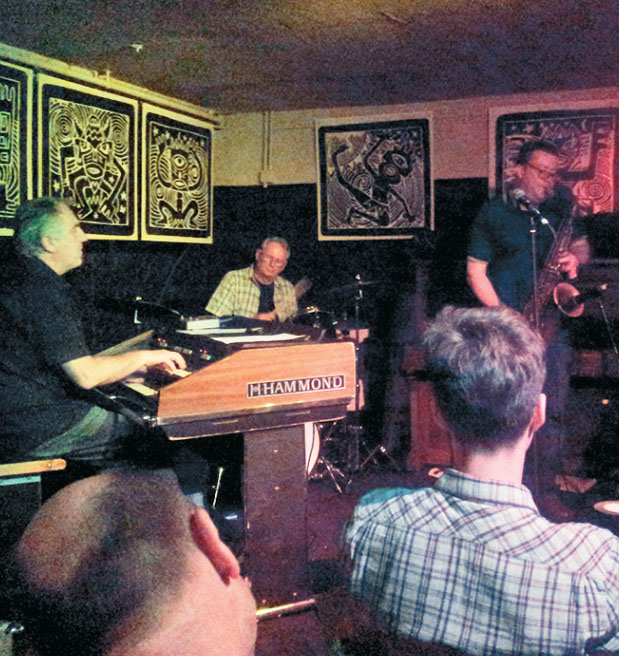 5
[/caption]
Garter Day
www.royal.gov.uk
(Look under Royal Events and Ceremonies)
Jazz at St. Giles Crypt
www.jazzlive.co.uk
London Dreamtime
www.londondreamtime.com
Let It Be
www.letitbelondon.com
Scotland Yard's nonemergency phone number
020 7230 1212