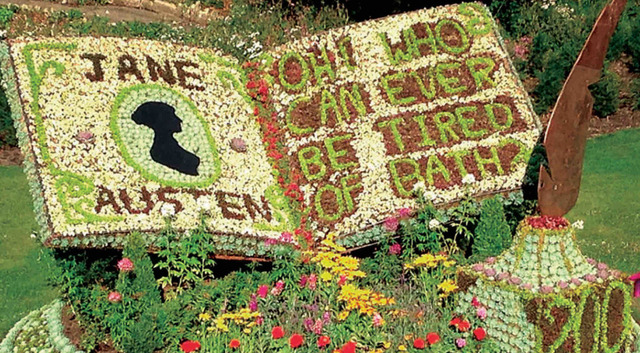 I took the picture from the Pulteney Bridge at 6:16 p.m. This was the second day our tour visited Bath—the first one was rainy, so we were glad to see sunshine the second time around. My sister Betty Bowles and I walked everywhere that day. We toured the Roman Baths and the Assembly Rooms, where we had lunch. Then we walked to the Circus (including #17 where Nicolas Cage lives) and to the Royal Crescent where we toured that beautiful Georgian mansion. Afterwards, we walked back to the Pump Room for tea, where we met up with some other folks from our group. We shared scones and sandwiches and got to sample the mineral waters.
Betty and I sat by the cathedral for a bit and listened to the street performers. Then we walked along the river, which is where I took the photograph. A wonderful day!
—Frances Aylor
The Parade Garden by the River Avon in the center of Bath has a long tradition of creating gorgeous floral art. This summer's display pays tribute to Jane Austen on the 200th anniversary of her death in 1817. Jane was a trenchant and witty observer of Bath's social life when it was at its peak as a resort spa for fashionable Georgian gentry and minor nobility.
Submit your photographs and stories at britishheritage.com/photos to see them on the website and in the magazine.