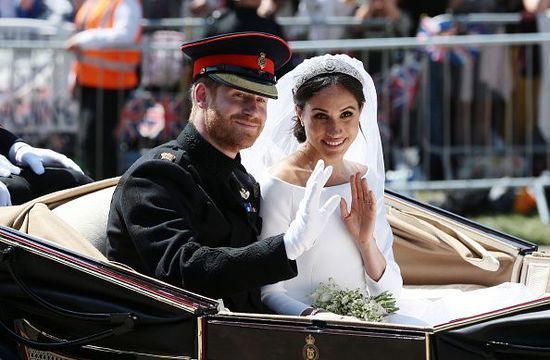 Harry and Meghan were married on this day in 2018
The wedding of Prince Harry and Meghan Markle was held on 19 May 2018 in St George's Chapel at Windsor Castle in the United Kingdom.
The day was a landmark affair in the United Kingdom, and their wedding was arguably the most high-profile ceremony that had been seen in the Royal Family up to that point.
A Royal marrying an American celebrity was an event of huge interest for the British public, and their wedding was attended by several high-profile celebrities.
While the wedding was a traditional Royal affair, there were several aspects of the wedding that took into account Meghan Markle's American upbringing, including a rousing sermon by American Bishop Michael Curry.
Since getting married, Harry and Meghan have welcomed their first child, Archie, into the world, and have another on the way.
It has been a difficult few years for the pair, who made the decision to step back from their Royal duties and make the move across the pond to North America.
Since then, the couple has come under intense media scrutiny which has undoubtedly soured their relationship with the British press. Their famous interview with Oprah Winfrey highlighted the difficulties faced by the pair from both the British media and the Royal Family itself.
Despite the difficulties faced by Hary and Meghan since marriage, there is no doubt that their wedding day was a monumental one in the history of the Royal Family and marked a real change in how the Royal Family was perceived by the outside world.
It is unclear how Meghan and Harry will be marking the date this year. Harry returned to the United States after attending the funeral of his grandfather Prince Philip, the Duke of Edinburgh. Meghan was unable to attend the ceremony due to her pregnancy and remained in the United States with Archie.
Harry and Meghan have been working on a Netflix special due to air in the near future. 
Their first show will be called 'Heart Of Invictus', and will follow competitors as they prepare for the 2022 games.
Prince Harry has been a champion of the Invictus Games since its inception so it's fitting that Archewell's first Netflix series will spotlight and celebrate the competition's amazing athletes.

Heart of Invictus will follow the competitors as they prepare for 2022's games. pic.twitter.com/yM7t2qdBsw

— Netflix (@netflix) April 6, 2021