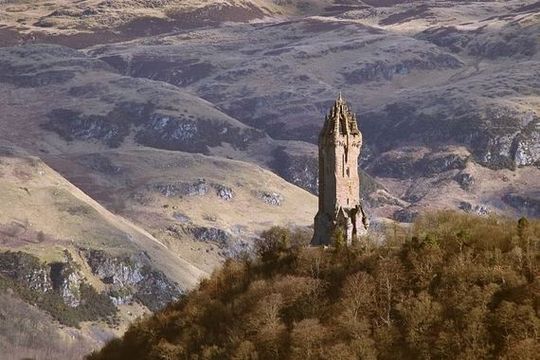 Located in Scotland, the town of Stirling is rich with historical finds
W

hy go to Stirling?

Established long before the bloody Wars of Independence that secured the future of the Scottish nation, Stirling is an important center geographically and politically, where history and the 21st century sit comfortably side by side. Historically, Stirling with its castle was the key to controlling Scotland; many important battles were fought in the area.
Today, Stirling is the perfect base for a touring holiday, giving easy access to the central belt and the country's two main cities, as well as Loch Lomond, the Trossachs National Park and the beautiful southern Highlands.
How to get to Stirling?
Situated in the very heart of Scotland, Stirling is well served by a frequent rail service from both Edinburgh and Glasgow. Details found at www.nationalrail.co.uk or www.scotrail.co.uk. This location, almost midway between the two principal cities, also means that it is easily accessible by road from either the M9 or M80 motorways.
Where to stay in Stirling?
Located in the former High School building, the Barcelo Highland Hotel has an educational theme throughout and offers 4-star accommodation and food as well as a range of health and spa facilities. www.barcelo-hotels.co.uk
The 200-year-old Golden Lion Hotel, which has hosted royalty and poet Robert Burns in the past, combines character and contemporary style to provide traditional Scottish hospitality. www.thegoldenlionstirling.com
Like most Scottish towns and cities, Stirling has numerous family-run guesthouses that offer bed and breakfast at very reasonable rates. www.burnsview-guesthouse.com
How to spend the morning in Stirling?
With so much history and heritage on offer, Stirling Castle is the most logical starting point for any visit. At different times in Scottish history, the castle was held by English forces. During the reigns of the later Stewart monarchs, though, it served as their principal royal palace and so became a status symbol, intended to raise their prestige as well as to extend their power. This resulted in the building of the Great Hall, the largest banqueting hall in Scotland, and the production of a set of elaborate carved heads depicting famous historical and contemporary figures of the period, which have been described as Scotland's other crown jewels.
Ongoing renovations have seen around $20 million spent restoring the castle and recreating its historic atmosphere.
www.stirlingcastle.gov.uk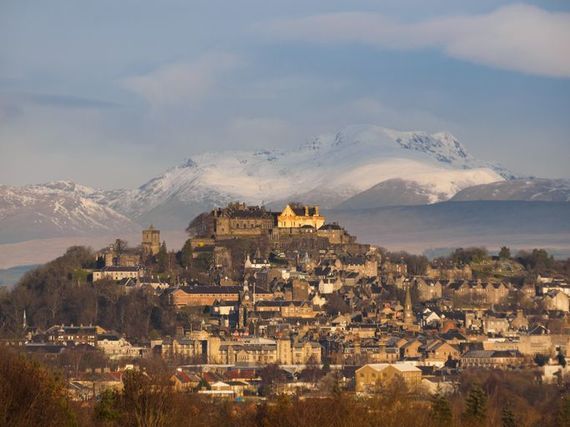 2
Where to lunch in Stirling?
The City Walls, located (as one might expect) close to Stirling's early fortifications, offers a selection of wines and traditional Scottish beers to accompany food prepared from fresh ingredients.
www.thecitywalls.co.uk
Another bar situated in the old part of the city, the Corn Exchange, also serves good food and drinks in a convivial atmosphere.
www.cornexchangestirling.co.uk
What to shop for in Stirling?
Mr. Simms Olde Sweet Shoppe on Port Street offers over 350 different types of traditional British candy, served from glass jars in the old fashioned way, as well as exclusive fudges and chocolate.
What else to see in Stirling?
Argyll's Lodging is reckoned to be the finest surviving example of a nobleman's 17th-century townhouse in Scotland and provides wonderful insight into how the Scottish aristocracy lived. Admission is included in the price of the Stirling Castle ticket.
www.historic-scotland.gov.uk
The Church of the Holy Rude was one of the first churches to change allegiance during the Reformation. This is where James VI was crowned king at a Protestant service on July 29, 1567, after his mother, the Catholic Mary, Queen of Scots, had been forced to abdicate. James, of course, became King James I of England when the two kingdoms were united in 1603. The Church of the Holy Rude is the only active church in Britain other than Westminster Abbey to host a coronation. www.holyrude.org
The Wallace Monument on Abbey Craig, opened in 1869, commemorates William Wallace, one of Scotland's great patriots. Wallace's greatest victory, over Edward I of England—the man known as "The Hammer of the Scots"—took place at Stirling Bridge in 1297.
Stirling Castle was in English hands, and a large and well-equipped English army had come north to relieve the besieged garrison. Wallace had chosen a fine defensive position, and the English army was forced to advance across a wooden bridge so narrow that only two horsemen could cross at once. The Scots allowed part of the English army to cross before putting them to the sword. Seeing their companions massacred, the remaining English forces on the other side of the river fled.
With Wallace unable to build on that success, Edward I was able to retake Stirling and the Scot was forced to go on the run. Wallace was later captured and taken to London, where a show trial found him guilty of various offences—including treason—before he was executed. His quartered body was displayed in different parts of Scotland and England as a lesson to others. www.nationalwallacemonument.com
If Edward hoped to cow the Scots into submission, he was quickly disabused, as the Scots continued their fight for independence until his death in 1307. His weak-willed son, Edward II, continued the campaign, but lacked the single-minded determination of his father.
Robert the Bruce, the King of Scots, fought a successful guerrilla-style campaign, before finding himself with no option but to face a numerically superior force sent to relieve yet another English garrison holding Stirling Castle. The two armies met at Bannockburn, about 2.5 miles south of the Castle, but King Robert had picked his ground carefully and Bruce's force triumphed, ensuring Scotland's independence from its larger southern neighbour.The Bannockburn Heritage Center, which celebrates this defining moment in Scottish history with a spectacular audiovisual show and graphic exhibitions, is open from March 1 to October 31, although the site is open year round. www.nts.org.uk
Where to have dinner in Stirling?
The 4-star Adamo Hotel's Bank Restaurant provides fine dining, using the best Scottish produce to create a selection of classic and modern dishes. www.adamohotels.com
Situated beside an attractive water feature and built in the style of a Scottish crannog, the River House Restaurant has an excellent menu of freshly prepared food at reasonable prices.
www.riverhouserestaurant.co.uk
How to spend the evening in Stirling?
Stirling offers a multitude of activities for both tourists and locals with the Macrobert Centre hosting a range of music, drama, movies and comedy for all ages. www.macrobert.org
Local bars and hotels also offer entertainment. Full details can be found in the colorful Stirling Life magazine, available locally or at www.stirlinglifemagazine.co.uk
Some things you may not know about Stirling?
Wallace's sword is five feet six inches long, leading historians to believe he must have been extremely tall for the times he lived in.
The world's oldest soccer ball, dating from 1540, was found in the rafters at the castle and can now be seen in Stirling's Art Gallery and Museum. www.smithartgallery.demon.co.uk
Stirling Castle was the site of the first recorded attempt at flight in Scotland, when in September 1507, John Damian, an Italian alchemist, attempted to fly from the castle's walls using wings made of chicken feathers. Unsurprisingly, the attempt failed and Damian crashed to the ground, breaking his thigh.
During the banquet to mark the baptism of Prince Henry in 1594, a large model ship, from which a variety of fish was served, was sailed into an artificial lake in the Great Hall.
In 1993, the premiere party for the movie Braveheart was held in the castle, with Mel Gibson, who played the part of William Wallace, the star guest.