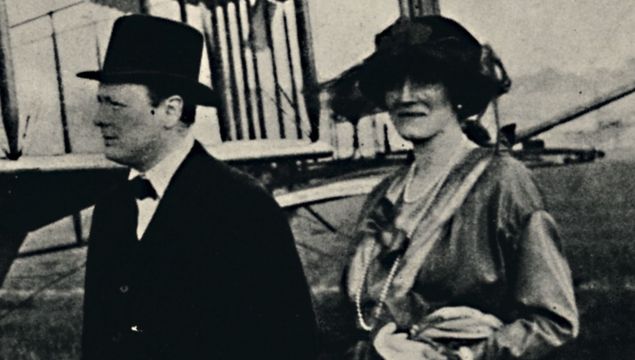 On this day, Sept 12, in 1908, Winston Churchill married his beloved, Clementine Hozier. Clementine was a formidable woman, here Deanna O'Connor delves into her interesting early years and impressive achievements.
Behind every great man is a great woman," or so the saying goes. Former English Prime Minister Winston Churchill is indisputably one of history's greats. But what of the woman behind him? Churchill's wife, Clementine, or Clementine Ogilvy Spencer Churchill, Baroness Spencer-Churchill, GBE, to give her full title, is a fascinating character in British history. 
Clementine was Churchill's trusted confidante and his rock during the storm of World War II. By his own admission, getting through the war years would have been "impossible without her" and not only for her efforts to preserve his health. While many historians have glossed over her contribution to history, Churchill's own chief of staff, General "Pug" Ismay, concluded that without Clementine the "history of Winston Churchill and of the world would have been a very different story".
Her influence over her husband, and by extension the Government, meant she was involved in some of the most crucial decisions of war. While she would never contradict her powerful husband in public and on occasion was incensed by others' criticism of him in front of her, she was not afraid to take him on behind closed doors. He affectionately referred to her as "She-whose-commands-must-be-obeyed". Beyond her own home, she was well-respected for both her personal charm and her humanitarian work.
Family background 
Clementine's background is fascinating. Born to an aristocratic background, her father Henry Montague Hozier came from the landed gentry and her mother, Lady Blanche Ogilvy, who became Henry's second wife, was the eldest daughter of the 10th Earl of Airlie. It wasn't considered to be a great match by her family - but as she was wayward, and at the ripe old age of 26 considered to be getting on a bit, they consented. It wasn't long before cracks started to show in the marriage and in particular, Henry was averse to the idea of having children. After five years of marriage, a child finally arrived, although it is highly unlikely that Henry was the father of any of Blanche's children. Contemporary accounts from the time note of scandals concerning Blanche's infidelities and rumours about multiple lovers, including her own brother-in-law, Bertie Mitford, the First Lord Redesdale, who was married to her younger sister. Eventually, after Hozier found her with a lover in her bedroom, he turned Blanche out on the street and sued for divorce in the autumn of 1891. 
In her biography of her mother, one of Clementine's children Mary Soames writes that, "Many social gossipers at the time, and a body of latter-day opinion, believe Lord Redesdale to have been Clementine's father; indeed, Blanche herself is said to have told Lady Londonderry just before Clementine's birth in 1885 that the child she was expecting was "Lord Redesdale's'." 
If it were true, it would place her among a family of fascinating women - Bertie's granddaughters were the famed, glamorous Mitford sisters. However, Blanche also told Wilfrid Scawen Blunt (author of a book called "Secret Memoirs") that Bay Middleton (later Earl Spencer) was the father of her two elder children, born in 1883 and 1885 - and it is thought perhaps Bertie was only the father of twins Bill and Nellie, born in 1888.
Early years 
The early years of Clemmie's life were spent mostly in the family's home in Grosvenor Street in London, along with The Netherton, a small house in Scotland, near Cortachy. After the upheaval of her parents' separation, Blanche was left financially badly off, largely dependent on her family for support, and there were bitter disputes over the arrangements for the children. 
At first, the two eldest, Clemmie and Kitty, aged eight and six, were brought to live with their father, then deposited at the home of a nanny, and finally sent to school in Edinburgh, where they were desperately unhappy. It seems this had come to pass without their mother's knowledge and once she found their whereabouts went to retrieve them and take them back to live with her between London and Seaford, a south coast resort.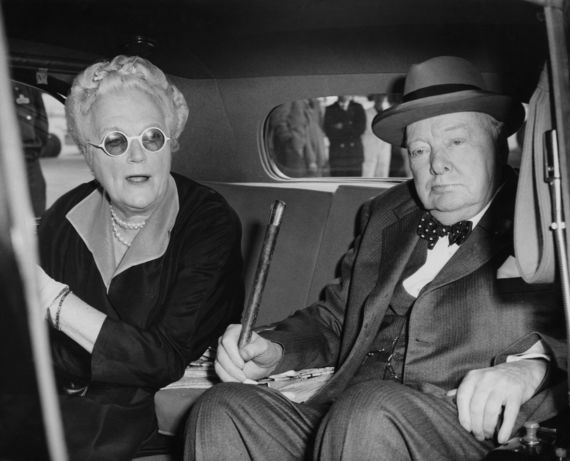 3
By 1899, Blanche was struggling financially and afraid that her husband was about to try and regain custody of the two elder girls. On the spur of the moment she moved her brood across the English Channel to the Normandy fishing port of Dieppe. They led a pleasant life there, until it was marred by tragedy, when Kitty fell ill with typhoid. Clemmie and Nellie were sent to stay with their aunt in St Andrew's in Scotland (the other twin, Bill, was already in boarding school). Kitty died just a month before her 17th birthday, after which the family returned to England, settling in Hertfordshire. Attending a local school, Clemmie shone academically, receiving a special medal from the French Ambassador for her mastery of the language; she later attended lectures in the Sorbonne in Paris. After a brief spell in Germany, she returned to London and gave tutoring in French. She also worked in a cousin's dressmaking business and learned to make her own clothes - a fact which was the cause of much derision in snobbish society circles upon her engagement to Winston, but essential for her to keep up with the demands of dressing for the social season in the lavish Edwardian era. 
Love life 
Although she had been a shy and sensitive child, often in the shadow of her beautiful and outgoing older sister, Clementine blossomed during her teenage years and had no shortage of admirers in London. Her younger sister joked that they needed to keep a file to keep track of the proposals she had received: "Discussed", "Answered" and "Pending Decision". 
Despite twice becoming secretly engaged to an admirer and great friend, Sidney Peel, she felt that her esteem and affection for him were not enough to settle for the marriage. Something greater was awaiting her. She first met Winston at a ball during the summer season of 1904, when she was 19. Winston was 30 and already a public personality, with a career as a soldier, war correspondent and author of six books already under his belt. That year he was also making his mark politically, abandoning the Conservatives and crossing the floor of the House to join the Liberal benches in defence of Free Trade.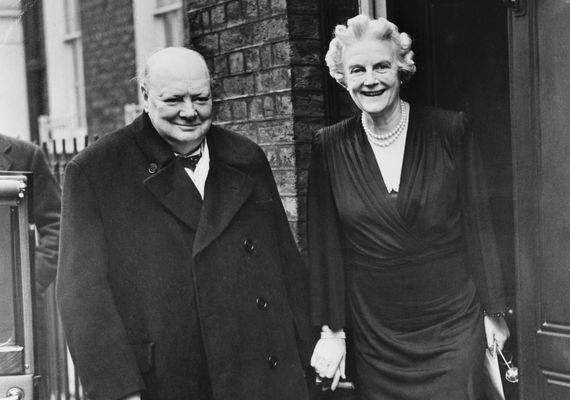 3
On their first meeting, after being asked to be introduced to the beautiful young woman who had caught his eye, Winston was overwhelmed and didn't make a great impression. Clementine was quickly rescued from the awkward encounter and went to dance with another suitor. 
It was the spring of 1908 when their paths finally crossed again in a more meaningful manner, seated beside each other at a dinner. After an entrancing evening of conversation, he made sure it wouldn't be years before they saw each other again and asked his mother, Lady Randolph, to invite Clementine and her mother to spend a weekend in their country house. It was a great success and by September of that year they were married.
They set up home first in Winston's bachelor pad at No 12 Bolton Street in London, before moving to a more substantial family house at No 33 Eccleston Square in 1909, where they welcomed Diana,  the first of their five children, in July of that year. 
A woman of influence 
Throughout the years of her children's early lives, and the tragic death of daughter Marigold aged just three, Clementine's interest in public events and politics never wavered. During the First World War, she organised canteens for munitions workers on behalf of YMCA in London, which earned her the honour of being appointed a Commander of the Order of the British Empire (CBE) in 1918. Later, during World War II, she was chairperson of the Red Cross Aid to Russia Fund, the president of the Young Women's Christian Association War Time Appeal and the chairwoman of Maternity Hospital for the Wives of Officers, Fulmer Chase. In 1946, she was appointed a dame grand cross of the Order of the British Empire, becoming Dame Clementine Churchill GBE. Excluded from playing an active part in public life because of her gender, in her match with Winston Churchill, she found an intellectual connection as well as a deep and enduring love. It is said that Clementine's charm and astuteness did much to help smooth over strained relations with world leaders including Stalin, Roosevelt and de Gaulle. 
Churchill, ever-appreciative of his formidable wife, declared that out of all his life, marrying her had been his most brilliant achievement. "For what," he asked, "could be more glorious than to be united with a being incapable of an ignoble thought?"