[caption id="AGrandBallandtheTeddyBearsPicnic_img1" align="aligncenter" width="231"]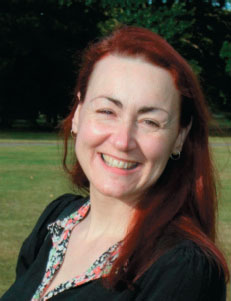 5
[/caption]
ONE OF THE FUN THINGS ABOUT LONDON is that even the great institutions are constantly reinventing themselves. Turner Prize winner Grayson Perry, for instance, didn't strike me as the most obvious curator for a British Museum exhibition. As I climbed the steps that curl around the old Reading Room and saw Perry's bizarre, pink, customized motorbike, I still wasn't convinced. But walking around The Tomb of the Unknown Craftsman, I began to get what Britain's oddest potter was thinking.
Of course, ultimately, it's a show about Perry himself, with heavy reference to his transvestite alter-ego Claire and his muse Alan Measles, a moth-eaten teddy bear that was his only friend during a childhood illness. But Perry has chosen artifacts from the museum that have inspired him and linked them in a way that no academic ever would, through soul and humor, rather than any artistic or cultural references. I found it charming.
Perry's willingness to laugh at both himself and Culture with a capital C is slightly strange somewhere as doughty as the British Museum, but it's also a breath of fresh air. His awe for the skill and inspiration of the craftsmen who created the original pieces is genuine and humble. I would say that it made me look at the objects with a fresh eye, except that many of them are from the archives and haven't seen the light of day in years. The exhibition is a one-off opportunity to see works that don't usually have a place elsewhere in the BM's hallowed halls.
If I'm honest, though, I wasn't there for the exhibition itself, but because I had heard that, on the top floor, clinging to the outside of the Reading Room's Portland stone walls, was a place that needed testing in my eternal search for the perfect afternoon tea. When most people think of eating at the British Museum their thoughts immediately fall to the clatter of the ground floor snack-joints or the family-centred Gallery Café, but The Court Restaurant is an altogether smarter affair. Because it's perched close to the fabulous glass roof, it has large pieces of sailcloth stretched overhead to counter the summer glare, which makes what should be an open cavern, quiet, intimate, secret, even. It serves lunch, and on Friday evenings, the museum's late opening day (always a quieter and more magical time to visit the more distant rooms as you'll have the place to yourself), there is fine-dining to be had, too.
[caption id="AGrandBallandtheTeddyBearsPicnic_img2" align="aligncenter" width="434"]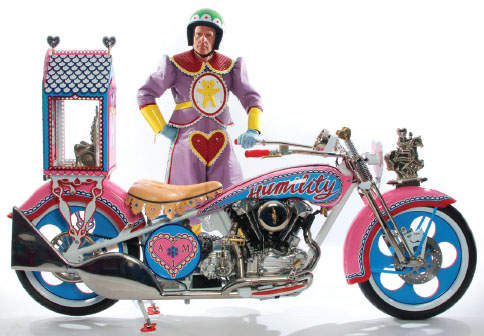 5
GRAYSON PERRY'S MOTOR BIKE
[/caption]
Most popular by far, however, is its elegant afternoon tea. Always available is the classic British tea everyone knows and loves—finger sandwiches, dainty cakes, Fortnum & Mason tea—but I was there for something different. There's usually a sophisticated, themed "exhibition menu" based around whatever's on, but it's not usual for the curator to have a hands-on role in its creation. Grayson Perry, however, was determined to put his own mad stamp on proceedings and I went for his special Teddy Bear's Picnic. It ranged from the surreal (smoked salmon, blue cheese and Marmite sandwiches) through the wacky (an entire chocolate motorbike) to the frankly creepy (a sugar-coated jelly Alan Measles teddy bear), and yet I was enchanted. Of course, the Rasberry Bellini with which I washed it all down probably helped, but, no. This is the British Museum letting down its hair and getting just a little funky and I loved it.
Getting funky in the West End just now is Mark Rylance, probably Britain's best actor of his generation, in a role he was born to play. Jerusalem is not everyone's cup of tea, and there were one or two interval walkouts the night I went, but I can't remember a time I was so dumbstruck by a performance.
I have made it my business to see Rylance in as much as I can for years. He was artistic director at Shakespeare's Globe for some time, where he played leading roles, both male and female, with a calm intensity that was unnerving in its stillness. Rooster Byron, the crippled, trailer-trash antihero of Jerusalem, is the violent opposite of anything Rylance has played before. From the moment he explodes onto the stage, upended in a cattle-trough, to his final rant at the deus ex machina, Rylance owns the stage. By the time this issue comes out, the show will be over, but I include it not just because I want to rave about Mark Rylance, but because he is returning to the Globe next season, playing Richard III and Olivia in Twelfth Night. Forget the Cultural Olympiad, Shakespeare's Globe will be the place to be next summer.
THE OTHER PREPARATORY THING I have done is take out a year's membership in Historic Royal Palaces. Membership of London institutions has to be decided on a case-by-case basis—some are very good value, some merely ways of giving cash to something you believe in. I was very selective on timing with HRP, to get most from it—joining on January 2 so I could take one last glimpse at the magical kingdom that Kensington Palace was turned into while, backstage, it was restored back to royal splendor for the Jubilee Year. The traditional State Apartments reopen, gilded and gleaming, in March. The Crown Jewels will also be re-presented in a new setting at the Tower of London and the Georgian kitchens opened at Kew Palace for the first time since they were last used in 1818. So, if there was ever a year to be a member at HRP, this is it. Joint membership costs £65 and given that it's the best part of £20 per head to visit the Tower alone, it's not going to be hard for Tony and me to get full value, even if we don't make it to Hampton Court Palace or the Banqueting House.
[caption id="AGrandBallandtheTeddyBearsPicnic_img3" align="aligncenter" width="1024"]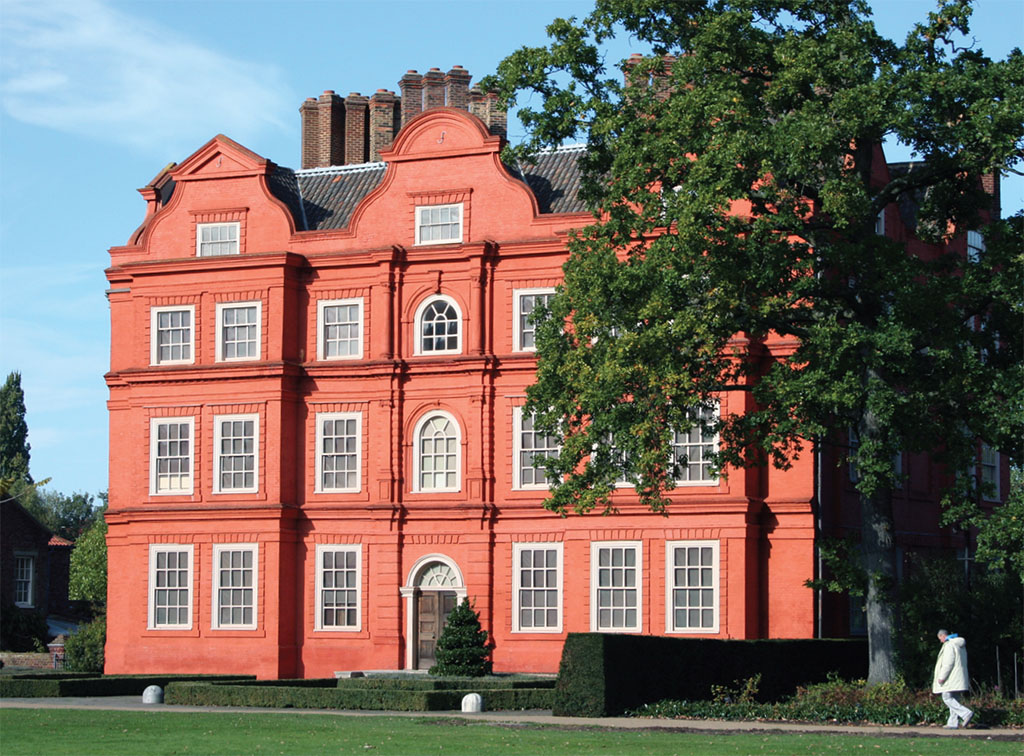 5
THE COURT
[/caption]
THIS MONTH'S CONTACTS
The Court Restaurant
www.britishmuseum.org
Shakespeare's Globe
www.shakespearesglobe.com
Historic Royal Palaces
www.hrp.org.uk
The Chap magazine
www.thechap.net
South East London Folklore Society
www.selfs.org.uk
The Grand Anarcho-Dandyist Ball gets points for name alone. It's organized by the gently tongue-in-cheek magazine The Chap, which goes to great lengths to give advice on earth-shatteringly important topics such as the length of jacket cuffs this season, moustache etiquette, the finer points of hat-doffery and the art of selecting rubbing tobacco; a little bit of British whimsy that encourages every Brit to be a Chap, regardless of gender, race or, indeed, geographical origin.
[caption id="AGrandBallandtheTeddyBearsPicnic_img4" align="aligncenter" width="619"]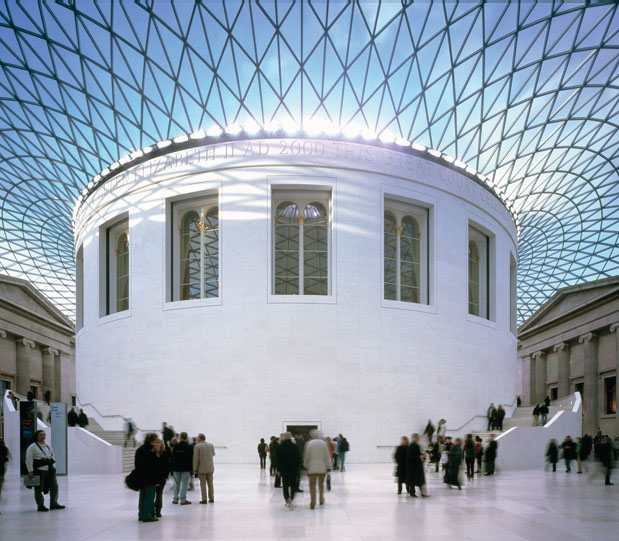 5
KEW PALACE
[/caption]
As a contributor to this august organ, I was the proud recipient of an invitation to the ball, which left me in a small quandary as to what to wear to an evening otherwise known as the Night of a Thousand Waistcoats. Tony was similarly challenged; should he go for the full Stage-Door-Johnny white tie or some kind of imperial tropical attire involving a pith helmet or fez? In the end, he made a wise choice in plumping for discreet black tie, which is more than I can say for the rakish gentleman in the Georgian attire complete with wig that looked like it been rescued from the guillotine, or the individual who had covered his tailcoat with fairy lights. A splendid evening of champagne, cocktails and Chap-hop, although it left me wishing I could dance in floor-length red sequins.
No dressing up required or, indeed, recommended for the South East London Folklore Society, which meets every second Thursday of the month at the Old Kings Head in Borough (in the alley next door to the famous galleried George Inn). You don't even need to be a member, since they don't believe in anything as square as membership. It's a bunch of loosely connected people who are interested in the history of London, folklore, esoteric subjects of all varieties and anything to do with oddness in the capital. They post on their website what the next event will be and everyone's welcome. I try to get to as many meetings as possible, and it's one of the great cheap things to do in London.
Over the years, I have attended lectures on London ghosts, the history of brewing, medicinal plants grown in monasteries in the Middle Ages, Jack-In-The-Green, Blackheath UFOs, witchcraft in Camden and, most recently, the rivers that still run below our feet anywhere we go in the capital. Turn up early to get a seat, buy yourself a pint, ask the barman to direct you to the enjoyably tatty function room upstairs, pay your £2.50 and prepare to meet some of London's real characters.
Next time I'll be testing out some of those new Historic Royal Palace attractions, eating decent Mexican food and trying to get just a little bit more girly…