No adventure for adrenalin junkies
[caption id="ASlowBoatonaWaterwaysHoliday_Feature" align="aligncenter" width="1024"]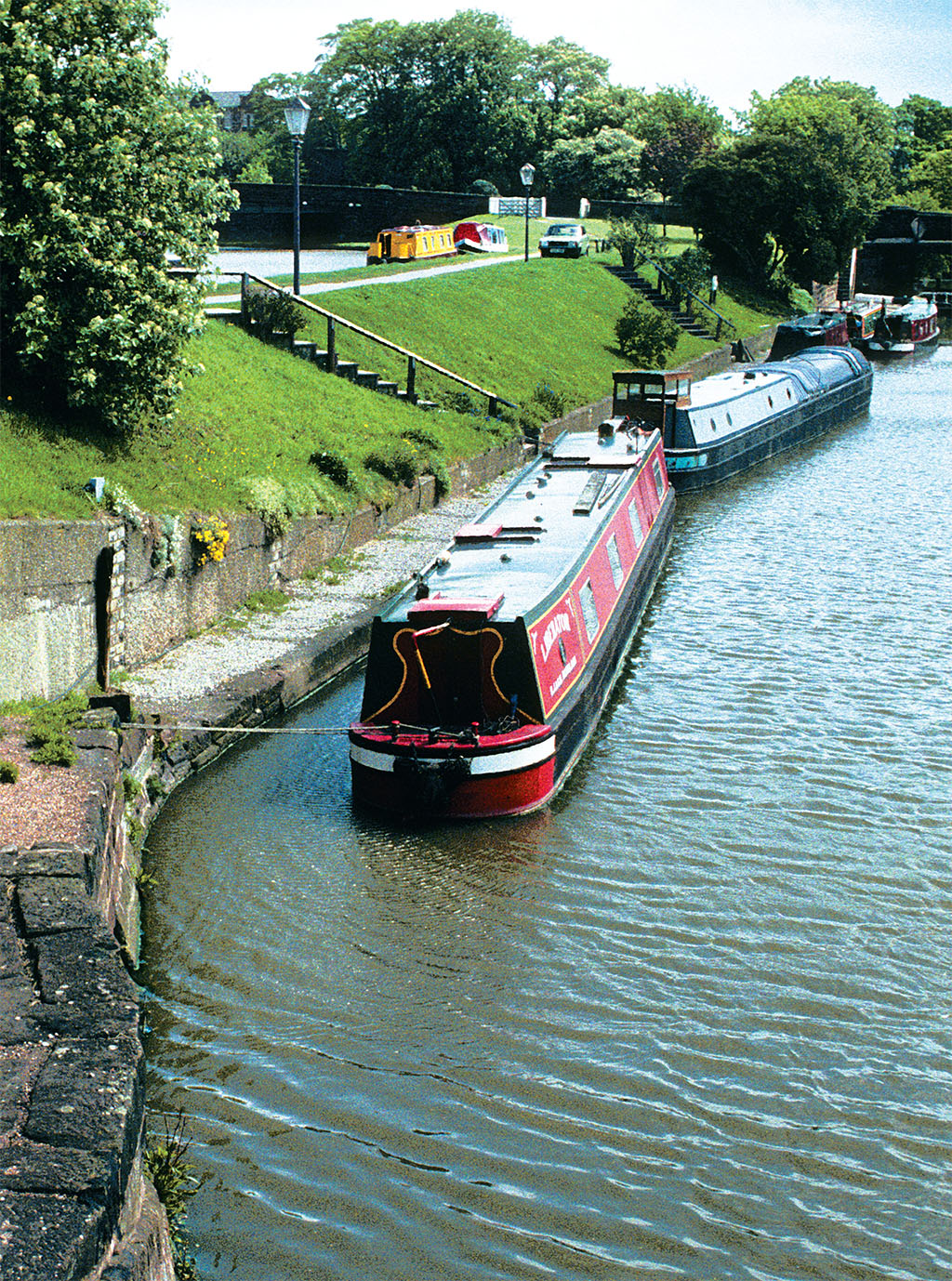 9
[/caption]
[caption id="ASlowBoatonaWaterwaysHoliday_img1" align="aligncenter" width="1024"]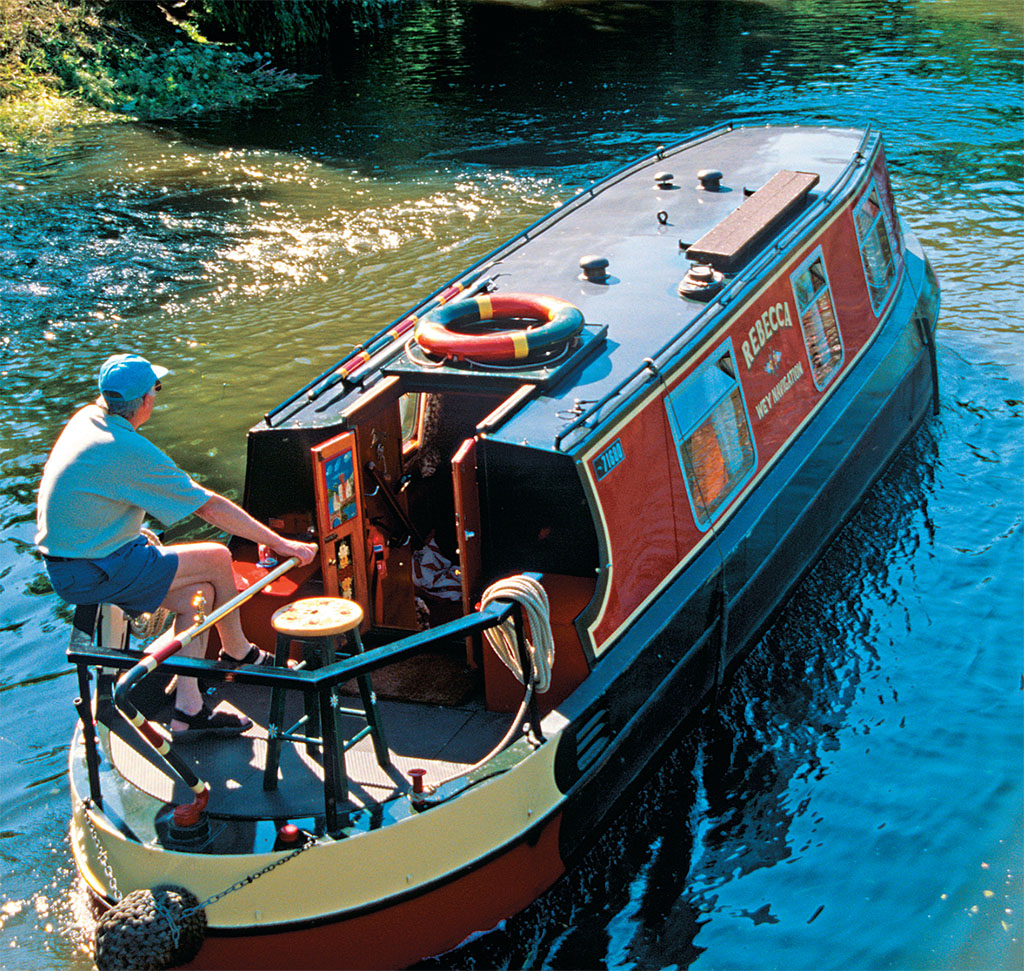 9
Take the tiller yourself. Renting and piloting a canal boat is actually easy. Almost anyone can do it, and cruise away at 4 mph from pub to pub across the deep green countryside of England and Wales.
[/caption]
When you take a canal boat holiday in the United Kingdom, three truths become self-evident: No qualifications or experience are required when hiring a boat; mooring up at canalside pubs is a must; and the world will go by at 4 miles per hour.
Every canal in the UK is unique in the countryside it traverses and the traffic it carries. There are some 2,200 miles of publicly owned canals and navigable waterways between London and Scotland to choose from.
On the outside, the canal boats of 2008 look little different from 1908 models. Inside, a century of advances in creature comforts awaits the modern canal boat user. Today's 7-foot-wide boats are ingeniously planned to provide comfortable and even deluxe holiday accommodation for groups of up to 12. These boats are equipped to navigate easily all water features, from locks to aqueducts.
People often refer to canal boats as "narrowboats," and with good reason. The early Victorian engineers built extremely narrow canals. They may have seemed wide at the time, but these canals are so slender to modern eyes that they are almost invisible in the English countryside.
Speed might be relative, but on the British canal system, it is definitely a doddery relative. Boats are restricted to 4 mph, a quick walking pace. The routes vary from the very leisurely, where no more than four hours need be spent in motion, to the more energetic, which can mean traveling times of eight hours each day. Still, you are not going to get very far—which is the whole point of the holiday. Canal boats are not permitted to travel at night, so the time of year should factor into your plans. Darker evenings in March, April, September and October do limit the cruising day. In summer, you can often enjoy cruising until 8 p.m. or even later. A rule of thumb suggests four hours of sailing a day allows you to cover around 80 to 100 miles in a week. Before you cast off onto your first canal, here are some things to consider:
First off, will you be taking a skippered cruise or a self-drive hire boat? A skippered cruise is perfect for a nicely packaged, all-inclusive holiday where all the work is done for you. Just sit back, be a passenger and leave the navigating to your very professional skipper and crew.
A self-drive hire boat has a fully fitted kitchen, TV and entertainment system, so you can manage your time and spending as you wish. Pitch up at traditional, cozy canalside pubs or restaurants to eat. For a hardier holiday, just buy local produce from supermarkets and stores in canalside towns and cook your own food on board.
[caption id="ASlowBoatonaWaterwaysHoliday_img2" align="aligncenter" width="1024"]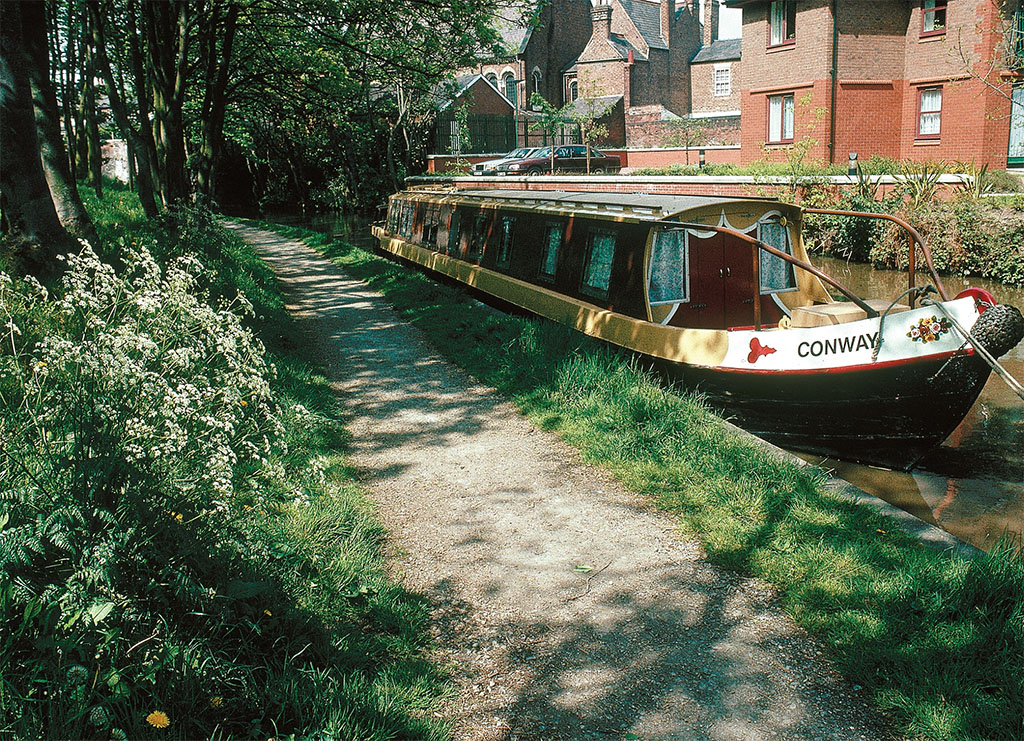 9
[/caption]
'Pitch up at a cozy canalside pub or shop at the local market and cook on board'
Self-drive boats are normally available during the "cruising season," from mid-March until late October. Rentals are available from some boatyards all year. Parts of the network, however, including locks and aqueducts, may be closed for periods of maintenance during winter. That said, winter boating has its own charms, not least breaking the ice on frozen canals. Skippered boats normally operate between April and October.
All narrowboats are steered by a low-tech tiller at the rear. They are diesel powered, and most hirings come with enough fuel for a fortnight.
Canals are busiest during the school holidays from late July to early September. This is also when the hire rates are highest. In canal travel, busy means having to wait an hour or more to traverse a lock. It's not real gridlock, and boat users sometimes attempt to avoid the busy times by simply tying up or exploring some of the quieter, backwater canals.
IT'S A TIGHT SQUEEZE
All narrowboats have a number of fixed single berths that can be left made up during the day, while some will have fixed double berths, generally 4 feet wide. Most boats have a dinette in the saloon that can be converted to a double bed. The more expensive narrowboats have separate sleeping cabins to leave the saloon free for sitting and dining. They might even run to en suite toilet facilities.
When selecting a boat, consider going for more space rather than less. "Cabin fever" is a nautical term with real meaning you do not need to discover while on holiday. While much on a narrowboat is superbly miniaturized, passengers remain full-size—and staying in confined spaces over time can be trying. The number of people who can be put up on a boat depends on the mix of fixed and convertible berths. Many boaters suggest hiring a boat with enough fixed berths for all party members, and leaving the convertible berths unused for living space.
Picking up the boat couldn't be simpler. The northern canals are no more than three or four hours from London by train, but flights into Birmingham or Manchester put you only an hour or so from canalside.
Today's picture-postcard image of a canalside pub belies the establishment's gritty background. Yet they were built specifically for the canal worker. In its heyday, canal work was thirsty work, and after hours, rough and ready canal crews relished the company of drinking companions.
Now, after decades of the gentrification that has accompanied the revival of the canal community, a large number of the old pubs have been completely refurbished and provide comfortable surroundings, gardens and children's play areas as well as meals for those who don't want to cook on their holidays. Most have convenient moorings outside, some even providing water taps and other facilities, but moorings can fill up in the early evening at popular pubs. Even so, it is entirely possible to plan your holiday to ensure you stop outside a pub every evening. In fact, it is the sociable thing to do.
[caption id="ASlowBoatonaWaterwaysHoliday_img3" align="aligncenter" width="1024"]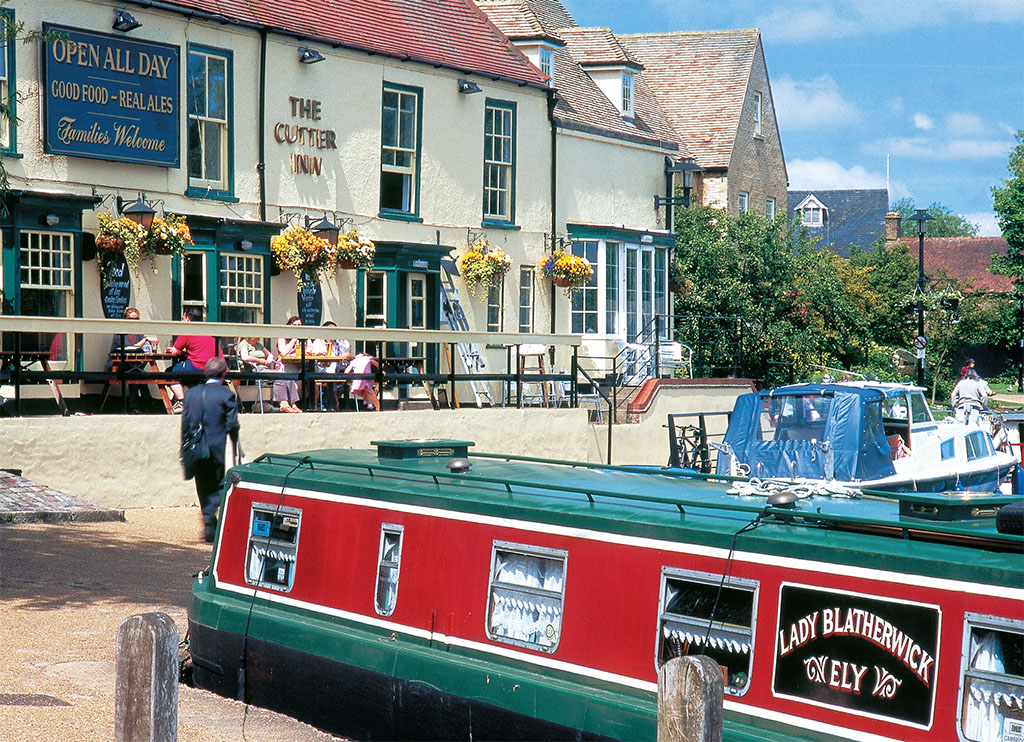 9
There's often a cluster of canal boats tied up at The Cutter Inn in Ely.
[/caption]
CRUISING RINGS
You don't have to be aimless when on board your canal boat. There are a number of "rings" established by British Waterways that give you ready-made tour itineraries.
AVON CRUISING RING: This ring courses through Shakespeare country along a combination of canal and river navigations. From the outskirts of Birmingham, the route follows the Stratford-upon-Avon Canal to the Upper and Lower Avon Navigations and thence the River Severn.
BIRMINGHAM RING: The Birmingham Ring traces the major waterways in the Birmingham Canal Navigations and offers an excellent overview of this fascinating and unique network.
BLACK COUNTRY RING: This ring leaves the much-revamped water frontages of Birmingham via the New Main Line and negotiates parts of the elegant Staffordshire & Worcestershire Canal and the Trent & Mersey Canal before returning along the Coventry and the Birmingham & Fazeley Canal.
CHESHIRE RING: Featuring the Bridgewater Canal, the first canal to be built in the modern waterways era, the Cheshire Ring was formulated after successful campaigns for the restoration of several key sections and is one of the original cruising rings.
FOUR COUNTIES RING: This ring takes boaters from the Shropshire Union Canal through the rolling Cheshire Plains to the Trent & Mersey Canal, the Staffordshire & Worcester Canal.
LEICESTER RING: Nontidal rivers combined with broad and narrow gauge canals offer a mixture of waterway experiences including the Rivers Trent and Soar, and the Grand Union Canal (Leicester Line).
SOUTH PENNINE RING: The South Pennine Ring traverses the rugged Pennines back and forth, taking in the Calder & Hebble Navigation from Sowerby Bridge, the Huddersfield Broad and Narrow Canals and the Ashton Canal.
STOURPORT RING: The Stourport Ring visits no fewer than three cities of contrasting hues; the newly recognized City of Wolverhampton, industrial Birmingham and the ancient City of Worcester.
THAMES RING: From the lower reaches of one of the world's best-known rivers, the Thames, to the land of dreaming spires and academia of Oxford, the ring continues north along the Oxford Canal.
TWO ROSES RING: Lancashire and Yorkshire are brought together in a combination of canal and river navigations centering on the Pennines that offers one of the few rings suitable for wider-beamed boats.
WARWICKSHIRE RING: Sections of the Coventry, Oxford, Grand Union and Birmingham & Fazeley Canals are components in the Warwickshire Ring.
'Canal boaters join a like-minded community of holidaymakers who relish the more relaxed pace'
[caption id="ASlowBoatonaWaterwaysHoliday_img4" align="aligncenter" width="1024"]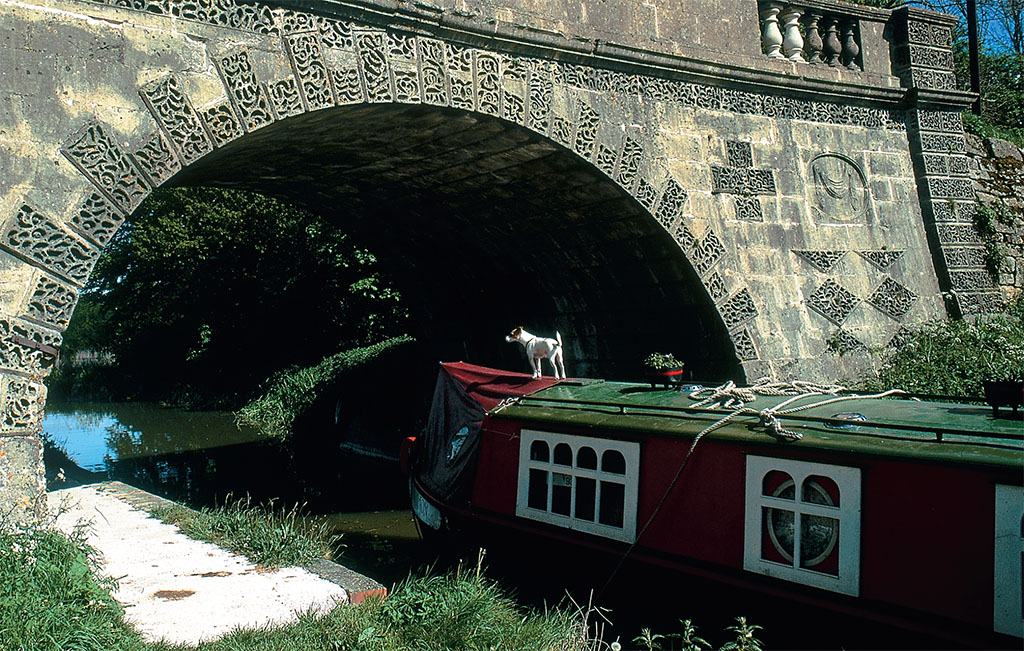 9
The pup keeps a sharp lookout on a quiet morning's cruise under Ladies Bridge on the Kennett and Avon Canal in the Vale of Pewsey, Wiltshire.
[/caption]
PITCH UP AT THE PUB
Since Lownds Kinsey became it first licensee in 1834, the Ring o'Bells (Bridge 2, Marple) on the Macclesfield Canal has slaked the thirst of users of the "Macc."
The pub is very much a canalside establishment, according to landlords Peter and Sue Clarke. "We specifically have one room, named the 'Waterways,' which has an exclusive canal theme; however there is a strong flavor of the canal throughout the pub," says Peter Clarke. "We are a Robinson's house, a Stockport family brewery since 1838, and we sell Unicorn Best Bitter, Hatters Mild and a seasonal beer, usually a light bitter. We also have a variety of keg beers. Bitter is around £2.25 and mild is around £2.15."
The pub's extensive freshly cooked menu includes a large vegetarian section. It is traditional fare, and prices range from £2.95 for a sandwich to £16 for a fillet steak.
"We are very popular with boaters; I would say we serve someone every day of the year, but we are much, much busier during the season. There are 48-hour moorings directly opposite the pub," Clarke says. "Most canal users are British, but we regularly have plenty of boaters from all over the world; U.S.A., Australia, New Zealand and an amazingly high proportion of Swedes."
The terrace overlooks the Macclesfield canal, which Clarke describes as "beautiful, tranquil and a canal which passes through some stunning scenery."
The Crooke Hall Inn in Crooke has always been a canalside pub, though no one seems to know exactly when it was built, says landlord Stephen Derricott. Owned by Allgates Brewery, a local microbrewery, the Crooke Hall Inn sits on the Leeds and Liverpool canal.
"We have two bars, one of which is a cellar bar, accessed directly from alongside the canal," says Derricott. "We are theming this with canal atmosphere and artifacts."
Allgates Inns have about 10 core beers, plus guest beers from around the country. A pint of cask ale starts at £1.80 and goes up to £2.10. The pub serves "traditional pub grub," says Derricott. "Our chef Carol is well-known throughout Wigan for her excellent cooking."
Moorings are at the rear of the establishment, and boaters can step from their boats directly onto pub property. With visitors from Britain, the United States, Canada and Australia, Derricott is convinced he knows what makes a canalside pub worth visiting.
"A canalside pub certainly has a different atmosphere to a typical town pub," he says. "We regularly have live music featuring local folk music and bands; this, coupled with the area—which is a small canalside village—makes for a peaceful and relaxing stay. The main ingredient that makes a canalside pub memorable is the people; after all, they are mostly like-minded canal enthusiasts and users, enjoying the same things."
The abiding pleasure of canal boating is joining a like-minded community of holidaymakers who value the ability to switch off from the speed of the 21st century and relish the more relaxed pace of a bygone age—but with the comforts of the modern world at hand.
[caption id="ASlowBoatonaWaterwaysHoliday_img5" align="aligncenter" width="1024"]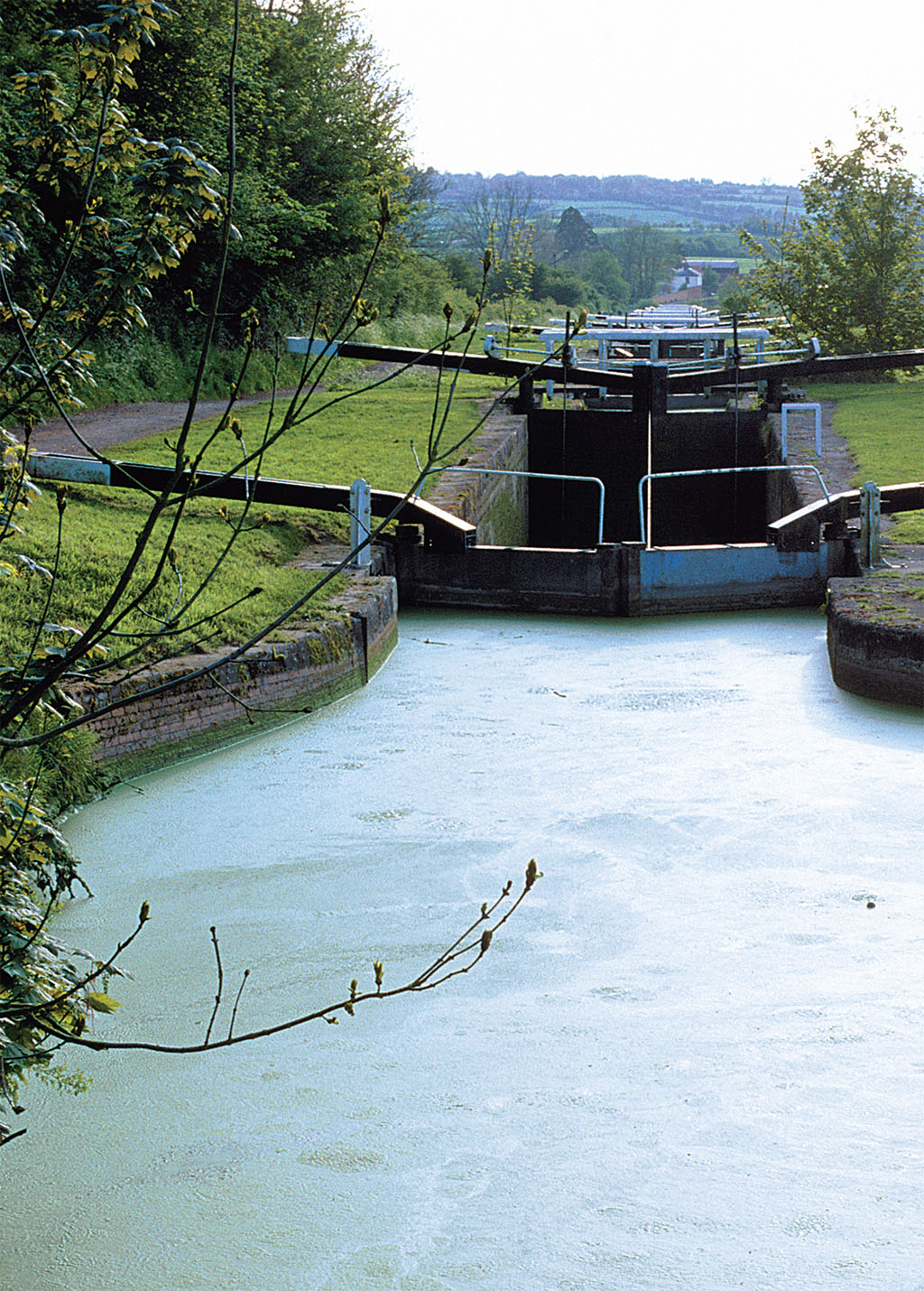 9
The Devizes Locks lift the Kennet & Avon Canal down Caen Hill in the Vale of Pewsey. There's not much point to being in a hurry.
[/caption]
[caption id="ASlowBoatonaWaterwaysHoliday_img6" align="aligncenter" width="750"]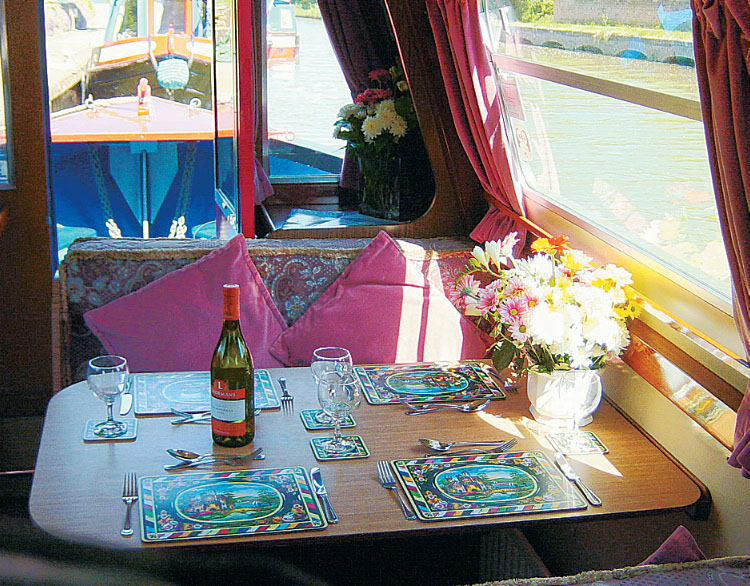 9
[/caption]
[caption id="ASlowBoatonaWaterwaysHoliday_img7" align="aligncenter" width="1024"]

9
Via Con Dios

ties up for the evening near Banbury in Oxfordshire. Life aboard takes place at a very civilized pace. It may be snug, but the comforts of life are all amazingly present—or else they don't seem to matter.
[/caption]
Canal Boat Companies
The Wyvern Shipping Company Ltd.
Rothschild Road, Linslade, Leighton Buzzard, Beds LU7 2TF
Telephone: 44 1525 372355
E-mail:
[email protected]
www.canalholidays.co.uk
Rose Narrowboats Ltd.
Fosse Way, Stretton-Under-Fosse, near Rugby, Warks CV23 0PU
Telephone: 44 1788 832449
E-mail: [email protected]
www.rose-narrowboats.co.uk
Black Prince Holidays Ltd.
Stoke Prior, Bromsgrove, Worcestershire B60 4LA
Telephone: 44 1527 575115
E-mail: [email protected]
www.black-prince.com
UK Boat Hire
PO Box 232, Worcestershire WR1 2SD
Telephone: 44 1905 734168)
E-mail: [email protected]
www.ukboathire.com
Foxhangers Canal Holidays
Lower Foxhangers Farm, Rowde, Devizes, Wiltshire SN10 1SS
Telephone: 44 1380 828795
E-mail: [email protected]
www.foxhangers.co.uk
Anglo Welsh Boats
At North Kilworth, Oxford, Bath, Wootton Wawen and a number of other canal locations.
Telephone: 44 1173 041122
www.anglowelsh.co.uk
Napton Narrowboats
Napton Marina, Stockton, Southam, Warks CV47 8HX
Telephone: 44 1926 813644
E-mail: [email protected]
www.napton-marina.co.uk
Viking Afloat
Lowesmoor Wharf, Lowesmoor, Worcestershire WR1 2RS
Telephone: 44 1905 610660
E-mail: [email protected]
www.viking-afloat.com
Fox Narrow Boats
10 Marina Drive, March, Cambridgeshire PE15 0AU
Telephone: 44 1354 652770
www.foxboats.co.uk