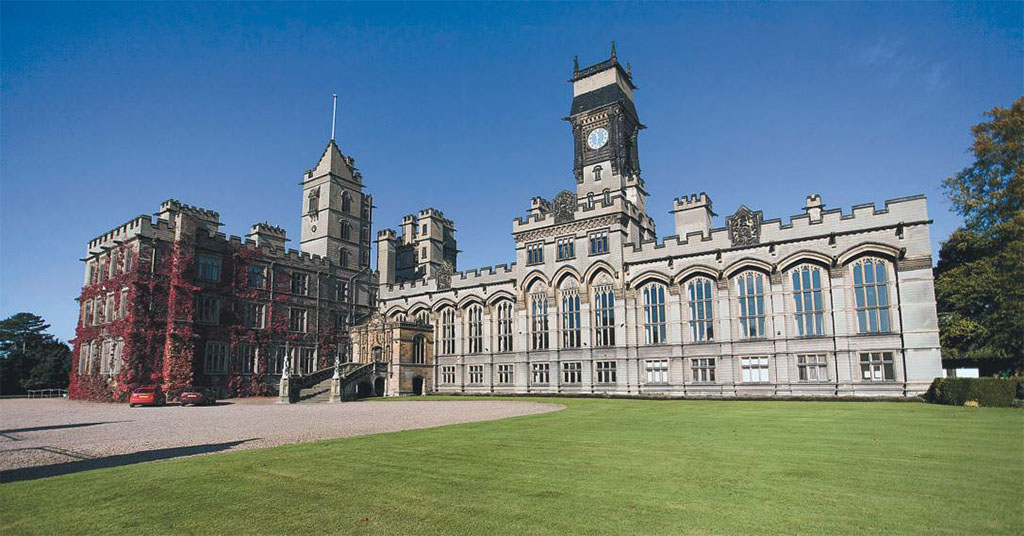 Visiting a Great Country House Like They Did in Jane Austen's Time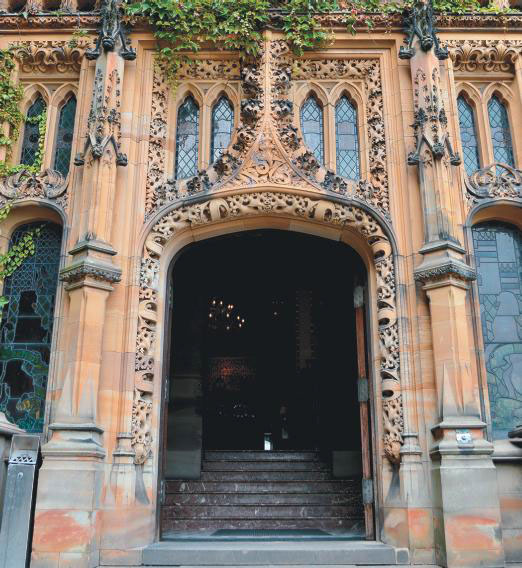 9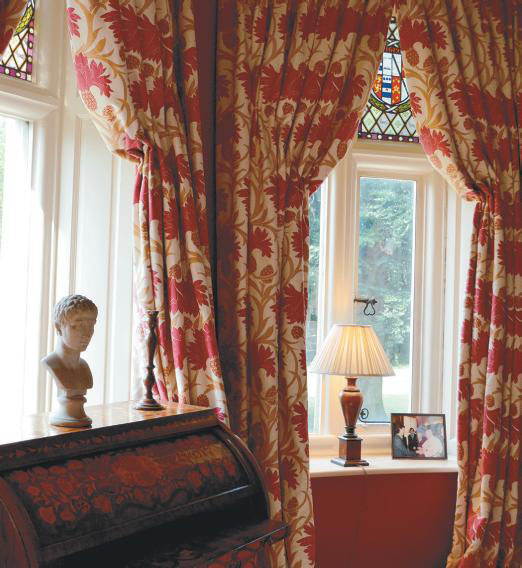 9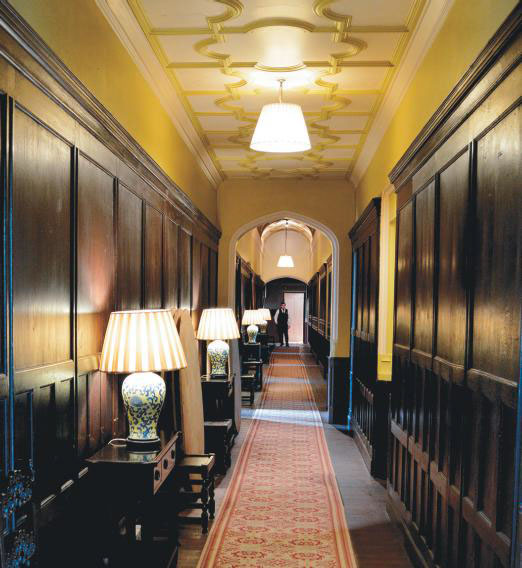 9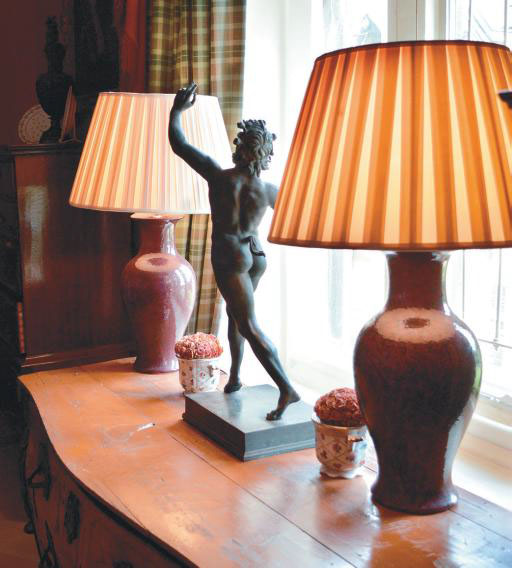 9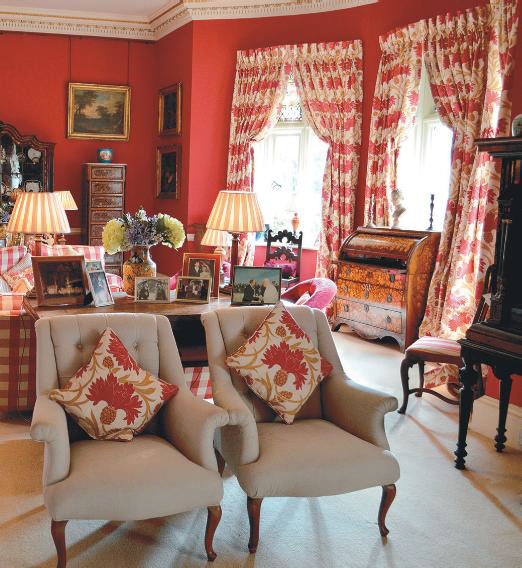 9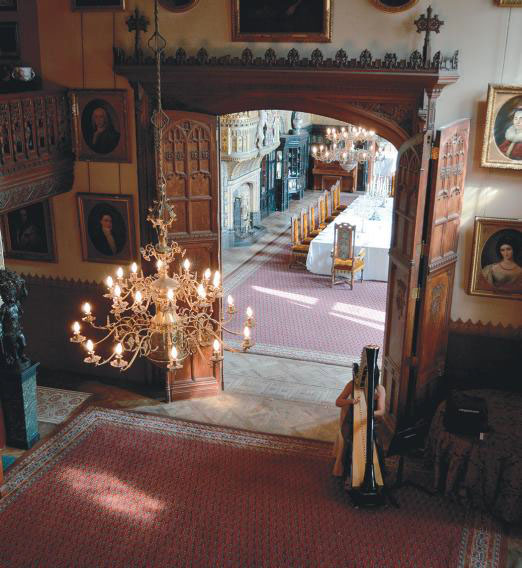 9
THERE'S A SCENE in Pride and Prejudice where Elizabeth Bennet has been touring the Peaks with her aunt and uncle, visiting the grand stately homes in the area. She's unsure about the largest of all. Supposing she were to bump into Mr. Darcy? her relatives persuade her that the family will be away; only the staff will be at Pemberley. What could possibly go wrong? They apply to the housekeeper….
And that's how, for centuries, people visited the great houses of England. Long before the national Trust opened houses for all to visit on a charming, but somewhat impersonal level, prospective sightseers would apply to the housekeeper and, if there was nothing pressing going on and someone was available, they would be shown around.
I wouldn't have the nerve to call a privately owned country house and just ask to be shown around these days. There is at least one secret gem left, however, where if those 19th-century housekeepers' conditions are met, this is only too possible.
Carlton Towers "has been here since Domesday," according to Lord Gerald Fitzalan-Howard, the house's present incumbent. Of course, during that time it's been remodelled more than once. Its most recent plumage is Victorian Gothic, built in the 1870s by Lord Gerald's great, great uncle henry, 9th Lord Beaumont.
"He was totally mad," says Lord Gerald, with a glee that belies what must be not a small pang of frustration. "he had delusions delusions of grandeur. Went from inheritance at 21 to bankruptcy at 23." What henry left, however, is a Gothic confection of magnificent proportions.
If you don't like dogs, don't bother going to Carlton Towers. They're everywhere, both literally and metaphorically. Stained glass, stone, wood, plaster, even the family coat of arms, quartered down 10 centuries to a veritable chessboard, has a pair of hunting talbots guarding it. The present canine residents, two black Labradors and a Jack Russell, accompany us around the house, nosing in, shoving past each other and quietly pilfering the odd sandwich from the lower tier of the afternoon tea stand. "I'd like to be reborn as a dog,' says Lord Gerald, looking somewhat longingly at the Labrador stretched at his feet, unaware of the headaches of owning a country pile in the 21st century.
Hiring the architectural heavyweight Augustus Welby Pugin (of houses of Parliament fame), Great Uncle henry had visions of creating a castle beyond the dreams of a crazed German prince: a fairytale palace with gigantic banqueting halls, massive towers and a huge block containing nothing but a staircase that went up—and then down again—to be visited by all the crowned heads of Europe, not to mention the Pope himself. Sadly, henry's appetite for huge was too rich even for the blood of the Gothic Master himself. Henry and Pugin argued then parted company. Lord Gerald dramatically opens a giant double door at the end of the ballroom—to reveal a blank wall. "One day I'd like to paint a mural of what it would have been like," he says. "A giant staircase to nowhere."
John Francis Bentley (of Westminster cathedral fame) took up the architectural baton, bringing a lighter touch, not to mention some glorious furniture. "If it's got a 'B' on it, it's by Bentley," says Lord Gerald, tickled that though the B should be for henry (Baron Beaumont), there was nothing Bentley liked better than literally stamping his own mark on things. At this point, henry's cash was running out and another B, bankruptcy, loomed.
[caption id="AnInvitationtoCarltonTowers_img7" align="aligncenter" width="1024"]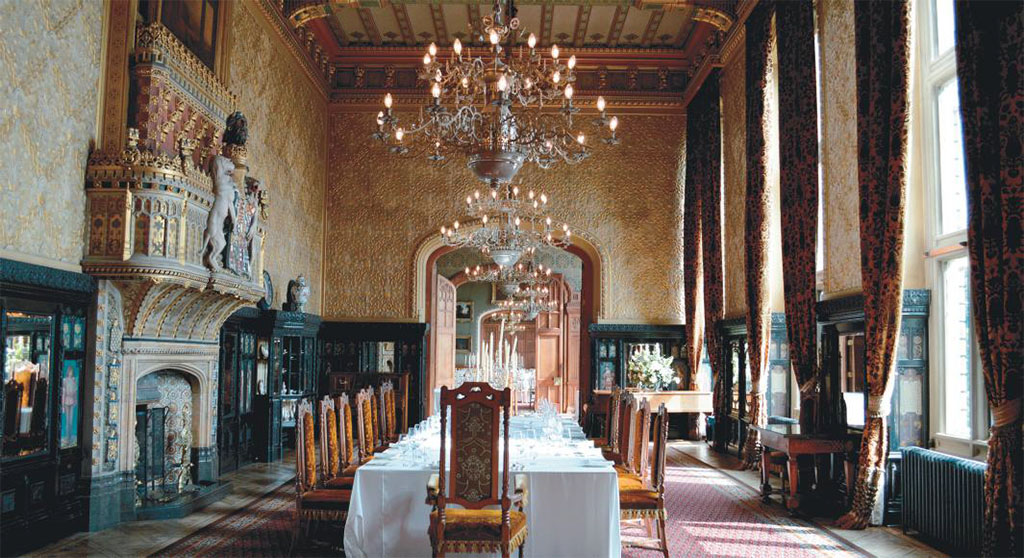 9
Host a private dinner party in the baronial dining room built by Great Uncle Henry.
[/caption]
For much of the 20th century, the house languished under dust sheets, just about saved by relatives and some astute marriages, but it was the white elephant of the family, their main estate being glorious Arundel Castle in Sussex. Carlton passed through aunts and uncles, fathers and grandfathers not unloved, just too much of a project for anyone to take on seriously.
As a second son, Lord Gerald missed out on Arundel castle, but on marrying Emma in 1990, they decided to leave London and try turning around carlton's fortunes. In winter 1991, with a two-month old baby and a broken-down alpha romeo, they drove north to start life at Carlton Towers.
It has been, and continues to be, a labor of love. While much of the original decoration in the glorious staterooms survived, the rest of the house was uninhabitable by 20th-century standards.
"The kitchen was rat-infested and there were bare light bulbs in every room," says Lady Emma. The Fitzalan-Howards made their home in the oldest part of the house and continue to live there today. They then set about the somewhat larger task of reviving the remaining 16 guest bedrooms, gilded staterooms, plaster-filigree fireplaces, vestibules, staircase, landings and drawing room. On the way they made some intriguing finds. Shoving three excited dogs out of the way, Lord Gerald gets on his hands and knees to lift a trapdoor to a 17th-century priest hole, discovered under one of the bedroom floors and used by one Father Thomas Thwing, upon whom history has bestowed the unfortunate honor of being the last priest to be hanged, drawn and quartered in England, in 1680.
Traditionally, land paid for English estates' upkeep, but with Lord henry's bankruptcy, much of the 20-30,000 acres were sold, and though the land left remains farmed and tenanted, it can't pay for the kind of maintenance work such an estate requires. At this point, many a country-house owner opens the estate to the public, turns it into a hotel/golf club/safari park/festival venue or just turns it over to the national Trust. But this was Gerald and Emma's home and besides, they had spent their lives making it personal to them—the above options would have stripped Carlton Towers of its heart.
Without knowing it, however, "Nutty Great Uncle Henry" had created the perfect venue for weddings, and this appealed to the romantic in the present owners. "We fell in love at Carlton Towers," says Lord Gerald. "I invited Emma to a house party here and showed her round." He chuckles. "Then we all got so drunk I had to show her around again in the morning." The double tour must have worked—there were 320 guests at the wedding.
Unlike the traditional country house based around a medieval hall or perhaps an Elizabethan "E," much of Carlton's ancient house is on one end. Uncle Henry's magnificent baronial wing provides the venue for a fairytale wedding, complete with a gothic, armor-lined reception area. "People like that it is our home, not a country house hotel. There are children's tricycles in the drive," says Lord Gerald.
[caption id="AnInvitationtoCarltonTowers_img8" align="aligncenter" width="340"]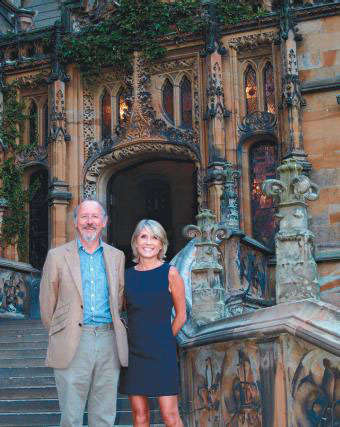 9
Lord Gerald and Lady Emma Fitzalan-Howard welcome informal visitors to their home.
[/caption]
"We love hearing the music," adds Lady Emma. "Cleaning our teeth to Michael Jackson and peering out of the window at the bride's dress. We could never fill these rooms ourselves, except at Christmas, so it's good to see them used."
Television provided the inspiration for another idea. The estate had already been the setting for a movie—A Handful of Dust, where Lord Gerald's father delighted in being a forelock-tugging extra behind Angelica Huston. More recently, Downton Abbey's elegant country house parties made them think other people might like to take over Carlton Towers for an evening or weekend—perhaps for a special wedding anniversary or a significant birthday.
With the house staff on hand for lunches and dinners, afternoon teas and Yorkshire breakfasts, guests can tramp around Carlton Towers' remaining 1,000-odd acres, go tench fishing on the lake or do a little clay pigeon shooting.
They can even hold a fancy dress party, like the one the Fitzalan-Howards are going to this weekend. Lord Gerald's been raking through the family closets and has found an old military costume. He puts it on to give us a twirl. "Can't think how he wore this for any length of time," he says, wriggling out of the jacket. "Just feel the weight of it."
The clock in the grand tower, ticking on and off since 1777, chimes and we make our way to the Venetian Drawing room for tea.
I wonder whether people who aren't necessarily in the market for a wedding and for whom a large house party might be twinkle in the eye rather than a firm booking might ever be able to catch a glimpse inside the otherwise private Carlton Towers. The reply arouses the Elizabeth Bennet in me.
While the Gardiners may have sent a copper-plate note to the housekeeper via a lad from the village, these days an email or phone call a week or so ahead can suffice. Monday to Friday is best, as Carlton Towers hosts weddings most weekends. But if the house isn't being used for an event and there's someone available, staff will be happy to show visitors around and give them afternoon tea for around £28 per head, on an availability basis. You can even arrange to stay over if the bedrooms are free, though this is absolutely not a hotel, so it's not always possible.
Don't be in the slightest bit surprised if you run into Lord Gerald, Lady Emma and those dogs at some point on your visitto Carlton Towers. After all, it is their home.