From Skara Brae to Scapa Flow
[caption id="AnOrkneySojourn_Feature" align="aligncenter" width="1024"]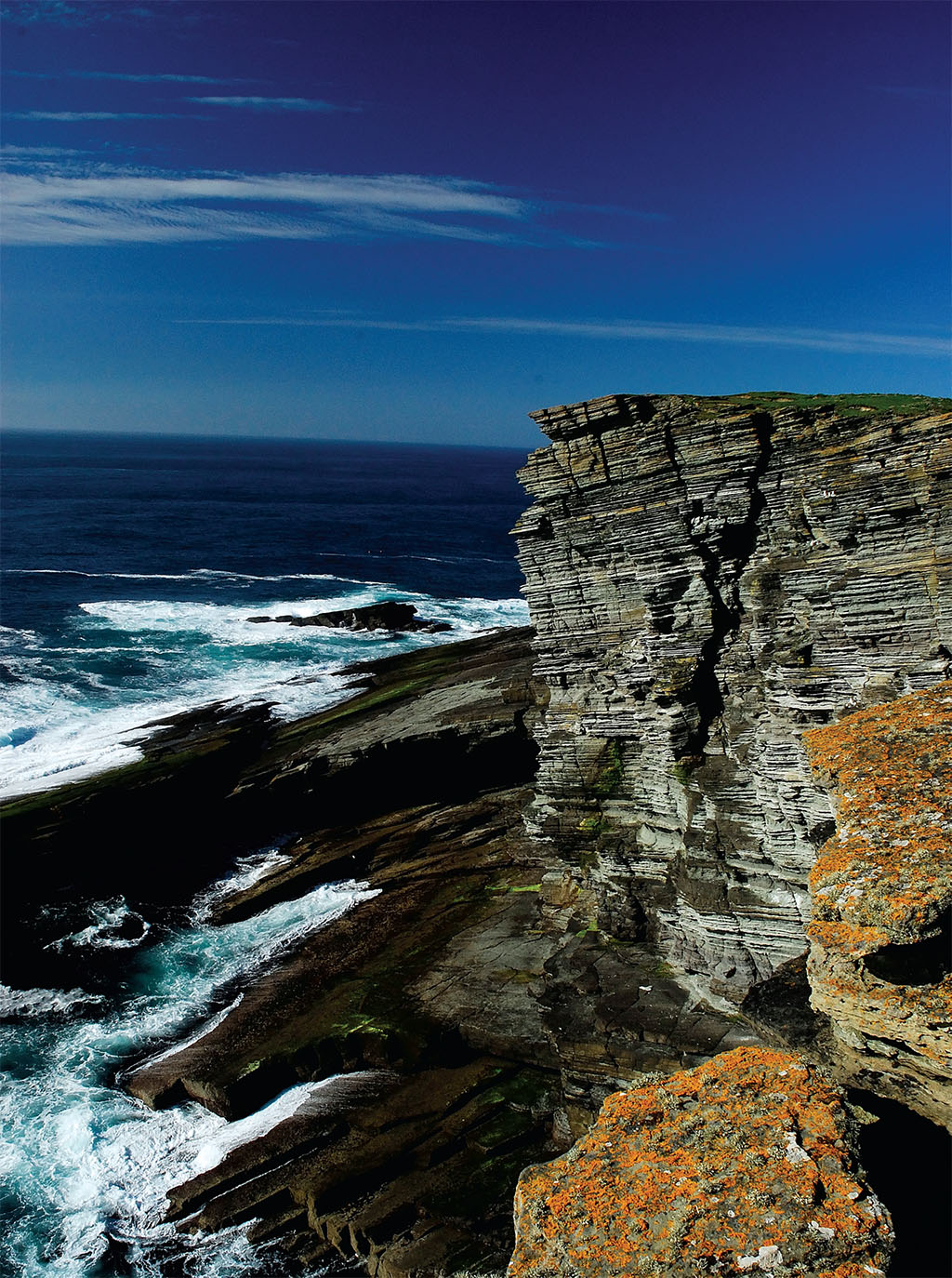 12
[/caption]
[caption id="AnOrkneySojourn_img1" align="aligncenter" width="146"]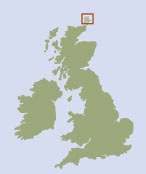 12
[/caption]
Orkney is an archipelago of 67 islands, 16 of which are inhabited, off Scotland's north coast. These green, fertile islands have a few rounded hills covered by heather moors and a coastline of dramatic cliffs that have been shaped by pounding Atlantic storms. Despite this, Orkney's weather is not extreme for a location that is parallel to Hudson Bay, but it needs to be considered when planning the day's activities. Indeed, the northern location means long summer days that, I discovered, are perfect for the visitor to plan rewarding excursions into Orcadian culture that spans more than 5,000 years.
A Neolithic village and stone circle before breakfast were a great start to exploring Orkney. Barnhouse Village and the Stones of Stenness were just a stroll from our hotel. Barnhouse Village comprises four excavated roundhouses that were closely connected to the neighboring stone circle. Stenness Stone Circle originally possessed 12 standing stones; today four 18-foot monoliths cast wondrous shadows in the low early morning sun.
The weather forecast was bright and sunny, therefore perfect for visiting Skara Brae, Gurness and then to Finstown for a stroll and dinner. During the winter of 1850, a violent storm exposed the ancient village of Skara Brae buried beneath sand dunes in Skail Bay. Eight unmortared stone houses, built into a midden heap and connected by stone passageways were serendipitously revealed. Subsequent archaeological investigations dated these dwellings to the Stone Age.
[caption id="AnOrkneySojourn_img2" align="aligncenter" width="1024"]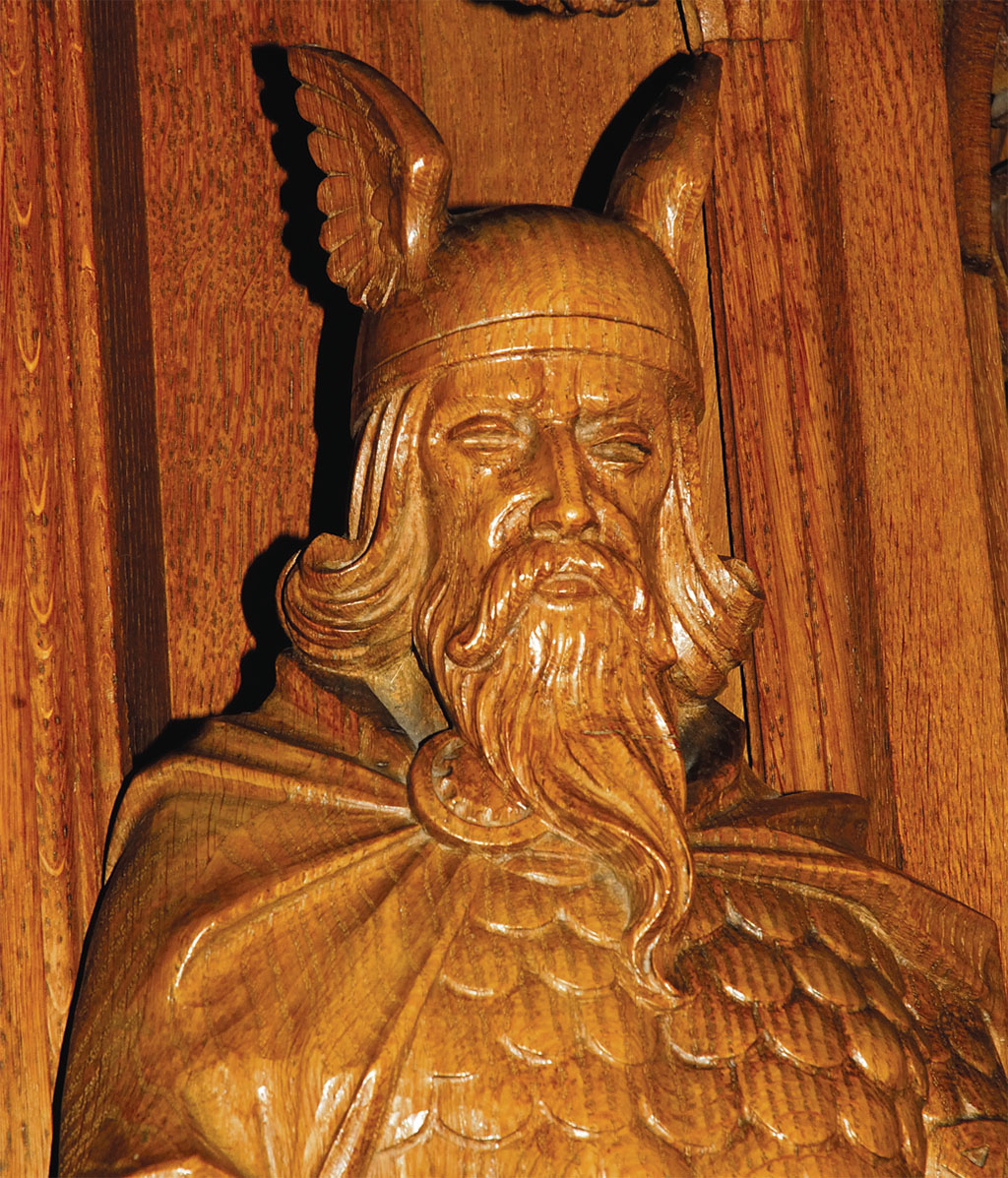 12
[/caption]
[caption id="AnOrkneySojourn_img3" align="aligncenter" width="1024"]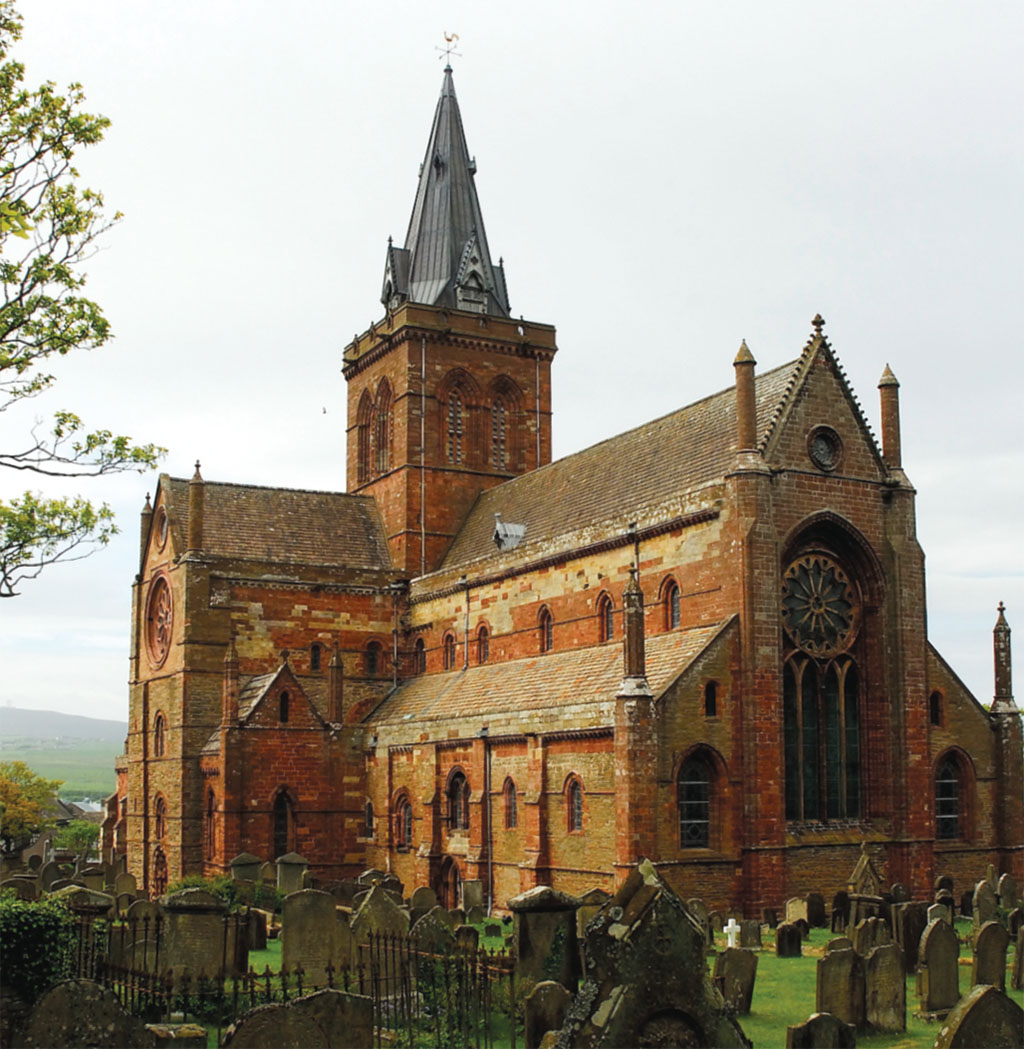 12
St. Magnus Cathedral in Orkney's principal town, Kirkwall, reflects the island archipelago's rich Viking culture. At left, a statue to the Viking saint, Rognavald, adorns the cathedral's transept.
[/caption]
Entrance to this remarkable Neolithic site, constructed before the Egyptian pyramids, is through a café and gift shop. Here, it is worth lingering to watch the short, though romanticized, film about Skara Brae's probable inhabitants. Then, the visitor wanders along a cramped, sheltered passageway into a stone house. This rectangular dwelling has a central hearth around which stone furniture is arranged in good order: fur-lined beds and seats, dressers and storage boxes. With a constant burning fire, these sunken houses would have been warm, albeit dark, smoky and probably smelly.
'A NEOLITHIC VILLAGE AND STONE CIRCLE BEFORE BREAKFAST WERE A GREAT START TO EXPLORING ORKNEY'
[caption id="AnOrkneySojourn_img4" align="aligncenter" width="1024"]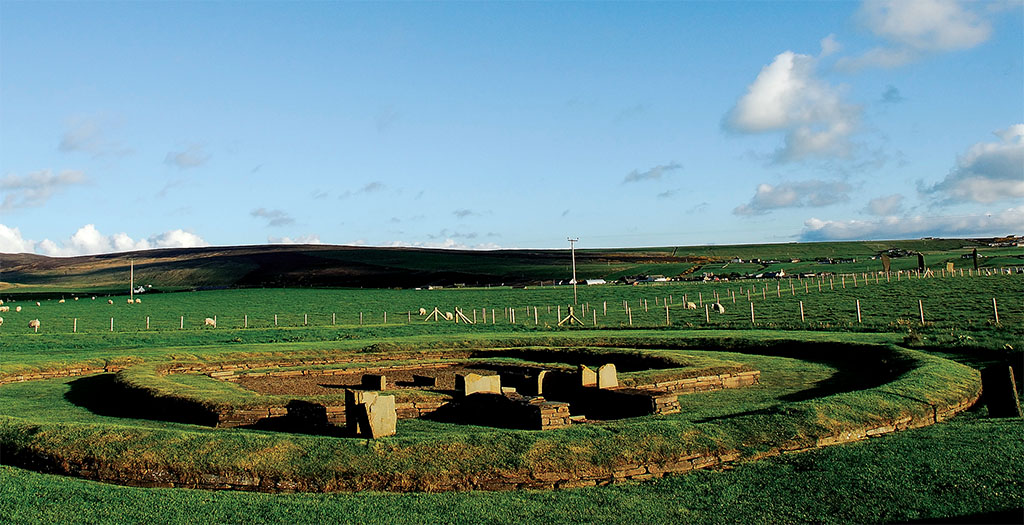 12
Four roundhouses make up Barnhouse Village, connected to the standing stones of Stenness Circle. They're just youngsters compared to Skara Brae.
[/caption]
[caption id="AnOrkneySojourn_img5" align="aligncenter" width="1024"]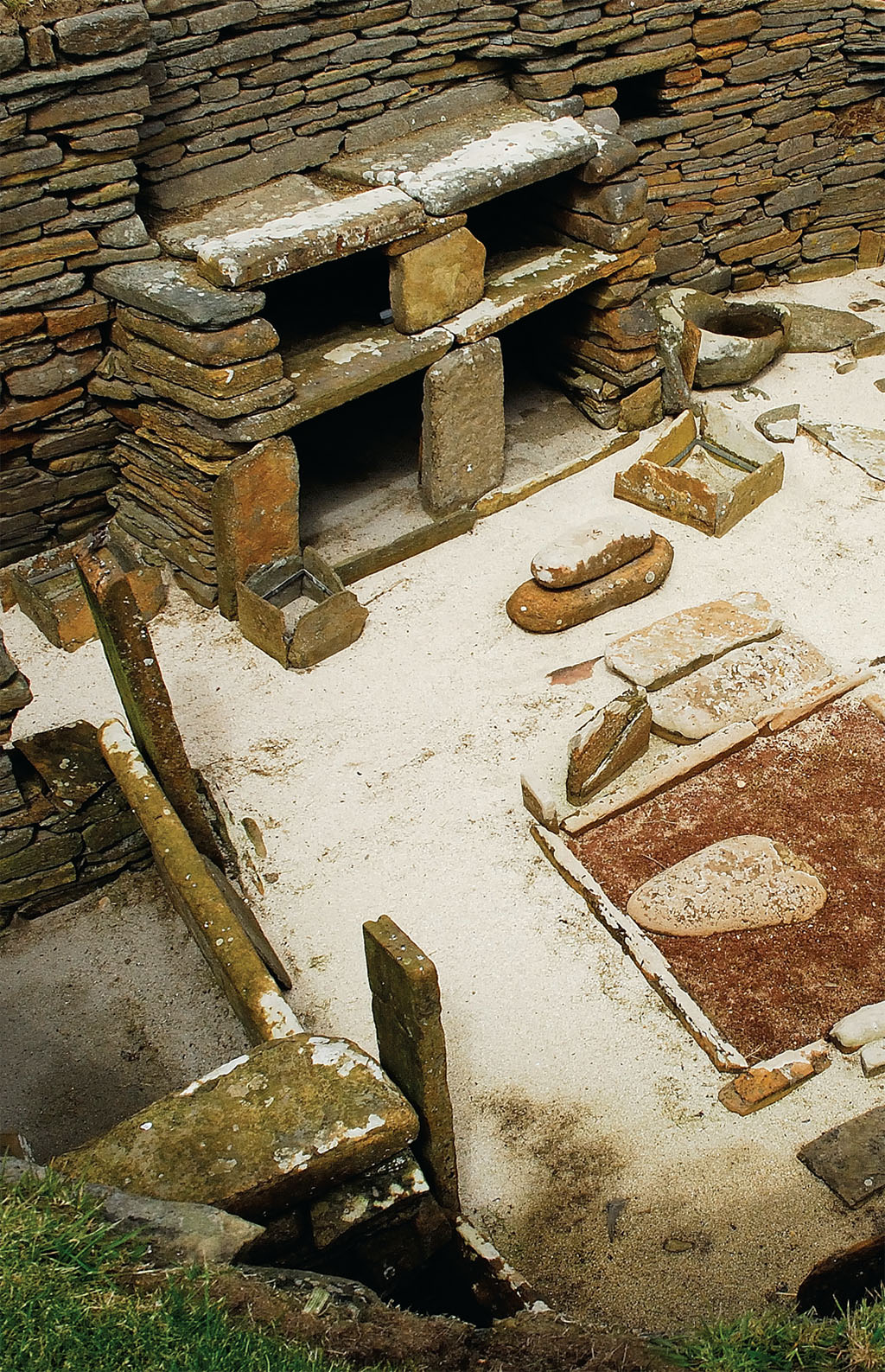 12
Before the Egyptian pyramids were built, for 600 years, a thriving agrarian community lived in the Stone Age village of Skara Brae. The small stone, low-ceilinged dwellings of the Neolithic community are reckoned to have been smoky, warm, dark—and smelly.
[/caption]
[caption id="AnOrkneySojourn_img6" align="aligncenter" width="1024"]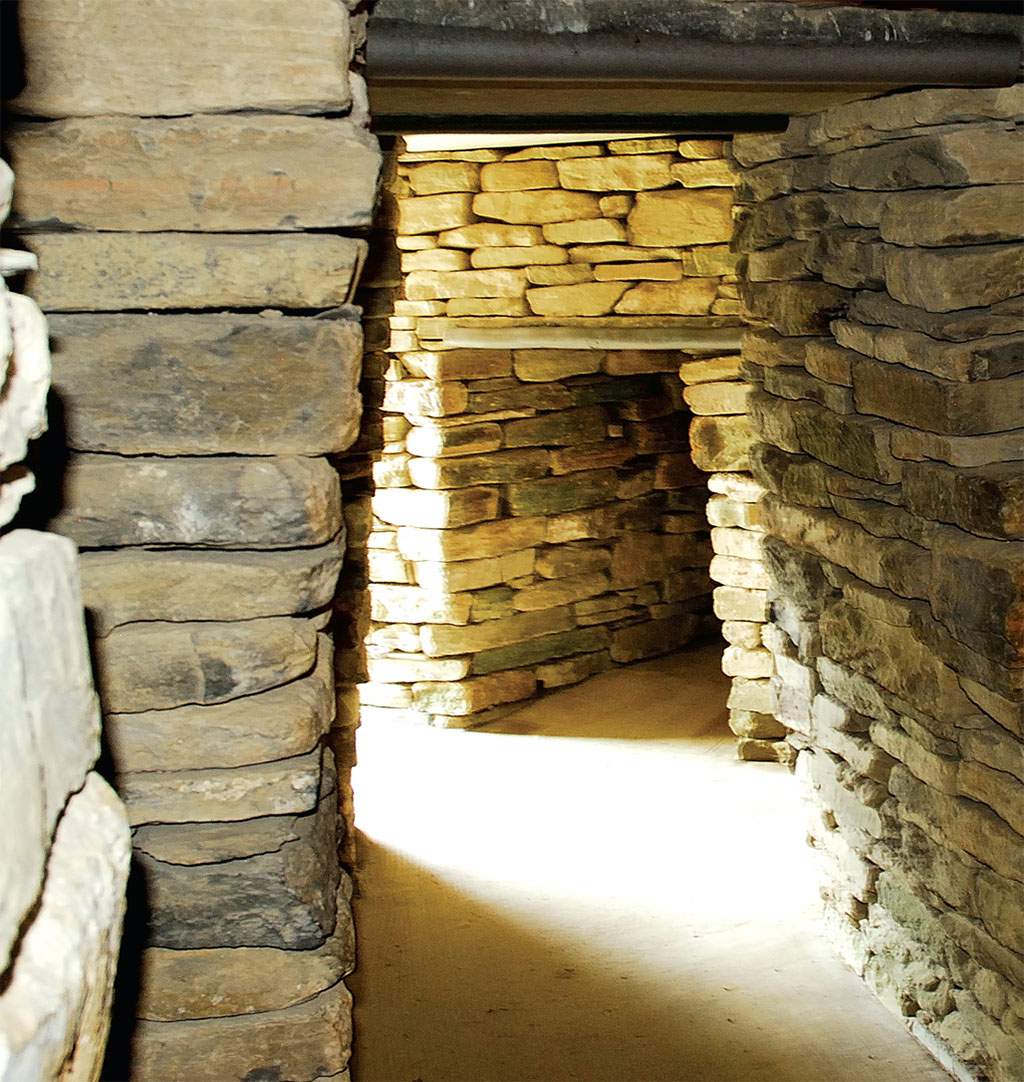 12
[/caption]
[caption id="AnOrkneySojourn_img7" align="aligncenter" width="1024"]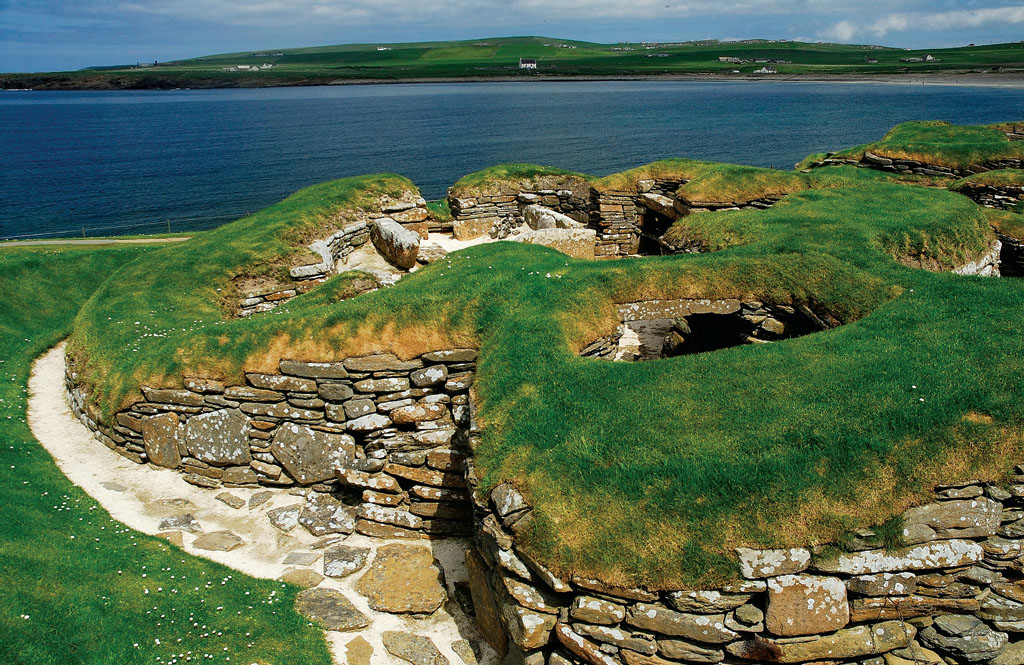 12
[/caption]
Exiting this claustrophobic dwelling and looking at the other houses in their picturesque coastal setting, it is wonderful to consider the life of these Stone Age Orcadians. Archaeological interpretations of various excavated artefacts, many of them displayed in neighboring Skail House, indicate that Skara Brae was continuously occupied for 600 years by an egalitarian agricultural community that raised cattle, goats and pigs, and grew several types of grains and cereals.
A few miles' drive from Skara Brae took us forward 1,000 years as we arrived at the Iron Age Broch of Gurness, which occupies a coastal promontory overlooking Eynhallow Sound. Brochs are ancient drystone towers found throughout northern and western Scotland. The Gurness Broch is a fine example and, as Alan, the site's custodian, explained, these structures were not fortified towers built in turbulent times of civil strife; they were the residences of the community's principal family. This point was easily appreciated on looking down from the broch's second floor upon the skeletal remains of the surrounding village.
After dinner in Finstown, we were seduced by the evening light into visiting the Ring of Brodgar. This stone circle originally consisted of 60 stones; today 36 remain, with 27 standing prominently on a low hill inside a henge 500 feet in diameter. And we had the ring, bathed in an intense sunset, to ourselves. The monoliths formed dark sentinels against the setting sun that was turning the sky red, and gilding the watery backdrop of Loch Stenness. Only as the afterglow faded and the stones merged into the darkness, did we become aware that it was midnight; a fitting finale to a full Orkney day.
Given a weather forecast of heavy, scattered showers, the next day seemed perfect for visiting a museum and Kirkwall. Corrigall Farm Museum's low buildings offered immediate shelter from the chill wind and an insight into the Orcadian agricultural way of life. The farmhouse is a longhouse: barn, stable, kitchen, living room and bedroom constructed as an integrated whole. Stepping into the kitchen's smoggy, peaty warmth, we disturbed a rooster and several hens that had free run of the living quarters. Low ceilings, earth floors, close confines provided a dark, aromatic warmth, but not necessarily uncomfortable living conditions as the museum's fine artefacts and displays illustrated.
Kirkwall has been Orkney's principal town since Viking times, when it was the center of their Scottish empire. Today, activity is focused on the straggling, narrow main street that winds up from the busy harbor to St. Magnus Cathedral. The main street offers an eclectic selection of shops and quality restaurants.
St. Magnus Cathedral is delightfully small. Its rich, red sandstone exterior enshrines a simple, but warm, interior with fine examples of Romanesque and Gothic architecture. Within, there are no pretentious altars, but two notable memorials: to the 600 men, who drowned in 1940 when HMS Ark Royal was sunk by a German U-boat in Scapa Flow, and to the Arctic explorer John Rae. Beside the transept's columns are statues of two Viking saints: Olaf and Rognvald. The choir miserichords have simple, Viking-inspired designs, and there is a carving of a Viking in a horned helmet (which they never wore).
The cathedral's excellent guidebook explains that the architects and builders came from York, Durham and Rievaulx. This indicates wealth, and the Orkney Viking earldom was indeed rich through trade. After Orkney was ceded to Scotland by Denmark in 1486, Orkney remained a wealthy island, and this is obvious from displays in the nearby 15th-century Earl and Bishop Palaces, and is explained in the Tankhouse Museum.
[caption id="AnOrkneySojourn_img8" align="aligncenter" width="1024"]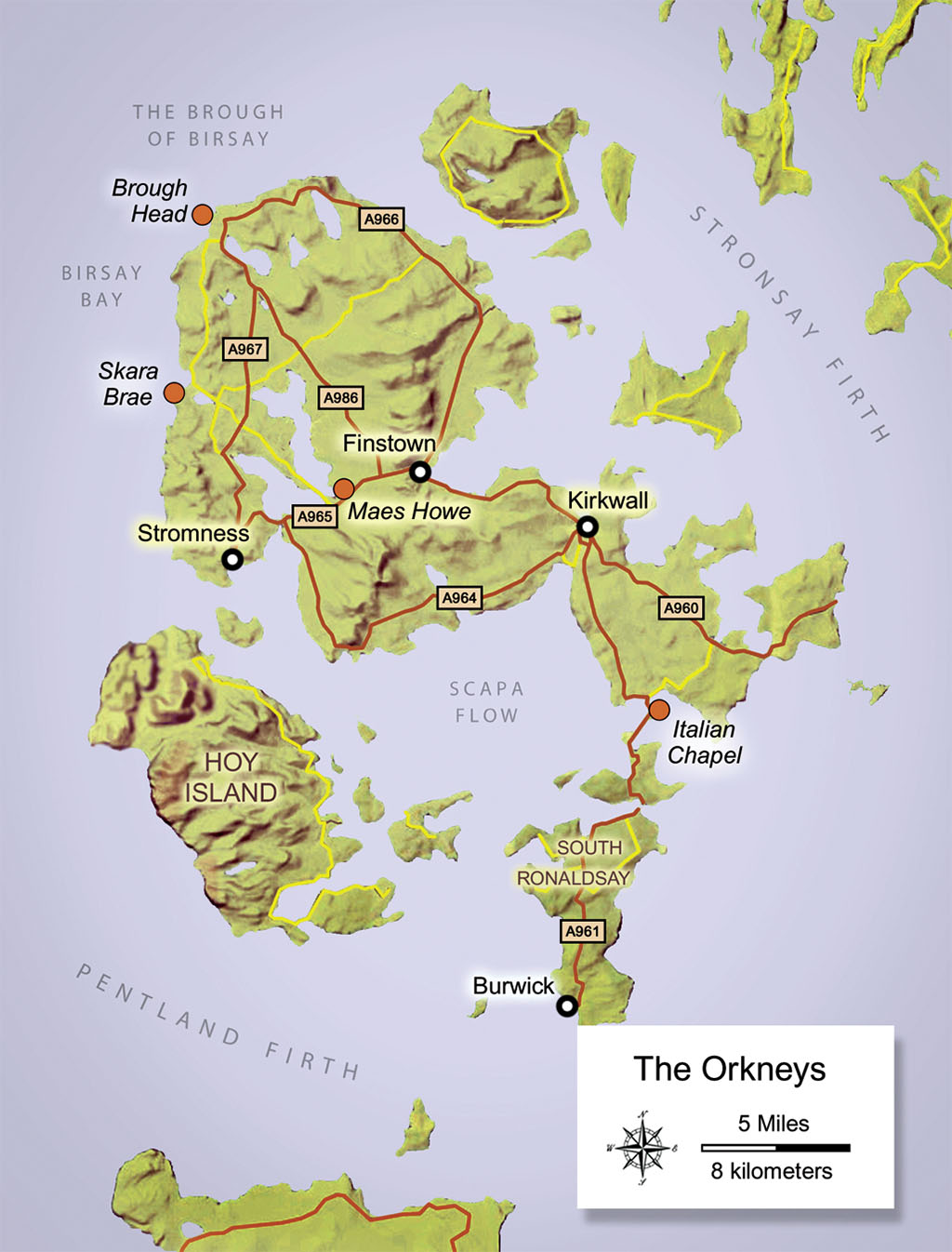 12
[/caption]
A phone call succeeded in reserving a table for us at the small, but excellent, Skerries Bistro at the southern end of South Ronald-say 16 miles away. The drive there took in the islands of Lambs Holm, Gilms Holm, Burray and South Ronaldsay which are connected by the Churchill Barriers.
Churchill ordered these concrete causeways to be constructed in 1939 to block the eastern approaches into the Scapa Flow Naval Base: 80 square miles of enclosed sea, a perfect sheltered harbor for the British fleet in two world wars. On either side of the barriers, wrecked ships eerily protrude from the cold waters. These vessels were deliberately sunk as part of an anti U-boat defensive system. Scapa Flow has many wrecks which can be explored with diving operators out of Kirkwall and Stromness.
On Lambs Holm there is an incongruous little chapel. Two wartime Nissen huts were converted by Italian prisoners of war into the Italian Chapel. Stepping into the chapel we were stunned by the perfect re-creation of a medieval Italian church's interior in a striking tromp l'oeil style.
'FOR CENTURIES, STROMNESS PROVIDED A SHELTERED HAVEN FOR SHIPPING THAT WAS CROSSING THE NORTH ATLANTIC'
[caption id="AnOrkneySojourn_img9" align="aligncenter" width="1024"]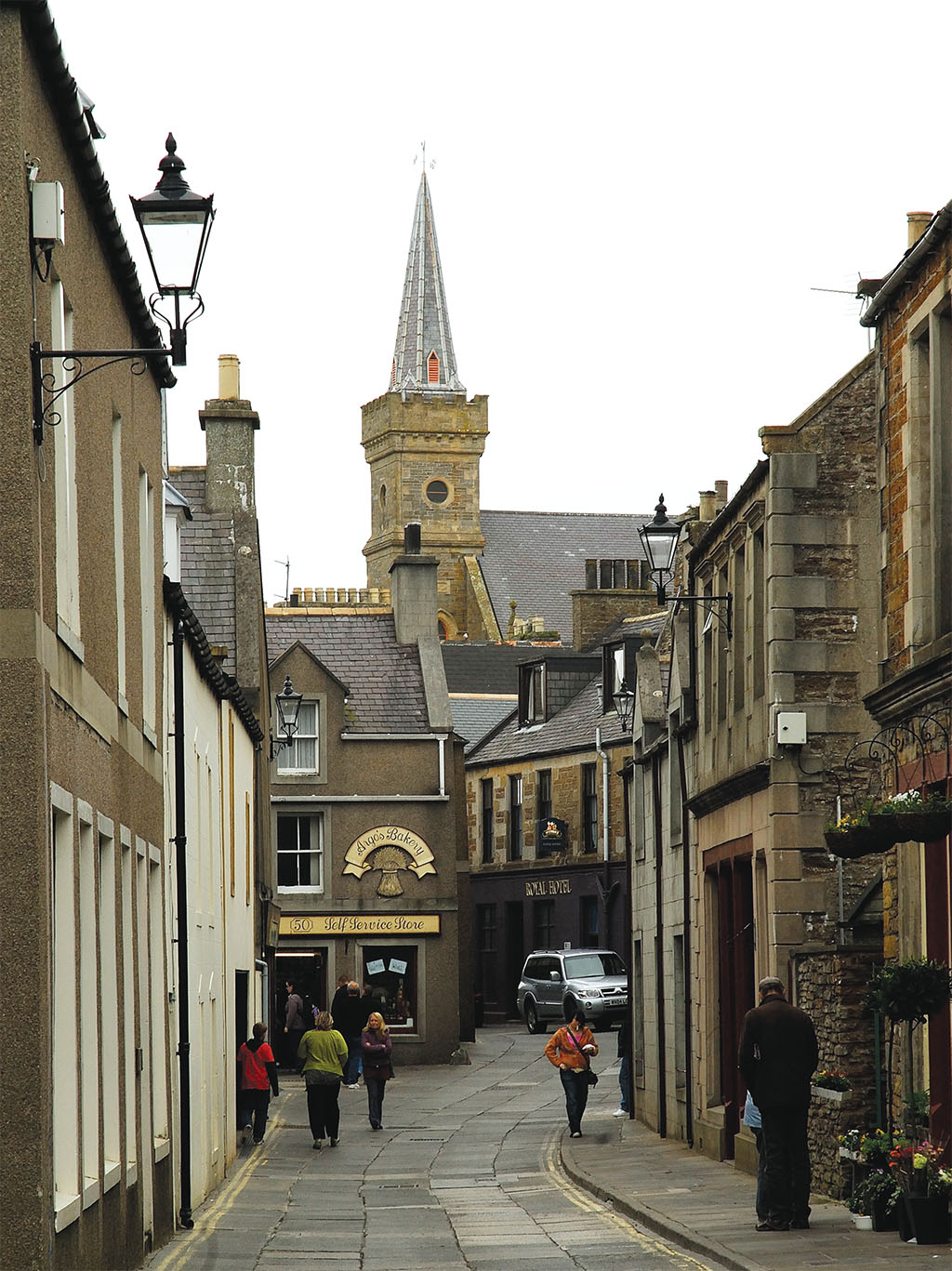 12
[/caption]
Organizing Orkney
The site for getting information on visiting Orkney is:
www.visitorkney.com
. On Orkney, the tourist information center in Kirkwall is also very good.
Reaching Orkney
Orkney can be reached by air, or combination of car and ferry. Air Connections are by Loganair to Kirkwall, with flights from Glasgow, Edinburgh, Aberdeen and Inverness. Schedules vary throughout the year. Check at www.loganair.co.uk and www.flybe.co.uk
A car on the island is very useful, if not essential. Several car hire companies are based at Kirkwall airport (or will pick you up at Kirkwall airport).
Driving from mainland Scotland, the car ferry departs from Scrabster near Thurso with three or four sailings a day, taking about 90 minutes. There is also a service from Aberdeen, with three or four sailings a week, taking about 6 hours. The ferries are operated by Northlink Ferries—full information at www.northlinkferries.co.uk. The drive from Inverness is about 120 miles and takes at least 2½ hours (but there are several beautiful more meandering options). A passengers-only service is also available from John O'Groats to Burswick on South Ronaldsay. It is popular with tour and bus companies, but if you are travelling independently this is of limited value.
There are extensive ferry services throughout the islands for those wishing to visit the remoter isles—full information from www.visitorkney.com.
Accommodation
For a wide variety of full service hotels, B&Bs and self-catering cottages, see www.visitorkney.com. We initially stayed at the Standing Stones Hotel, which has a good, but very noisy, bar. It's great for meeting locals, but awful for sleep; we moved and used several B&Bs.
Eating
Most hotels have good restaurants. In Stromness, there are a number of good choices—all serving local dishes. In Kirkwall, the selection is more eclectic, offering local and international cuisine. Around the island there are several art galleries that also provide fine lunches (ideal on wet days—which on a trip of more than a few days you will experience).
[caption id="AnOrkneySojourn_img10" align="aligncenter" width="965"]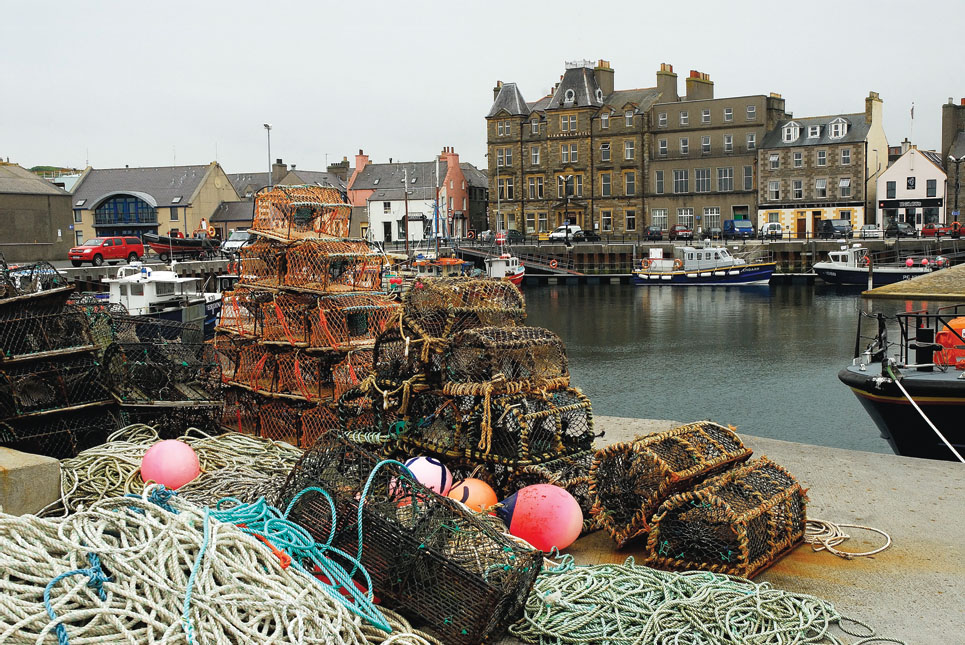 12
Kirkwall and its busy harbor have been Orkney's capital town since Viking times.
[/caption]
Several days into our Orkney trip, it was time to explore its Viking heritage. St.Magnuswas not your stereotypical Viking going off in longships on raids of rape and plunder. He was a pacifist, who lost his head through an act of treachery in a feudal dispute between rival families over who ruled Orkney. This tale is one of many told in the Icelandic book: The Orkneyinga Saga—a remarkable book about Orkney's Nordic history. The Orkneyinga Saga Centre at Orphir retells the principal events in Orkney Viking history through colorful displays and a short, thoughtful film. Desiring a touch more Viking history, we drove to Birsay, purchasing food for a picnic en route.
Birsay is a tidal islet, accessible by foot at low water, with ruins of a Viking longhouse settlement built over an earlier Pictish settlement. Here, fine displays explain how Viking ships sailed from Scandinavia on spring easterly winds to Dublin, the Isle of Man, the Western Isles, Iceland and beyond; returning on the autumn's prevailing westerly winds and using this Viking settlement as a way station. With the rising tide, the few other visitors left, leaving us to enjoy the whole island to ourselves.
Our final day was overcast and wet, perfect for exploring Maes Howe and Stromness. Clare, our guide, led the way: a crouched walk along a 40-foot tunnel that emerged into the drystone corbelled chamber of Maes Howe. Entrance to this Neolithic tomb is by booked escort only, easily arranged at the Tormiston Mill Visitors Centre. In the dim light, Clare's enthusiastic delivery of the tomb's history was like listening to an old saga.
The tomb was built about 5,000 years ago. Speculation about its precise function is fascinating, as is the mystery of the engineering methods used in perfectly aligning the tomb's entrance and tunnel to naturally illuminate the chamber's interior at sunset on midwinter's day. Archaeologists have found few human remains, as the tomb was looted many times, but one treasure was left behind: Nordic runes. Clare delighted in revealing that the runes were not great literature, more like graffiti: So-and-so was here, along with salacious comments about local women.
Stromness is a compact town; its main street winds behind impressive houses that front the harbor, each with their own small quays that are indicative of past wealth. For centuries, Stromness provided a sheltered haven for shipping that was crossing the North Atlantic. The Hudson Bay Company for 200 years used Stromness for resupplying its ships. Consequently there is a strong link between Orkney and Canada; at one time a third of the Hudson Bay Company's employees were Orcadian.
These connections, among others, are explained in the town's excellent museum which has an amazing collection of German emblazoned artifacts. The collection originates from the captured German Fleet, which was anchored in Scapa Flow and scuttled by its sailors at the end of the First World War.
Along Stromness' main street are several art galleries, cafes and restaurants. The Hamnavoe offers the epitome of local cuisine.Over a succulent lobster dinner, we reflected on the depth and width of Orkney history, and outlined plans to delve further into the sagas in the archipelago's remoter corners on our next trip.