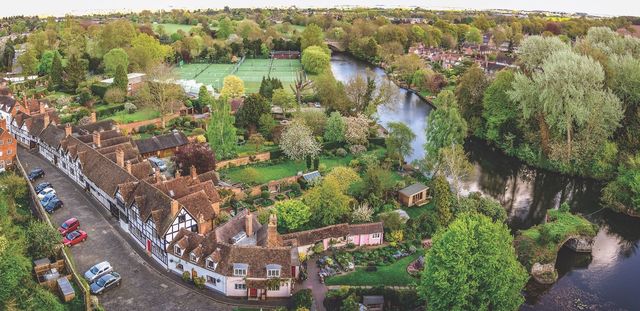 Most Anglophiles have heard of Warwick Castle. It was begun in 1068 by William the Conqueror with a motte and bailey fort, and has progressed through turbulent and peaceful times over the centuries since. At the front of Warwick Castle is the imposing gatehouse. If one looks at it from the east, on the left side is Caesar's Tower, which was constructed in 1350. The picture shown here, taken from the top of Caesar's Tower, doesn't look back in toward the castle, but outward toward Warwick itself. The lush private gardens behind Tudor-style homes, as well as the Warwick Boat Club behind those, reinforce the idea of England being a green and pleasant land. At the bottom right of the picture is a ruined medieval bridge that was originally one of the entrances to the town. Without a bird's-eye view like this, a neat detail like that would be missed. Sometimes, when one is taking in the splendor of impossibly impressive historical sites, it can become an even more idyllic experience to turn outward from the main site and take in the view that the family or the guards, or any one of thousands of visitors, would have had of the surrounding area. While I'm fairly certain that tennis courts wouldn't have been in the view of the castle's residents for the majority of the past 950 years, the panoramas that can be enjoyed at the top of a castle or cathedral in England are ones that, for me, are hard to match anywhere in the world.
C.J. Haldeman
West Lafayette, Indiana
The most complete such medieval fortress in England, Warwick Castle has been standing guard over the River Avon and the town that grew up in the shadow of its ramparts for almost 1,000 years. As the seat of the Earls of Warwick since the 11th century, the castle has played a role in almost every period of English history, perhaps most famously during the 15th-century Wars of the Roses. Today among the most popular tourist destinations in the country, Warwick Castle is both a living history museum and a theme park.
Submit your photographs and stories at britishheritage.com/photos to see them on the website and in the magazine.