Letters and Miscellany
[caption id="AroundOurScepteredIsle_img1" align="aligncenter" width="64"]

11
[/caption]
[caption id="AroundOurScepteredIsle_img2" align="aligncenter" width="1024"]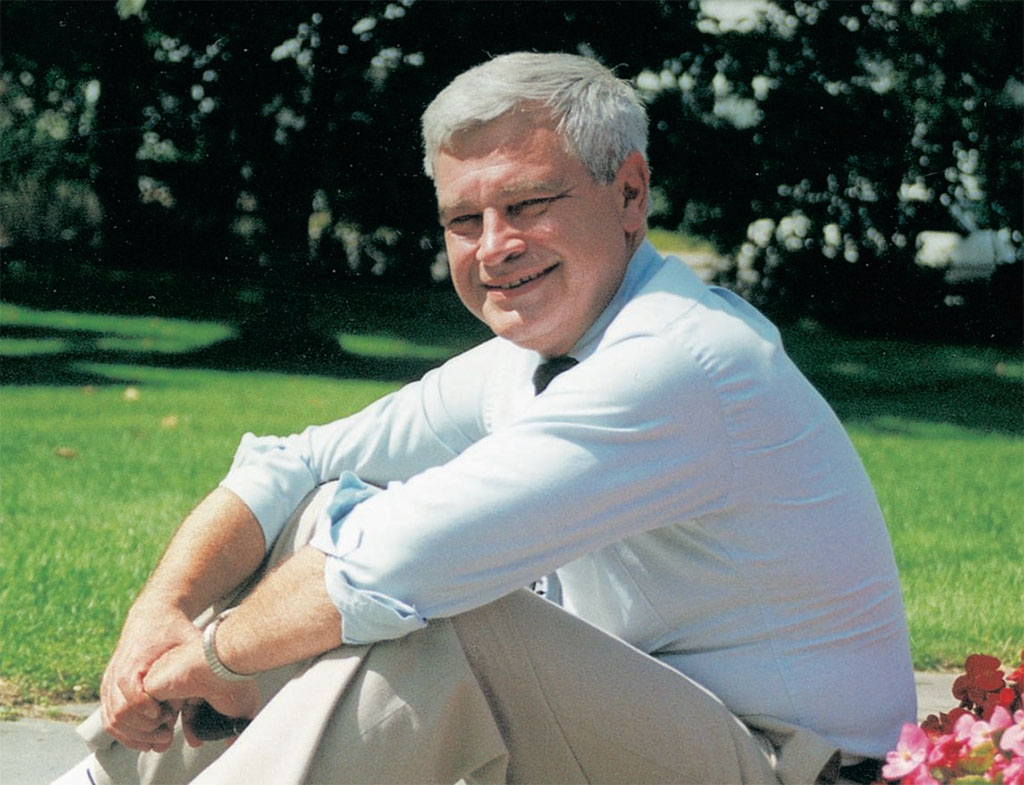 11
[/caption]
[caption id="AroundOurScepteredIsle_img3" align="aligncenter" width="918"]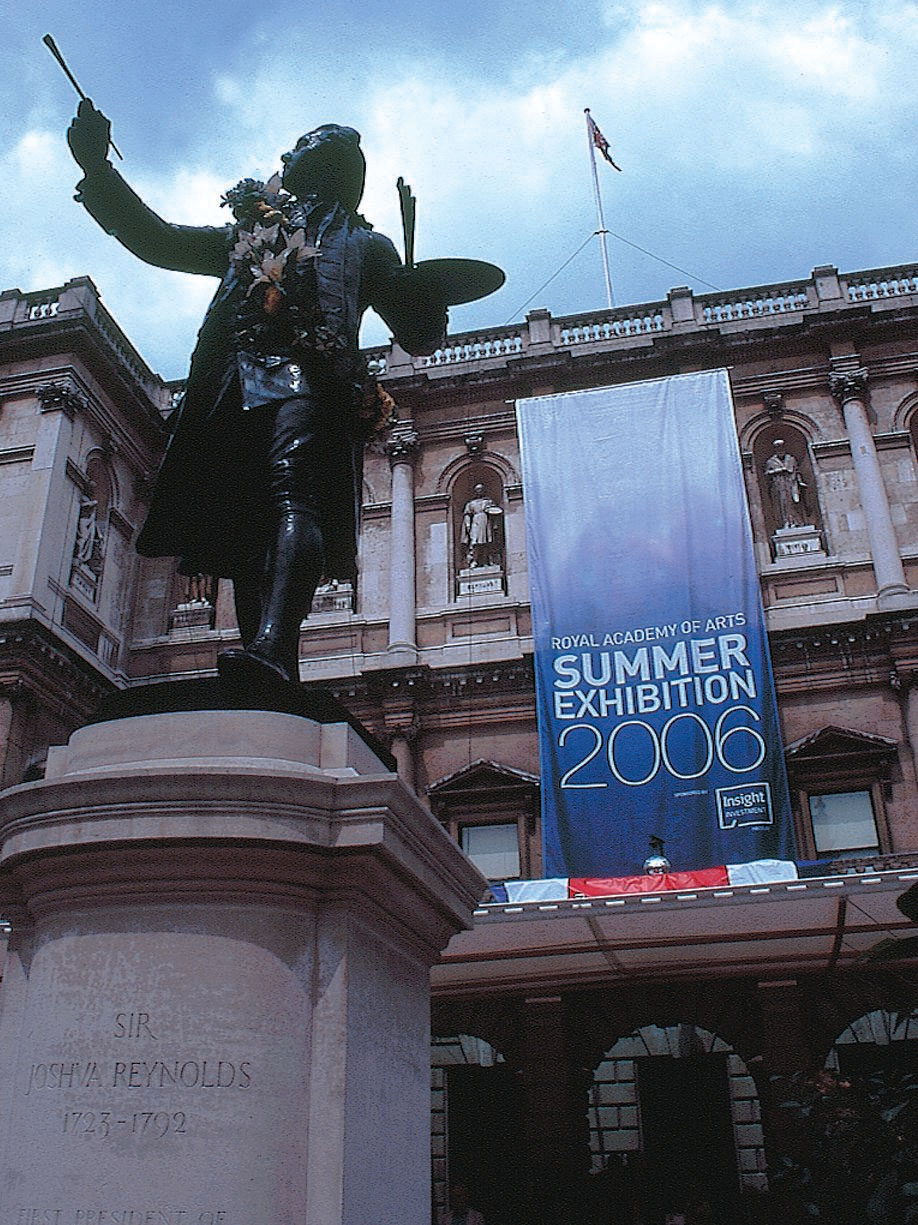 11
[/caption]
[caption id="AroundOurScepteredIsle_img4" align="aligncenter" width="555"]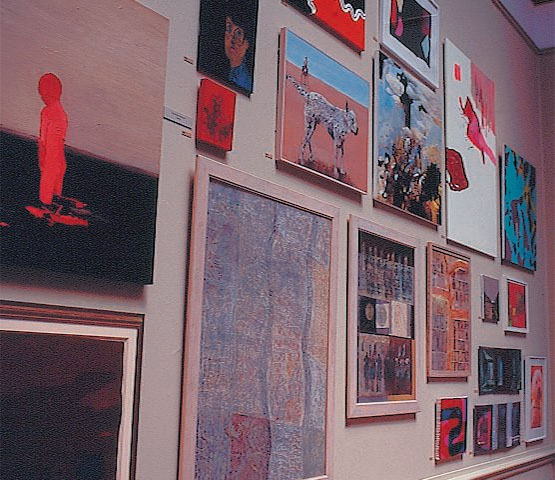 11
Sir Joshua Reynolds, first president of the Royal Academy, stands watch over Burlington House.
[/caption]
AT THE ROYAL ACADEMY
The Summer Exhibition at the Royal Academy is the largest and most prestigious open submission contemporary art exhibition in the world. Showcasing the work of new and emerging artists alongside those of established artists from Britain, the Continent and beyond, the juried show attracts around 9,000 submissions from painters, sculptors, architects, printmakers and photographers. The selection committee of the Royal Academy this year chose to display some 1,300 works at the Royal Academy of Arts home, Burlington House, on Piccadilly.
As one of London's major annual cultural events, the Summer Exhibition is subject to much anticipation and is widely discussed throughout the arts world. Wandering through the enormous galleries on Press Day for this year's 238th Summer Exhibition, I felt somewhat out of my element. There were indeed press and media from around the globe as well as around Britain present. I watched a Japanese television crew interviewing one of the RA curators. Everyone in the galleries appeared confident they knew what they were talking about, save me. Whether you wander through in a fog, however, or know the finer points of contemporary art, a visit to the RA Summer Exhibition is one of the world's great cultural adventures. You can not come away without clear visual images planted indelibly on your mind. It is the one clear place in time where the visual arts show their
now
to the world.
IN THE BH POST
Alun Williams, head of visitor services at Salisbury Cathedral, wrote to thank us for including coverage of Salisbury Cathedral's Magna Carta in our July cover story. He does add an interesting correction to the account: "Before you are inundated with other 'clever clogs' like me, one small point—and a good trick question for Trivial Pursuit games:
'Who signed Magna Carta'
'No one—it was sealed!'
"It's something which today we so easily forget. Probably only a maximum of 10 percent of the population could read, so important documents were not 'signed,' they were sealed."
In the interest of accuracy as well, longtime reader Richard Churchill wrote to challenge Barbara Cooper's comment that Covent Garden was the busiest station on the London Underground. Since I was in the neighborhood, I went around to the old art-deco station on the Piccadilly line to see what they had to say for themselves. The supervisor on duty did clarify the situation. London's busiest underground station is Victoria Station, followed by Oxford Circus. They do reckon, however, the Covent Garden station as the most heavily trafficked by
tourists
.
"Airborne" Andy Anderson shared his memories of Stonehenge during WWII. It seems the famed henge was in the drop zone during parachute training for his battalion of the Canadian 6th Airborne Division in 1943-44: "The Great Stones were always used as the gathering site to drop our parachutes for collection. The general enclave was used to set up a small field kitchen, to serve tea and sandwiches, before we made the march back to camp. Our battalion, some 800 strong, always sat among the stones."
Congratulations to
BH
writer Yvonne Horne. Her article on Hadrian's Wall, "Roaming With the Romans" ("Timeline," January 2006) was awarded a silver in the annual Western Chapter Society of American Travel Writers writing awards competition.
Peter Williams points out that there are other candidates besides Hastings for the title of most important battle in British history: "For me, and many others, the most important battle in English history was the Battle of Brunanburgh in which the hope of a Celtic alliance to destroy the Anglo-Saxon kingdoms of England under Athelstan was defeated. A victory for the Celtic alliance would have meant the island of Britain returning to the native British."
We've heard from many readers via post and e-mail, with nominations of great British heroes to portray in our new series. Suggestions range from Florence Nightingale, Clive of India and Charles Darwin to the late Syd Barrett, who fronted the rock band Pink Floyd in the 1960s. We begin, however, with the amazing tale of Jemima Nicholas. Check it out on P. 63.
By the way, you've noticed that the holidays are coming. Perhaps you've a college student on your Christmas list who might enjoy a subscription to
BH
. It's a gift that keeps on giving for a lifetime.
[caption id="AroundOurScepteredIsle_img5" align="aligncenter" width="1024"]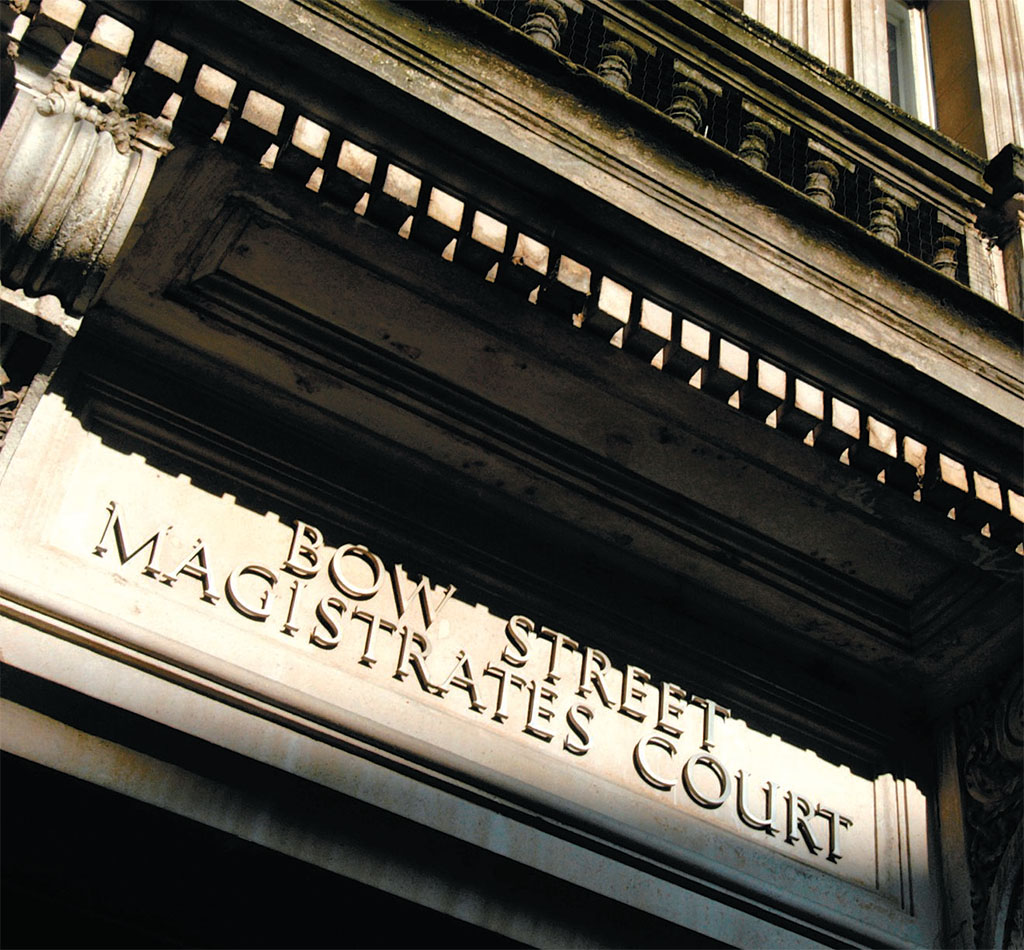 11
Famous in fact and fiction, Bow Street Magistrates Court in Covent Garden has been the scene of notorious trials, legal history and colorful characters since 1735.
[/caption]
BOW STREET TAKES A BOW
Bow Street Magistrates Court. It's the place where Bertie Wooster was booked for nicking policemen's hats on Boat Race Night. Casanova was accused there of intending grievous harm to a young maiden. Oscar Wilde faced charges of gross immorality. Lord Archer, the notorious Kray twins, General Pinochet and assorted Dickensian defendants. The famous cast of characters, real and fictional, who have appeared at Bow Street is long and colorful. Now, the historic court has closed its doors for the last time.
Just a block east of the piazza of Covent Garden, right across the street from the Royal Opera House, the Bow Street court has been dispensing justice and making legal history since 1735. It was here that 18th-century novelist Henry Fielding was magistrate. Fielding's creation of the Bow Street Runners laid the foundation of the modern police force. More recently, Bow Street has had the unique jurisdiction in England and Wales for handling extradition requests by other countries. Alas, the Victorian court building is not equipped for the security and technology requirements of the 21st century, and the functions of the court are being transferred to the City of Westminster Magistrates Court on Horseferry Road. The historic complex at Bow Street is being transformed into a luxury hotel. Another icon of England bites the dust.
SHETLAND'S REVENGE
It seems that a reporter for the
Birmingham Post
made something of a goat of himself when he dissed the Shetland Islands in print this spring. Shahid Naqvi created an outcry of objection from the Northern Isles when he falsely placed Shetland in the Arctic Circle, spelled their famed winter festival Up Helly Aa wrong and called Shetland the most depressing place in Britain. Of course, he had never actually
been
to Shetland.
In response to the furor he created, Naqvi had little alternative but to actually go up to Shetland and write up something of a more balanced perspective. Naqvi went north, understandably enough, anticipating a public lynching of sorts, but describes a jocular welcome: "VisitShetland arranged for me to go out with the lifeguard on their regular training exercise. It was not until we were on the boat that I learned they were going to stage a mock sea rescue—with me as the stranded victim. And so it was, with the cameras rolling, that Shetland got its revenge as I was pushed overboard.
"I was hauled back on board, and proclaimed, 'I'll never say a bad word about Shetland again.'"
[caption id="AroundOurScepteredIsle_img6" align="aligncenter" width="1024"]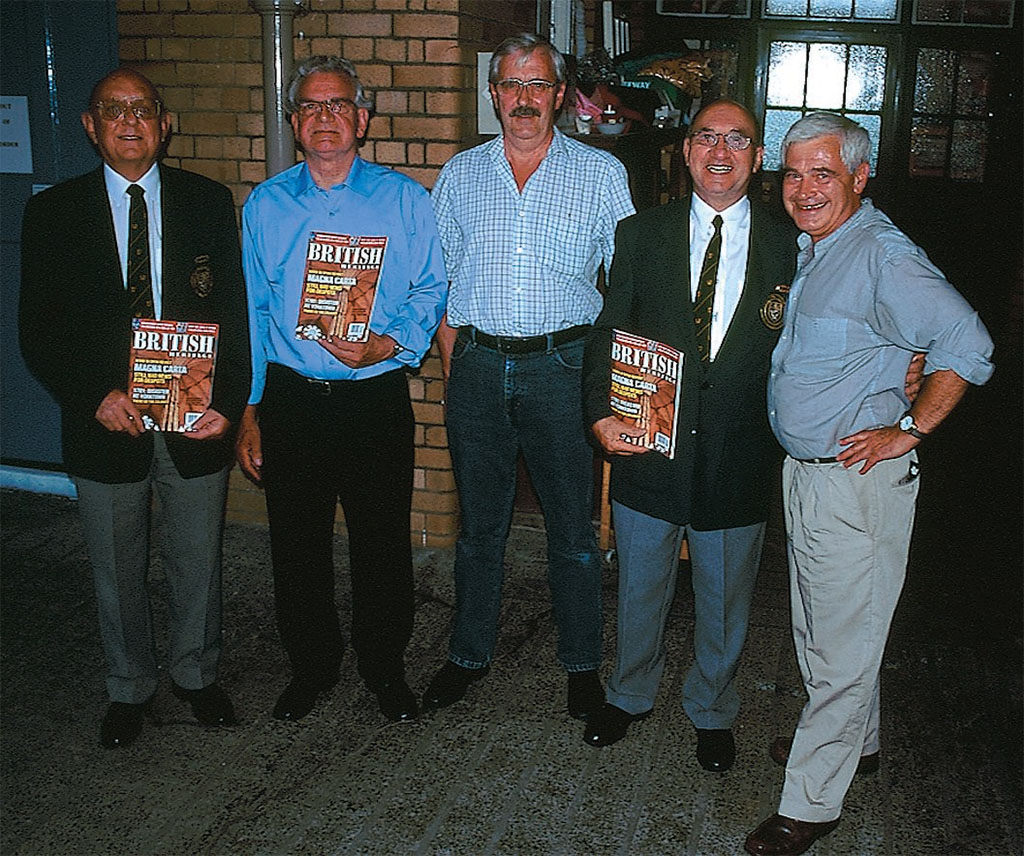 11
I took copies of the July issue to Howell Williams, Frank Jones, Norman Jarrett and Ken Walters, whom Siân Ellis interviewed for her story on the Welsh male voice choirs.
[/caption]
BACK TO CAERPHILLY
We have had many appreciative comments on Siân Ellis' profile of the Welsh male voice choirs (July 2006). In the story, Siân reported a great evening spent visiting with my old friends at the Caerphilly Male Voice Choir. I went back to Caerphilly this summer to deliver copies of the
BH
story to the lads of the choir, and to sing. As it happens, I arrived the week they were preparing for their Centenary Concert, celebrating the choir's 100th anniversary.
Fitting for the dignity of the occasion, the program was laced with classics from the male voice choir repertoire, like "Calon Lan," "Guide Me, O Thou Great Jehovah," "Myfanwy" and "Eli Jenkins' Prayer." Director Frank Jones was kind enough to let me sing along.
Norman Jarrett e-mailed me after Saturday evening's program: "The concert went very well and the artistes were first class with a full hall of some 400 folks. Mind, it didn't finish until 10:30 and was very hot in our dress suits." Congratulations, gents.
[caption id="AroundOurScepteredIsle_img7" align="aligncenter" width="1024"]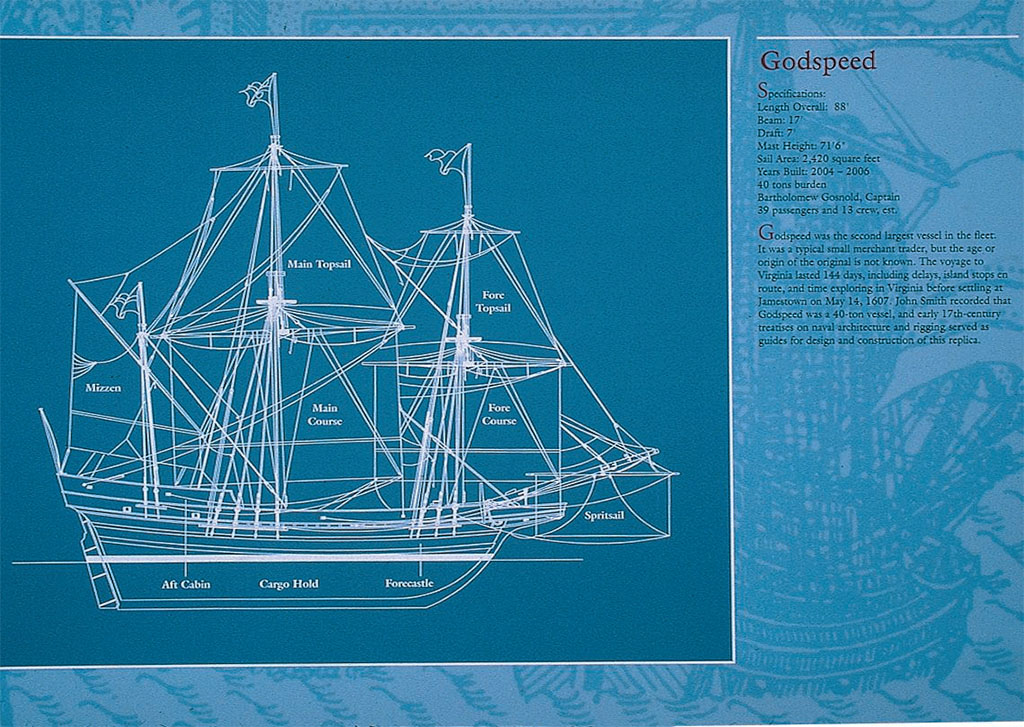 11
[/caption]
TEAPOT SALES TUMBLE
Yes, over the past five years teapot sales in Britain have dropped by two-thirds. The nation that consumes more tea per capita (by far) than any other country appears content to dunk a tea bag instead of brewing a proper cuppa. The Tea Council reports that 96 percent of the tea drunk in Britain now is brewed from tea bags. Sales of tea cups and saucers have plummeted even further than teapots—declining 85 percent since 2001. While the younger generation of tea drinkers is only growing, research suggests that the 18-40 year-olds think of teapots and cups and saucers as quaint and old-fashioned; these days most people prefer to drink from mugs. In the busy, contemporary world, it seems too that people are unwilling to wait the five minutes needed for a proper brew up. Is yet one
more
icon of England fading into the sunset of history?
SAILING WITH GODSPEED
It is hard to imagine crossing the North Atlantic under sail in a ship only 88 feet long with a 17-foot beam. It would have been challenge enough spending six months in such close quarters with 10 of your closest family and friends, never mind in an unwashed company of 52 men and youths. Sailing in 1606 with Captain Bartholomew Gosnold on the
Godspeed
for an unknown destination in Virginia must have been quite an adventure indeed.
I put aboard the replica
Godspeed
in Alexandria, Va., during its summer sail up the U.S. East Coast. The ship put into port accompanied by the "Landing Party," a performance stage and a veritable village of commercial, educational and entertaining marquees. It was a much more raucous event than when the ship's original first pulled onto these shores. The
Godspeed
spent the summer sailing the East Coast, with visits north of Virginia in Baltimore, Philadelphia, New York, Boston and Newport. The
Godspeed
sail was the first of the Signature Events of Jamestown 2007 celebrations. Built in Rockport, Maine (where they still make ships the old-fashioned way), the new, old vessel will make its permanent home at Jamestown Settlement.
[caption id="AroundOurScepteredIsle_img8" align="aligncenter" width="1024"]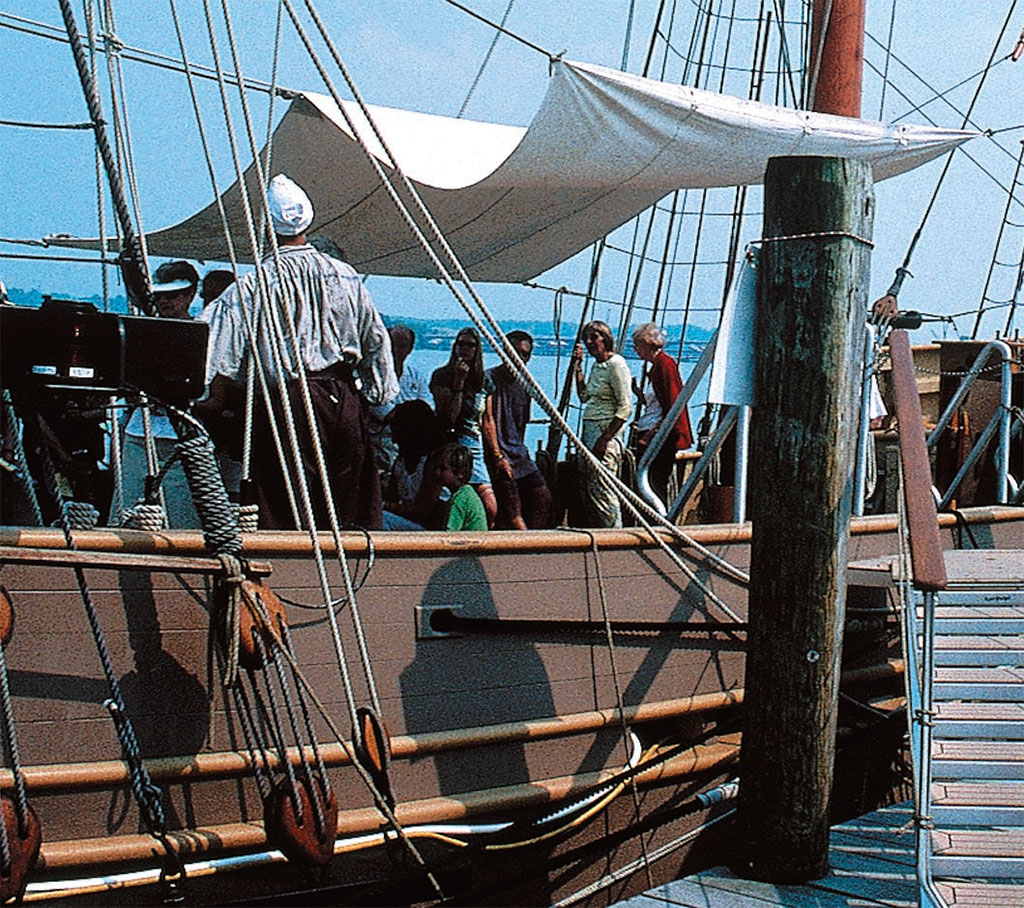 11
[/caption]
[caption id="AroundOurScepteredIsle_img9" align="aligncenter" width="861"]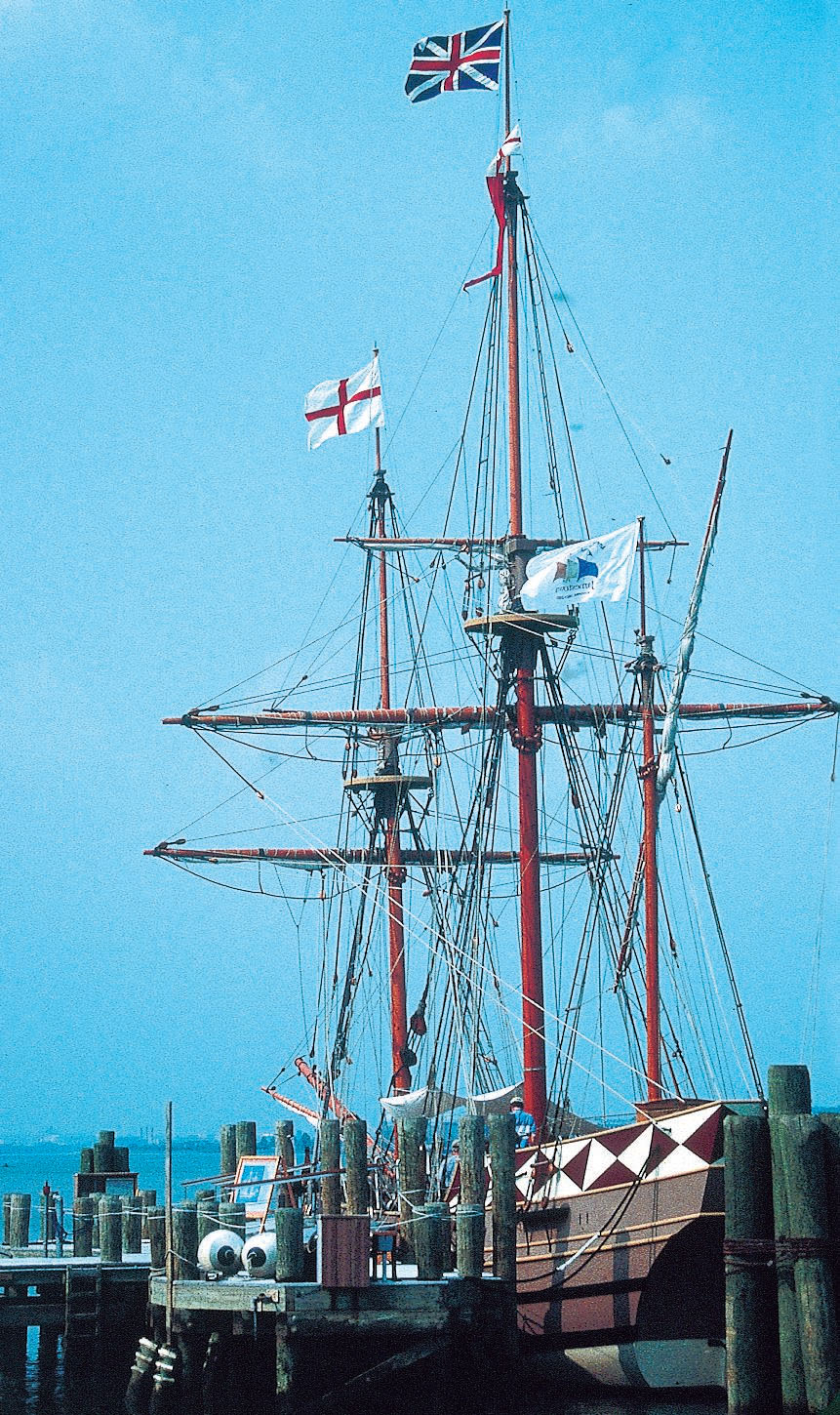 11
[/caption]
[caption id="AroundOurScepteredIsle_img10" align="aligncenter" width="566"]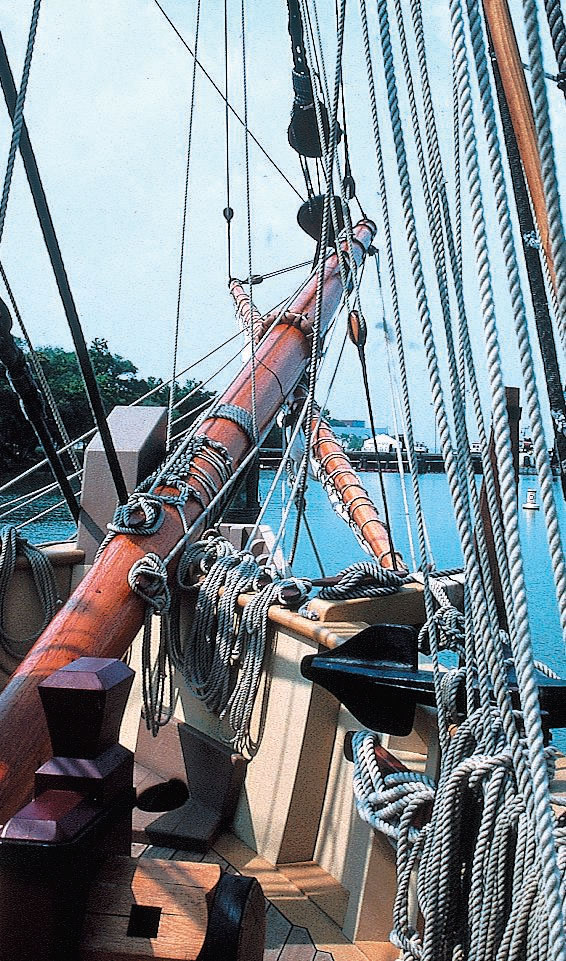 11
The replica of Captain Bartholomew Gosnold's

Godspeed

, one of three ships that made the first voyage to Jamestown in 1607, toured the East Coast this summer. It is difficult to imagine how a company of 52 sailors and settlers lived together on the 88-foot boat during a North Atlantic voyage of almost five months.
[/caption]