CDATA[[caption id="AroundTown_img1" align="aligncenter" width="241"]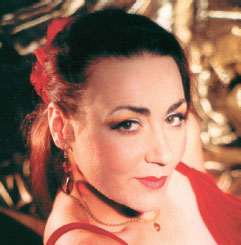 4
[/caption]
The Theatre Royal, champagne for all, and jamming and jitterbuggin'
TOP PRIZE FOR "UNLIKELY REVIVAL OF THE YEAR" has to go to the humble ukulele, which is such a fad here at the moment that there's actually a national shortage of the funny little instruments. It's all down to the extraordinary success of the Ukulele Orchestra of Great Britain, which has acquired cult status in a matter of months. From Knebworth to Glastonbury, no music festival is complete without the players' extremely funny (not to mention highly accomplished) renditions of everything from "Anarchy in the UK" to "Wuthering Heights" via "Wild Thing" and "Smells Like Teen Spirit," all played immaculately by an orchestra consisting solely of ukes. Appealing to all backgrounds and age ranges, the group somehow manages to be both eccentric and cool at the same time. Don't ask me how.
Never one to miss a bandwagon when I see it, I dashed to Hobgoblin Music in the West End, bought myself a soprano uke (they're not that scarce) and went to join the weekly Ukulele Jam in the basement of the Royal George Pub just off Charing Cross Road. Here, everyone from surgeons to students, academics to hippies, beginners to virtuosos, meet together for the sole purpose of playing tunes together on sundry ukuleles from soprano to bass. Egos and cares are put aside for a couple of hours, while a few dozen characters who might never meet in Real Life pound out versions of the Great Hits of Our Time. It's huge fun and one of the many fantastic free things to do in London.
UKELELE JAM
The Royal George Pub, Charing Cross Road
From make-your-own-fun to don't-try-this-at-home, possibly the biggest spectacle ever to come to the British stage arrived this month. Lord of the Rings had originally debuted in Canada, there not being a stage large enough for it on Broadway. It wasn't a hit, but it transferred anyway to The Theatre Royal, Drury Lane, complete with a script and song revision and a severe cut in the running-time department. It is enormous in every respect. The ancient theater had to have several major alterations (within the confines of its listed status), and the result is a jaw-dropping revolving stage that undulates with myriad permutations, a gigantic fiberglass forest that reaches right out into the audience and special effects that really do have that "how do they do it?" cachet.
LORD OF THE RINGS
Theatre Royal, Drury Lane
Does it succeed here, where it failed in Canada? Actually, yes—or at least very, very nearly. I saw the production twice—once in preview, from the very top of the gods in the upper circle, and was bowled over by the sheer spectacle. I was enchanted from beginning to end by the magic of the production and the ingenuity of the stage set. The second time was on Press Night, and I was in the stalls, from which I was bizarrely less impressed. Somehow, closer up, the magic didn't seem to work so well, and some of the acting seemed a trifle wooden. Also every time the stage rose, the view was partially blocked, which may well have had an effect on most critics, who wouldn't deign to slum-it upstairs. My advice: Absolutely DO go to see this show—but this is one of the few examples of cheaper seats actually being the better options. Get seats in the front of the grand or upper circle.
I was utterly delighted to be invited to sing at this year's pre-show dinner for the annual Jitterbug Ball, where the world of the 1940s re-enactor climaxes, for one night only, in the original art deco splendor of Hammersmith Town Hall—a rare opportunity to see this listed building that's usually closed to the general public. Union Flags and Star-Spangled Banners drape every surface, the palm trees are out in force and hundreds of revellers, all in authentic costume, are treated to a gala performance.
A Glenn Miller–style big band is drafted in to support a headline act that is often an original, such as The Clark Brothers, plus wartime singsongs and other simple pleasures of bygone days. These are enjoyed by guys of all ages dressed as sailors, soldiers, GIs, policemen vicars—and girls of all ages in fabulous 1940s original gowns and bright orange lipstick. Together, they lindyhop, jive and jitterbug the night away, and for those particularly proud of their outfits (or their dancing) there is even a photographer who specializes in the old Hollywood techniques. If you're going to be in London around June-time, it's well worth attending.
THE JITTERBUG BALL
www.rockthejoint.com for info
From old to new entertainment, this month also saw the rebirth of London's most embarrassing white elephant, the Millennium Dome. I don't need to go into detail on this most public disaster, but it seems that after seven years of shame, this ugliest of ducklings has finally turned into a swan. Under the iconic domed tent (which has always been liked; it was what was in it that was the problem) AEG enterprises has built a 20,000-seat arena, The O2, a fabulous music club, Indigo2, and a cinema with the largest screen in Europe. Living just a few hundred yards away, I have tested them all. A serious rival to Wembley, the arena is already attracting acts such as The Rolling Stones and Prince; and although it is so huge you can't see very much if you're at the back, the atmosphere (and the giant screens) fill in the rest. Indigo2 attracts a more eclectic mix of performers and is already a contender for my favorite London club. I saw The Blind Boys of Alabama there—fabulous sound, generally good sightlines and a clean, clear atmosphere.
[caption id="AroundTown_img2" align="aligncenter" width="1024"]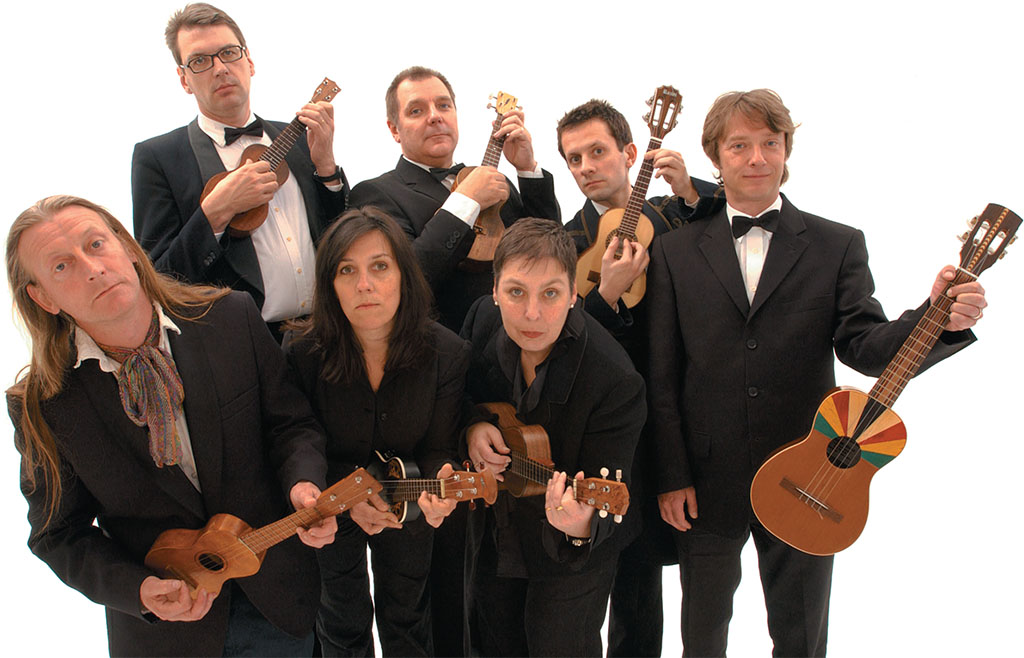 4
Yes, it's the Ukele Orchestra of Great Britain, riding a wave of cult-like popularity with their "funny little instruments." No music festival seems complete these days without their hilarious, accomplished performance. Sandra quips: "Somehow they manage to be both eccentric and cool at the same time. Don't ask me how." It must be in the water.
[/caption]
MILLENNIUM DOME
What's at the O2 arena? Check: www.theo2.co.uk
After all that excitement, one needs a pick-me-up, and last night a bunch of us were pleasantly surprised by the Bedford & Strand Wine Bar, on Bedford Street, just off The Strand. Its tiny, unexciting doorway, leads down equally unexciting steps to a fresh little traditional-style bar, with tables and chairs and mirrors on the cream-colored wall. The place itself serves nice enough wines, beers and a little food, but what really endeared it to me was the service.
BEDFORD & STRAND WINE BAR
1a Bedford Street,WC2E 9HD
In the West End, one gets used to indifferent service, but the chap here was both solicitous and generous. For example, when a bottle of champagne we'd ordered ran out before everyone had had a full glass, he completed the round on the house, and even came over to chat. A welcome change indeed—and we could see each other.
Why? Well, the introduction of the nationwide smoking-in-public-places ban, which has got half the population cheering and the other half climbing the walls. A lot of effort has been made by publicans, terrified of losing their smokers, to provide special smoking areas for them; consequently there's not been an awful lot of fuss yet, though I'm waiting to see what happens in the winter.
Next month sees me finally getting to test out the impressive Vertigo 42 cocktail bar at the top of the city's tallest building, dipping a toe into London's fringe theater and ducking as the Red Bull Air Race comes to town.
THIS MONTH'S CONTACTS
The Ukelele Orchestra Check their calendar at www.ukeleleorchestra.com.
Royal George Pub A ukelele jam, Charing Cross Road.
Lord of the Rings Theatre Royal, Drury Lane.
The Jitterbug Ball Hammersmith Town Hall, www.rockthejoint.com.
The O2 at the Millennium Dome
Greenwich, www.theo2.co.uk.
Bedford & Strand Wine Bar
1a Bedford Street, just off The Strand.
[caption id="AroundTown_img3" align="aligncenter" width="730"]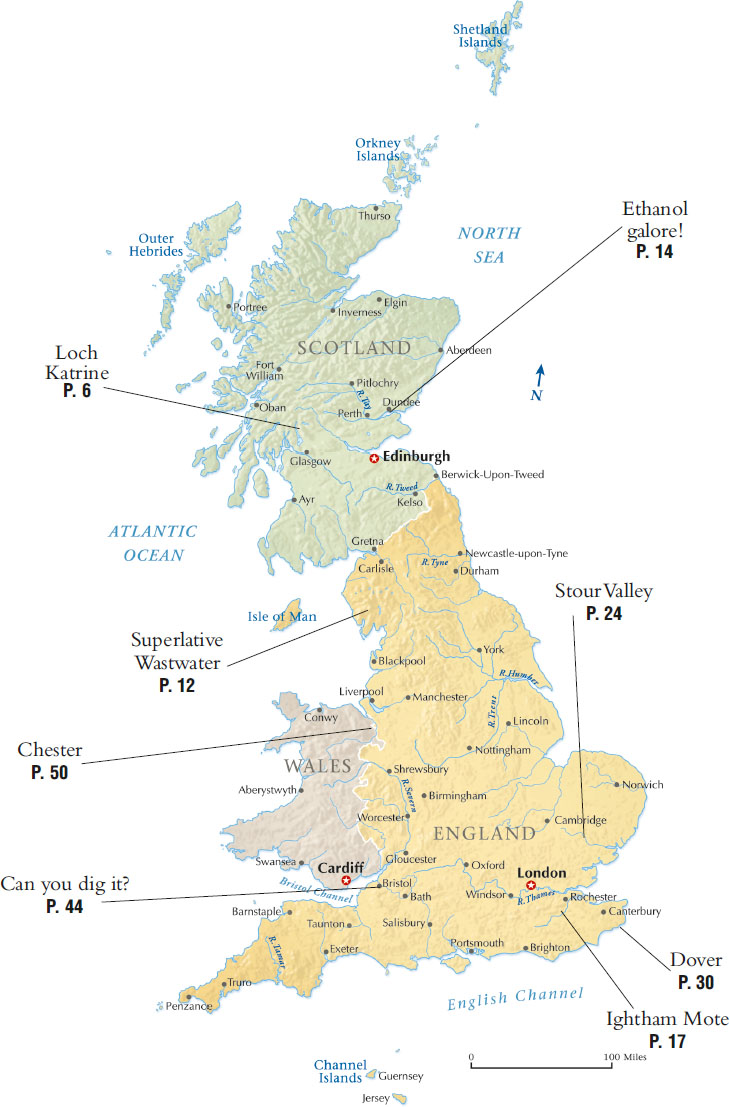 4
[/caption]