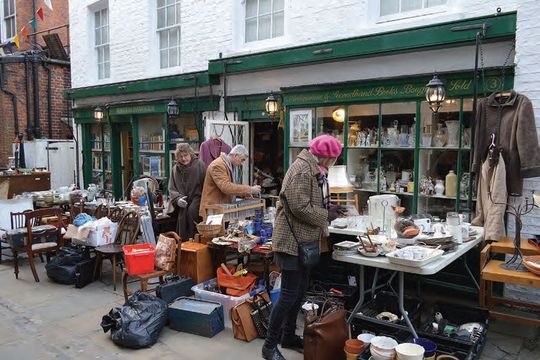 IT MIGHT BE JUST A FEW STOPS on the Northern line, but Hampstead has more in common with Cheltenham, York or Harrogate than the grimy city it overlooks. The London village has never stopped being fashionable since the 18th century, and its quiet flagstones, Georgian shopfronts and Victorian streetlamps still see their fair share of celebrities, from Tim Burton to Ringo Starr. The winding alleyways, picturesque pubs, tiny boutiques and fabulous architecture are worth a wander, even if you don't visit one of the top notch historic proper-ties—but do try at least one. Hampstead is not a place for anyone who doesn't like hills. Even the high street is sloping, and to get anywhere truly interesting, climbing is required.
FLASK WALK, just behind Hampstead Tube station (don't go to West Hampstead; it's a long walk), is a delightful pedestrianized street of book-stores, cafes, craft shops and delicatessens. Browse the second-hand stores and sweet-smelling florists and at least poke your nose around the glorious Flask pub, which, unlike most surviving high Victorian pubs, still boasts both public bar and saloon, bench seats, open fire and original décor.
My favorite historic house is one of the nearer properties open to the public and, if you visit it first, you can do most of the climbing in alleyways so cute you'll not notice the pull. Don't forget to look up—it seems every house boasts some kind of historic plaque. Although Fenton House is signposted up Holly Hill, just across from the tube, take my advice and walk a few feet up the main road, nipping up the steep Holly Mount Steps. It will take you past the minute Holly Bush pub, an 18th-century bolthole that once served as a studio to the painter George Romney. The wood-paneled, traditional pub serves good food and has a particularly cozy atmosphere in wintertime.
4
At the end of the winding lane, turn right to catch a first glimpse of Fenton House (National Trust). Unlike the Palladian piles in movie adaptations, this charming 17th-century town house feels like somewhere Jane Austen's Bennet family might have lived: decidedly comfortable, but not ostentatiously wealthy. A library for Mr. Bennet, a bedroom for Mrs. Bennet to enjoy a it of the vapors and a collection of historic musical instruments Mary would covet. Many of the rooms are relatively small, but somehow easy to imagine actually living in. The walled garden is exquisite, with formal "rooms," working kitchen garden and even a small orchard for Lady Catherine de Burgh to angrily stomp around.
While enjoying the nursery at the top of Fenton House, do look out the window. One of the recurring joys of Hampstead is its view across London. From Fenton House you can also peek into other private gardens; they are all gaspingly beautiful.
COMING OUT OF FENTON HOUSE, turn left and continue along the lane of pollarded limes, where you'll eventually hit the main road. You've now done the worst of any climbing, so enjoy the relative flat of Hampstead Heath. The huge park has many parts to enjoy, from dense, ancient woods to open grassland looking out over the City of London, where famously you'll see St. Paul's Cathedral, albeit now somewhat overshadowed by the immense Shard at London Bridge.
[caption id="HappyHijinksinHampstead_img2" align="aligncenter" width="800"]
4
In care of the National Trust, Fenton House exudes an air "decidely comfortable" and livable.
[/caption]
My own favorite part is tricky to find, but not impossible. The Pergola is a faded, eerie, Edwardian jewel in the middle of woodland, now mainly frequented by dog walkers and joggers, but once a gigantic formal garden cascading down the hillside. Started in 1905, this Italianate walkway of stone balustrades and Doric columns is all that's left of a giant estate. It teeters on the tipping point of "lost garden" status with its flopping, lush plantings, and is one of many London secrets even locals don't know.
Walk to the top of the hill, to a fork in the road. On the left a large, Regency building called Jack Straw's Castle (a former pub now, tragically, a gym) has a little footpath into the woods from its car park. It should be signposted "the Pergola" on the little notice board maps provided by the City of London. It's truly worth winkling out.
[caption id="HappyHijinksinHampstead_img3" align="aligncenter" width="507"]
4
From the Robert Adam interiors of Kenwood House to historic pubs, Hampstead has it all.
[/caption]
TAKING THE OTHER FORK, Spaniard's Road, an inconveniently placed hostelry has caused traffic headaches for the past 300 years. The 16th-century Spaniards Inn pub and the 18th-century toll-house opposite are both so historic they can't be demolished, so cars edge through one at a time. The best thing to do is just sit inside and watch, enjoying a pint. You'll be following in giant footsteps: John Keats, Lord Byron, Bram Stoker, Joshua Reynolds and Charles Dickens all drank here. It's even said Bram Stoker pinched one of the pub's ghost stories as inspiration for Dracula. Another joy in winter, with booth seating, crackling fires and award-winning food, the pub does get crowded but has a lovely garden for sunny days.
IF FENTON HOUSE is how I imagine Elizabeth Bennet's Longborne, Kenwood House is definitely Rosings. A glorious, gleaming Robert Adam masterpiece, the whole estate is elegance personified. I visited with British Heritage Travel regular James Graham on a glorious summer's day. Sunbeams picked out the white stucco through leafy glades on a walk through fields of contented cattle, kept from the formal gardens by a steep ha-ha. The 112 acres of parkland include eye-catchers both far-reaching—the borrowed landscape of London on the horizon—and nearer to home. A cleverly designed sham bridge makes the lake look like a large meandering river. The beautifully restored ornamental dairy is as charming as it would have been when it was built so Louisa, wife of the 2nd Earl of Mansfield, could play at being a milkmaid.
For most people, though, the main attraction is indoors. Adams' exquisite pastel plasterwork, especially in the library, is some of his finest, but even that plays second fiddle to one of the most important collections of old-master paintings in the country.
Edward Cecil Guinness, the 1st Earl of Iveagh, spent his entire life and much of his fortune surrounding himself with the very best art that money could purchase. His canny eye spotted works unfashionable in the late 19th century, but that he recognized as of enormous cultural worth. In 1927 he left the lion's share of his remarkable collection, The Iveagh Bequest, to the nation with the stipulation that it must be accessible, for nothing, to everyone. This effectively means a headache for
English Heritage, which manages the estate, yet cannot charge an entrance fee. But it's a delight for the thousands who flock to see the collection each year. James and I later enjoyed lunch in the stable's tea rooms (rain or shine they're lovely), with tables indoors in the servants' wing and outdoors in fragrant gardens), then caught the 210 bus, which is frequent. Do sit up top; the views are stunning.
ALAS, THE REGENCY CHARM of John Keats's House, the modernist zeal of Erno Goldfinger's 2 Willow Road, the classy inter-war suburbia of Sigmund Freud's home, the Georgian elegance of Burgh House and the chilly waters of the famous bathing ponds will have to wait for another day; Hampstead cannot be explored in just a few hours.

CONTACTS
Flask Walk — Just behind Hampstead Tube
Fenton House —
nationaltrust.org.uk/fenton-house-and-garden
The Holly Bush —
hollybushhampstead.co.uk
The Pergola —
cityoflondon.gov.uk/things-to-do/green-spaces/hampstead-heath/heritage/Pages/the-pergola.aspx
Spaniards Inn —
thespaniardshampstead.co.uk
Kenwood House —
english-heritage.org.uk