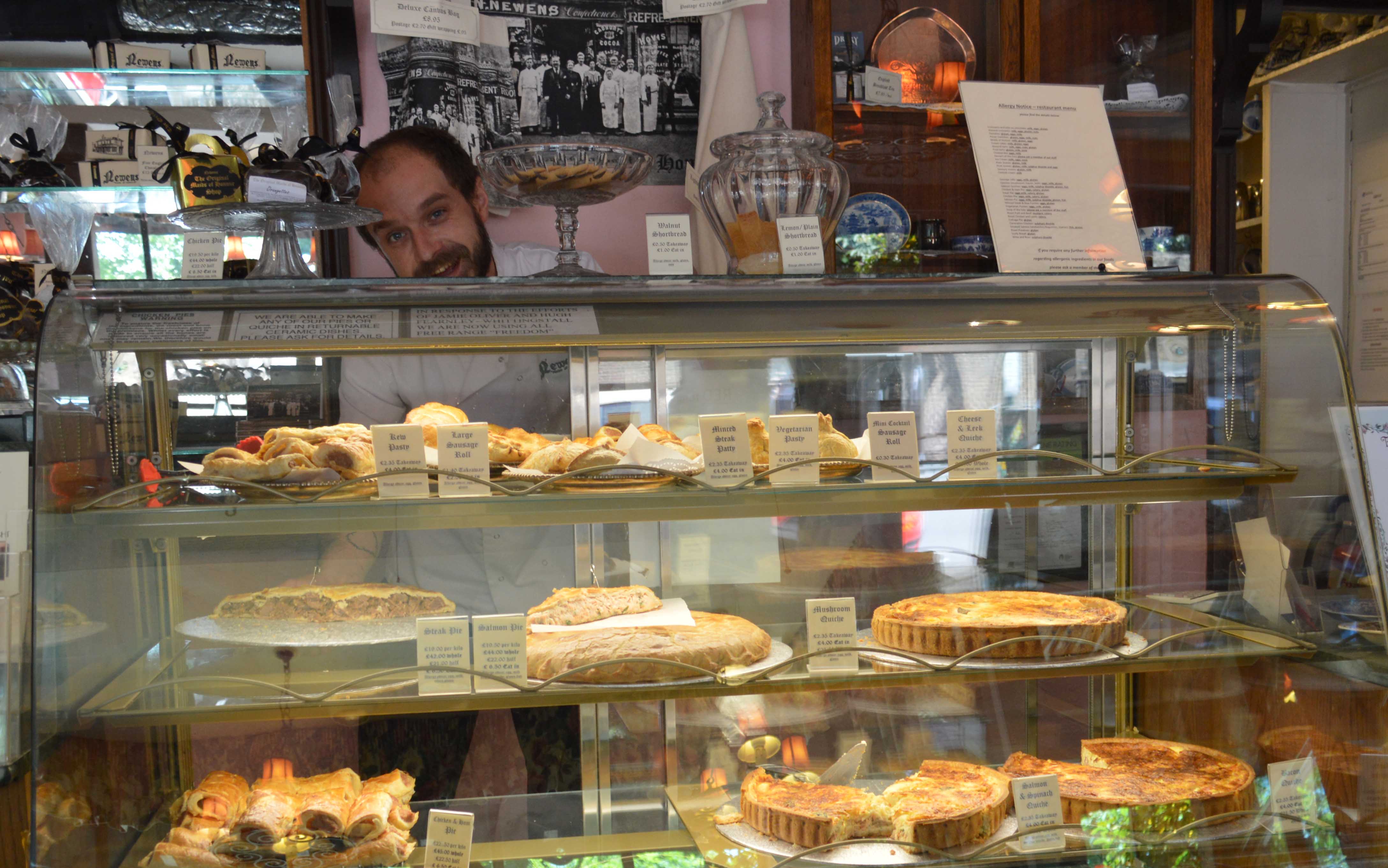 Downriver to a World of Sugar & Spice and All Things Nice
21
Once a mode of transportation reserved for Kings and Queens, it IS possible today to travel the watery route taken by the great monarchs to Kew, but make sure you allow time for the boat to get there.
The Thames River Boat service is more of a scenic cruise than the much faster Thames Clipper commuter service at the eastern end of the river from Greenwich to Westminster. It's lovely but slow. Allow at least an hour and a half.
Rather more prosaic, the tube journey knocks an hour off that time, and most of it's above ground, so you can ogle people's back gardens as you go along. If you have a penchant for London's many lost rivers (or is that just me?) poke your head out of the carriage door when you get to Sloane Square to see a large pipe running overhead; it contains the once-majestic river Westbourne. 
Although there are other stations that serve the Royal Botanic Gardens, Kew, I would always recommend going to Kew Gardens tube (on the District Line), not least because the area immediately around it is so pretty.
If you're a family history fan, you may find yourself going the opposite way to everyone else at this point, as Kew is also home to the National Archives.
Anyone can visit much of the building where all manner of records, from the uniformed services to other registered tradespeople, reside but you'll need a reader's ticket to get into some areas, so do read about registration first. It's not hard to do, just an extra step.
Much of the Archive is online these days, so you may be able to do your research from the comfort of your own computer, but to see original documents you'll need that ticket.
Most people head straight for the gardens, but I recommend you don't. When you get to Kew Road, turn right (not left, which would take you straight to Kew's entrance) for a little diversion at the Original Maids of Honour Tea Rooms.
The story goes that down the road at Hampton Court, Henry VIII burst in on his new wife Anne Boleyn and demanded to know what she and her ladies were eating. He insisted on trying the little curd cheese tartlets and loved them so much he confiscated the recipe and kept it locked in an iron box. Some even say he imprisoned the poor chef, who was forced to make Henry's 'maids of honour' for the king's sole consumption.
The tale is apocryphal, but the recipe is almost certainly medieval and it did remain a secret until relatively recently. Though you can occasionally buy them elsewhere, the traditional place to consume these tiny, melt-in-the-mouth delicacies is this tiny little bakery.
It's one of my favourite tearooms, all chintz, willow-pattern crockery and Windsor chairs, with an astonishing selection of home made savories, including some of the best pies I've ever scoffed. It has an even more extraordinary array of cakes, too, which I confess I've never tasted, never being able to resist the house special.
You'll need to set aside most of a day to see Kew properly. Some attractions, like the pagoda, are, currently, best viewed from a distance. This will not always be the case. I learned just this afternoon they're planning to return it to its 1762 splendor, including reinstating its original gilded dragons allegedly 'lost' around the same time the Prince Regent had some gambling debts.
Since there were 80 dragons and nobody yet knows quite what they looked like, that's going to be quite a project but believe me I'm keeping tabs on this one. As soon as I know anything, I'll be telling you all about it.
The magnificent palm house at Kew has to be seen to be enjoyed. I love the gigantic Victorian glasshouse best on a freezing cold day in winter, when it's relatively quiet. I climb up the spiral, iron staircase and wander around the tropical specimens at canopy level until the heat gets to me and I'm actually glad to get outside into the cold and damp.
Even hotter is the elegant little conservatory behind it, the Waterlily House, where massive leaves (that I always find a bit creepy) spread across a circular pond, speckled with pastel lotus blooms.
One of Kew's biggest attractions was, for many, many years, completely closed to the public. Built in 1771, Kew Palace was where 'mad' King George III grew up and where he and his large family retreated when his still-unspecified mental illness became increasingly worse. They lived a comparatively simple, if constrained life at Kew, but not long after the king's death, the place was abandoned.
Incredibly, it's only been reopened since 2006 and although some of the rooms are sumptuous, many have been merely stabilised for safety, and left the way they were.
Perhaps that adds to my own, peculiar perception of it as a haunted place, full of demons—not just for the king himself but for his unmarried, over-protected daughters who felt cooped up in the house they called 'the nunnery.'
There's much to see—from fragments of paintings uncovered during restoration to an original Georgian flushing loo, all wonderful and well worth the trip. Entrance is included in a Kew ticket so there's nothing further to pay.
Much happier are the Georgian kitchens, also newly reopened, and the delightful little kitchen garden with heritage varieties of the vegetables enjoyed by the king.
Their bright optimism contrasts beautifully with the stark, formal gardens behind the palace—elegant and sophisticated but for me, rather cold in comparison to jolly rhubarb forcers, trundling wheelbarrows and happy terracotta.
Don't miss Queen Charlotte's cottage, a charming little thatched affair with delicate hand-painted flowers twining across the walls and ceilings.
As the evenings wear on, there's no need to leave immediately. This summer, up to the 6th September,  has a series of late openings: Full of Spice.
Visitors can wander around the grounds, spiced cocktail in hand, while learning about where and how spices are grown, listening to music in the Spice Pavilion and talking to Kew's horticultural experts about all things spicy and botanical. Take a guided rickshaw ride around the gardens or just sit back and enjoy a glass of artisan gin at the pop-up Botanicals bar as the sun goes down.
If you're in London in the next couple of weeks, don't miss...
Just how do you lose an entire Jewish synagogue? Perhaps only in the murky depths of London's East End in the last part of the 20th Century could a door to a whole culture be closed, locked and not even opened for decades.
Originally a wealthy silk weaver's home, built in 1719, 19, Princelet St was first lived in by the Ogier family, Huguenots escaping persecution in France. As the years wore on, the French immigrants left the Spitalfields area and were replaced by other refugees—Irish, Polish, and then Jewish. But the East End was becoming successively run down, and when the Jewish people moved on, the area became poorer and poorer. Once glamorous mansions became apartments, hostels and even doss-houses for people increasingly left on the margins of society.
By 1969, Number 19, Princelet Street was occupied by a recluse, who first locked himself inside, then disappeared entirely. By this point Spitalfields was so poor, no one bothered to look behind dusty, locked doors.
It was only in the 1980s and 90s when developers began to realise that this ludicrously cheap area was literally yards from the eye-poppingly expensive Square Mile that anyone bothered to look.
I wish I could have been there the day they opened that front door,  to find an entire 1869 synagogue, complete with gallery, windows, arch, cupboards, chandelier—everything. It's all still there, preserved in the rickety state it was found in, now home to a fascinating museum of ethnicity and diversity.
19, Princelet Street is almost never open because it is so very, very delicate. But it IS open Sunday, 21st June. There is no charge, and no booking, so get there early, and be prepared to queue. Believe me, this one is worth it.
While you're about it, do take a little time to wander round the streets. They're beautifully aged, newly gentrified and very chic. Old Spitalfields market isn't what it once was, but it's still worth a mooch around, and Brick Lane, after aeons of dodgy curry houses and cloth shops is now the preserve of London's coolest and trendiest.