THERE ARE GRAND HOUSES; then there are Grand Houses. London's west end used to be full of gigantic palaces; "town houses" of the landed gentry, and scenes of outlandish parties. A few of these piles survived the turmoil of two world wars, but for the most part these dinosaurs from another era fell after World War I, culled by the double whammy of bombs and progress.
There is one, however, you can't miss. You can't miss its nickname, either: Number One, London. Apsley House is best known for being the London residence of Arthur Wellesley, 1st Duke of Wellington. Built for the now-forgotten Baron Apsley in 1771 by the most famous architect of the day, Robert Adam, there's only a fraction of Adam's work left. Most of what we see now is the Duke's early 19th-century remodelling in trendy Regency style. He re-clad the exterior in funky Bath stone and added a massive extension. He even placed a colossal statue of his arch-enemy Napoleon in his stairwell, the only place it would fit.
Even today, the word "opulence" comes to mind as you wander sumptuous rooms full of deep colors, rich fabrics, famous old master paintings and gold. Gilded dinner services, gilded picture frames, gilded ceilings, gilded furniture. I'll even wager the gold is gilded.
APSLEY HOUSE LIES ON TOP of Hyde Park Corner tube; though finding the right exit from the underground can be challenging. You might come out at the Wellington Arch exit instead, and it does make sense to see both shrines of Wellingtonia together.
The triumphal arch now sits in a gigantic traffic island, but it used to serve as London's second-smallest police station. A vast mounted statue of Wellington on horseback once topped the arch, but it was far too big and the subject of widespread public derision. It was replaced by the Quadriga, a much more tasteful four-horsed chariot. There's a museum inside the arch containing some Wellington boots and other ducal memorabilia. Take an elevator to the viewing gallery and gaze across Constitution Hill toward Buckingham Palace.
From there, it's a short walk to a little mews pub called The Grenadier. I include it mainly for its prettiness, hidden down a tiny backstreet with its own "sentry box" outside. It was built in 1720 as the officers' mess for the First Royal Regiment of Foot Guards, later to become the First Grenadier Regiment of Foot Guards after their heroism at the Battle of Waterloo. It comes with its own ghost: a young Grenadier allegedly beaten to death for cheating at cards. Over the years visitors from around the world have tried to pay Cedric's debt by fastening paper money to the pub ceiling.
IF WELLINGTON ARCH used to be the second smallest police station in London, it's only decent to mention the place that used to be the smallest—so you can spot it next time you're in Trafalgar Square.
[caption id="WellingtonManiaTinyPoliceStationsandWandsworthRoad_img3" align="alignright" width="278"]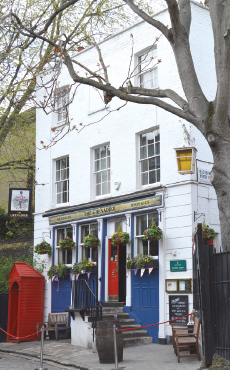 3
Tucked in a mews between Hyde Park and Buckingham Palace, check out The Grenadier.
[/caption]
Go to the Southeast corner and look carefully at the fancy, art deco ornamental light fitting. It's hollowed out and tiny arrow-slit windows inserted all around. At the front there's a teeny double door with leaded windows.
The box was created in 1926 to replace a temporary police box at the nearby tube station installed at the end of World War I. It is said that there was enough room inside to imprison two (very thin!) felons, but it was really a sentry box for a lone policeman with a telephone line to Scotland Yard. Legend tells the lantern on top of it is from Nelson's flagship the Victory. I've heard the light flashed when the telephone was used.
A 15-MINUTE WALK from Bexley Station, Hall Place is one of those secret places that, once you know it exists, you can't work out why it isn't famous. Dating back to 1537, the manor house drips with history, has gigantic Elizabethan windows, a huge minstrels' gallery, panelled parlor, fancy plastered ceilings and wonderful checkerboard walls. It was a base for intercepting enemy radio transmissions during World War II, manned by American soldiers, who relayed secret messages to Bletchley. During this time, the great key to the massive oak front door went missing—returned years later by an embarrassed former GI, full of apologies.
Hall Place is worth visiting just for the gardens. As well as acres of parkland there are huge formal gardens with a turf maze, rustic rivers, sunken beds and the world's least-threatening Royal Beasts, created for Queen Elizabeth's coronation. The intervening years have seen once-fearsome monsters succumb to middle-age spread and the jolly giants are now more oversized puppies than terrifying demons. Do have a quick peek inside the restaurant; it's the ancient tythe barn, and its roof is really worth a look. Check out the little grain store beside it, still perched on mushroom-shaped staddle-stones to keep out rats.
THINK YOU KNOW every National Trust property in London? Think again. It's hard to get tickets to extraordinary 575 Wandsworth Road, but I highly recommend the effort if you love history, art and whimsy.
Back in the 1980s, Kenyan poet and novelist Khadambi Asalache bought a house in what is a frankly rather unremarkable road in Wandsworth while working as a civil servant. It was a nice enough Regency terrace, with a sweet garden, but it had a problem: the launderette next door.
Asalache noticed a damp problem in the basement, but couldn't find a way to fix it. He decided to cover it up, and sneaked some old floorboards out of a neighboring skip to make panelling. He felt it looked a bit plain so he added a little carving. Then a bit more. By the time he declared himself finished in 2004, Asalache had entirely covered the house in exquisite, lace-like fretwork and delicate painting that is at once exuberant and charming.
Drawing on his homeland, his passions for Ottoman, Moorish and African architecture—and his friends—the house is full of little jokes and gifts. On Asalache's passing in 2006, this incredible home was left to the National Trust, who were faced with a problem: how to care for such a fragile building and allow visitors to see it. The solution they have chosen is to allow a punishingly small number of visitors each week.
You need to book online, in advance, from three months ahead. Find booking details through the website, though if you are the serendipitous sort it can be worth calling the house to see if there are any cancellations.
Don't forget to join me online each month for topical things to do and inside info on some of London's best places.
[caption id="WellingtonManiaTinyPoliceStationsandWandsworthRoad_img5" align="alignright" width="493"]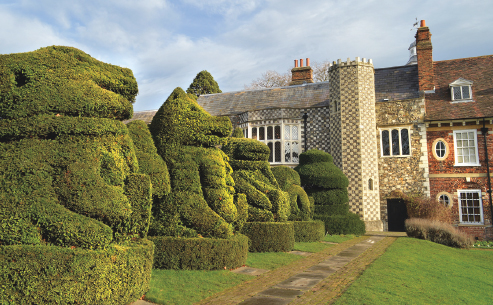 3
The Royal Beast topiary gardens at 16th-century Hall Place aren't really going to scare anyone.
[/caption]