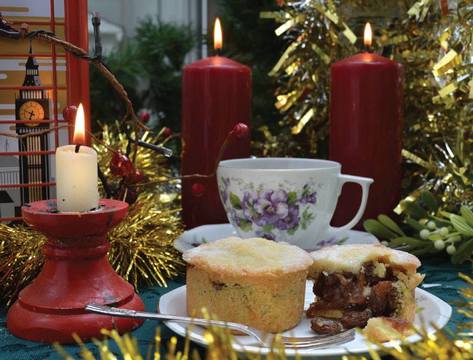 Toasted crumpets, Dundee cake and mince pies.
When the fashionable new drink tea hit the salons of Georgian England, Christmas was in the doldrums. Smart people considered the holiday fit only for country bumpkins, and it was as much as the gentry could do to turn up to a festive gathering below stairs for the servants.
Charles Dickens, though, was crazy for Christmas.
When he and his wife Catherine moved into 48 Doughty Street, he was still "Boz," a jobbing writer. By the time they left their beloved Bloomsbury home, Dickens was a superstar, not least from an 1843 confection he rattled off in six weeks and sold out in five days. Dickens poured all his own festive hopes, joys and goodwill into A Christmas Carol, almost single-handedly reviving interest in the ancient festival. He loved to entertain, and the house was decorated to the hilt for Christmas. It still is. A museum now, it spends the festive season wreathed in greenery, its table permanently set for holiday guests.
Tea on Christmas Day is an odd beast in Britain. Lunch has been spectacular, often stretching across hours, interrupted only at 3 p.m. (in traditional households) for the Queen's Speech. By the time we get to regular supper time, no one is particularly hungry, and meals, if eaten at all, tend to be help-yourself cold buffets or Stilton-and-chutney affairs to save the cook's weary bones. Many forget healthy eating entirely and subsist on Quality Street, Terry's Chocolate Orange and Cadbury's Roses.
Tea around Christmas, however, is another matter entirely. Afternoon gatherings with friends in the run-up to the big day and during the perineum between Christmas Day and New Year, when many Brits take the week off, are perfect opportunities to dust off the baking skills, serve a spot of mulled wine, toast crumpets and break out the Dundee cake. The Christmas cake finally sees a knife (an electric knife if the Royal icing has set like concrete), and slices of Christmas log, a chocolate-frosted Swiss roll recalling the old Yule log that burned throughout the medieval festive period, are handed around.
Christmas tea, a completely un-prescribed affair, might resemble a cross between the old high tea of working-class households and the elegant afternoon tea enjoyed by the gentry. High tea was an early-evening, decent-sized meal served to children, who would be in bed by the time their fathers arrived home. For a Christmas tea, therefore, hearty soups might easily rub shoulders with dainty cakes, depending on the occasion. Like all Christmas traditions, every family's version is the correct one.
A Christmas Carol's original illustrations remain synonymous with the season. Scrooge's third vision, of "a jolly giant, glorious to see" includes a steaming bowl of "negus"—what we would call punch. At Christmas time, it's often mulled with spices, though in the afternoon, many prefer "Christmas Tea." It's a relatively recent invention. Twinings didn't start creating blends studded with dried orange and festive spices until the 1970s, and that was for the export market. The concept really took off in the 1990s and Christmas tea today is enjoyed with or without milk.
Hidden in the shadow of her illustrious husband, Catherine Dickens was also a writer. Dickens House museum has just acquired a rare cookery book by her nom de plume, Lady Maria Clutterbuck. What Shall We Have For Dinner? is a collection of menus, or "bills of fare" for gatherings of between two and 18 people, and give an insight into what the family ate. Plum pudding and mince pies are staples and, although it's unlikely you'll find plum pudding for tea today, mince pies are still an absolute must at every gathering, everywhere you go in the British run up to Christmas.
They go back to medieval times when a single, giant pastry "coffin" (manger) would be filled with mincemeat (the meat part lives on only in the suet—shredded beef fat—and is often substituted with a vegetarian version or omitted entirely as in my own recipe) and a pastry baby which, over the years morphed into individual pies with lids. Everyone has their own version, though many cut corners with shop-bought mincemeat, pastry or both. They are best served warm with custard, cream or, for true aficionados, brandy butter.
The Charles Dickens House Museum on Doughty Street in London's Bloomsbury celebrates Christmas in Dickensian style — from mince pies that Catherine Dickens would approve to Mr. Fezziwig's Christmas Ball illustrated in the first edition of A Christmas Carol.
SANDRA'S MINCE PIES
Mincemeat
10 oz. mixed dried fruit—sultanas, currants, raisins, candied peel, chopped dates/figs/ crystallised ginger/glace cherries, your choice but most of it should be vine fruit.
3 oz. soft brown sugar
1 large apple, peeled, cored and finely chopped.
Zest of 1 clementine or other orange citrus fruit
2 teaspoons of mixed spices—your choice of as many as possible: allspice, cinnamon, nutmeg, mace, cloves, coriander, ginger.
½ cup brandy, rum or orange juice Combine all the ingredients together in a large bowl, cover and allow to steep—overnight if only using orange juice; up to several weeks or even months in advance if using alcohol.
Pastry
You can use shop-bought pastry, but it will not have the richness, sweetness or orangey-ness of homemade.
12 oz. all-purpose flour
8 oz. cold butter
3 ½ oz. superfine sugar Pinch of salt
Grated zest of a clementine
Method
The secret is to avoid what my mum used to call a "mean fill"—make sure there's plenty of mincemeat inside to balance the rich pastry. Looking professional isn't the idea here, the more "homemade with love" it looks, the better.
Rub together the flour, salt and butter to a crumb texture. This can be done in a food processor. Add sugar and zest, and work to a soft dough.
Press small balls of pastry into muffin trays, to make little cups, reserving enough dough to make lids.
Fill nearly to the brim with the mincemeat mix, then top with little lids made from flattened dough.
Make a slit in the very top with a knife to let out the steam. Bake at 375 for about 20 minutes (check after 15).
Immediately after they come out, dust with a little superfine sugar. Serve warm with custard, cream or brandy butter.