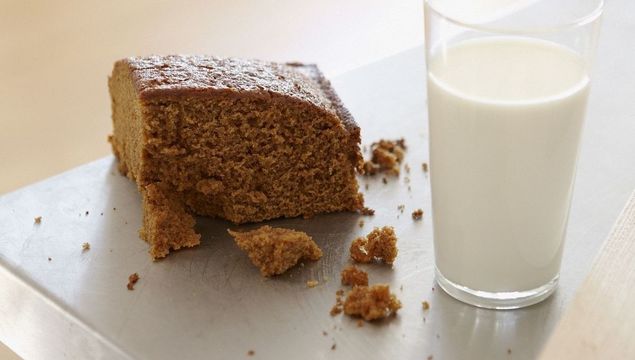 The Great British Bake Off's first winner shares a northern treat her nanna's very own gingerbread recipe.
"I imagined it would be a small daytime show that no one would really pay much attention to. Then, as we were filming it, I thought, 'This is nice! I'd watch this!'" says Edd Kimber, The Great British Bake Off Series One champ, who still sounds a tad surprised by the success of the program that changed his life.
"I worked in an office before and hated it. Now, I work with food all the time and I love it!"
Currently writing his fourth cookbook, Kimber appreciates that this TV phenomenon has brought back interest in classic British baking: "There's definitely been a revival with some of those traditional, more old-fashioned dishes." In that spirit, he picked his grandmother's modified version of parkin, the traditional northern gingerbread, to share with BHT readers. The baker stresses that this is not quite parkin by everyone's standards.
"Normally, parkin is made with oats and black treacle, a kind of molasses, but my nanna's version doesn't use either of those, so we just call it 'Nanna's Gingerbread.'" These distinctions are, after all, quite important. "I was born in Yorkshire and my mam is from Lancashire—these were warring regions," Kimber explains. "Though parkin is kind of a general northern thing," he says, "I know it from Lancashire—and the people from Lancashire would be up in arms that it doesn't follow the strict recipe ingredients."
Even with the substitutions, it's still very old for a family recipe. "It's at least 70 or 80 years old," insists Kimber. He found it written down, in his grandmother's handwriting, on a recipe card that had to be updated for modern cooks: "Some of the units of measurement were out of date. The milk was listed in gills."
Nanna's gingerbread recipe
Serves 16
Ingredients
1 1/2 sticks unsalted butter, plus extra for greasing
1 cup plus 1 tbsp. superfine sugar
2 tbsp. orange marmalade
12 oz. golden syrup
2 large eggs
1 cup whole milk
2 tbsp. stem ginger, chopped
3 tsp. ground ginger
2 1/2 cups all-purpose flour
1 tsp. mixed spice
1 tsp. ground cinnamon
1 tsp. baking soda
Pinch salt
Pinch cayenne pepper
Method
Preheat the oven to 300 degrees F and lightly grease an 8-inch square cake tin.
Line with baking parchment paper, leaving a couple of inches overhang, making it easier to remove the cake later.
Melt the butter, sugar, marmalade, and syrup in a medium pan over medium heat.
Set the pan aside to cool. In a separate bowl, whisk the eggs and milk together.
Pour the butter mixture into the eggs and milk and add the stem ginger.
Whisk together. Sift all the dry ingredients over the liquid mixture and gently fold together.
Pour into the prepared tin and bake for 1 to 1 ¼ hours or until a toothpick inserted into the center comes out clean.
Cool in the tin for 5 minutes, then turn out onto a wire rack to cool completely. Cut into squares to serve.
* Originally published in 2017