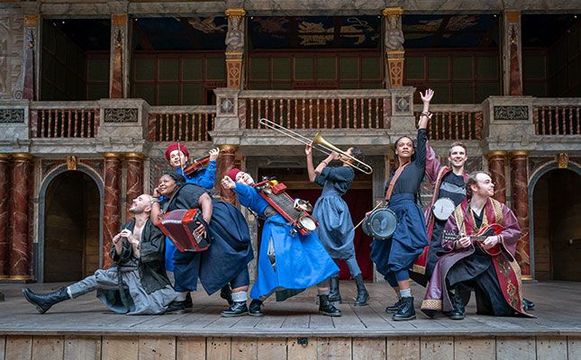 Known for historically informed and radical productions, Shakespeare's Globe returns to Spoleto Festival USA with a rotation of three plays, each exploring themes of refuge and belonging
Under the leadership of Artistic Director Michelle Terry, Shakespeare's Globe celebrates the playwright's transformative impact on the world and returns to Spoleto for the first time since 2015's Romeo & Juliet.
Filled with unforgettable characters, Twelfth Night combines cruelty with high comedy and the pangs of unrequited love with subtle poetry, expressed through some of Shakespeare's most exquisite songs. Pericles, imbued with music, miracles, and the constant presence of the sea, submits its hero to a series of tragedies that culminate in something quite the opposite. And in The Comedy of Errors, two sets of estranged twins find themselves in a strange land with a reputation for sorcery.
The company's touring eight actors present each work, while also offering "Audience Choice" performances in which ticket holders collectively choose one of the three plays. This is inspired by tradition: in Shakespeare's day, small groups of actors would tour, each juggling a variety of roles, and leave the choice of the evening's play to the most powerful person of the household.
At Dock Street Theatre, Shakespeare's Globe is placing the power back into the hands of the most powerful members of the house - the audience. Just before the curtain rises, audience members will cheer for the play they most want to see. Describes WhatsOnStage: "It's easy to forget that everyone in this ensemble has (at least) three different roles to create and portray, fight cues and music to memorize with no time to get into the mindset of their characters. The troupe's ability to leap into action is certainly an impressive one." 
Shakespeare's Globe will perform an Audience Choice on May 23, 25, 27, 30 and June 1, 4 , 6 and 8. And general performances on May 23 - June 9 except for Tuesday 5 /28 and Monday 6/3. Tickets are available here