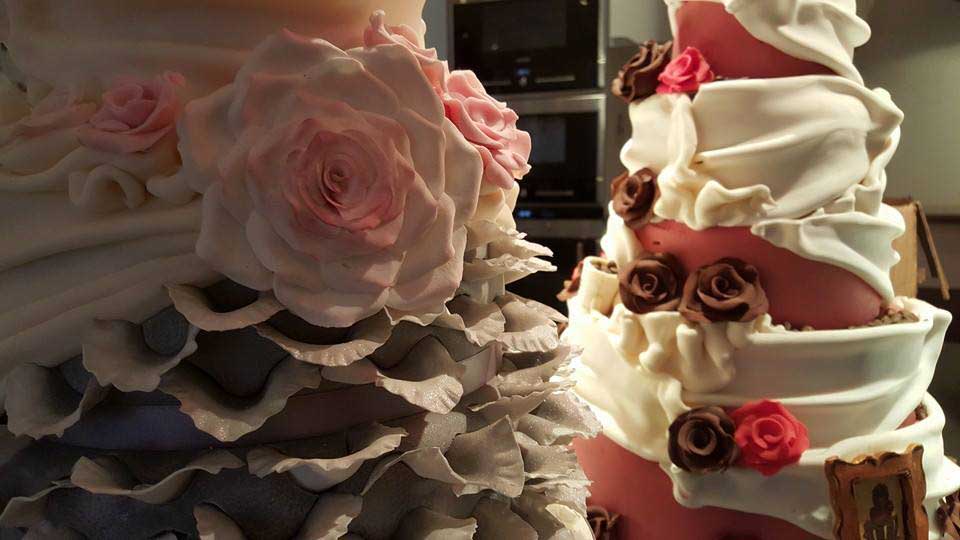 [caption id="attachment_13698005" align="alignleft" width="702"]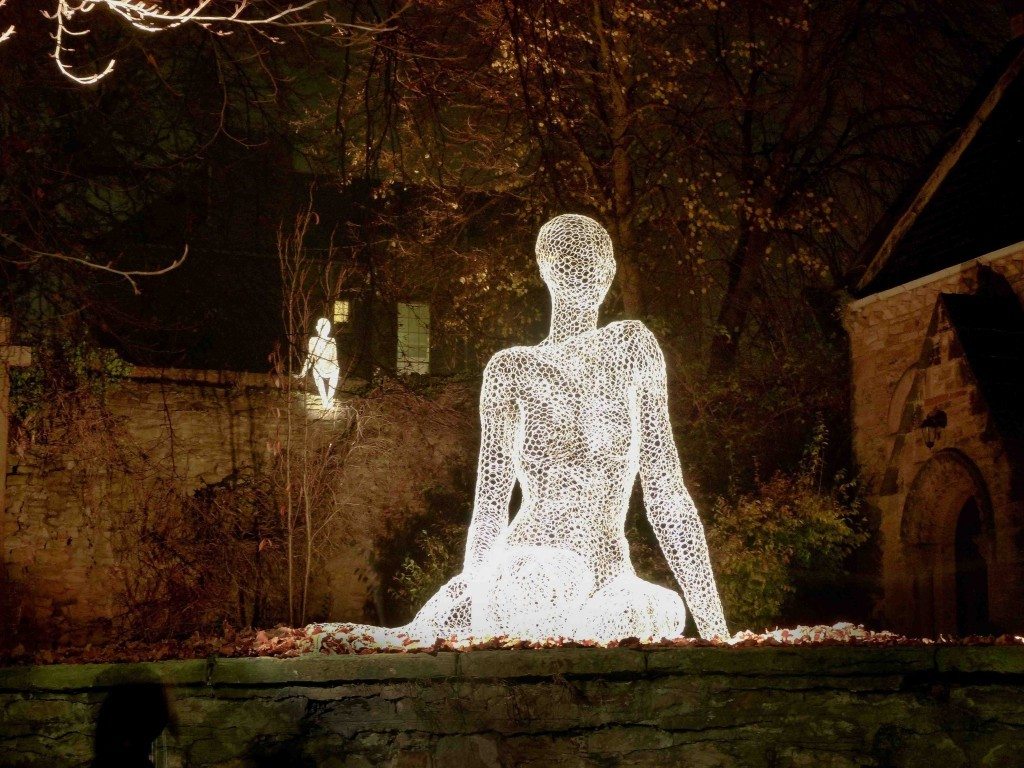 19
LES VOYAGEURS (La femme assise) Cedric Le Borgne, LUMIERE produced in Durham by Artichoke Image courtesy Cedric Le Borgne[/caption]
January can be a dark time of year. The joys and excesses of Christmas are mere memories and Spring not even a faint twinkle in the eye, but there is still light and pleasure to be found in the small days of winter.
Lumiere London is a new venture pioneered in Durham where leading artists and designers create outdoor sculptures in light to celebrate the capital's great sights. In the West End expect to see Piccadilly, Jermyn Street, Carnaby Street and Oxford Circus bathed in light sculptures, while the 300 year-old Leicester Square, better known for its blockbuster screen premieres, will be transformed into an exotic garden of light.
[caption id="attachment_13698006" align="alignright" width="300"]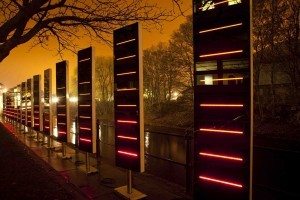 19
BINARY WAVES, LAB LUMIERE 2011, produced by Artichoke in Durham. Photo Matthew Andrews
[/caption]I'm told Carnaby Street is unveiling a new permanent light-work by alternative artist Julian Opie, while larger-than-life 'guardian angels' will be gracing the roofs and pavements of Jermyn Street's famous men's tailoring shops.
Personally, I have to see the classic red telephone box in Mayfair filled with an illuminated aquarium of tropical goldfish. I just hope it's heated…
Lumiere London runs between 14th and 17th January at various locations.
[caption id="attachment_13698121" align="aligncenter" width="875"]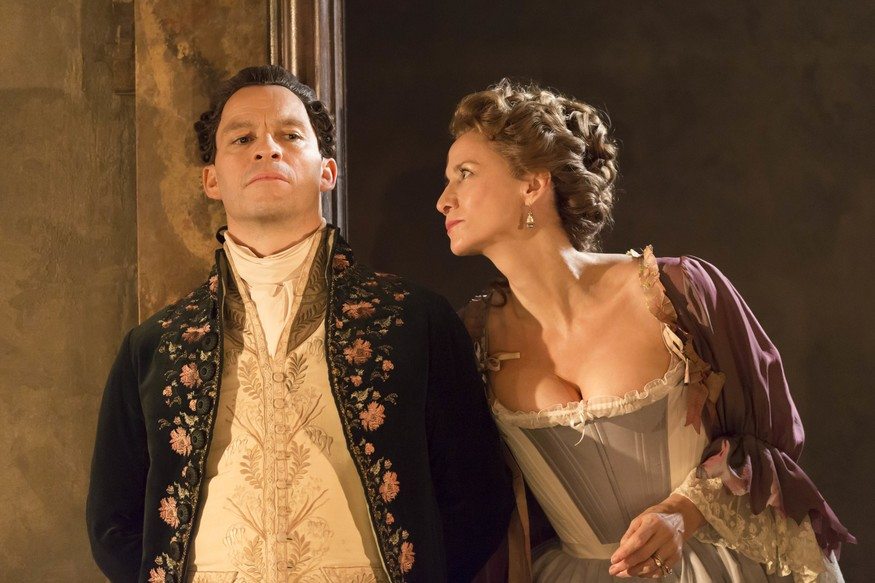 19
Image: Johan Persson[/caption]
When Les Liaisons Dangereuses first opened in the West End many, many years ago, I smashed my piggy bank to go and was stunned by Christopher Hampton's sparkling interpretation of Laclose's original novel. Ever since, whenever it's revived (it was later filmed as Dangerous Liaisons with John Malkovitch and Glenn Close) I am staggered by how the play still stands strong. The latest version, at the venerable Donmar Theater in Covent Garden, is joining the stellar club in true blousy, overblown style. Starring Dominic West (from The Wire) the play is as sexy, amoral - and sumptuous - as ever.
[caption id="attachment_13698122" align="alignleft" width="300"]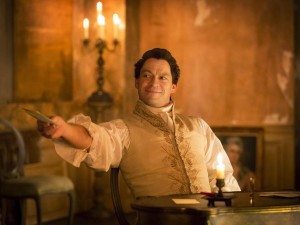 19
Image: JohanPersson[/caption]
West's predatory Valmont is at once creepy and covetable, his lustful eye and wandering hands made all the less comfortable by the close proximity of the audience. As the Marquise de Merteuil, Janet McTeer creates an icy carapace that chills any room she enters, the mask rarely slipping to reveal any kind of vulnerability under the malice.
Design owes a debt to the new Sam Wanamaker Theater across town; five gigantic chandeliers and several massive candelabras, dripping with crystals, sparkle with naked candle flame, glowing amber and rising high and low as the scenes move from intimate to even more intimate. The Ancien Régim elegance has a distinctly past-its-sell-by-date feel, with chaise-longues, walls and even a harpsichord doing service as makeshift beds. The chilling (if a little melodramatic) shadow of a guillotine at the end of the original has been omitted this time, though without anything to replace it, the production ends on a somewhat pedestrian note. This, however, is splitting hairs. It's an extraordinary performance that lingers long in the mind.
It's marvelous if you can make it to the theatre in person, but, following in the current fashion of relaying live performances of great theater to cinemas,  the performance will be relayed to picture houses across Britain and worldwide. There are several live screenings across the States.
Les Liaisons Dangereuses plays at the Donmar Warehouse until 13 February 2016.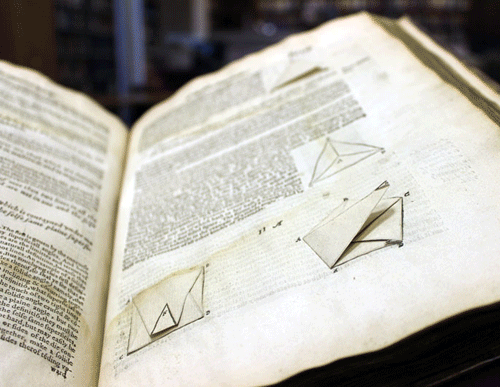 19
Just up by Regent's Park lies the once out-of-bounds headquarters of the Royal College of Physicians. They're celebrating their 400th birthday this year with a series of talks, walks and exhibitions and I don't think they'll get any more exciting than their first – the Lost Library of John Dee.
[caption id="attachment_13698008" align="alignleft" width="759"]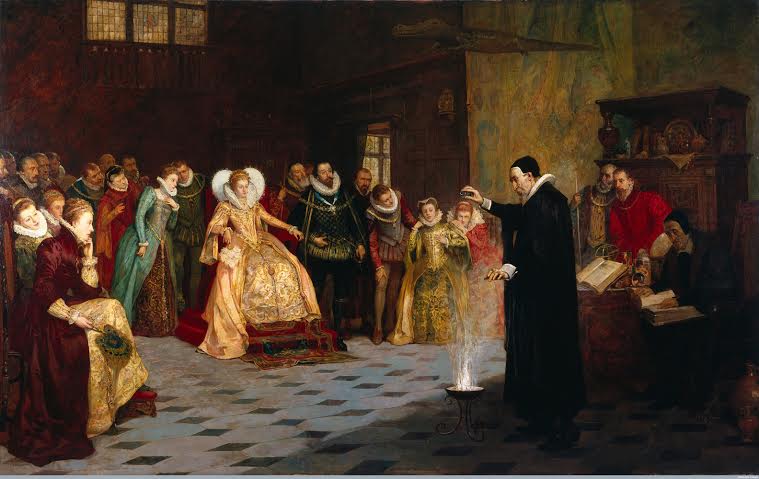 19
John Dee performing an experiment before Queen Elizabeth. (c) Wellcome Library, London.[/caption]
Who he?
A fascinating character, Doctor John Dee was Queen Elizabeth's alchemist, magician, physician, courtier – and spy. He spent his life continually in and out of favour as he tried to fathom how science and magic could work together. One minute he was casting horoscopes and trying to turn base metal into gold, the next he was creating mathematical calculations and involving himself in court intrigue.
[caption id="attachment_13698009" align="alignright" width="300"]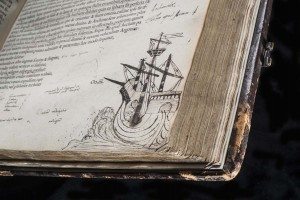 19
Is this history's coolest doodle?[/caption]
The Royal College of Physicians holds what's left of Dee's once-enormous library. It reveals much about the man – not least that he was a dreadful doodler. He covered his volumes with notes, calculations – and odd drawings of hands, eyes and even a sailing galleon. Put that together with pop-up math books, his magical 'dark' mirror (courtesy of the British Museum) and crystal ball (the Science Museum) and this is going to be one heck of an exhibition.
The Lost Library of John Dee opens at the Royal College of Physicians on 18th January. It's a short walk from Regents Park tube.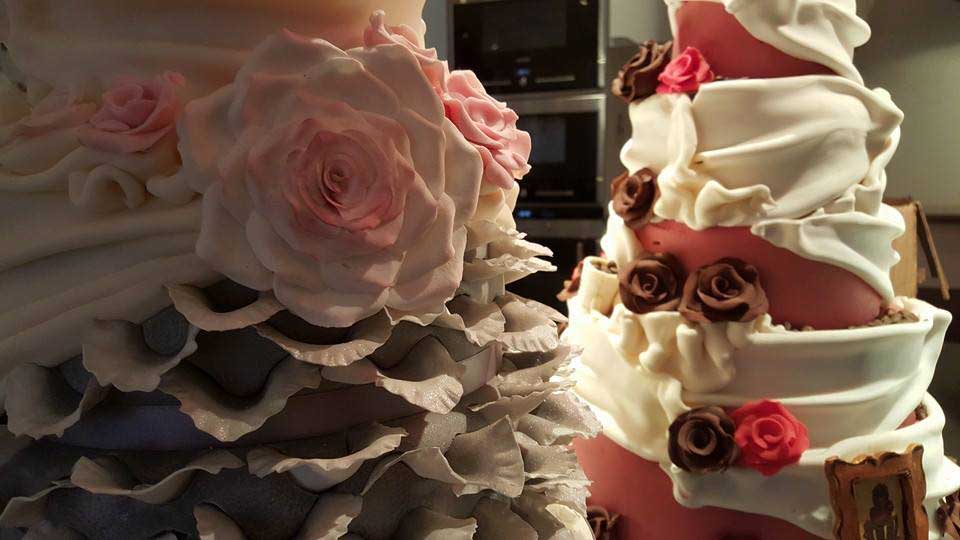 19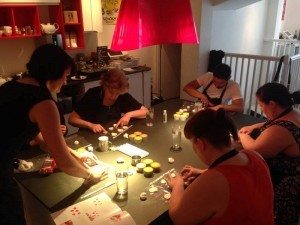 19
If you're fancying some refreshment afterwards,
may I recommend a little coffee shop I stumbled on a couple of weeks ago?
Coffee, Cake and Kisses
is so new it's not quite finished yet, but it's absolutely wonderful.
Sofia and Amanda, who funded the venture through Kickstarter, want to create the feeling that you're sitting around their kitchen table, chatting while they bake around you, as though you were sitting in the kitchen at a friend's house. They bring you different teas to sniff before choosing; while you wait you can wander around looking at what's just come out of the oven to eat. I had a fabulous beetroot and feta pie, followed by a slice of lemon cake, all so fresh they were practically falling apart.
Coffee, Cake and Kisses is particularly good if you have mobility issues as it's completely wheelchair accessible – without 'looking like it'.  I didn't even know it had been specially created so wheelchairs can move round the kitchen table with ease and sit right up to it without a big fuss being made.
Fitzrovia is a funny, quaint little area, with many coffee shops, but Coffee Cake and Kisses is so wonderful now I can only imagine what it will be like when it's done.
Coffee Cake and Kisses is at 54 Warren Street, London W1T 5NN, about three minutes' walk from Warren St Tube.
[caption id="attachment_13698010" align="aligncenter" width="702"]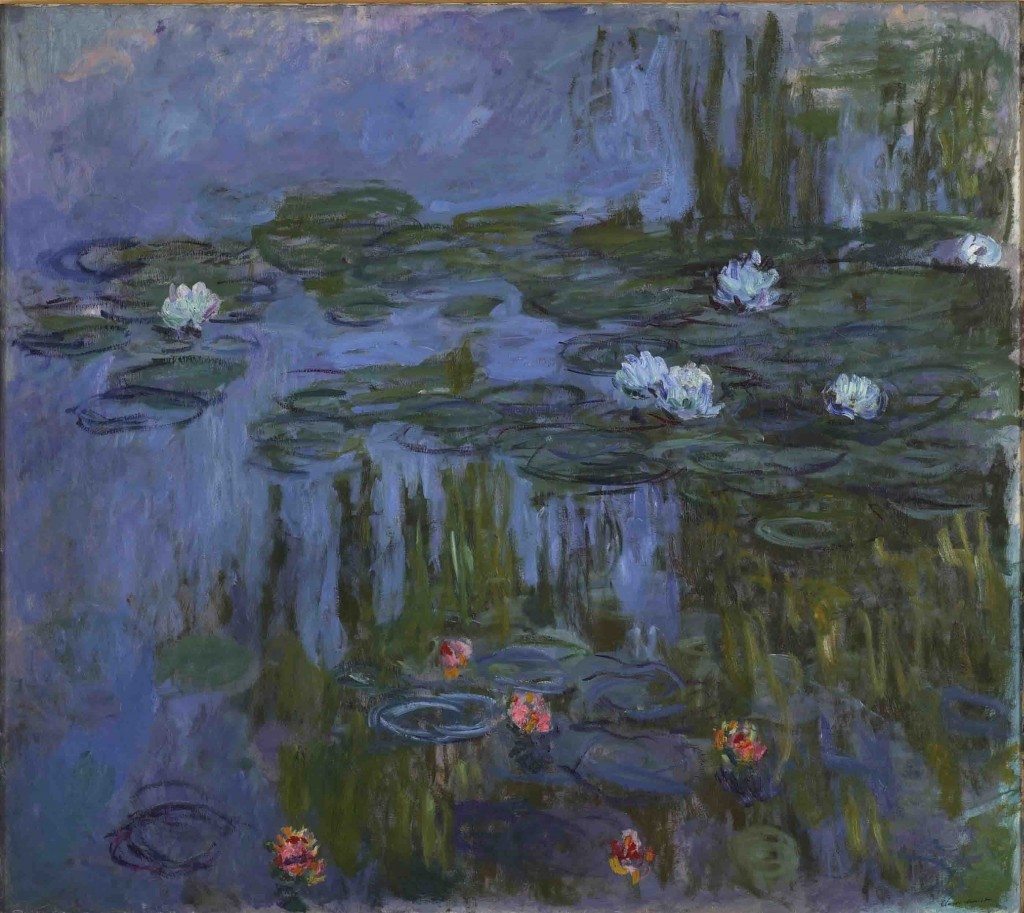 19
Claude Monet (French, 1840-1926), Museum Purchase: Helen Thurston Ayer Fund,[/caption]
[caption id="attachment_13698011" align="alignleft" width="229"]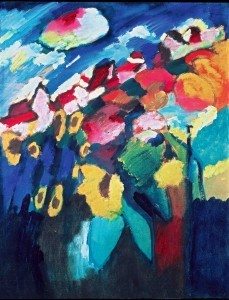 19
Wassily Kandinsky, Murnau The Garden II, 1910 Merzbacher Kunststiftung Photo © Merzbacher Kunststiftung[/caption]
Regular readers will know Painting the Modern Garden: Monet to Matisse, at the Royal Academy of Arts in Picadilly will be close to my gardener's heart. This new major exhibition will look at the role gardens played in art during the late years of the 19th Century through to the 1920s, from Monet's famous waterlilies to Renoir's thoughtful impressionist landscapes. Featuring big-hitters such as Manet, Tissot, Matisse, Klee, Van Gogh and Klimt, this is going to be a feast for all art lovers, not just garden obsessives like me.
Painting the Modern Garden: Monet to Matisse opens Saturday 30th January and runs to 16th April. Tickets can be booked on the day or, to be absolutely sure of getting a place, book at www.royalacademy.org.uk.
19
[caption id="attachment_13698083" align="alignleft" width="683"]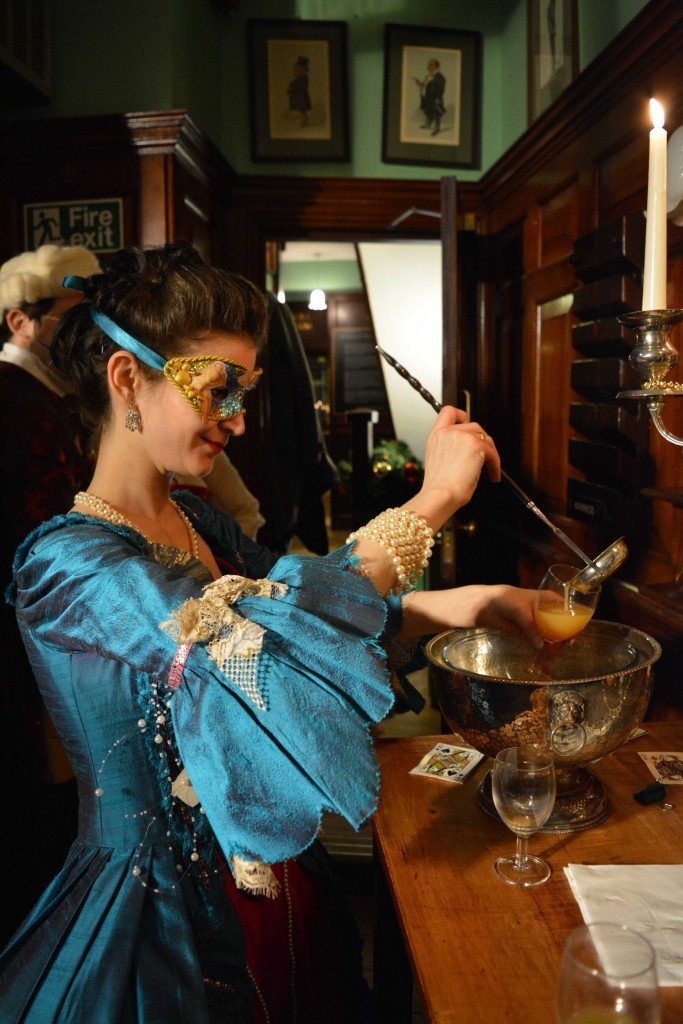 19
Image: Paul Lindus[/caption]
If you're planning a trip to London in the long term, allow me to tempt you with a very quirky evening indeed; one that truly steps back in Old London time...
Regular readers will know the delights of Simpsons Tavern, the oldest chop house in London--established in 1757 and still, hidden in a warren of medieval alleyways, a secret lunch venue for City businessmen--serving hearty food with a distinct nod to the past.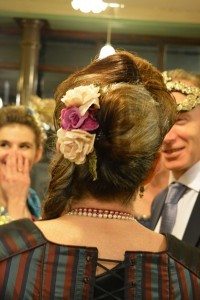 19
It is generally, though, just a lunch venue,  closed during the evenings, when the passageways are at their most Dickensian (and yes Dickens knew both Simpsons and its neighbor, the George and Vulture...)
Enter two delightful doyennes of Georgian high society: the glamorous Miss B and coquettish Kitty Pridden who, between them, have reinvented the concept of the Dining Salon, where the gentry meet, eat and converse, listen to music and discuss the issues of the day.
Simpsons is the perfect venue for the Georgian Dining Academy. Costume is by no means obligatory, though many guests do come in splendid outfits (or, as I discovered after wearing daft clothes on the train, bring their kit and change...) I guess my visit saw about 50-50 costume/non costume.
[caption id="attachment_13698096" align="alignright" width="300"]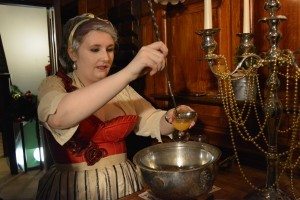 19
Image: Paul Lindus[/caption]
The evening begins with Georgian punch and live music of the day, before guests are seated in Simpsons' traditional booths for a three-course meal, interspersed with entertainment and short talks, candle-lit and cosy as an 18th Century Londoner might expect...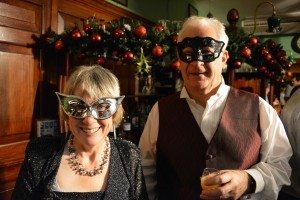 19
Being one of London's 'secrets', the Georgian Dining Academy may be slightly more complex to book than Madame Tussauds or the Tower of London, but believe me, it's worth seeking out.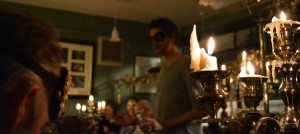 19
The dates for 2016 are
10th March
9th June
1st September
1st December
The GDA's website is a work in progress, but they have a strong Facebook presence. Booking is open for March but if you're interested in that or any of the other dates, do email Miss B - and say hello from me!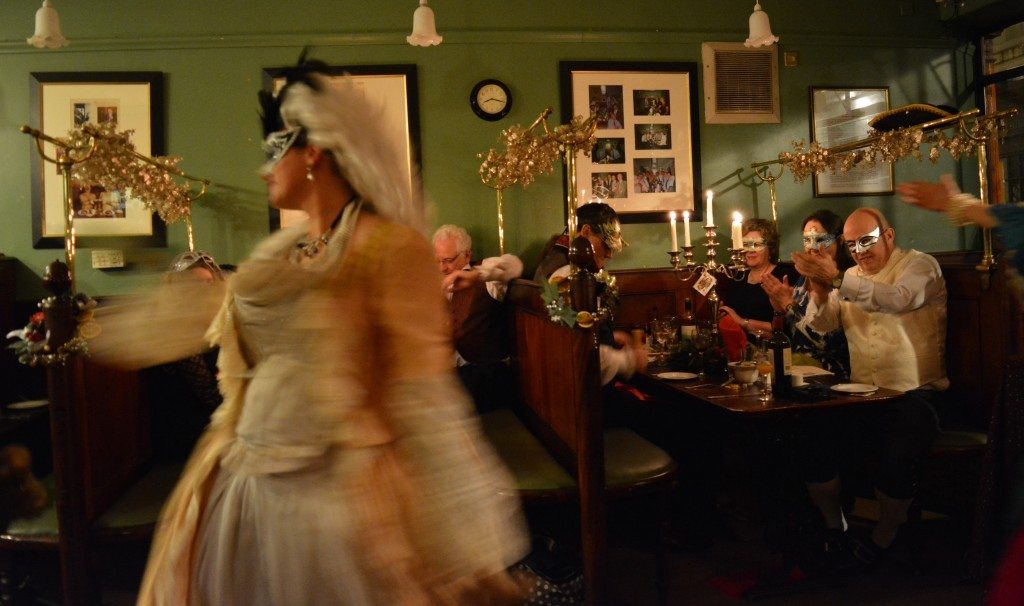 19
Happy New Year, folks! May 2016 be the year we discover even more delights in Olde London Town!