It's the BEST of town and country on this accessible ramble west to England's most popular inland resort and up along the escarpment of the picturesque Cotswold Hills. Jane Austen meets the Romans on this easy road trip.
Day 1—On the Bath Road
Once you are outside central London, or leaving from the airports, Bath is a straight shot west about two hours on the M4 motorway. Of course, there are more interesting routes. The most direct route would be to take the M4 west past Reading, then drop down onto the A4 at Hunger ford. The A4 is the "old" road to Bath, through pretty Marlborough and Chippenham. You might stop at West Kennet Long Barrow or Avebury along the way.
Bath is one destination that is always bustling with people. During the high season, there is a press of visitors from around the world. The Tourist Information Centre in the piazza adjacent to Bath Abbey is a wonderful resource, not only for the usual maps, brochures and local events, but for booking accommodation as well. Still, unless you've a good deal of flexibility in taste and pocketbook, Bath is one place where having lodging reservations ahead of time is a good idea. There are a great many options. Two three star hotels with prime locations and "old world"character are the Mercure Francis on Queen Square and Pratt's Hotel on North Parade. For those with five-star budgets, the eponymously named Royal Crescent Hotel is the ultimate Bath stay in regal Regency luxury. Get started at
www.visitbath.org
—whose banner headline reads "Relax in one of the world's most beautiful cities."
'Take a morning orientation to this living museum of Regency elegance and link to ancient Britain's Roman past'
[caption id="BathandtheCotswolds_img1" align="aligncenter" width="172"]
5
[/caption]
[caption id="BathandtheCotswolds_img2" align="aligncenter" width="1024"]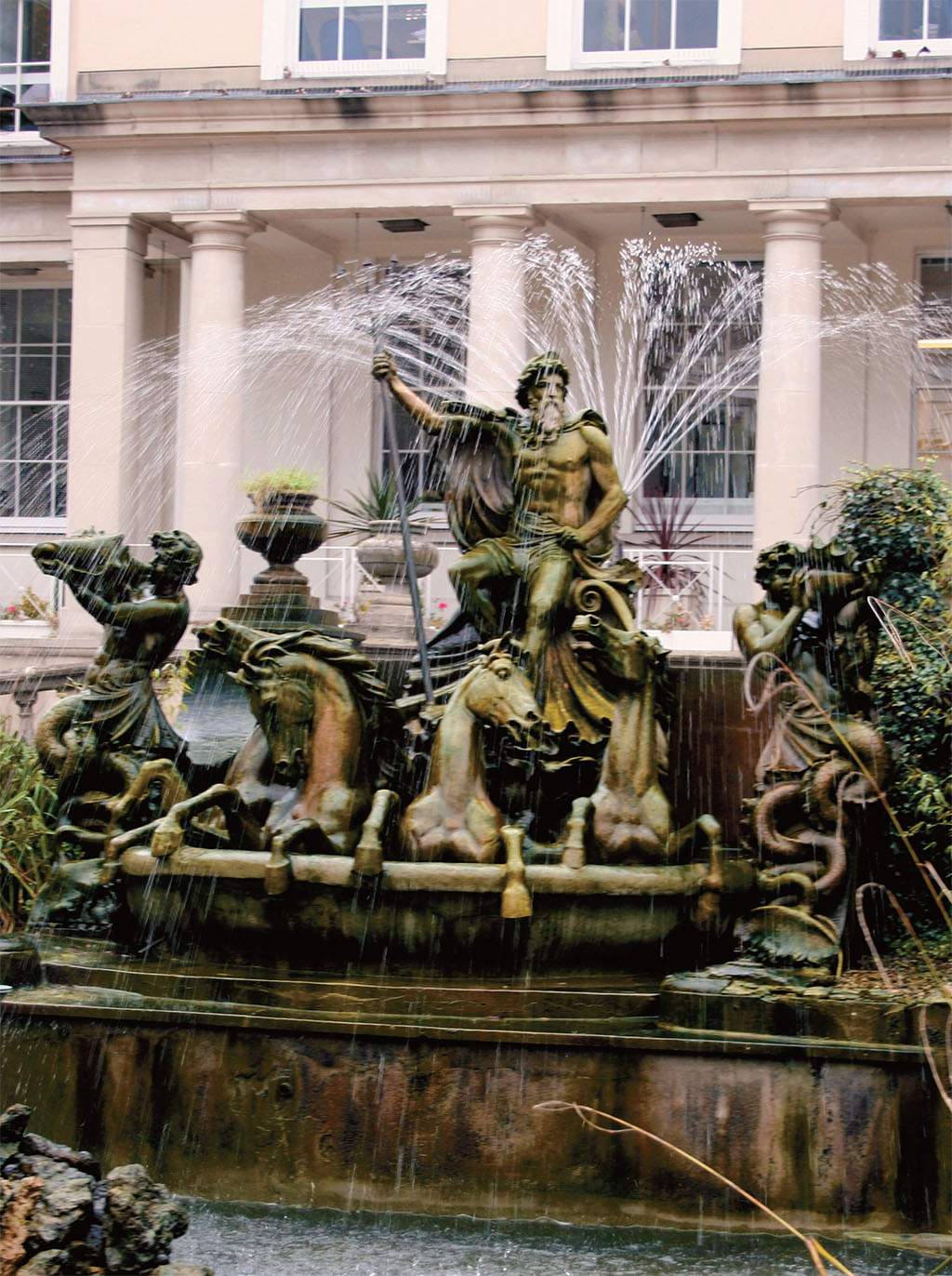 5
Cheltenham's posh Georgian terraces and public art date from its glory years as a fashionable spa.
[/caption]
Day 2—Getting to Know You
If this is a first visit to Bath, then a morning orientation to this living museum of Regency elegance and link to ancient Britain's Roman past is a jolly good idea. Catch a panoramic sightseeing bus in the central square by Parade Gardens; you might sit in the upper open air deck in clement weather. The Royal Crescent, The Circus, Pulteney Bridge and Bath Abbey are not to be missed! A couple of hours guided introduction will simply whet your appetite and help you find your way around this very pedestrian-friendly small city.
The Roman Baths are justly famed and should be part of everyone's itinerary. Drinking the chalybeate water in the 18th century Pump Room above is strictly optional. The Assembly Rooms, the Fashion Museum (one of the best in the world), Victoria Park, the Market at the Guildhall, or shopping along Milsom Street (in the footsteps of Jane Austen's heroines) are just a few of the possibilities.
Day 3—Something for Every Passion
Dash if you must, but Bath really requires a second day to do it justice. The Jane Austen Centre on Queen Square is a must-see for fans of her novels. The magnificent town-house at Number One Royal Crescent illustrates life for the well-to-do of the Bath Jane knew. The ardent will track down the home Jane shared with her parents on Sydney Gardens. Right across the street is the renowned Holburne Museum of fine art. Go separate directions today and pursue your own interests at the Herschel Museum of Astronomy, the Building of Bath Collection, the Postal Museum or pottering about the shops of more than 300 antique dealers in town. Meet up, perhaps, for tea at Sally Lunn's and sample one of those famous cakes. There's fascinating shopping, too, with pedestrian alleys like North umber land Place festooned with flowers. Tonight, perhaps take in a performance at the bijou Theatre Royal, and maybe a pint at the haunted Garrick's Head pub next door.
[caption id="BathandtheCotswolds_img3" align="aligncenter" width="1024"]

5
Of Bath's ranks of Georgian terraces, none is grander than the Royal Crescent.
[/caption]
Day 4—Into Everyone's Idea of Picture-book England
Leaving the city behind, we turn north into the Cotswold Hills today on the A46. This is that pastoral countryside of sheep on the hill, babbling brooks, honey-colored stone cottages and trim gardens. Our destination is Cirencester, "Capital of the Cotswolds." The most direct route leads from the A46 via the A433. There are plenty of attractions to invite you to stop along the way. You might explore the market towns of Chipping Sod bury or Tet bury, or visit Westinburt Arboretum, one of England's finest woodlands. This afternoon, you'll arrive in Cirencester with time to begin exploring the town—the Tourist Information Centre is at the Corinium Museum. It's a natural place to begin. The parish church of St. John Baptist on Market Place is another visit not to be missed.
Day 5—A Cotswold Tudor Queen and Roman Mosaics
A great excursion today leads through the heartland of picturesque Cotswold countryside. Head toward the nearby spa of Cheltenham this morning, and north to Winch-combe and Sudeley Castle, with its gracious gardens and six centuries of fascinating history. Queen Catherine Parr is buried in the 15th-century chapel, and there are magnificent rose gardens in summer. There are plenty of local places to take lunch in Winchcombe village. This afternoon pay a visit to Chedworth, one of the largest Roman villas in Britain. Its remoteness in the labyrinth of green, rolling hills is one of its attractions. The drive is wonderful. Chedworth Roman Villa's surviving walls, mosaics, bath-houses and hypocausts depict life almost 2, 000 years ago—illustrating "on location" the Roman life depicted in Cirencester's Corinium Museum. You will likely return to Cirencester with time to shop or stroll the Abbey Grounds. This evening, perhaps stop in the friendly Black Horse Inn for a pint in Cirencester's oldest pub.
Day 6—The Popular Road to one of England's Great Gardens
Follow the A429 on a drive into the northern Cotswolds today. It's the most popular tourist route. Bourton-on-the Water, Stow-on-the-Wold and a slight detour to drive a mile or two around the villages known as The Slaughters are the iconic Cotswold experience. There is just reason why they are so popular, but that popularity does mean people—lots of them. For a little more peaceful take, make your way via the A44 to the charming little market town of Chipping Camden. Our highlight visit is Hidcote Manor Garden, considered perhaps Britain's best 20th-century garden and pride of the National Trust. It's simply one of the greatest English gardens open to the public. From Hidcote, it's a short drive over to the A429 and a surprisingly easy return to Cirencester. If you've still a taste for charming market towns, stop along the way to explore More-ton-in-Marsh.
Day 7—Parting is Such Sweet Sorrow
If all good things have come to an end, it's a couple of hours back to London. Of course, with a few more days in hand, you might toddle on over to East Anglia for a day or two to visit Norwich.
[caption id="BathandtheCotswolds_img4" align="aligncenter" width="1024"]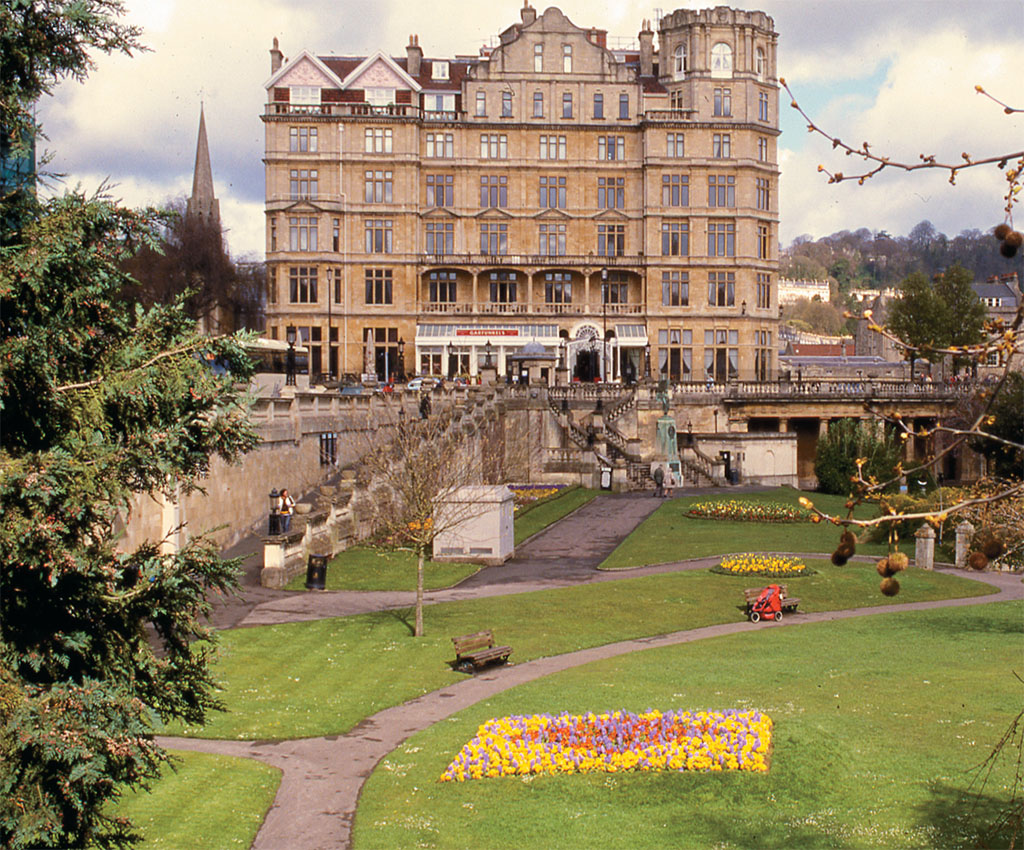 5
Bath's lovely Parade Gardens near the abbey are colorful with bedding flowers throughout the year.
[/caption]