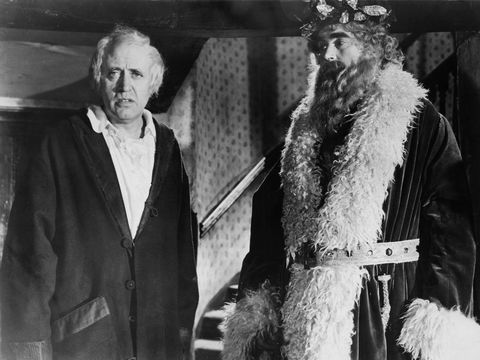 This Christmas curl up on the couch, get cosy, and enjoy some British Christmas cheer with these wonderful movies, old and new, that'll leave you grinning ear to ear. 
The Holiday
We're starting off with the most controversial here but if you don't fall in love with Kate Winslet's English country cottage we question your judgement. This Nancy Meyers' rom-com starring Jude Law, Cameron Diaz, and Jack Black alongside the English rose, Kate Winslet is a sweet Christmas feel-good movie set in Los Angeles and Britain, including London. 
A rough outline of the plot includes unrequited love, new romance, handsome strangers in cosy pubs, and a snowy English village...
What else could you need? A cup of cocoa and a Christmas tree. That is all. 
Scrooge
This is, in our opinion, the definitive film adaptation of Charle Dicken's Christmas Carol, with Michael Caine and the Muppets comes in a close second (it's a treasure). However, the 1951 version, Scrooge, is not for the faint-hearted. 
This Christmas classic starring Alastair Sim, as Ebenezer Scrooge, is so dark in fact that at first Americans didn't warm to it. The film was originally slated to be shown at New York City's Radio City Music Hall as part of their Christmas attraction, but the theatre management decided that the film was too grim and did not possess enough family entertainment value. However, this film has stood the test of time and continues to be a Christmas favorite. 
Love Actually
Arguably Richard Curtis' most popular movie instantly became a Christmas classic. Apart from its wonderfully sweet and funny script, there's also its incredible cast including Bill Nighy, Colin Firth, Liam Neeson, Emma Thompson, Martin Freeman, Andrew Lincoln, Keira Knightley, 
Hugh Grant, and Laura Linney, 
This 2013 romantic comedy is a who's who of British talent, and a little US talent is thrown in too. Our favorite scene is most definitely Rowan Atkinson's ridiculous gift-wrapping session and we also don't know how Emma Thompson didn't win an Oscar for her amazing crying scene. 
A must-see for any rom-com and Christmas love.    
Last Christmas
A new one but a winner for sure. Last Christmas, named for the late great George Michael's song and sprinkled with wonderful tunes, was a smash hit when it came out in 2019. Starring Emilia Clarke, of Game of Thrones fame and Henry Golding as the romantic lead this a quintessentially British Christmas. 
Written by British national treasure Emma Thompson, who also stars as Clarke's mother, truly shines in this one. An instant funny feel-good Christmas go to! 
The Man Who Invented Christmas
This 2017 dramatisation of the life of Charles Dickens, the man who created A Christmas Carol, one of the world's best-loved Christmas stories is definitely one to watch. Starting Dan Stevens, who many will recognize from Downton Abbey, Christopher Plummer and Jonathan Pryce is movie is simply fun! 
The plot follows Charles Dickens (Stevens) as he conceives and writes A Christmas Carol. Set in 1843, four years after the success of Oliver Twist, Charles Dickens is suffering financial hardship from the failure of his last three books. Rejected by his publishers, he sets out to write a new book, and publish it himself, to restore his finances. Seeing inspiration around London, most notably a rich man's funeral that is largely unattended and a mean-spirited old man who gives him the catchphrase "Humbug" and inspiration of a new character, he begins writing A Christmas Carol.