Oliver! Storms Across Theatre Royal, Drury Lane
LIONEL BART'S OLIVER! is the quintessential London musical, and producer Cameron Mackintosh's rousing revival at the historic Theatre Royal, Drury Lane, is a real celebration of the city. The East End's shadowy streets and docks, its perilous iron bridges and crooked byways, are characters as much as Fagin, Bill Sykes, Nancy and the Artful Dodger.
The cityscape begins to tell the story when Oliver Twist first arrives in London. After fleeing the gruesome funeral parlor in the Midlands, our plucky orphan appears to run all the way to the capital through grassy, sunlit fields. But when he reaches the city, night suddenly descends, and the streets of London move in ominously to engulf him.
Like a shipwreck survivor, Oliver lands on a monument in the gloom of Clerken-well Green. Behind him, narrow lanes twist into the distance, and silhouetted against the night sky is the familiar dome of St. Paul's. Designer Anthony Ward immerses us in Victorian London, from the dark, cramped precincts of the poor to the sunny open squares of the rich. His sliding, gliding scenery is a big part of this Oliver's magic
[caption id="BeyondtheBookshelf_img1" align="aligncenter" width="1024"]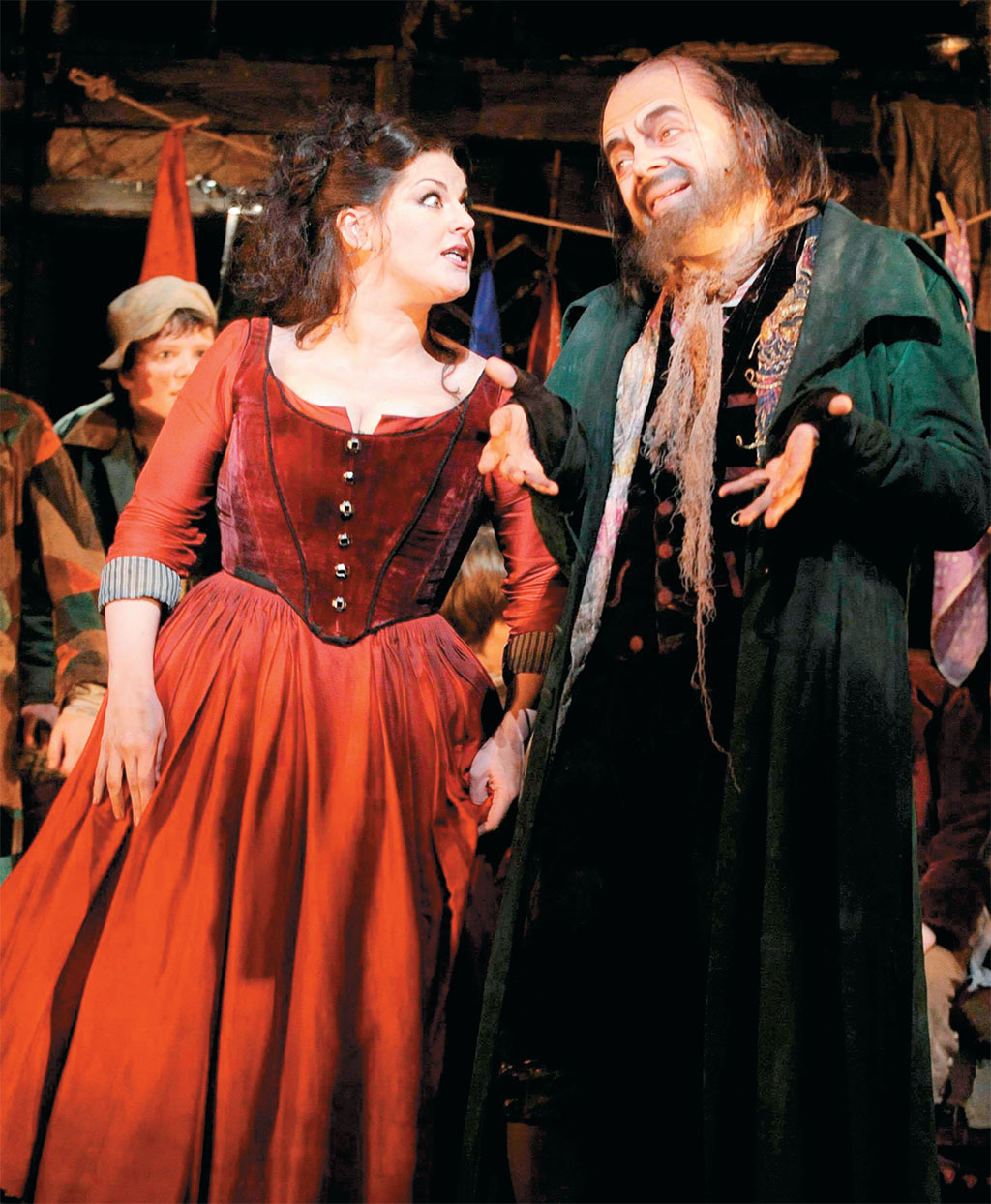 4
Though the inimitable Rowan Atkinson had an acclaimed run as Fagin, the real stars of the show are the music and the Theatre Royal.
[/caption]
While Oliver clings to the monument, the Artful Dodger materializes to recruit the unsuspecting Oliver for Fagin's pickpocket gang. He invites him to "Consider Yourself at Home," as, one after another, little pickpockets pop out from behind the monument. Lighting director Paul Constable makes more stage magic transforming night into morning, while street vendors, performers, shoppers and shopkeepers pour in to give Oliver the most wonderful London welcome ever.
THEATER
Oliver!
Theatre Royal Drury Lane Catherine St. London WC2B 5JF
www.theatreroyaldrurylane.co.uk
"Consider Yourself" is one of musical theater's great street scenes. Choreographer Matthew Bourne cleverly keeps moving our attention from one set of characters to another, as if we're wandering through the city cavalcade. Bourne gives distinctive moves to a group of acrobats here, a nursemaid and her charges there, a policeman chasing urchins, a housekeeper and a flock of housemaids. Each has its moment in the spotlight.
He achieves the same effect in the show's other big crowd number, "Oom-pa-pa," the tavern song that opens Act II. The staging here is more Hogarth than Dickens, with our eyes moving around vignettes of heavy drinking and surprisingly explicit lechery á la The Rake's Progress.
The original star of this Oliver! was comedian Rowan Atkinson, television's Mr. Bean and Blackadder. His presence generated a record-breaking £15 million in advance ticket sales before the show opened last January. Adding box office appeal was Jodie Prenger, who beat 42 other contestants for the role of Nancy in a 10-week television talent search reality show called I'd Do Anything. Oliver! is now booking to February 2011, with Atkinson replaced by Omid Djalili, a well-known actor and comedian who appears frequently on British television.
But the real stars of this Oliver! are Lionel Bart's indelible songs. From the minute the curtain rises and the regiment of workhouse boys begins tramping down the staircases that tower like a Piranesi prison, we're anticipating the soaring notes of "Food, Glorious Food." Fagin's "You've Got to Pick a Pocket or Two," "Be Back Soon" and "I'm Reviewing the Situation" are like cozy old friends. And Nancy's lovely "As Long He Needs Me" is a classic musical theater anthem.
Another star of this production is the Drury Lane, London's oldest theater. Like Oliver!, it's a portal to the past. The first Drury Lane was built on this site in 1663. Subsequent buildings have seen some of Britain's most illustrious performers, including David Garrick, Sarah Siddons, Edmond Kean and William Charles Macready in the 18th and 19th centuries. The present building opened in 1812, nine months after Dickens was born. The exterior looks much the same as during the author's lifetime. Fagin's gang might have picked a few pockets outside this very building.
Although the interior was remodeled in 1922, it retains its gilded Edwardian elegance. Since World War II, Drury Lane has become the place to go for blockbuster musicals, although this is the first time Oliver! has been seen here.
This Theatre Royal has two royal boxes across from each other, one for the monarch and the other for the Prince of Wales. This dates from the days of George III, who kept his distance from his unruly son, the future Prince Regent and then George IV. You can buy tickets for these boxes if you plan ahead. It's a treat for a group, especially if you get photographs sitting behind the royal crest.
"Consider Yourself," the show's most memorable tune, is reprised for the curtain call. The audience claps to its irresistible rhythm and does a little singing along as well. You will be whistling or humming as you leave the theater and for days after.
—Arnold Wengrow
Miss Marple Rides Again, Gloriously
WHAT FUN TO GREET summer Sunday evenings this year with a new batch of PBS
Mystery
whodunits featuring everyone's favorite little old lady detective Miss Marple. The stories may be familiar, but every remake of Agatha Christie's classic murder mysteries brings a new point of view to our appreciation for her.
Julie MacKenzie makes her debut as "dear, oh dear" Jane Marple, whose unobtrusive presence uncovers clue after clue leading to the crime's unraveling. In the first adaptation, "A Pocket Full of Rye," MacKenzie seems unsure of herself, and really isn't on camera that much. She grows into the role through the series, however, becoming much more confident of herself and the role by the fourth mystery "Why Didn't They Ask Evans." It is a daunting challenge indeed to take on the role that Joan Hickson played so flawlessly for so many years. Julie MacKenzie may prove up to the challenge if she continues in the role.
There is something simple and endearing about the small stage on which Miss Marple plays her game of wits with murder.
These new productions just shown on PBS do live up to the game, superbly cast and directed. There is no doubt they make an excellent addition to the video library of Agatha Christie or English murder mystery fans.
DVD
[caption id="BeyondtheBookshelf_img2" align="alignright" width="227"]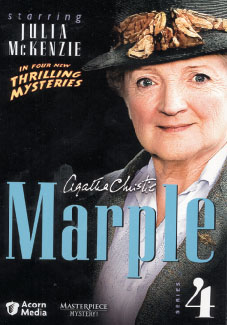 4
[/caption]
Agatha Christie's Miss Marple: The Movie Collection, (set 4) 4-disc boxed set, Acorn Media, Silver Springs, Md., 4 episodes, app. 186 minutes, $49.99.
Lost in the Past: Manchester 1973
SAM TYLER IS A Manchester police detective, hard in pursuit of an unpleasant subject. When Sam is hit and scrambled, he wakes up in 1973. Is he in a coma, or dead, or is he a time traveler? Sam doesn't know, and neither do we.
It's hard to place this dramatic police drama. Is this in the action-thriller genre, science fiction, social commentary or fantasy? The audience is left to figure that out for themselves.
One thing is sure, police work and life on the streets of Manchester in 1973 was a far cry from the end of the 21st century's first decade.
That, of course, is part of the charm of this unlikely, somewhat dark drama series. It shows us in so many ways just how far we've come in the last 30-something years. Styles of clothing, music and popular culture are only the surface changes. It is in the police office that Sam and we discover how much society has changed in its attitude toward human rights, personal dignity and personal and public probity. A cynic might say, how politically correct we've become.
For Sam, however, living and working in such a world feels like social regression, where police brutality, sexism, heavy drinking and being on the fiddle in some fashion or another is just a way of daily policing. It's a challenge to keep himself and his men civilized as he encounters the violent crime of 1970s inner city Manchester. At the same time, Sam is searching for an answer to the questions of why he is there and how he gets back "home."
DVD
[caption id="BeyondtheBookshelf_img3" align="alignright" width="239"]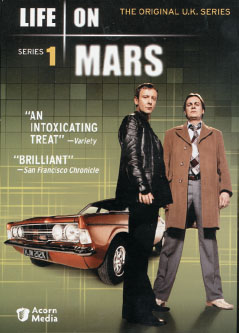 4
[/caption]
Life on Mars, 4-disc boxed set, Acorn Media, Silver Spring, Md., 8 episodes, app. 466 minutes, $59.95.
Life on Mars is a new series, and a new release for Acorn. It ran to a popular cult following in Britain, and a second series is forthcoming. The most off-putting element of the series is its title. It becomes comprehensible; you'd feel like you were on Mars, too. But they could have done better.
This eight-part series is a wonderfully constructed and presented mystery-with-a-difference. It's atmosphere and cinematography are deliberately dark, but both the premise and the plotlines are engaging and challenging on several levels. This won't be everyone's cup of Pimms, but it is rewarding, and we care about Sam Tyler. Highly recommended for those up to the challenge.