Let's Visit Borough Market!
MARKETS
Borough Market, Southwark
London's oldest food market was established when the Romans built the first London Bridge. Open Thursday-Saturday.
THE BBC PROGRAM Master Chef pits amateur cooks against each other. As the competition nears its end, contestants face progressively difficult tasks. Invariably, they are led in the tense final programs to London's Borough Market for both inspiration and ingredients. There are olive oils from Italy, hams and cheeses from Spain, patés, sea salt and wines from France. But the market's pride is the vegetables, fruits, meat, fish, game and other delights from the fields and seas of Britain.
A market stood on this spot as far back as Roman times. Food grown in Kent and Surrey had to get to London via London Bridge—the only crossing over the Thames. The market was actually on the bridge during the Middle Ages. Eventually it moved to the south bank. The current market hall was opened in 1756.
Like the old Covent Garden, Borough Market is both a wholesale market—operating every night except Saturday—and a retail market for the public on Thursdays, Fridays and Saturdays. Sparkling fresh fish loll on beds of ice. Homey brown meat pies tempt with their savory fillings. Pale cheeses promise creaminess and tang. Green grocers entice with elegant pink stems of forced rhubarb set amidst white and cream mushrooms in winter; green asparagus and salading in spring, the rainbow abundance of summer with strawberries, cherries, beans and all the plenty of the harvest.
One stall, The Taste District, offers Lake District specialties such as Cumberland sausage and dry-cured ham. Orkney Rose sells black pudding, smoked fish, pickled herring and heather honey from the islands north of Scotland. Rhubarb comes from Wakefield in Yorkshire; crab from Dorset and East Anglia, Melton Mowbray pies from Leicestershire. There's lamb from Wales, beef from Scotland and game from the moorlands of the North.
[caption id="BeyondtheBookshelf_img1" align="aligncenter" width="511"]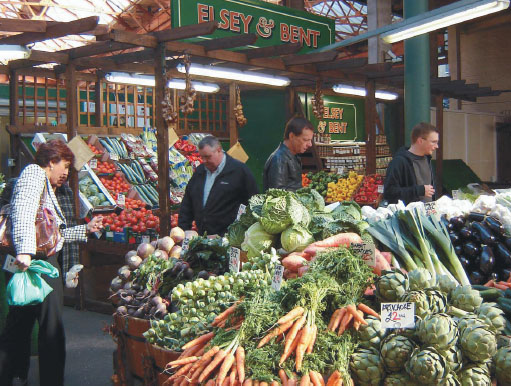 7
[/caption]
[caption id="BeyondtheBookshelf_img2" align="aligncenter" width="251"]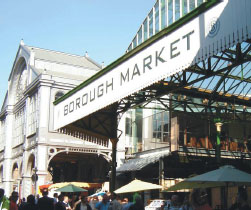 7
[/caption]
[caption id="BeyondtheBookshelf_img3" align="aligncenter" width="251"]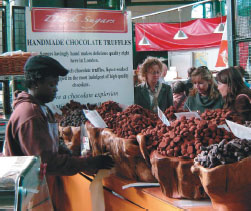 7
The best of British comestibles passes through Borough Market as it has for nearly 2,000 years.
[/caption]
One way to sample Borough Market's fare is to buy goodies for a picnic on the river's edge. Another is to try one of the market eateries. They range from traditional snack bars such as Maria's, that provide cheap and cheerful hot food for the traders who work through the cold nights; to the lovely restaurant Roast, located in the old Floral Hall. The menu includes Duchy of Cornwall oysters, fish stew, lamb rump and goose leg. For something simpler, there is warm carrot cake with elderflower yogurt and damson jam. Like everyone who trades in the Market, Roast emphasizes that the gustatory heights can only be scaled by the best of what's in season.
Borough Market lies near London Bridge underground station. The neighborhood is rich in historical venues, among them Southwark Cathedral, the Globe Theatre and which dates back to 1542. Charles Dickens patronized this region of old warehouses, winding alleys and Borough Market, and it's easy to sense the London of other eras gone by.
—Claire Hopley
Americans have always loved the monarchy
BOOK
The Eagle & The Crown: Americans and the British Monarchy
by Frank Prochaska, Yale University Press, New Haven, 256 pages, hardcover, &doller;40.
[caption id="BeyondtheBookshelf_img4" align="aligncenter" width="110"]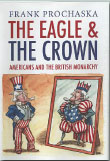 7
[/caption]
CONSIDERING HOW decisively we booted the British king and his minions from these shores over two centuries ago, Americans have always had a striking affection for the monarchy of our mother country. The Eagle & The Crown unpacks the history of our emotional dalliance with the Royals over the years—and our historical fascination with the various kings, queens and princes who have embodied the institution.
Most of us, of course, remember the dazzle of Princess Diana, whose magnetism drew legions of devotees on both sides of the Atlantic. Few now living can recall when Edward VIII created a similar stir on his American visits as Prince of Wales. In turn, the young prince followed in the popular footsteps of Edward VII. In fact, Prochaska contends that visiting British royalty contributed significantly to America's widespread obsession with celebrity.
Less convincingly, Prochaska argues that the American presidency is an elective monarchy, or a "monarchy light." After all, our political system combines the offices of head of state and head of government in a way almost unique.
Throughout our history, we have treated the members of the Royal Family with no less enthusiasm than anywhere in the British Commonwealth. Certainly, our culture and our national self-image are both influenced by our historic connections to Britain—of which the monarchy remains the embodied symbol.
The Eagle&The Crown is not a scholarly or earth-shaking book. It is, however, erudite, humorous and a great read for anyone with an interest in the Anglo-American connection.
From Watling Street to Ermine Way
BOOK
Roman Roads in Britain
by Hugh Davies, Shire Archaeology, Oxford, 72pages, softcover, &doller;13.95.
[caption id="BeyondtheBookshelf_img5" align="aligncenter" width="109"]

7
[/caption]
AFTER 2,000 YEARS, some of the most enduring legacies of centuries of Roman occupation of Britain has turned out to be the roads. In fact, if you are driving today in Britain on any road other than a late 20th-century motorway and the road happens to actually be straight, the chances are good that the roadway was first laid out by the Romans.
All paved to allow the heaviest vehicles and marching legions to travel easily, the Roman roads' design and construction were a key to the expansion of Roman culture and power across Great Britain. That so many of them are still in use is a testament to Roman engineering. Written by a civil engineer who wrote a Ph.D. on the study of Roman roads, Roman Roads in Britain really is a perfect introduction to one legacy of Romano-Britain that can still be seen, and driven on, today.
So, take your own ride up Watling Street, or follow Ermine Street from London to York, or the Foss Way that links Exeter to Lincoln and passes through Bath, Circencester and Leicester on the way. This book is an admittedly slight volume, but it is jammed with well-written, interesting information, detailing the vast network of roads that extended Rome's influence across its northernmost province, their construction and their maintenance.
After all, when the Romans left our sceptered isle, it took another 17 centuries for Britain to learn to build decent roads again.
CD
Only Men Aloud!,
Only Men Aloud!, Universal Music Operations Ltd., London, &doller;30.
[caption id="BeyondtheBookshelf_img6" align="aligncenter" width="108"]

7
[/caption]
Their debut album!
YES, THE WELSH CAN SING; it just seems to be in their genes. Now comes a new generation Welsh male voice choir.
Only Men Aloud! (OMA!) won the hearts of millions as Britain's favorite choir in last year's BBC Last Choir Standing competition—yes, a reality TV show. Now, Only Men Aloud! has released its first eponymously titled album, and it is a beauty.
Certainly, the Cardiff-based ensemble can belt out a rocking, original rendition of the classic Welsh anthem Cym Rhondda ("Guide Me, O Thou Great Jehovah"); it is in more "popular" music, though, that this young singing group of 20 voices really finds its stride, singing contemporary standards with a fluidity, energy and beat that older male choirs are just not born to.
The contemporary arrangements of "All By Myself," "MacArthur Park," "God Only Knows" and "Bridge Over Troubled Water" are delivered with verve, panache and sweeping crescendos.
While traditional Welsh men's choirs sing with piano accompaniment or a cappella, OMA! is backed by strings, horns and a crack drummer. The fully orchestrated "Don't Rain On My Parade" would make any West End cast swoon with jealousy. If you love the rich harmonies and precision execution of the best Welsh male choirs, they are here.
Only Men Aloud! is an album to be sought and treasured. In fact, the only objection to this brilliant CD is there's not enough of it. With only 11 tracks (including an oddly seasonal, if lovely, "Have Yourself a Merry Little Christmas"), the album does seem frustratingly thin.
OMA! will undoubtedly be around a while, though. A first spring concert tour takes them from Bournemouth to Glasgow, and there are bound to be more albums in OMA!'s bright future. This is an expensive album, but you will certainly be the first on your block to stand up and cheer this great group.