[[caption id="BeyondtheBookshelf_img1" align="aligncenter" width="1024"]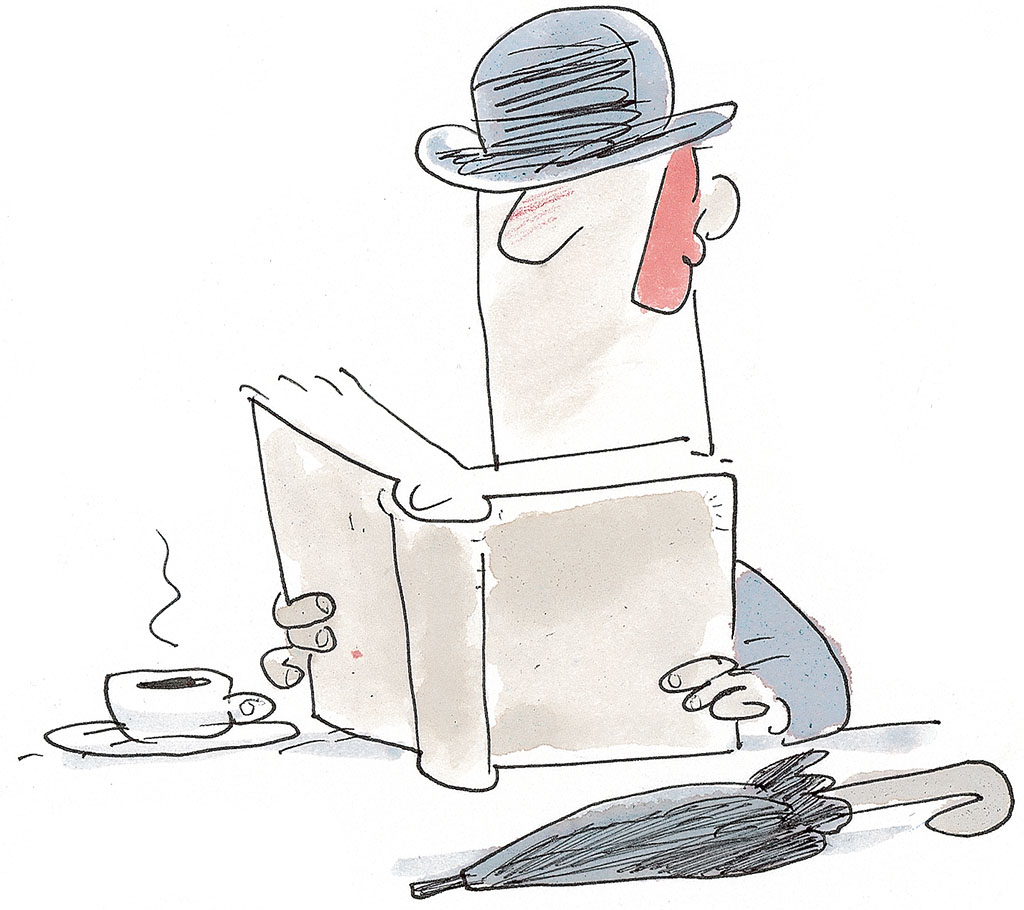 7
[/caption]
"THE WORLD IS SO FULL OF such wonderful things, I'm sure we should all be as happy as kings," as Robert Louis Stevenson observed. True, King George III spent his final years in an unhappy state of madness. Still, our bookshelf this issue is replete with wonderful things for king and commoner alike. Claire Hopley introduces the new British phenomenon of the gastropub, and reader Cindy Todd shares her enthusiasm for an Earl's Court institution. From the relatively innocent world of Father Brown murder mysteries to the more frightening truths of Britain's lethargy in the face of 1930s European fascism, there is always something for everyone Beyond the Bookshelf.
[caption id="BeyondtheBookshelf_img2" align="aligncenter" width="413"]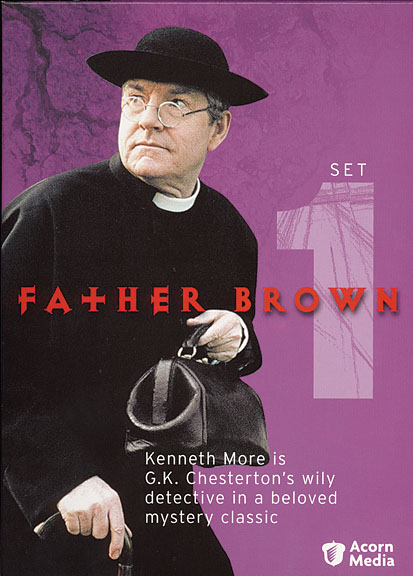 7
[/caption]
Father Brown, DVD 2-vol. boxed set, Acorn Media, Silver Spring, Md., 364 minutes, &doller;39.95.
IN HIS DAY, G.K. Chesterton (1874-1936) was among the most prolific of writers, having penned some 80 books, 4,000 essays and hundreds of poems and short stories. Today, Chesterton is probably best-remembered for the stories he wrote of the clerical detective, Father Brown. It's hardly surprising. After all, who doesn't love a good English murder mystery?
Neither is it surprising that, like the celebrated sleuths of Agatha Christie, Dorothy Sayers, P.D. James, Conan Doyle and such, Father Brown should have made his way to the screen. What is surprising, however, is that it has taken such a time for these clever tales to be widely available in video for fans of the genre. Originally aired in this country on PBS Mystery! in 1982, Acorn Media has gathered and released this set of seven Father Brown stories, starring Kenneth More as the skillful clergyman-detective.
Old friends of Father Brown will be overjoyed to see him come to life in More's portrayal. Those who have cut their teeth in the genre on Miss Marple, Sherlock and Hercule, however, need to be forewarned. Our eponymous priest-on-the-prowl is a far subtler sleuth than many of his compatriots. There is here no heroic ego to be massaged and maintained, no smugness or self-satisfaction. There are no climactic drawing-room scenes full of suspects waiting with bated breath for masks to be stripped away and the real culprit revealed. Gentle, understated and wily, the good Father Brown simply invites us along as he untangles the puzzles posited before him.
Set in the rural England of the '20s, the mysteries contain all the period details and pastoral scenes that we love. This is a leisurely world, however, warp-speed removed from the car chases, stakeouts and bombast of contemporary crime drama. What remains timeless, of course, is the hidden blackness of the human soul and the motivations for murder-most-foul. Avarice and greed, passion and revenge we have always had with us. And there we have the uniqueness of Father Brown as a detecting hero. He brings to the case both the compassion of his priestly vocation and his spiritual understanding of the human condition.
Tooling along England's rural byways on his bicycle, puffing thoughtfully on his pipe, glancing knowingly over his glasses and muttering to himself under his breath: It is impossible not to be plain fond of the good Father. These episodes are just more fun than murder mysteries ought to be. At the same time, it need be said, they are not lavish films. They do show their age in production values. There is a clear visual difference between exterior filming and sound-stage interiors (think Fawlty Towers). Taken on their own terms, however, these stories will delight mystery devotees. G.K. Chesterton fans will adore them.
Gastropubbing at the Norfolk Arms
UNTIL RECENTLY, LONDON EATERIES could be roughly classified into fast food places, fancy restaurants or pubs. But now there are gastropubs. They've been popping up here and there since the 1990s—long enough to spawn guidebooks listing them, cookbooks offering their recipes and even a selection of gastropub frozen main dishes in Marks and Spencer's food department. Even so, lots of British people still find the word "gastropub" mystifying, and visitors can easily spend time in Britain without spotting one of these quirky new establishments—which is a pity because they offer good food in pleasant surroundings at value-for-money prices, so they are worth seeking out.
Indeed, like the bistros of France or the trattorias of Italy, some gastropubs offer some of the best food you will eat in Britain. But gastropubs tend to be tucked away, since eschewing prime real estate helps them keep meal prices down. Thus, the Norfolk Arms in Bloomsbury is not exactly on most visitors' routes around London's sights. Yet it is only a four-minute walk from Russell Square Station, and a pleasant seven- or eight-minute stroll from the Montague Street exit of the British Museum.
Like so many British pubs, the Norfolk Arms sits on a convenient corner—in this case of Leigh Street—and its sign sports a coat of arms. Inside, though, the bare ochre walls and the hams hanging behind the bar give it a Spanish air that is repeated in some menu items. At the Norfolk Arms the Spanish influence shows strongest in the smaller dishes. They include pickled guindilla peppers with caperberry, Manchego cheese serrano ham pincho, chorizo in cider and Spain's favorite potato tortilla. Other dishes strongly influenced by a southern European aesthetic are an appetizer of rabbit liver with raisins, port and cavolo nero, and main dishes of line-caught sea bass with pea and pancetta, and salt-marsh leg of lamb.
Hearty British fare is well-represented, especially in the more substantial dishes, which include skate wing with anchovy and parsley butter, venison, wild duck and partridge faggot, pork pie with mustard, Duke of Berkshire pork cheek and two leek pies: one with chicken and a vegetarian version with squash, carrots and blue cheese. As for desserts, English riffs on favorite themes are strong: plum fool with anis shortbread, a hazelnut charlotte with poached pear, and raisin, cherry and nut pavé with crème anglaise—or custard if you prefer the English name for this favorite English dessert sauce. If you like cheese at the end of the meal, the cheese board mixes a couple of continental cheeses with unusual British offerings such as an unpasteurized cheddar from Montgomeryshire and Cornish yarg, which comes wrapped in nettle leaves.
Among all these dishes, there are some standouts. The pork pie is chunkily delicious, with lean meat in a properly substantial golden pastry. Skate, a flat fish more generally appreciated in England and France than the United States, needs only simple accompaniment such as the almost obligatory capers, and a flavored butter. The Norfolk Arms wisely sticks with this presentation. Their faggots are more unusual. Instead of using the traditional pork, they glorify this herby meatball-like specialty of the English North and Midlands by making it of game meats including venison, wild duck and partridge. Served with braised red cabbage and onion gravy, this is a hearty meal. And, as usual in England, the lamb is delicious and well-paired with Puy lentils from France. For dessert, the roasted quince was rich with the fragrances of the south and lusciously set off by mascarpone.
The barman is efficient, the dumbwaiter that brings food down from the kitchen is a nice reminder of the olden days, and the wait staff could not be more pleasant. Some gastropubs are very publike in feeling; others move closer to the restaurant end of the gastropub spectrum, and the Norfolk Arms is one of these. But with intriguing food, a calm atmosphere and friendly staff, it's a good place to relax after a long day of sightseeing, or if you are traveling on from the not-too-distant Euston Station. It's open from 11 a.m to 11 p.m Monday through Saturday, and noon until 10:30 p.m on Sunday. Dinner is served from 6:30 p.m. onward.
CLAIRE HOPLEY

The Troubadour of Earl's Court
[caption id="BeyondtheBookshelf_img3" align="aligncenter" width="678"]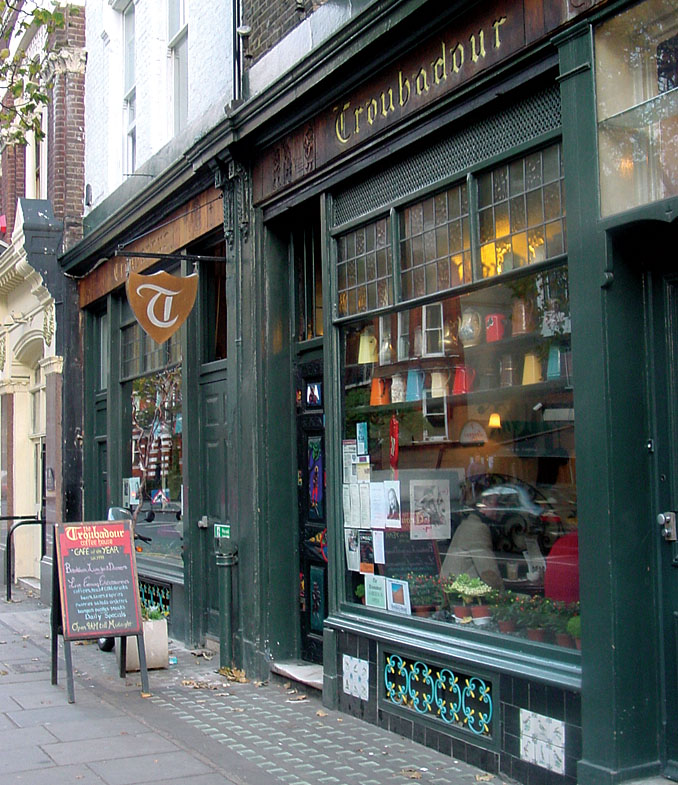 7
[/caption]
I WAS FORTUNATE ENOUGH to visit London a few months ago. My favorite eating experience was at the Troubadour café, which is within walking distance of the Earl's Court tube station. It's a bustling restaurant with an artistic feel. The Troubador also hosts a variety of musical events, and its claim to fame is that Bob Dylan gave his first London performance there.
The atmosphere is very warm, with wood floors, plants and old tin cups on display. The Troubadour had a mixture of customers, but appeared to be primarily made up of younger people. There were groups of people eating dinner, as well as couples and singles just relaxing with their coffee and newspapers.
I had the best lasagna of my life there! For a little under £10 I got a very large piece of lasagna, a salad and bread. When I first saw the sizeable portion, I thought that I would never be able to eat it, but it was so good that I couldn't leave one single bite. The cheese and sauce on the lasagna was delicious! If I could have figured out a way to take some back home to the States with me, I would have loved to share it with all my family and friends! I doubt that there are many people who would leave this restaurant hungry or wanting more after eating the wonderful lasagna.
I am going back to London next year, and the first night I'm there, I'm heading to the Troubadour café. That won't be the only night I go there to eat while I'm there either.
CINDY TODD SAN LUIS OBISPO, CALIF.
If you would like to share a London restaurant recommendation with British Heritage readers, send along your mouth-watering review to [email protected] group.com.
[caption id="BeyondtheBookshelf_img4" align="aligncenter" width="688"]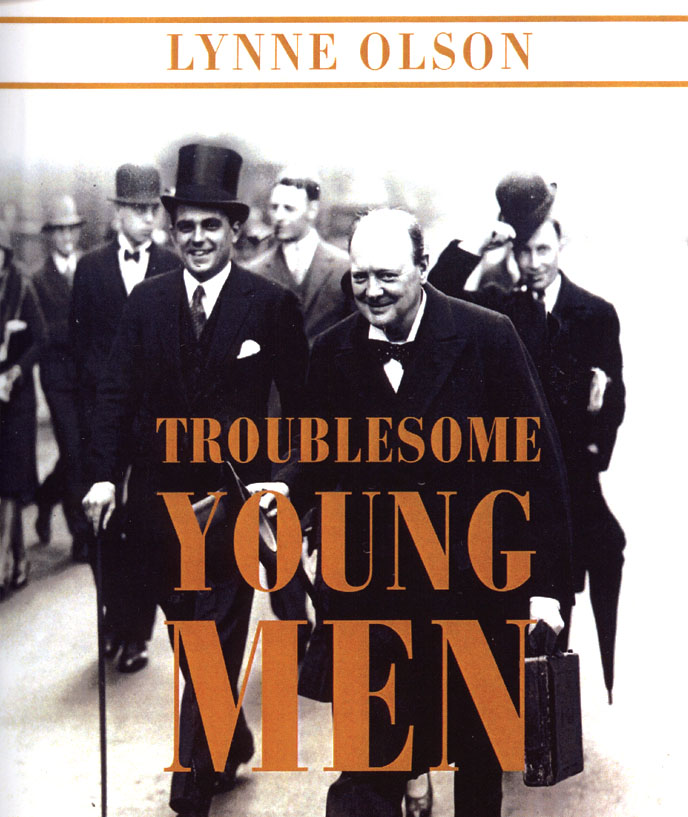 7
[/caption]
Troublesome Young Men: The Rebels Who Brought Churchill to Power and Helped Save England, by Lynne Olson, Farrar, Straus and Giroux, New York, 415 pages, hardcover &doller;27.
"GREAT CAUSES HAVE ONLY prevailed through the vigour and energy of resolute men who attempted—and succeeded—in making the impossible possible," Paul Emrys-Evans once observed.
The great cause in this case was preparing Britain for the war against Hitler and his minions that seems now in hindsight to have been inevitable from the mid-1930s. This book is the truly fascinating behind-the-scenes account of those dozen or so MPs who bucked the prevailing winds of appeasement and disarmament that dominated Parliament under the Conservative Government of Prime Minister Neville Chamberlain.
While Winston Churchill's stirring wartime leadership is well-known and rightly applauded, the back story of how Churchill came to power in 1940 has faded into the shadows of history. Now, Lynne Olson tells the tale, with the vigor and energy of a resolute author.
Britain still reeled in the 1930s from the carnage, waste and economic desolation of World War I. Chamberlain was determined to avoid another war at almost any cost. With a huge and tightly controlled majority in Parliament, Chamberlain let Britain lurch along complacently as Hitler built up and increasingly exercised his huge war machine across central Europe. Only a handful of young MPs, such as Emrys-Evans, Harold MacMillan, Ronald Cartland, Harold Nicholson and Duff Cooper, heeded the wiser voices of Churchill and Leo Amery, and paid a stiff political price by vocally urging Britain's rearmament and finally the confrontation with Nazi belligerence.
Did they, in fact, save England? They probably did, and just at the last minute, too. This is a very readable, fast-paced story of parliamentarian machination, political intrigue, statesmanlike courage and personal drama. Olson has made an important contribution to 20th-century British history. In fact, like the best of histories, there are disconcerting lessons here for our own times.
Browsing Briefly
[caption id="BeyondtheBookshelf_img5" align="aligncenter" width="493"]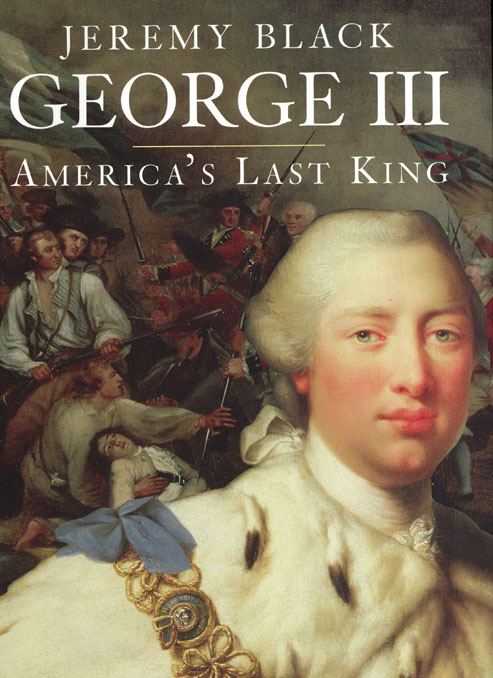 7
[/caption]
George III: America's Last King, by Jeremy Black,Yale University Press, New Haven, 475 pages, hardcover &doller;35.
WITH THE FIRST NEW biography of George III in a generation, Jeremy Black has made an important contribution to scholarship here. Make no mistake; this is a comprehensive historical biography, not light reading. While the book does provide detailed insight into King George's opposition to American independence, however, the title seems chosen to increase its sales in the American marketplace rather than to accurately reflect the book's subject. Nonetheless, as one of the longest reigning monarchs in British history, George III made a correspondingly important mark on the monarchy.
Perhaps the most valuable contribution of George III: America's Last King is Black's concluding chapter on George III's historical reputation. It provides a clear example of how political perspectives influence historiography. While as a symbol of British government George has always been an object of American disdain, he was unquestionably the most conscientious and effective monarch of the 18th century.
[caption id="BeyondtheBookshelf_img6" align="aligncenter" width="511"]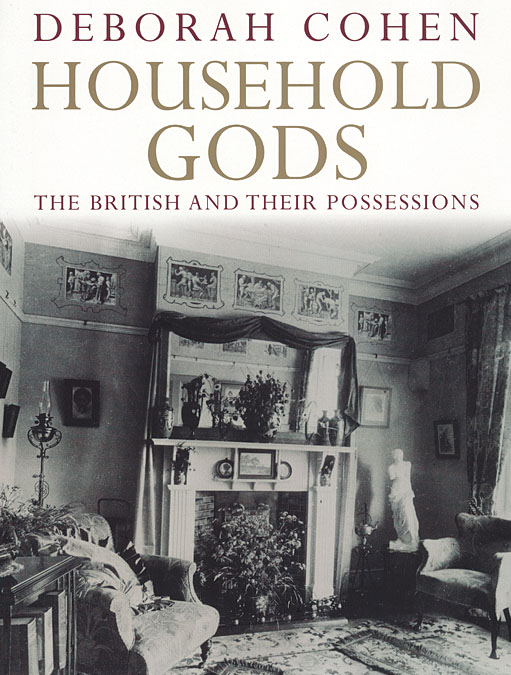 7
[/caption]
Household Gods: The British and Their Possessions, by Deborah Cohen, Yale University Press, New Haven, 336 pages, hardcover &doller;40.
DO OUR HOMES reflect our personalities? Why do we surround ourselves with what we do? Books and bric-a-brac, teapots and taxidermy: Since the beginning of mass manufacturing, the British have been preoccupied with their household accouterments. This richly illustrated book chronicles a century of British interiors. Focusing on class, choice, shopping and possessions, it uncovers the roots of contemporary consumerism and the forces that shape acquisitive desire.
From musty antique shops to luxury emporia, suburban drawing rooms to elegant city villas, Deborah Cohen's Household Gods offers a rich narrative of a people whose identities have become entwined with the things they put in their houses. This is not light and casual reading. For those of us with an interest in British social history, however, the book is a well-written, lucid and fascinating contribution.