[caption id="BeyondtheBookshelf_img1" align="aligncenter" width="1024"]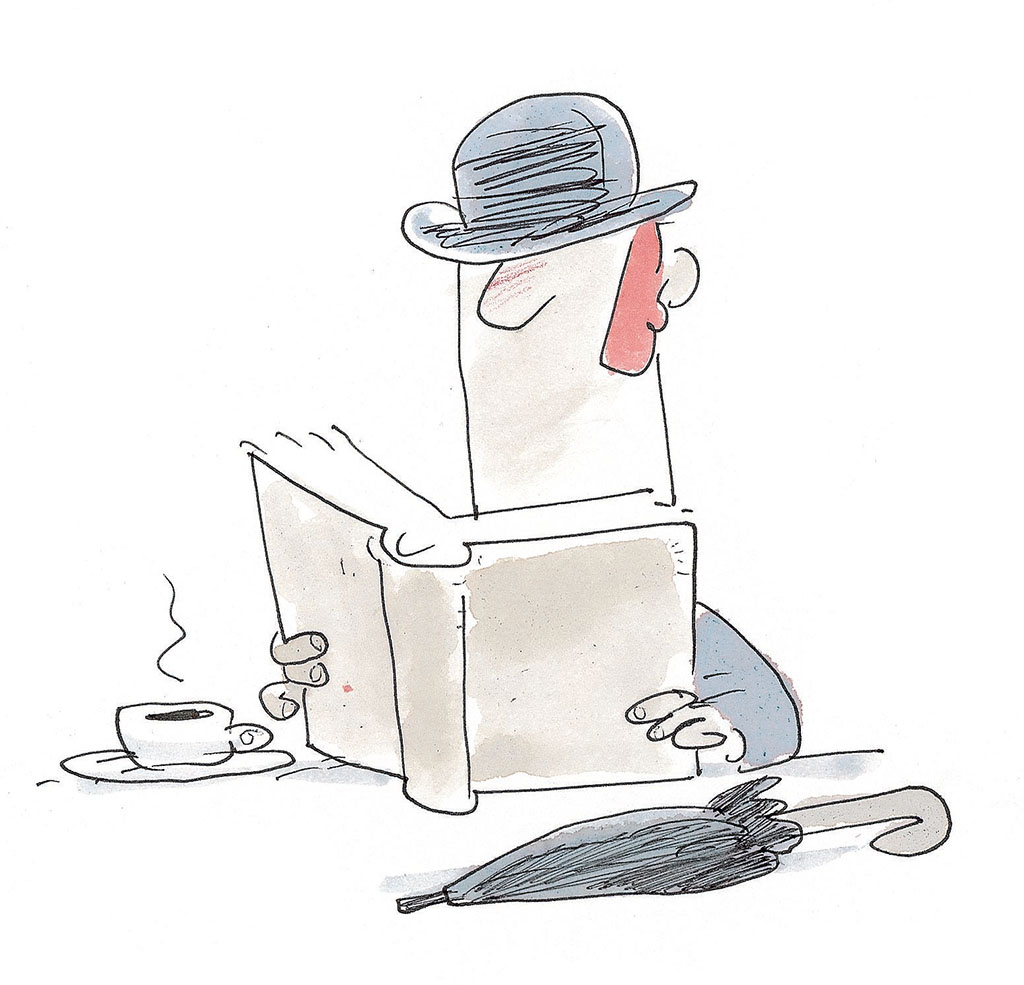 9
[/caption]
YES, IT'S TIME TO GO BEYOND the bookshelf. Last issue, you may recall, we included in these columns a look at the magnificent new Rodin exhibition at the Royal Academy. We also reviewed the new David Starkey video series Monarchy. This issue, we seem to have a food motif, as Lizzie Meadows goes back to Mayfair and the dining room at the Connaught. We also visit Duchy Originals, and reader Trish Garrett recommends a bistro in Kensington.
[caption id="BeyondtheBookshelf_img2" align="aligncenter" width="1024"]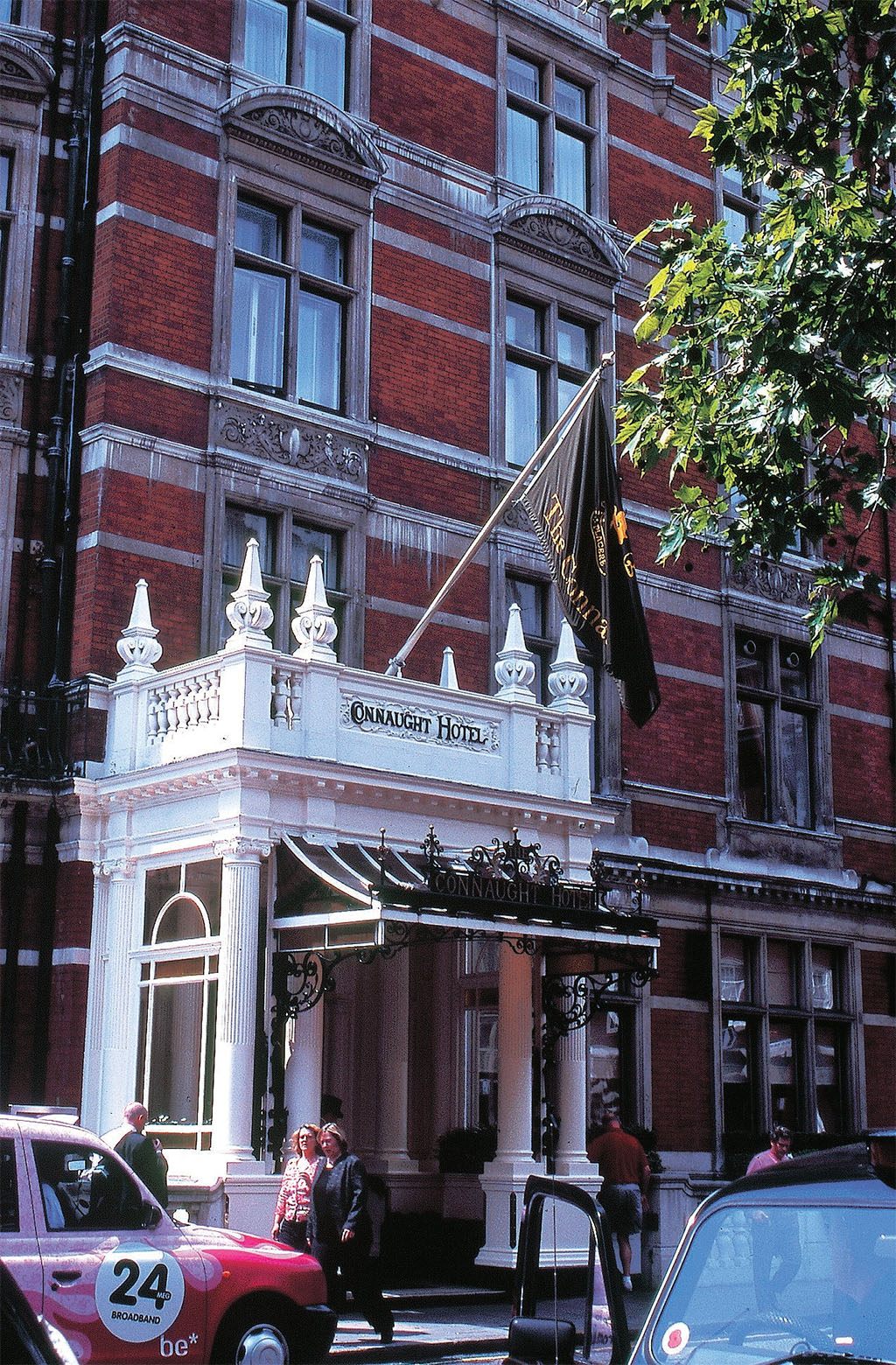 9
[/caption]
Menu at the Connaught
Living in a great metropolis such as London, especially London, to choose and define your favorite restaurant can be a touch complicated. I say this simply because there are so many wonderful places to choose from. One could easily have a favorite for each day of the week, for each month with an "R" in it perhaps, one for fish, another for great family occasions or maybe a business lunch. How about one for romance? The list grows longer and longer. Now try choosing your absolute favorite. Daunting isn't it? Then I think of the Connaught.
For five years I was lucky enough to live opposite the Connaught, a delightful fivestar hotel in the heart of Mayfair. Over the course of time we, the Connaught and I, developed a very special relationship. The Connaught is grandiose yet intimate, and cleverly juxtaposes Victoriana with the modern and contemporary. Above all, the Connaught is comforting, welcoming and friendly—a cosseting cocoon of luxury on Carlos Place. The night my daughter was born, we couldn't find a cab for the hospital dash. The Connaught could. And I fondly remember appointing myself as "writer in residence" there. Somehow it was always so much cozier and far more inspiring to sit by the fire in the Red Room and tap away at my laptop than it was in our own living room across the street. Late night munchies could be stayed by tapas served in the Connaught Bar. An informal supper for friends? During the summer months we would head for the Terrace overlooking Mount Street and the entrance to the gardens.
Very special occasions meant Menu. Menu is the definitive dining experience and accompanied by the magnificent wine cellar, without doubt one of the best restaurant experiences on the planet. Menu is prescribed by Angela Hartnett, who is a protégée of the legendary Gordon Ramsay. However, Hartnett is very much her own woman (she has already achieved one Michelin Star) and very intelligently balances traditional cuisine with innovation. Yes, you will find the old faithful, but the foie gras will be grilled and dressed with greengage chutney, and the Scottish beef fillet may be accompanied by watercress and cabernet sauvignon vinaigrette. My most recent favorite has been steamed sea bass served with pousse and wild garlic, roasted hazelnut and red pepper vinaigrette. Divine! Desserts will not disappoint either. Think chocolate crème brûlée with roasted peaches and raspberry and black pepper sorbet or, I truly love lemon possett with Pimm's granite and an unusual sorbet of fromage frais.
[caption id="BeyondtheBookshelf_img3" align="aligncenter" width="646"]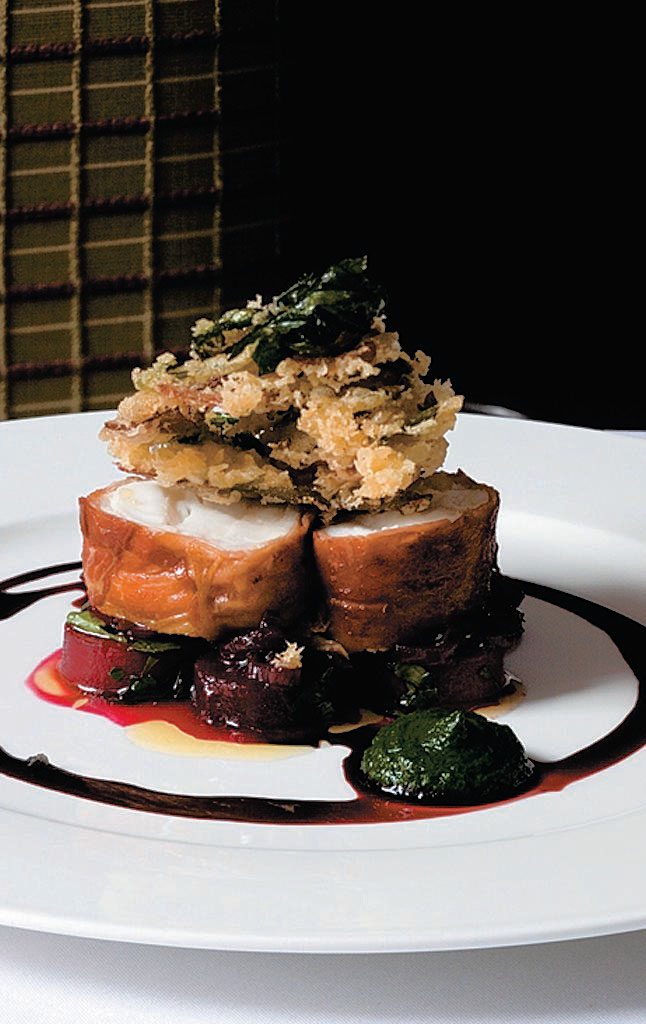 9
[/caption]
Hartnett also offers a Chef's Tasting Menu, an experience which means you sample three first courses, two entrées, a cheese course and a couple of desserts before coffee and sublime handmade chocolates. Believe me, this IS culinary heaven! Take my advice and exploit the sommelier's fountain of knowledge. You won't be disappointed. Whispers from the Connaught tell me that Angela Hartnett will be opening a restaurant stateside in Boca Raton, Fla. I'll tell you more….
LIZZIE MEADOWS
[caption id="BeyondtheBookshelf_img4" align="aligncenter" width="601"]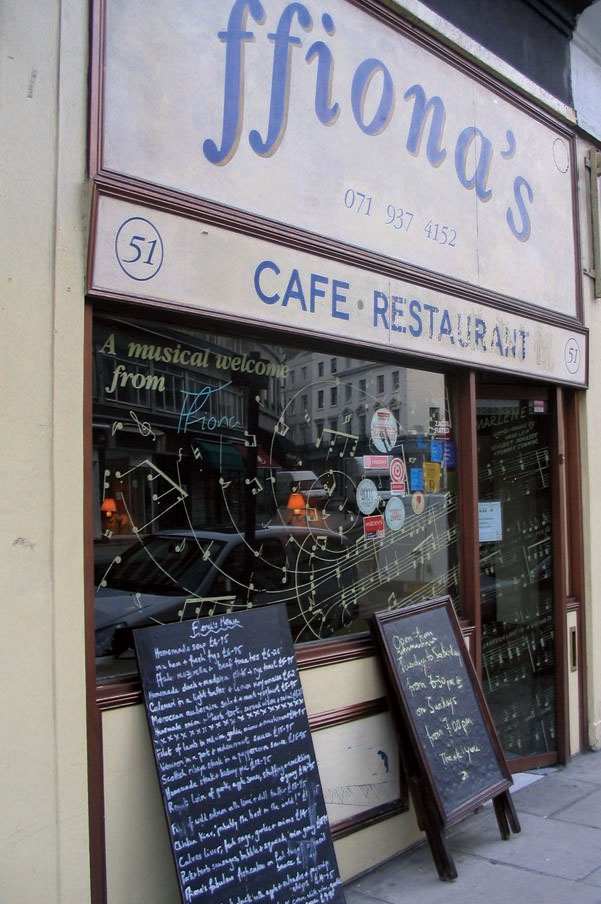 9
[/caption]
Ffiona's in Kensington
A FRIEND AND I VACATIONED in England and Scotland this summer. Our last evening in London we walked a few blocks down from our rooms at Vicarage Gate in Kensington to a delightful bistro called Ffiona's and we were warmly welcomed.
We live in southwest Washington state, where the Columbia River flows into the Pacific. Fishing has been a way of life for much of the population since the days of the Native American tribes. This is one area of the Northwest where wild salmon is a huge part of the economy. Habitat for the wild salmon has become an indicator of the condition of our coastal environment. Finding new ways to serve the fish has grown to be a regional culinary art form. Without hesitation, we ordered Ffiona's wild salmon dinner.
The aroma of our meal was surpassed only by the presentation. Each plate held a thick fillet of grilled salmon on a bed of sautéed julienne cabbage, surrounded by fragrant steamed fresh vegetables. On top was a mound of light butter that had been creamed with fresh herb. As the butter melted, it drizzled down over the fish and vegetables to create a delectable sauce. The salmon was so carefully grilled that it separated in moist flakes with just the touch of a fork. A crisp white wine provided the perfect complement to the meal.
As other diners arrived, they were greeted as warmly as we had been and there was soon comfortable chatting be-between tables. One of the things we enjoyed most during our visit to Britain was the way we were treated with courtesy and friendliness. When we remember this, we think of our evening at Ffiona's.
TRISH GARRETT
SEAVIEW, WASH.
If you would like to share a London restaurant recommendation with British Heritage readers, send along your mouth-watering review to [email protected].
[caption id="BeyondtheBookshelf_img5" align="aligncenter" width="630"]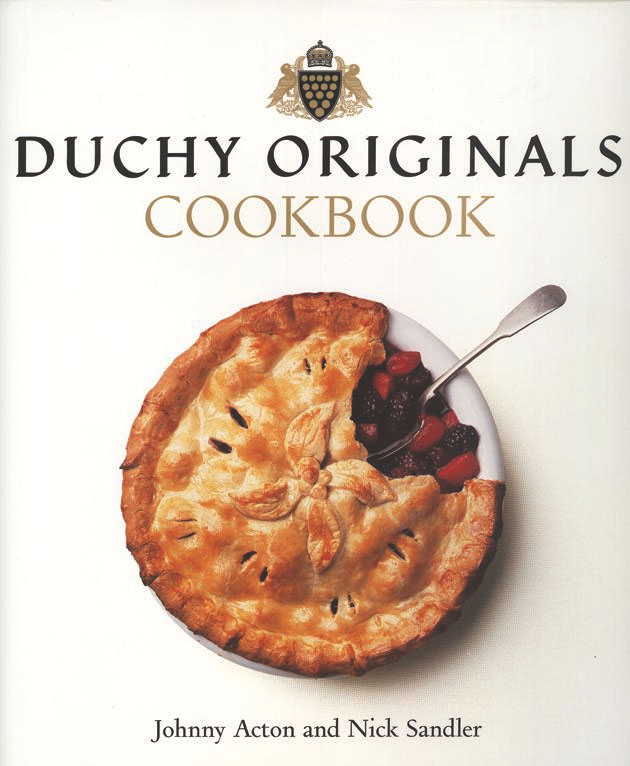 9
[/caption]
Duchy Originals Cookbook, by Johnny Acton and Nick Sandler, Kyle Cathie Ltd, London, 208 pages, hardcover $45.
NO, THIS IS NOT A COOKBOOK to stuff on the shelf between The Joy of Cooking and 1001 Things To Do With Meatballs. In fact, it's almost a stretch to think of this luxurious read as a cookbook at all.
Duchy Originals is the brand label of the Prince of Wales' own line of comestibles—all the product of organic and sustainable agriculture. The first Duchy Originals product was an oaten biscuit, launched in 1992 and made with oats and wheat harvested at Prince Charles's own Gloucestershire farm, Duchy Home Farm. Today there are more than 200 different items in the Duchy Original product line, and the Duchy Home Farm continues to supply grain, vegetables and meat to the range—from mustard seed to milk, barley to bacon—from its 1,900 organically farmed acres. The profitable business donates all its profits (£1 million this year) to the Prince's Charities Foundation.
The Duchy Originals Cookbook is really the story of Duchy Originals. As such, it is a genuinely fascinating read with lavish photography. It takes the reader (and/or the cook) through the seasons of the year on the Home Farm and on visits to other carefully selected suppliers of the quality organic and sustainable foodstuffs that are part of Duchy Originals products. Brewing and curing, milking the 135 Ayrshire herd, harvesting cereal and making cheese: If you find food interesting, this is a first-rate book.
The recipes are almost a bonus. There are roughly 100 of them, clearly explained and based, understandably enough, on Duchy Originals products. There aren't a lot of recipes here that even most serious cooks are going to add to their repertoire, but there are a few real winners and some basic English pastry recipes that are nice to have. Certainly American cooks are going to have to make some substitutions. The beef stew with Duchy Originals ale and horseradish dumplings will prove just as scrumptious with a bottle of any good dark ale.
Most of the recipes are actually quite easy for a kitchen-savvy cook. Among the more complex, but undoubtedly more satisfying, is this Date and Walnut Cake recipe, printed below well-known to be a favorite of the Prince's late beloved grand-mom, the Queen Mother.
Date and Walnut Cake
100g (3½ oz) whole almonds
100g (3½ oz) whole pecans
100 ml (3½ oz) maple syrup
50 g (2 oz) tamarind pulp
200 g (7 oz) unsalted butter, at room temperature
150 g (5½ oz) soft dark brown sugar
50 g (2 oz) caster sugar
2 large eggs
100 g (3½ oz) broken walnut pieces
200 g (7 oz) dates, unstoned and chopped
½ teaspoon cinnamon
¼ of a whole grated nutmeg
150 g (5½ oz) plain flour
2 teaspoons baking powder
Preheat oven to 180C/350F/gas mark 4. Bake the almonds and pecans in the oven for 6 minutes, remove, then turn the oven down to 160c/325F/gas mark 3, pending the arrival of the prepared cake.
Blend the almonds and pecans to the consistency of rough flour and place them in a little bowl.
Heat the maple syrup in a saucepan with the tamarind pulp. As soon as the contents come to a boil, remove from the heat and mash them with a fork to release the tamarind pulp from the fibers and seeds. Push the resulting liquid through a sieve with a spoon, and discard the fibrous mass left behind.
Cream together the butter, brown sugar and caster sugar until pale and fluffy. You can use a whisk, mixer or food processor.
Lightly whip the eggs and gradually incorporate them into the butter and sugar mix, whipping constantly.
Add the tamarind, ground almonds, pecans, walnut pieces, dates, cinnamon and nutmeg, and sift in the baking powder and flour. Mix thoroughly.
Spoon the mixture into the loaf pan and bake for 1 hour.
Turn the cake out onto a wire rack and leave it to cool. It will keep for at least a week in an airtight container.
Roll Out the Haggis
IN CASE OUR STORY ON BURNS SUPPERS made you curious, here is
British Heritage
writer Jim Hargan's experience with the famous sausage.
"In Wester Ross's old fishing port of Gairloch, we found the village butcher doing land office business, with the locals literally queuing out onto the street in the rain. Most were buying their evening meat and haggis for the morning. It turned out that his haggis was formed into a roll rather like a country sausage. You sliced off a patty and fried it with your eggs. The offal was rich and fresh tasting, without off flavors, and perfectly set off by the oaty flavor, the spicy edge from the cayenne, and the crispy exterior.'
For those of our readers who might like to try this at home, here is a simplified recipe:
1 cleaned stomach bag from a sheep or lamb
2 lbs. dry, unrolled oatmeal
1 lb. mutton suet
1 lb. lamb liver, boiled and minced
2 cups stock
sheep heart and lungs, boiled and minced
1 large, chopped onion
½ tsp. cayenne pepper
½ tsp. allspice
2 tsp. salt
1 tsp. pepper
Toast oatmeal until crisp. Mix all ingredients, except bag and stock. Add stock to the mixture and fill bag with it until it is just more than half full. Prick the haggis all over to keep it from bursting. Boil for 4-5 hours.
Browsing Briefly
[caption id="BeyondtheBookshelf_img6" align="aligncenter" width="213"]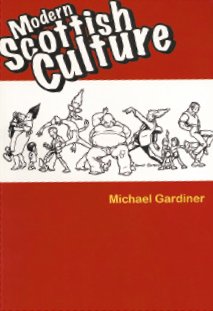 9
[/caption]
Modern Scottish Culture, by Michael Gardiner, Edinburgh University Press, Edinburgh, 218 pages, softcover $25.
WHAT DOES IT MEAN to be Scottish in today's modern world? There has been much debate about the changing answers to that single question since the first Scottish parliament in almost 300 years convened in Edinburgh in 1999.
From the Act of Union in 1709, Scotland has been a part of Great Britain. It has remained a nation, but not a state. Since that time, Scots have struggled with their dual Scottish and British identity.
Throughout its history, though, Scotland has been dominated culturally and politically by far richer and more populous England. Being governed in far-away London, Scotland's influence in Westminster's parliament has accordingly always been limited by its numbers. The devolution of authority over many national functions to the new Scottish Parliament and the Welsh Assembly has renewed again the questions of what it means to be part of one nation and another state.
Despite its rather utilitarian title, Modern Scottish Culture is a lively, wide-ranging and insightful introduction to Scottish identity these days. Beginning with the apropos question 'What is Scotland?' Michael Gardiner surveys Scottish cultural history and then ranges widely across education, law, religion, sport, government, language, arts, media, music and literature in contemporary Scotland. Every chapter concludes with a summary, additional questions and suggestions for further reading. The book appears intended as a college text on the subject. It's a good one.
Gardiner's style is clear and readable. Because he expresses his opinions, the narrative itself has a rugged, partisan Scottish personality. I know no better single-volume introduction to contemporary Scotland and Scottish society. If you would get a handle on Scotland, people and soul, and how its past shapes its present, this is the way.
[caption id="BeyondtheBookshelf_img7" align="aligncenter" width="190"]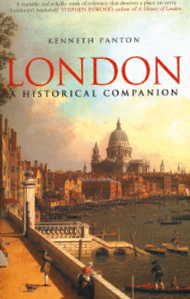 9
[/caption]
London: A Historical Companion, by Kenneth Panton, Tempus Publishing, Stroud, 540 pages, softcover $25.
GUIDEBOOKS AND HISTORY books on London abound. Kenneth Panton draws together the best of both genres in this enjoyable compendium on the magnificent city, its landmarks and landscapes, its people and its past. This very readable encyclopedia of London is ordered alphabetically, from Abbey Road to the Zoological Gardens. If you were going to pick one book on London as a bookshelf reference or for armchair browsing, this would be a good one.
[caption id="BeyondtheBookshelf_img8" align="aligncenter" width="166"]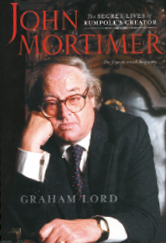 9
[/caption]
John Mortimer: The Secret Lives of Rumpole's Creator, by Graham Lord, St. Martin's Press, New York, 326 pages, hardcover $25.95.
LEGIONS OF JOHN MORTIMER fans will be thrilled to find this first, if unauthorized, biography of Rumpole's alter ego. Novelist, playwright, barrister and knight of the realm, Mortimer has led a colorful enough life. Graham Lord is trying to hype his subject, however, adding unnecessary neon to the sex life of Mortimer, his circle and his clients. It's a bit much. Still, the story is here and Mortimer himself has lived large upon the stage of English theater and fiction for three decades. True fans will want to read this book; those with a more generic interest may wait for a treatment that doesn't promise "startling reality' gratuitously. After all, nothing startles us much any more.
A Brief History of the Anglo-Saxons, by Geoffrey Hindley, Carroll & Graff, New York, 404 pages, softcover $14.95.
GEOFFREY HINDLEY TELLS a good story. The problem with most histories of Anglo-Saxon England is that they aren't very interesting. The writing is heavy and our Normanized eyes struggle with the multitude of faceless, long Anglo-Saxon names and kingdoms. In this case, however, Hindley has proffered a fast-moving narrative that rewards the reader's attention with a good handle on "Dark Age' Britain. From the Germanic settlements in post-Roman England to the Battle of Hastings and its aftermath, Hindley unpacks motives and people as well as events. Offa's Dyke, the Northumbrian saints, the Synod of Whitby, the rise of Wessex, Alfred versus the Vikings, the unification of England and Edward the Confessor: If you don't know the story, this is a great place to begin.