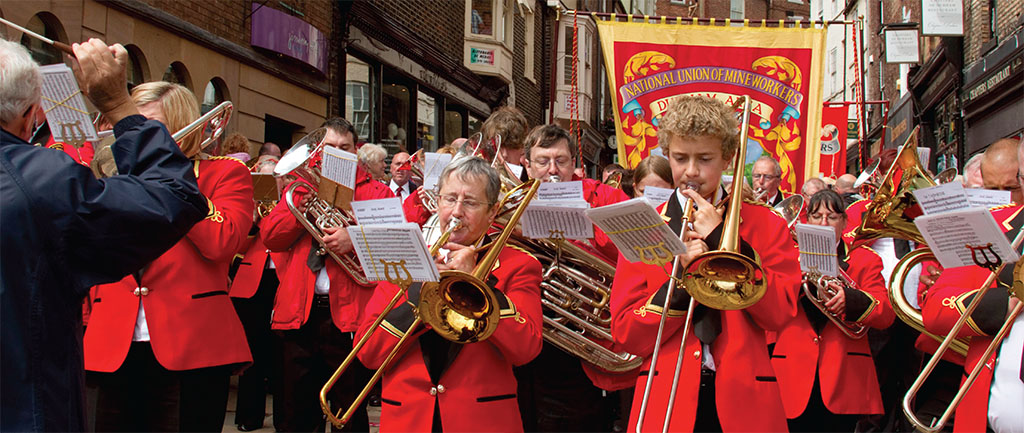 Though County Durham's coal mines are closed, the Durham Miner's Gala thrives—because of its brass band spectacle.
The tiny village square is packed to capacity. A church clock strikes two, and is quickly succeeded by the approaching notes of a military march. Soon a band appears, snaking its way through the square to a center stage. Braided uniforms and shining instruments bob into view between the crowds. This is the annual St. Keverne Ox Roast in Cornwall, where mingled with the scent of a spit-turned BBQ ox, and a fluttering of bunting come the traditional sounds of a British summer.
Musicians of all ages play in British brass bands. Although it's an activity steeped in tradition, brass bands are still very much alive, according to Rachel Veitch-Straw of Brass Band England. "In England alone, there are around 2,000 active brass bands, practicing every week, taking part in competitions, and most importantly, performing up and down the country."
Cornwall is a brass band hotspot, born of the fact that the now picturesque county was once an industrial hub, with disused quarries and tin mines that still litter the landscape. Although players today are a diverse lot, this was not always the case. In the 19th century, bands were often established by employers, eager to keep their workers busy with music rather than union business.
For that reason, industrial Yorkshire, Durham and Lancashire have the country's biggest concentration of brass bands. Veitch-Straw is herself principal cornet player with Rocking-ham Band in Barnsley, deep in brass's heartland. Although less well known than the neighboring Grimethorpe Colliery Band, whose players provided the soundtrack and inspiration for the hit movie Brassed Off, Veitch-Straw affirms that her band plays a central part in the community.
With so many brass bands, where should a committed fan or curious visitor go to hear the best selection? Veitch-Straw has suggestions. "If you want to gorge on the sound of brass bands, there are three fantastic events you can visit during the summer, which also happen to have historic and picturesque backdrops." She advises beginning with the Saddleworth and District Whit Marches in May.
[caption id="BrassBands_img1" align="aligncenter" width="970"]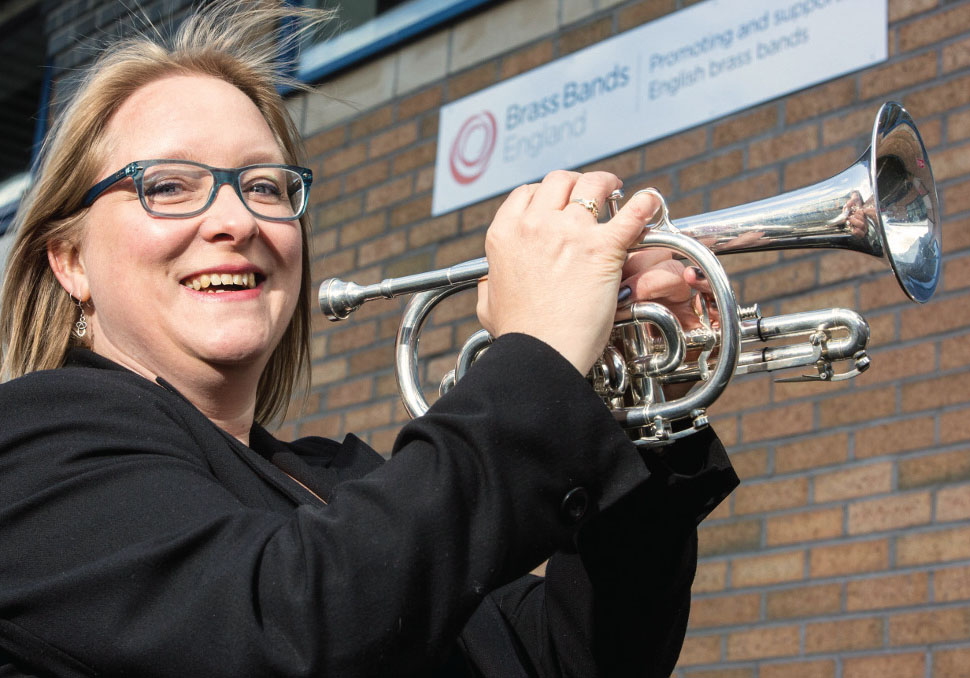 6
Rachel Veitch-Straw of Brass Band England blows a mean cornet for Rockingham Band.
[/caption]
Held since 1884, the marches are a series of contests that attract up to 100 bands. Enthusiasts describe it as "the greatest free show on earth." The open-air contests are played at in scattered moorland villages and towns huddled under the western edge of the Pennines. Against that stunning backdrop, the variety of bands and colorful uniforms make a dazzling display. Musicians march and blow their way around some 20 different venues along the twisting Pennine roads.
"Aficionados all have their favorite Whit location," says Veitch-Straw, "but I particularly recommend Dobcross, a stunning village high in the Pennines, where the bands play on a green surrounded by ancient stone houses." That such small settlements host performances evidences that there are thriving bands even in the tiniest villages—bands that play alongside the more famous bands at events like the Whit Marches.
An event with an older pedigree is the Durham Miner's Gala, held annually on the second Saturday in July in the historic cathedral city. The first was held in 1871, and although there are no longer any deep mines in County Durham, the gala remains firmly rooted in the region's industrial heritage. The day's activities are a mixture of political speech-making, accompanied by the brass bands' music.
Last year organizers reckon that more than a 100,000 people marched behind 65 brass bands from the cathedral to the city's race course. With the music, the march includes some 150 silk banners—huge, vivid rectangles held aloft by marchers and carrying socialist, communist or Christian themes. While the politics may not be to everyone's taste, the spectacle and music does not fail to move.
When the coal mines hummed with activity, marchers would drape banners in black to mark deaths underground during the previous year. Black cloths still appear on significant pit disaster anniversaries. In recent years, residents of former pit villages have restored old banners and or even created new ones.
By rights the Durham Miner's Gala should be a waning institution, or even consigned to the history books. But, says Veitch-Straw, it is far from dying. "I think it's partly the brass bands and their supporters which keep the Gala going from strength to strength. Brass bands carry the traditions of the North's industrial past and keep them alive."
[caption id="BrassBands_img2" align="alignright" width="1024"]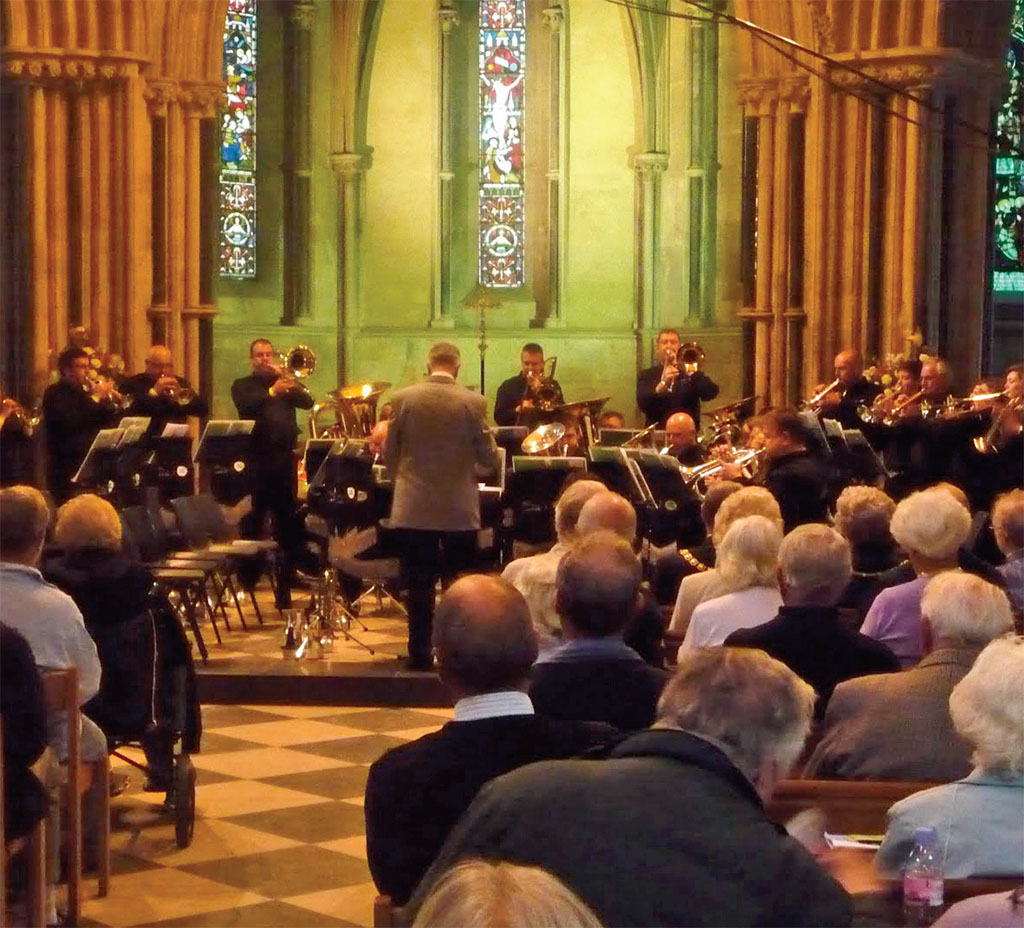 6
One of four performance venues at the northern Cotswolds' annual Pershore Midsummer Brass Festival is the soaring Norman nave of Pershore Abbey.
[/caption]
Veitch-Straw's final recommendation is in the northern Cot-wolds, at Pershore's Midsummer Brass Festival. A little more sedate and less competitive than its northern counterparts, Per-shore attracts dozens of brass bands from the Midlands and South Wales. Performances take place in four venues, one of which is the magnificent Pershore Abbey—one of England's finest examples of Norman architecture.
Another beautiful venue is the riverside garden of the Angel Inn. The pub's Tudor origins and pastoral outdoor setting are a perfect location, too, to sample the area's real ales and local ciders. Veitch-Straw concedes that some bandsmen and women love this venue for the chance to slake their thirst after playing heavy brass instruments on a warm summer's day. "Playing can be thirsty work. You might be in full dress uniform, with a heavy jacket and necktie, holding a hefty piece of brass, and blowing with all your might. A pint of beer or cider can be the perfect reward for having displayed such stamina!"
Veitch-Straw is keen to point out some distinctions between British brass bands and their American marching band cousins: "You won't find any woodwind instruments or saxophones over here," she explains. "Nor will you find French horns or sousaphones. The biggest instrument we play is a B-fat bass." She also clarifes why bands call themselves brass or silver: "They're basically the same—all brass under the skin. It used to be traditional, particular in Methodist areas, to play with silver-coated instruments, and often the term'silver' would denote a wealthier band. Nowadays though, prices are the same, but the original names have stuck."
As for the music you'll hear, well these days it's an eclectic mix. In days gone by bands concentrated on hymns and marches. Indeed, the tradition of starting every rehearsal with a warm-up hymn still holds. Nowadays, though, audiences can enjoy arrangements from popular musicals, film scores and even pop music, as well as the older, traditional tunes. There is something for everyone on the summer soundtrack.
The Whit Marches are always held on Whit Friday; this year it is May 29. Visit www.whitfriday.brassbands.saddleworth.org to find a map of the route and list of bands you might hear.
Durham Miner's Gala will be held on July 11, 2015. Visit www.durhamminers.org to find out about this year's guest speakers and where best to see and hear the color and music.
Pershore's Midsummer Brass Festival will be held on July 4, 2015. For an up to date list of participating bands, visit www.pershoremidsummerbrass.org.uk.
In Cornwall, St. Keverne Ox Roast is always held on the first Wednesday of August. This year it will be August 5. The band strikes up at 2 p.m., and the day ends with a torchlit procession at 9 p.m.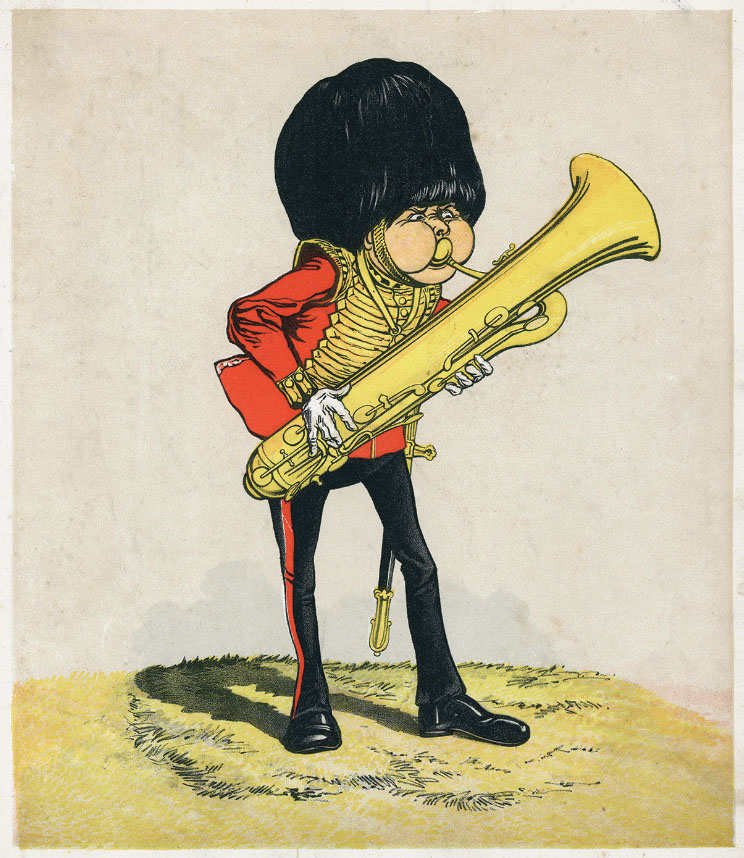 6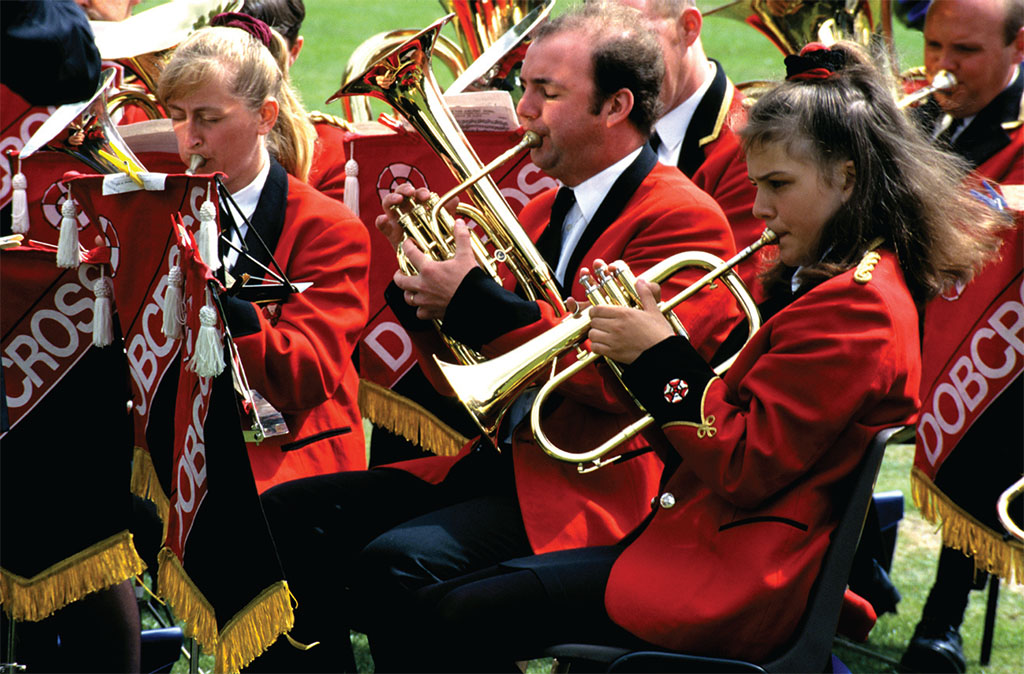 6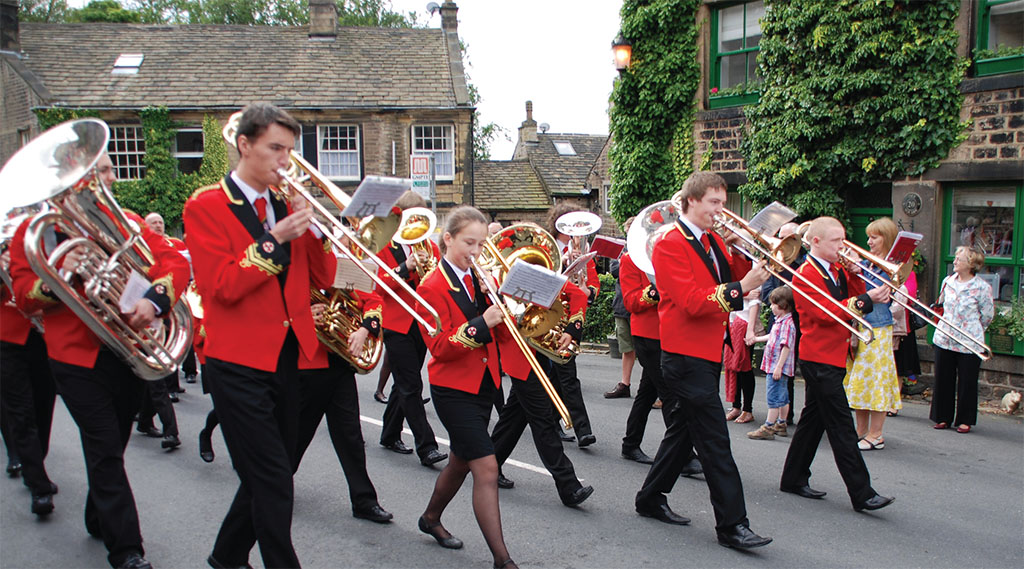 6