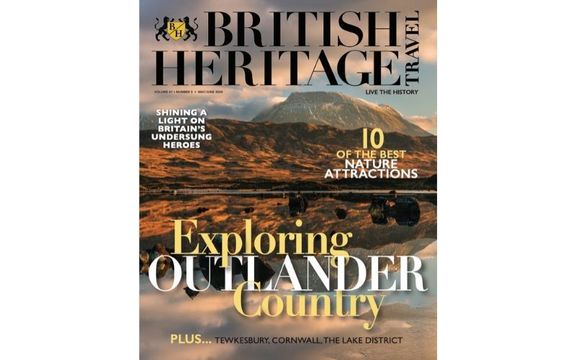 From summer travel plans to dream of to wonderful insights for TV and book lovers across the British Isles, the May / June issue of British Heritage Magazine has something for everyone.
British Heritage Travel magazine, published six times a year, brings the history, travel destinations and culture of Britain to life and the May / June 2020 issue is a doozy.
Subscribe to British Heritage Travel magazine here
With summer almost here Dana Huntley turns his attention to the best British attraction for nature lovers, Sian Ellis visits the glorious town of Tewkesbury while Susie Kearley heads to the Cornish coast and rediscovers one of our most loved attractions.
Elsewhere, for TV and book lovers we have a host of features you'll love. From Steve Roberts's journey through Bournemouth's literary history to a tour of Outlander locations from Forbes Inglis, we have it all. Plus, we follow in the footsteps of the legendary Anne Lister, currently gaining worldwide fame as the historic figure of the latest HBO/BBC series, Gentleman Jack.
And finally, it wouldn't be a summer issue without a look at two of our most loved institutions, the village fete, and the British pub. Beer gardens, welly wanging and clotted cream scones are as British as a trip to the seaside - and we'll be doing plenty of it all!  Enjoy this issue.
Take a look at what's in store in the May / June 2020 issue of British Heritage Travel here:
Take ten
Dana Huntley looks at the ten best nature-related visits in the United Kingdom
A day well spent
Sian Ellis visits Tewkesbury and discovers a town with a whole lot to offer the casual visitor
The British Pub
Dana Huntley examines our unique relationship with the British pub
Exploring Outlander 
Forbes Inglis visits Outlander locations around the country - a must-read for all fans
Undersung heroes
Dana Huntley takes a look at some of Britain's most frequently overlooked heroes
Sandra Lawrence
Susie Kearley explores East Hampshire Shines a light on the markets of London
Missing monarchs
A look at the resting place of some of Britain's most famous missing monarchs varied literary history
Literary Bournemouth
Steve Roberts takes a look at Bournemouth's long and
Summer in Cornwall
We explore the Peak District Susie Kearley heads south to explore the Cornish coast
The Lake District
Kate Hickey visits The Lake District
Discovering Anne Lister
We follow in the footsteps of the groundbreaking landowner and the woman Gentleman Jack is based on, Anne Lister