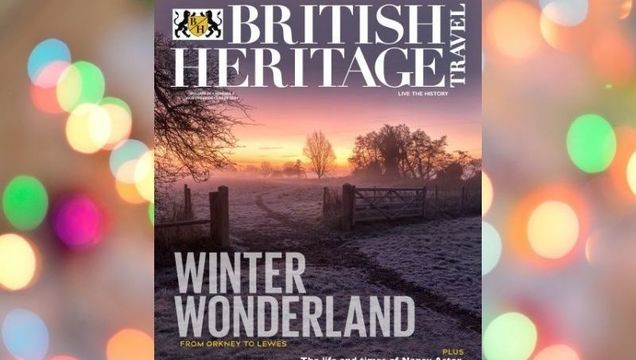 Discover what's inside the latest British Heritage Travel magazine and learn how you can subscribe and enjoy future issues.
Welcome to the November / December issue of British Heritage Travel. Winter is truly upon us now and over the holiday season, as is tradition, we take stock of the year gone by and make big plans for travel for the year ahead. Of course, given the interesting times we live in, we'd rather get dreaming about our next vacation in Britain.
In this issue, Dana Huntley recounts the many benefits of travelling to Britain during the
off-peak winter months. We do have palm trees after all! Speaking of less balmy climes, Susiie Kearly heads north and explores the wonderful community spirit felt in the Orkney Islands while Siân Ellis spends a day in historic and lovely Lewes.
Winter is the perfect time to curl up with a good book and it's almost a certainty that many of our BHT readers are fans of detective stories. We take a look at why it is that we all love a good English crime story and explore Britain's top writers.
Sandra Lawrence also explores a wonderful way of keeping connected to Britain, even though we might not be able to travel as freely as we'd like, through online (and often free) entertaining and fascinating online talks, including a firm favorite on Christmas music.
As always, enjoy.
Check out what's inside the November / December 2021 issue of British Heritage
Travel, which has just landed with our subscribers:
- Take Ten
Dana Huntley Looks at ten of Britain's best parish churches.
- A Day Well Spent
Sian Ellis visits Lews and discovers a town filled with charm and history.
- Murder and mystery
History of Britain's best-known murder mystery writers.
- The History of Camden Castles
James Graham shares her story of Camden's legendary four castles.
- Dr. Livingstone, I presume? 
Forbes Inglis goes in pursuit of Dr. Livingsone.
- Winter's Tale
Dana Huntley shares his expert advice on the benefits of winter travel across Britain.
- Around Town
Sandra Lawrence takes a unique approach to exploring London through fascinating online talks.
- Melton Mowbray
Scott Reeves visits Melton Mowbray and discovers a town that has more to offer than just cheese. 
- In Search of T. E. Lawrence
Steven Roberts follows in the footsteps of famed explorer T. E. Lawrence.
- Orkney
Susie Kearley explores the Orkney Islands with its beautiful harbours and a rare sense of community spirit. 
- Lady Nancy Astor
A photographic essay on the life of lady Nancy Astor who achieved so much more than becoming the first member of parliament.