Isle of Thanet, Kent

Britain's Salad Under Glass
[caption id="Dateline_img1" align="aligncenter" width="560"]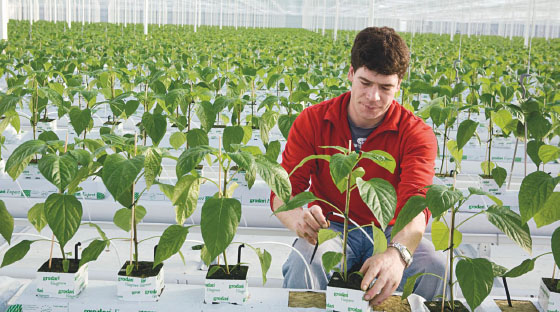 19
Acre upon acre of glasshouse on the Isle of Thanet will produce 15 percent of Britain's home-grown salad.
[/caption]
ABOUT 100 million tomatoes a year are expected from a new giant greenhouse complex in Kent, along with enough cucumbers and green peppers to produce 15 percent of the island's home-grown salad crop. Thanet Earth has harvested the first crops from three glasshouses constructed over the past year near Birchington on the Isle of Thanet.
When the complex is complete, with seven greenhouses in production, it will cover 220 acres and dominate this corner of east Kent. The power plant that supplies heat to the project furnishes enough electricity to the National Grid to supply 50,000 homes. The greenhouses have their own bumblebee populations and predator bugs to control pest diseases.
Cornwall to the Clyde

Snow Wonder Britain Shut Down!
[caption id="Dateline_img2" align="aligncenter" width="271"]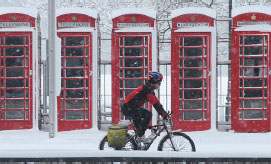 19
The heaviest snowfalls in years crippled the country.
[/caption]
BLIZZARD CONDITIONS lasting intermittently for nearly a week in February crippled transport and cost businesses an estimated £5 billion.
The heaviest snowfalls to hit the island in 20 years brought much of the country to a standstill. Up to a foot of snow fell in parts of London, while the Pennines, northern England, Wales and the West Country received up to 20 inches. Across East Anglia, snowplows were out on county roads for the first time in 15 years.
Train services stopped; airports closed; roads were blocked; and schools shut down. Some rural towns and villages were cut off from the outside world for several days. Bus services in London were completely canceled for the first time in living memory (even the Blitz hadn't stopped them). For millions of schoolchildren across England and Wales, it was the first time they had ever had a snow day.
And Just in Passing
[caption id="Dateline_img3" align="aligncenter" width="163"]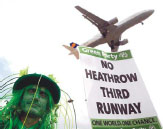 19
Not a universally popular topic
[/caption]
Heathrow to Get a Third Runway
After months of wrangling and opposition from local resident and environmental groups, the Government has given the goahead for a third runway at Heathrow International Airport. Though it will take nearly 10 years to become operational, another runway will bring Britain's most important air hub capacity for an additional 125,000 flights a year.
[caption id="Dateline_img4" align="aligncenter" width="162"]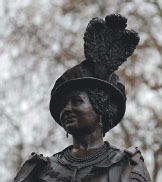 19
A Mum's place is on The Mall.
[/caption]
Queen Unveils Statute of Beloved Mum
The Queen recently unveiled a 9.5-foot sculpture of Queen Elizabeth the Queen Mother on The Mall next to the dramatic statute of the Queen Mum's husband, George VI. The Prince of Wales delivered a speech in front of assembled Royal Family senior members in tribute to his "darling" grandmother. "At long last my grandparents are reunited in this joint symbol," he said.
A Sign of the Thirsty Times
Beer sales fell by a dramatic 8.3 percent last quarter, as Britain's belt tightening has led to more folks staying home from the pub. With 2.2 million pints of beer fewer a day being consumed, pubs across the island are closing at the rate of six a day. Two scheduled tax increases on beer this year are only likely to make matters worse.
[caption id="Dateline_img5" align="aligncenter" width="160"]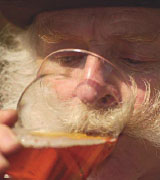 19
More folks drink beer at home.
[/caption]
Scottish Chippie Best in Britain
The Anstruther Fish Bar in Fife has been crowned the best fish and chips shop in Britain. Beating out nine other finalists in the Sea Fish Organization competition, the Anstruther family-owned shop has been Scottish chippie of the year four times. Its most popular dish is the classic haddock and chips.
[caption id="Dateline_img6" align="aligncenter" width="162"]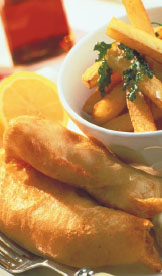 19
The finest haddock and chips
[/caption]
The English Channel

Bounty of a Billion in Victory Discovery
INTREPID adventurers from Odyssey Marine Exploration have located HMS Victory, the eponymous predecessor of Nelson's flagship, which sank October 4, 1744, in the English Channel. The 100-gun, three-deck first-rate ship of the line was the most powerful ship of its time. It was discovered in 330 feet of water more than 60 miles from where the ship was thought to have gone down near the Channel Islands.
Bronze cannons marked with the crest of King George I have been recovered, and divers expect to find millions of artifacts. The prize, however, is gold. In addition to a crew of 900 who perished, Victory was carrying four tons in Portuguese gold coins back to English merchants. Worth £400,000 sterling, the as yet undiscovered treasure is thought to bring the value of the find to around $1 billion. Though the British Government will legally own any gold recovered, Odyssey Marine is prepared to negotiate for a reward.
[caption id="Dateline_img7" align="aligncenter" width="175"]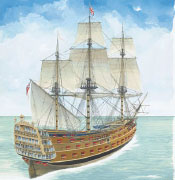 19
[/caption]
[caption id="Dateline_img8" align="aligncenter" width="174"]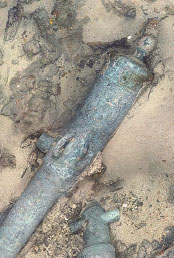 19
[/caption]
[caption id="Dateline_img9" align="aligncenter" width="403"]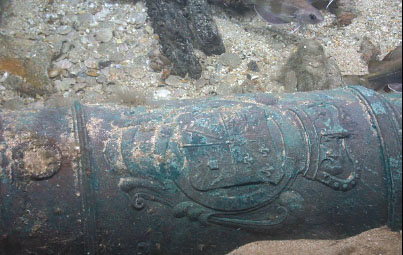 19
Bronze cannons bearing the crest of King George I lie in the silt on the Channel floor beneath 330 feet of water.
[/caption]
London

London Fire's Monument Reopens
[caption id="Dateline_img10" align="aligncenter" width="149"]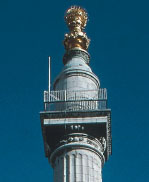 19
It's literally a breath-taking climb up the Monument's 311 steps.
[/caption]
AFTER BEING robed in scaffolding for 18 months of refurbishment, the Monument to the Great Fire of London is again open to the public, or at least those with strong legs and lungs. It is still a 311-step climb up to the top of Christopher Wren's memorial to the Great Fire of 1666. The reward of the climb, of course, is unparalleled 360-degree views over London and the winding River Thames. If you could lay the famous column on its side, it would point to the exact spot in Pudding Lane where London's devastating blaze began.
Todmorden, West Yorkshire

Incredible Edible Todmorden
[caption id="Dateline_img11" align="aligncenter" width="363"]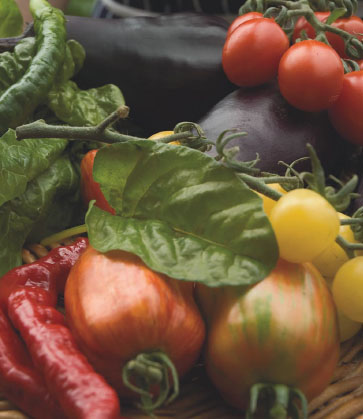 19
Fresh Yorkshire produce is their's for the growing in Todmorde
[/caption]
HERBS IN planters, fruit trees in dustbins, potatoes and carrots in tubs on the school playgrounds: Todmorden is serious. The West Yorkshire town is digging for victory in an attempt to become the first in Britain to be fruit and vegetable self-sufficient. Every square foot of ground is being tilled for vegetables.
Locals have bought into the "Incredible Edible Todmorden" project in a big way. A community orchard of old English varieties of apples and pears has been planted around the town soccer pitch. The Todmorden High School chef, sourcing food locally for 800 students, is now serving free-range chicken and rare breed pork on the menu—and under budget.
Isle of Wight

Dinosaur Hunter Bags Haul on IOW
[caption id="Dateline_img12" align="aligncenter" width="387"]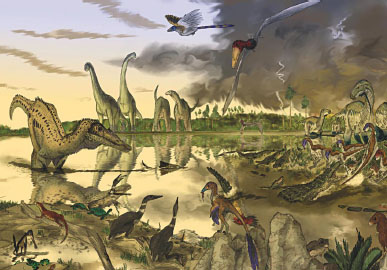 19
An artist imaginatively renders Prof. Sweetman's 48 prehistoric discoveries.
[/caption]
DR. STEVE SWEETMAN, a paleontologist from Portsmouth University, spent the last four years searching for dinosaur remains on the cliffs of the Isle of Wight, part of Britain's "Jurassic Coast." In the process, Sweetman uncovered 48 new prehistoric species, including six mammals, 15 kinds of lizard and eight dinosaurs. No wonder IOW is nicknamed "Dinosaur Island."
And Just in Passing
Growing Demand for Garden Allotments
The National Society of Allotments and Leisure Gardens records a huge surge of interest in allotment gardens. Between the increased popularity of growing your own food and the crunch in the economy, "We've seen an upturn for the last two or three years, but the last year has been horrendous," reports the Society's secretary. "The waiting lists have gone stupid, to be honest."
[caption id="Dateline_img13" align="aligncenter" width="161"]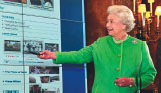 19
Great Britain's first cyber Queen
[/caption]
Queen Relaunches Royal Web Site
At a glittering Buckingham Palace reception, the Queen clicked the switch unveiling a new and updated Web site. First started in 1997, the royal site now contains more video and a collection of historical documents. Don't look for Her Majesty to start blogging soon, but check out the site at
www.Royal.gov.uk
.
Brainiest Briton Bests University Challenge
A record TV audience watched the team from tiny Corpus Christi College, Oxford, beat Manchester University in this year's championship match of the long-running annual BBC competition
University Challenge
. The shining star throughout the 28-team five-month knockout tournament was 26-year-old Corpus Christi captain, Gail Trimble, who answered more questions correctly than any competitor in the
Challenge's
47-year history. Having scored two thirds of her team's points in what has been described as an "intellectual blitzkrieg," Trimble is being hailed as Britain's brainiest female.
And Just in Passing
Rare Eagle Ruffles Feathers in Cumbria
After a 200-year absence, the sea eagle has been confirmed sighted in England—on the Solway coast near Carlisle—and above Annan, southern Scotland. There are believed to be 80 of the rare birds, largest of the European eagles, paired off on the Isle of Mull and the Isle of Skye.
[caption id="Dateline_img14" align="aligncenter" width="177"]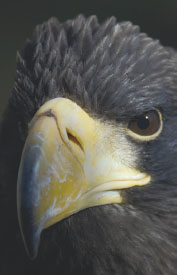 19
With a wing-span of up to 9 feet
[/caption]
[caption id="Dateline_img15" align="aligncenter" width="534"]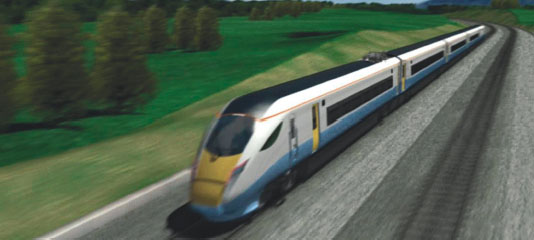 19
The engines of Britain's old Intercity 125s, now a generation old, are to be replaced in a huge investment into the future of rail travel.
[/caption]
Westminster, London

Biggest Rail Investment in Generation
A £7.5 BILLION contract has been inked ordering a whole new fleet of trains for the Great Western and East Coast train main lines. Up to 1,400 "Super Express" trains will be built to replace existing intercity trains, now 20-30 years old. The order will safeguard 10,000 jobs and create an additional 2,500. Both diesel and electric powered, the new trains will cut 10 minutes off the Paddington-Bristol journey. They are expected to first enter service in 2013 on the East Coast Mainline from London to Edinburgh.
Blackburn, Lancashire

Streaking Cupid Misses Target—Badly
The romantic gesture seemed a good idea to soldier James Miller. To impress his girlfriend on Valentine's Day, Miller interrupted the Blackburn Rovers' Premiership football match at Ewood Park—streaking across the pitch in only white boxers while firing red roses from a bow and arrow. Things didn't work out as he expected.
Light Dragoon Miller was arrested, fined, banned from football matches for three years and faces a court-martial. His girlfriend was so embarrassed she broke up with him. A bewildered Miller said, "That sort of behavior always seems to work some romantic magic in the movies."
[caption id="Dateline_img16" align="aligncenter" width="167"]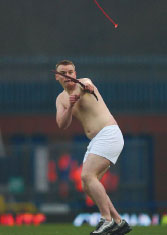 19
The young soldier missed his mark with his well-intentioned football field romantic antic.
[/caption]
Maillaig, Western Highlands

West Highland Line World's Best
RUNNING FROM Glasgow to Maillaig, jumping off point for the Isle of Skye, the West Highland line has been voted the greatest rail journey in the world by the readers of Wanderlust magazine. The 164-mile rail journey beat out 400 other reader-nominated train trips around the world for the honor. The painfully scenic line runs by Loch Lomond, Loch Etive and Loch Long and crosses the world's first concrete rail viaduct at Glenfinnan. Not surprisingly, the West Highland line was featured on the BBC's series Great Railway Journeys of the World. The northern line from Inverness to the Kyle isn't bad either.
[caption id="Dateline_img17" align="aligncenter" width="558"]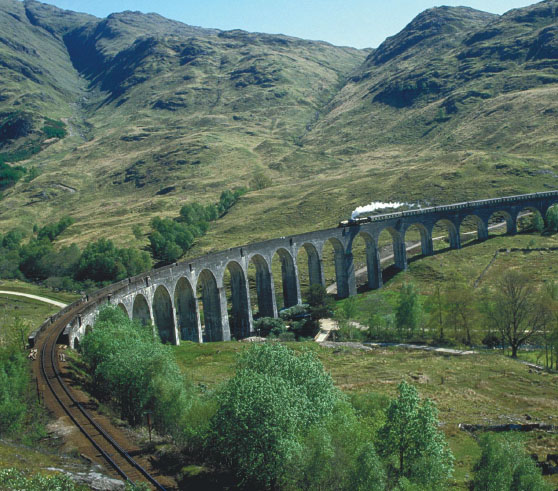 19
Steam trains still ply the world's first concrete rail viaduct on the West Highland line at Glenfinnan.
[/caption]
Newent, Gloucestershire

Wanna Buy a Museum of Victorian Life?
THE SHAMBLES, popular museum of Victorian life in Newent, was set to be sold at auction in May—cobbled streets, cottages, shops and all. The long-time owners have closed the western Gloucestershire attraction to pursue other things. Some 5,000 lots of fixtures, furnishings and façades face the hammer in what is being described as one of the largest collections of everyday Victoriana in the country. To be carried off or enjoyed in situ.
FOR THE RECORD
Scots Fir Britain's Tallest Tree
The Stronardon Douglas Fir near Dunans Castle in Argyll has been pronounced the UK's tallest tree at a whopping 209 feet—40 feet taller than the Nelson Monument in Trafalgar Square. "I've never tackled anything so tall, challenging and rewarding," said Chris Hunter from Sparsholt College in Hampshire, who scaled it.
RIP
[caption id="Dateline_img18" align="aligncenter" width="140"]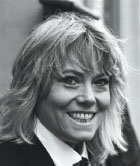 19
[/caption]
Wendy Richard
Much-beloved actress Wendy Richard has died at age 65. Known best to American audiences as Miss Brahms in the popular series Are You Being Served (1972-1985), Richard went on to star as Pauline Fowler for 21 years (1,400 episodes) in the primetime soap Eastenders. Richard was awarded an MBE for service to television in 2000.