Ascot, Berkshire

Royal Ascot at 300th Meeting
THE ROYAL FAMILY was out in force for the glorious spectacle of Royal Ascot. As always, there was a book on what color the Queen would wear on Ladies Day. Her Majesty has not missed a Royal Ascot meeting since attending her first with her parents in 1949. All engagements in the Royal diary are scheduled around this week. In fact, the Royal patronage of Ascot Week extends back to Queen Anne, who sponsored the first races in 1711. As always, Ascots' hats drew as much attention as the horses.
[caption id="Dateline_img1" align="aligncenter" width="1024"]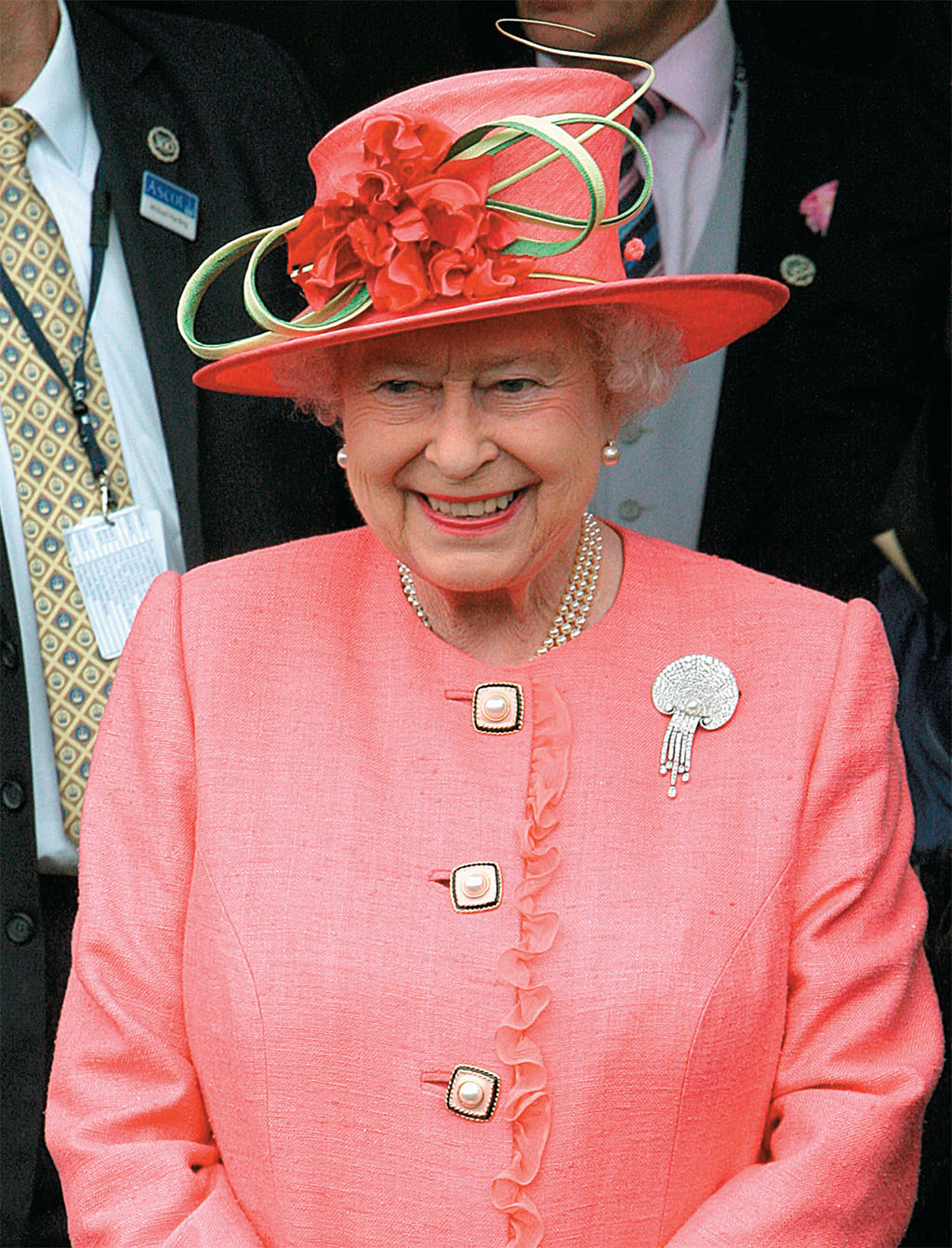 17
[/caption]
[caption id="Dateline_img2" align="aligncenter" width="837"]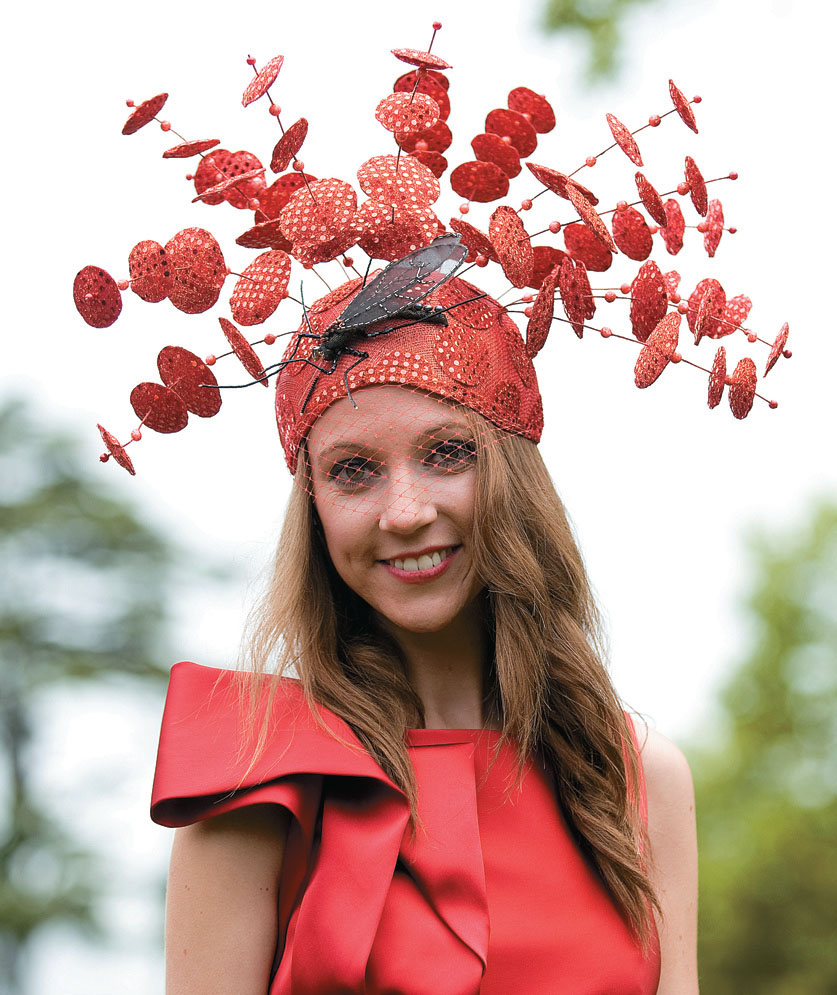 17
The Queen looked lovely, as always. Other hats were…colorful.
[/caption]
And Just in Passing

No Sunshine Holiday This Year
Soaring prices and a slump in the pound led millions of Brits to forego a European sunshine holiday this year. British holidays and day trips characterized the staycation summer. As one blogger from Kent, who planned day excursions to London, commented optimistically, "London for the English is like going abroad without the air costs."
Rare Jane Austen Manuscript Sold
A hand-written draft of Jane Austen's unfinished novel,
The Watsons
, sold at Sotheby's for $1.6 million, three times more than its estimated price. The earliest of Austen's surviving manuscripts, it is considered particularly important as an example of the writer's "work in progress."
And Just in Passing
[caption id="Dateline_img3" align="aligncenter" width="694"]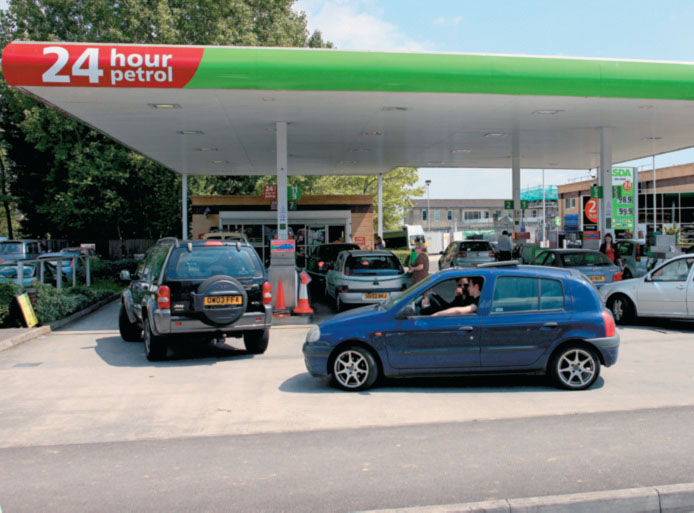 17
Asda leads the petrol wars.
[/caption]
Petrol Price War Raging
In an attempt to offer the cheapest petrol in the forecourt, discount retailer Asda recently lowered the cost of its unleaded petrol to £1.28 per litre. Lest we forget on this side of the Atlantic, that makes the least expensive British auto fuel roughly $8.35 per gallon at present exchange rates.
Westminster

A "Humble Address" for the Duke
MPS PAID TRIBUTE
to the Duke of Edinburgh on the Duke's 90th birthday in June with a "humble address" for presentation to the Queen. PM David Cameron lauded Prince Philip's "inimitable sense of humor" and "unshakeable sense of duty." Among the famed examples of the former, Labor Leader Ed Milliband reminded MPs of the Duke's quip to the Queen at her coronation in 1953, when he asked her, "Where did you get that hat?" A service of thanksgiving and celebration was held for Prince Philip at St. George's Chapel, Windsor Castle.
[caption id="Dateline_img4" align="aligncenter" width="583"]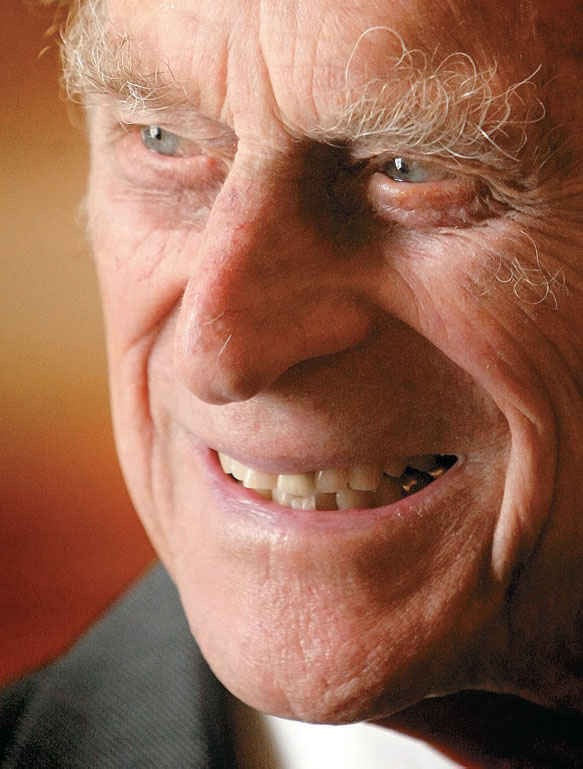 17
[/caption]
Broadstairs, Kent

Bleak House on the Market
HERE'S YOUR CHANCE to own a bit of history. The former home of Charles Dickens in Broadstairs, long known as Bleak House, is for sale—accepting offers at £2 million. Overlooking the seafront and Broadstairs' sandy beaches, the Grade II-listed property is a grand, early 19th-century, six-bedroom residence that comes with planning permission to convert to a boutique hotel. Among other amenities, the property also features the desk at which Dickens wrote the novel David Copperfield.
[caption id="Dateline_img5" align="aligncenter" width="1024"]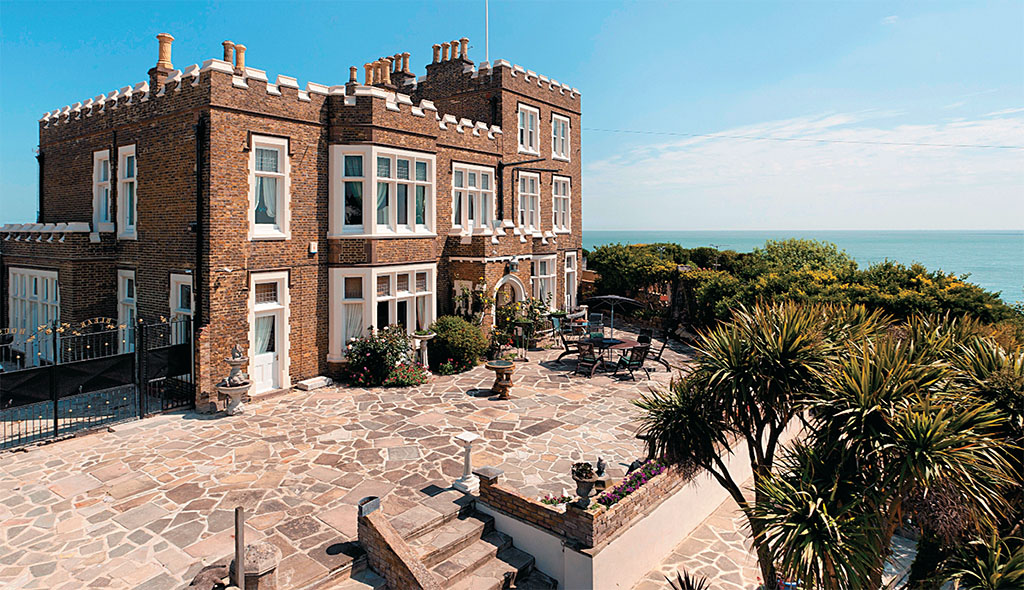 17
No, Bleak House isn't bleak.
[/caption]
Cardiff

New Museum Showcases Welsh Art
[caption id="Dateline_img6" align="aligncenter" width="1024"]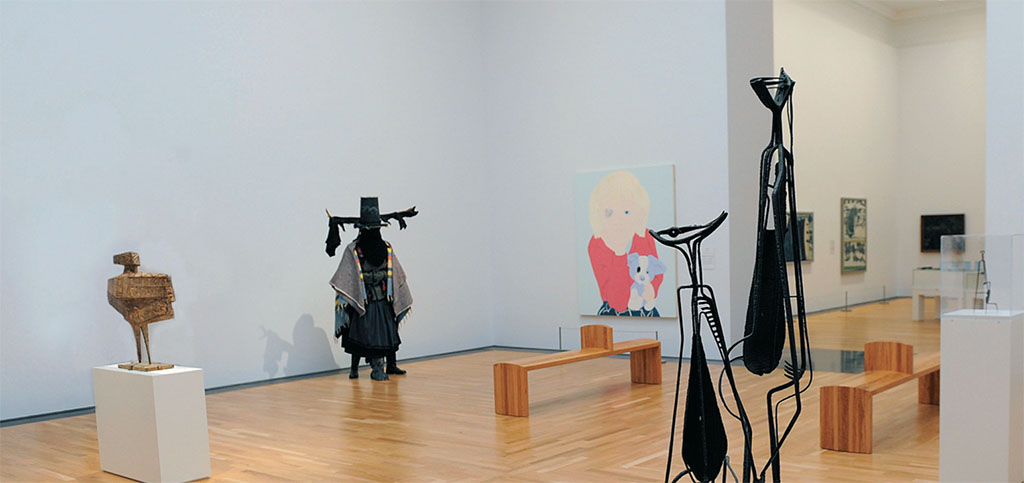 17
A new addition to the National Museum.
[/caption]
FOR THE FIRST TIME, the country's collection of international art, and especially its works by Welsh artists, has a home of its own. After five years of planning and construction, the new £6.5 million National Museum of Art opened this summer in Cardiff. One of Britain's largest art venues outside of London, the galleries are a major new addition to the National Museum's Cathay Park complex. The addition only enhances Cardiff's growing reputation.
London

It's the End of the World
AFTER 168 YEARS, the infamous Sunday tabloid News of the World has ceased publication. Although touted as the greatest Sunday paper in the world, the News Group weekly could not survive its latest scandal. After its high-profile legal troubles over hacking the mobile phones of sundry celebrities and political mandarins, both readers and advertisers deserted the tabloid in droves. Its final issue headlined simply "Thank You & Goodbye."
[caption id="Dateline_img7" align="aligncenter" width="739"]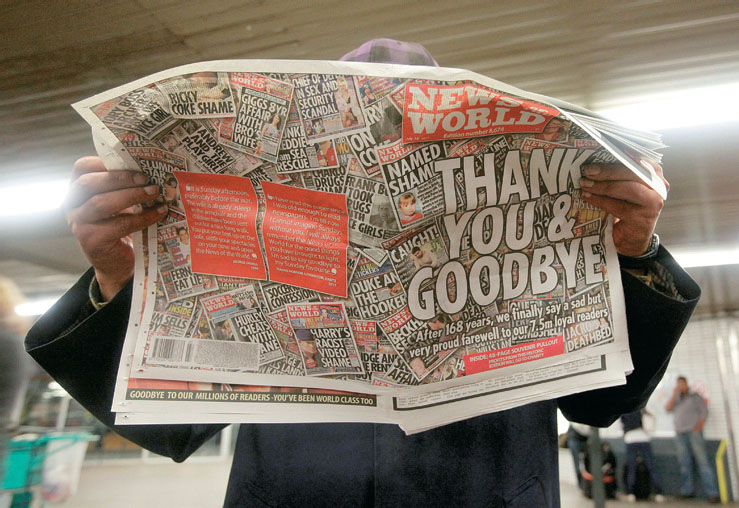 17
[/caption]
Buckingham Palace

Queen Honors Hubbie with Naval Command
ON THE OCCASION of her husband's 90th birthday, the Queen has conferred on Prince Philip the title and office of Lord High Admiral of the Navy. While the duke had earlier told interviews that he was "winding down" his remarkable career in public life, HRH The Duke of Edinburgh becomes honorary head of the navy in recognition of the highly successful naval career he gave up to support his wife as sovereign.
[caption id="Dateline_img8" align="aligncenter" width="639"]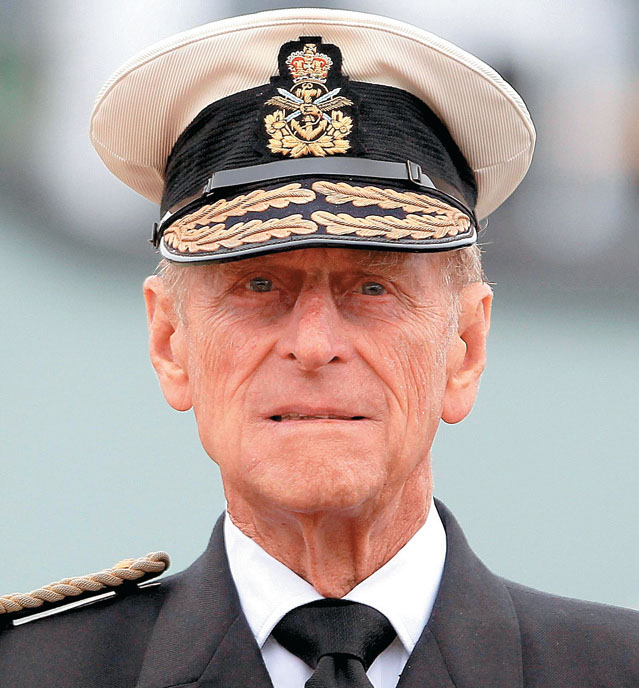 17
[/caption]
And Just in Passing
World Record Cash for Splash
American gambler Don Johnson knows how to party. At the swanky One for One London nightclub on Park Lane, Johnson broke the world record for the most expensive bottle of bubbly, paying £120,000 for a 30-litre bottle of Armand De Brignac champagne–the biggest such bottle ever made. Its contents would have filled 240 champagne flutes, at £500 per glass. Johnson's total bar bill that evening was £170,000.
HMS Victory Gets Redo
The most extensive restoration work ever undertaken on
HMS Victory
has begun. The historic ship's masts and rigging have been dismantled. The project is expected to take 10 years to complete. At its drydock in Portsmouth,
Victory
is expected to remain open to the public throughout its rebuild.
Wales Sets Skinny Dip Record
A mass skinny dip on the Gower Peninsula's Rhossili Beach has earned a new world record. The Midsummer Skinny Dip saw plenty of some 400 bodies heading for the water
au natural
. Swimmers had to stay in the sea for 10 minutes to break the old record of 250. The event raised £12,000 for the National Trust and Marie Curie Cancer Care.
[caption id="Dateline_img9" align="aligncenter" width="439"]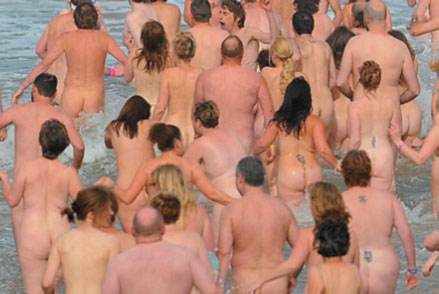 17
In for a dip at Rhossili Beach.
[/caption]
And Just in Passing
[caption id="Dateline_img10" align="aligncenter" width="450"]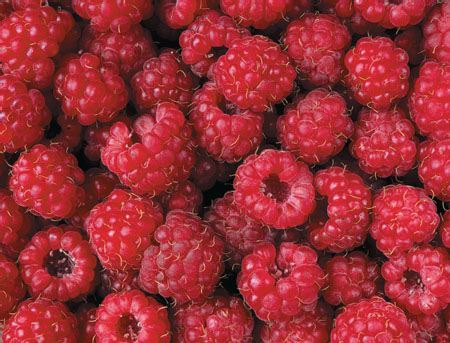 17
[/caption]
Bumper Crop of British Raspberries
Weather conditions proved just right this spring for the production of a memorable raspberry crop. A warm, dry spring brought the favorite berry to market two weeks earlier than usual, with a crop described as "sweeter and juicier" than expected as well. Ample supplies of local berries should be available through September.
[caption id="Dateline_img11" align="aligncenter" width="695"]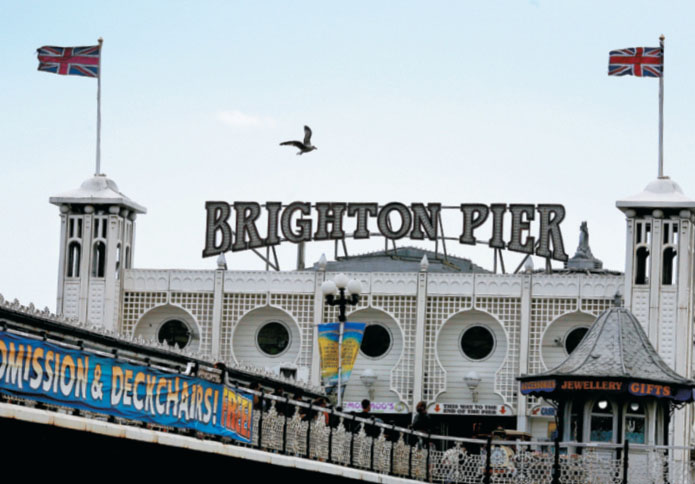 17
Brighton's landmark up for sale.
[/caption]
Want to Buy a Pier?
World-famous Brighton Pier is on the market. Opened in May 1899, the 1760-foot pleasure pier that anchors Brighton's beach has funfair rides, bars, amusement arcades and a restaurant. The Noble Group that has owned the Grade II-listed building since 1984 (and has invested £35 million in the pier) is expecting massive interest in the landmark.
Wimborne, Dorset

Jade Trinkets Fetch £12.5 Million
[caption id="Dateline_img12" align="aligncenter" width="871"]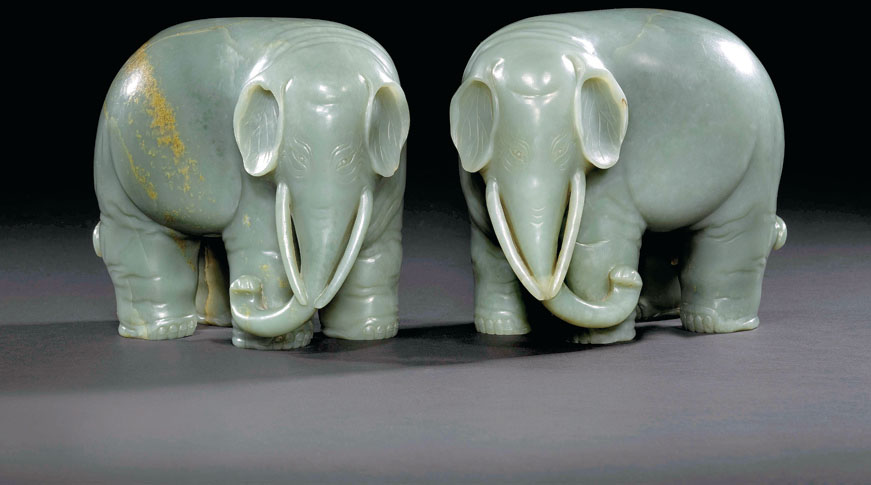 17
A trinket for the mantlepiece?
[/caption]
A PRIVATE COLLECTION of 16 Chinese jade ornaments has been kept in display cabinets at privately-owned Chrichel House, near Wimborne, for more than 60 years. Now they have been sold at auction by Wooly and Wallis of Salisbury. A bidding war between rich Chinese collectors has fueled a ten-fold increase in the value of Chinese art over the last few years. The small collection, purchased one at a time during the '40s and '50s, proved to be worth more than twice the value of the stately home where the collection has been housed.
Canada

Royal Couple Take Canada by Stampede
ON THEIR FIRST OFFICIAL royal visit together, the Duke and Duchess of Cambridge wowed the crowds in Canada from Prince Edward Island to the Northwest Territories. The final stop on the couple's nine-day tour was a visit to the Calgary Stampede, where William and Catherine were ceremonially presented with white cowboy hats. The royal couple was as effusive about their experience as the cheering crowds that greeted them everywhere. "Canada has far surpassed all that we were promised," said the duke.
[caption id="Dateline_img13" align="aligncenter" width="1024"]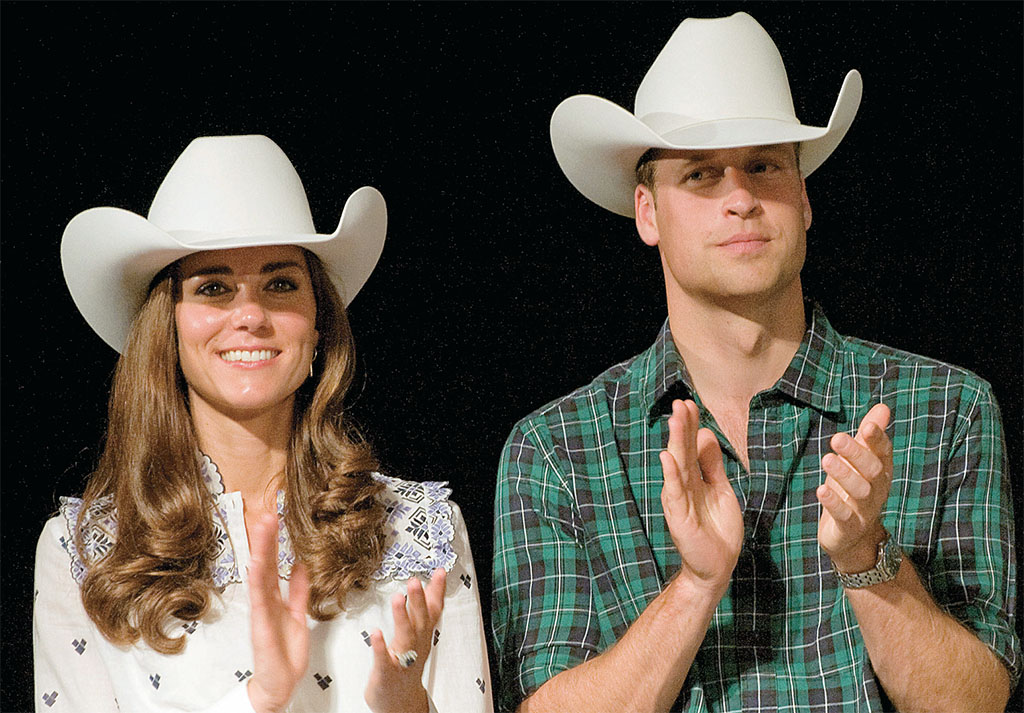 17
"Howdy, pardner," from the Calgary Stampede.
[/caption]
London

Vying for City Status
THERE ARE 66 CITIES
in the United Kingdom, soon to become 67. Some 25 towns across the UK have applied to be granted "city" status when a new city will be created next year for the Queen's Diamond Jubilee. Contestants range from the tiny Welsh cathedral town of St. Asaph to the Manchester suburbs of Stockport and Bolton. Official city status doesn't amount to much these days except status, but competition is keen. Perth is regarded a serious contender, but the bookie's favorite in the contest is Reading, Berkshire.
[caption id="Dateline_img14" align="aligncenter" width="947"]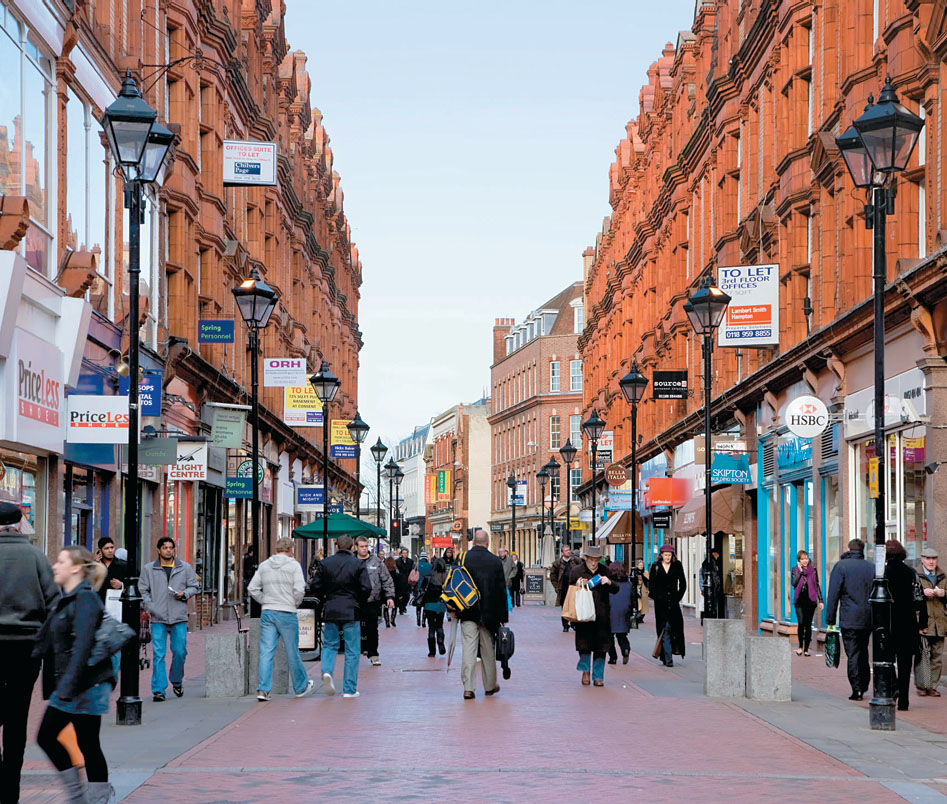 17
Bustling Reading is the booking favorite.
[/caption]
Clarence House, London

Prince Harry Heading Back to Combat
NOT THAT IT'S PROBABLY a good idea to give away the information, but Clarence House has announced that Prince Harry will return to Afghanistan, this time as an Apache helicopter pilot. The prince completed his Mountain Flying training this spring in the French Alps. After five years of service as an officer, Prince Harry has also been promoted to captain.
[caption id="Dateline_img15" align="aligncenter" width="1024"]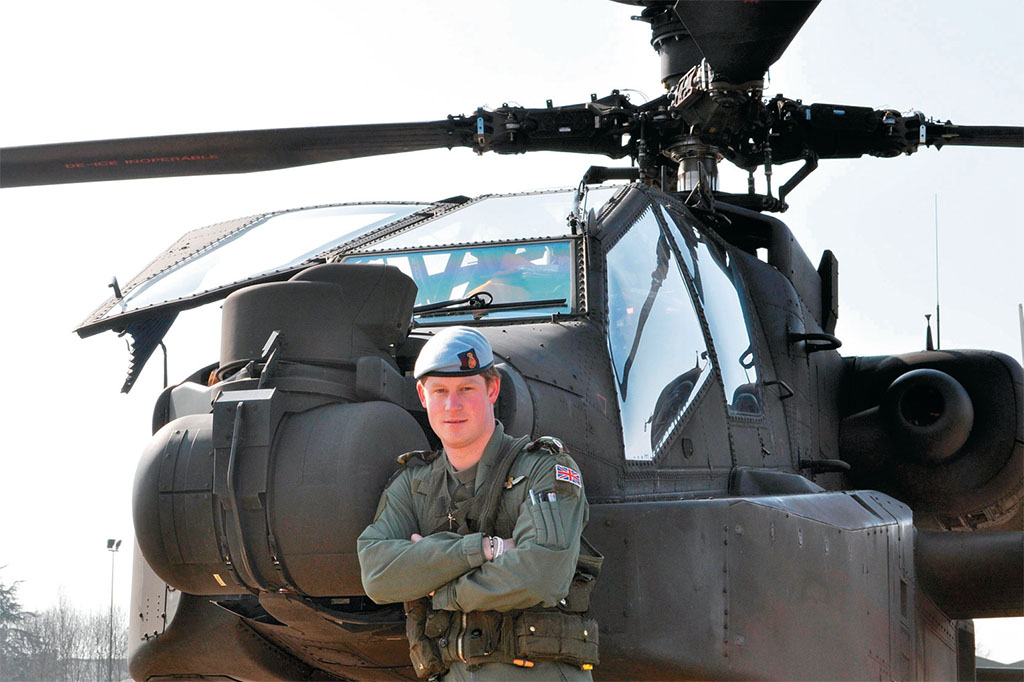 17
Prince Harry just wants to be where the action is.
[/caption]
And Just in Passing
Closing a 130-year-old Murder Case
A skull found in the garden of famed naturalist David Attenborough has led to the closure of a police murder file open since 1879. A West London coroner confirmed the human remains as those of a wealthy widow, Julia Thomas, who had been gruesomely killed by her maid in what had been known as the "Barnes mystery."
[caption id="Dateline_img16" align="aligncenter" width="444"]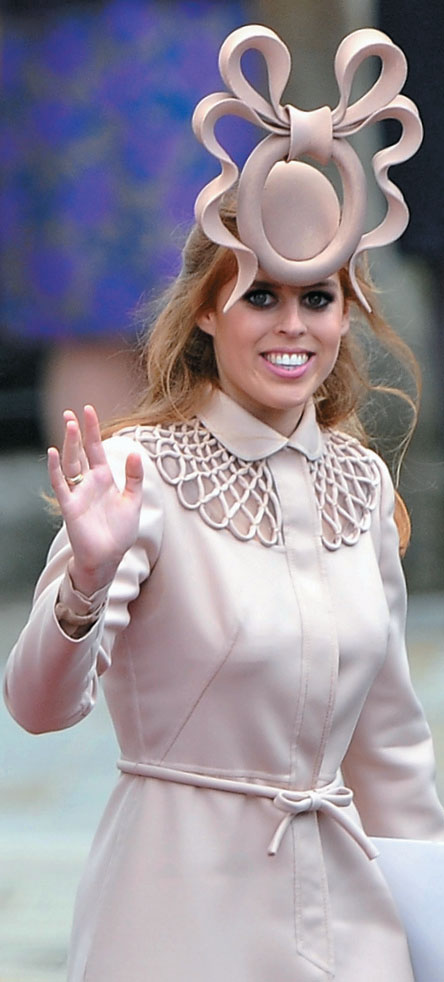 17
Princess gets the last laugh
[/caption]
Princess Beatrice Sacrifices Headdress
It was one of the most remarked-upon details of the Royal Wedding. Princess Beatrice's hat spawned ridicule around the world. It seems the princess may have the last laugh, however. The, eh, unusual, Philip Treacy-designed millinery creation brought a whopping £81,101 in an eBay auction—the proceeds going to UNICEF and Children in Crisis.