The Clyde; the Trossachs
Messing About in Boats
[caption id="DatelineBritain_img1" align="aligncenter" width="1024"]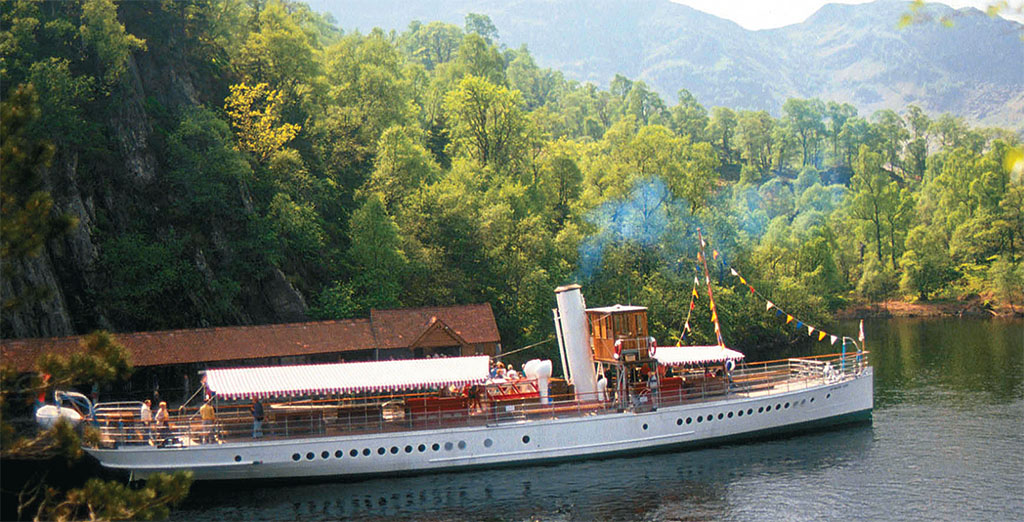 22
The nation's only screw-prop steamship,

Sir Walter Scott

, plies the beautiful waters of Loch Katrine.
[/caption]
THE WORLD'S MOST advanced destroyer, HMS Daring, has finished its first sea trials. Built largely in the shipyards of Glasgow's River Clyde, the £1 billion warship is first of a new generation of combat ships on order for the Royal Navy. Daring's firepower, speed and maneuverability are amazing observers. The ship can go from zero to a top speed of 31 knots in two minutes and fire missiles 20 times more accurately maneuverable than a Formula One racecar. Daring will be based in Portsmouth, but enthusiastic authorities boast that if stationed in the River Thames, the ship could single-handedly protect London.
Meanwhile, up on Loch Katrine, the country's only surviving screw-prop inland water steamship has new owners. Sir Walter Scott has been in operation since 1899, and currently carries 75,000 passengers a year on scenic tours of one of Scotland's most famously picturesque lochs. With the ship showing its age, a campaign to secure the historic vessel's long-term future has been launched by transferring the steamship's title to the new Steamship Sir Walter Scott Trust.
St. Pancras

New Paris–London Rail Record
IT TOOK THE EUROSTAR TRAIN full of VIPs and journalists just two hours, three minutes and 39 seconds recently to travel between Paris Gare du Nord and London's new international station at St. Pancras. The record setting pace between the two capitals marks the completion of the long anticipated high-speed rail line connecting North London to the Channel Tunnel near Folkestone. While Eurostar has always been able to travel at high speeds in France, the existing rail structure in England has heretofore been unable to sustain the speeds customary on the Continent.
The new 68-mile line, known as High Speed 1, is expected to routinely cut 20 minutes off the London–Paris journey time—traveling 186 mph on the new track. The whopping £5.6 billion price tag for the line and the rebuilding of St. Pancras station makes the project Britain's largest single construction project in history. The country's first new rail line in a century, the high speed track was laid under the River Thames and through 11 miles of tunnel beneath London.
[caption id="DatelineBritain_img2" align="aligncenter" width="715"]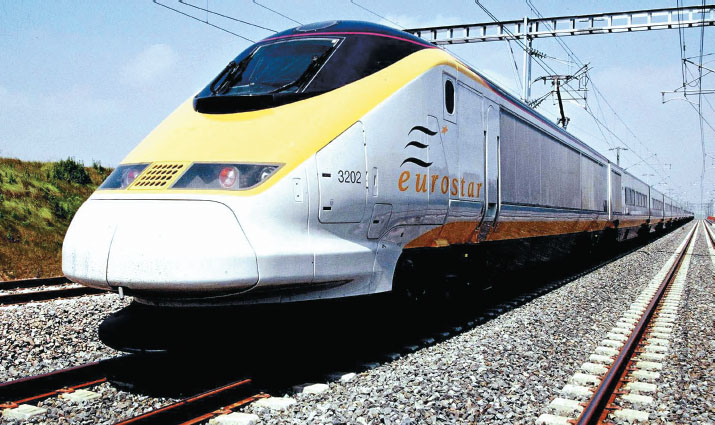 22
Eurostar races on new High Speed 1.
[/caption]
And Just in Passing
[caption id="DatelineBritain_img3" align="aligncenter" width="416"]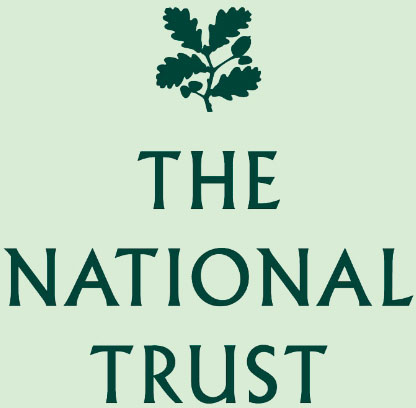 22
[/caption]
THE NATIONAL TRUST HITS RECORD
Perhaps the leading conservation charity in the world, the National Trust has hit a membership mark of 3.5 million for the first time. After four decades of uninterrupted membership growth, the National Trust now claims more than 6 percent of the population of England, Wales and Northern Ireland as members. The Trust has 49,000 volunteers and receives 13 million visitors a year to its houses and gardens.
[caption id="DatelineBritain_img4" align="aligncenter" width="453"]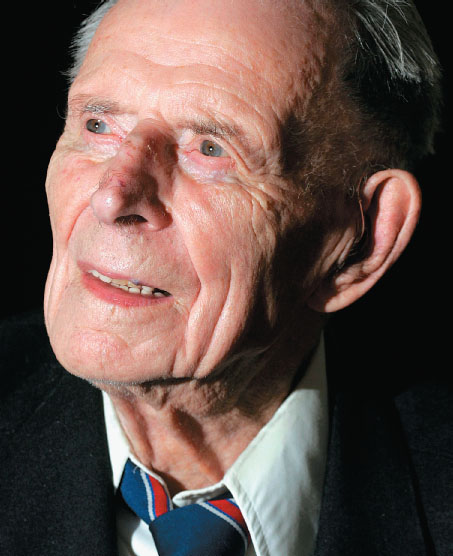 22
The last Tommy is over 100.
[/caption]
ON THE SENIOR CIRCUIT
Britain's last surviving Tommy of World War I, Henry Patch of Wells, Somerset, still remembers. The veteran aged 109 returned to Flanders this summer to pay tribute to his fallen comrades on the 90th anniversary of the Battle of Passchendaele.
Meanwhile, health authorities have told Olive Beal, 108, of Deal, Kent, that she has been put on an 18-month waiting list for a hearing aid.
[caption id="DatelineBritain_img5" align="aligncenter" width="530"]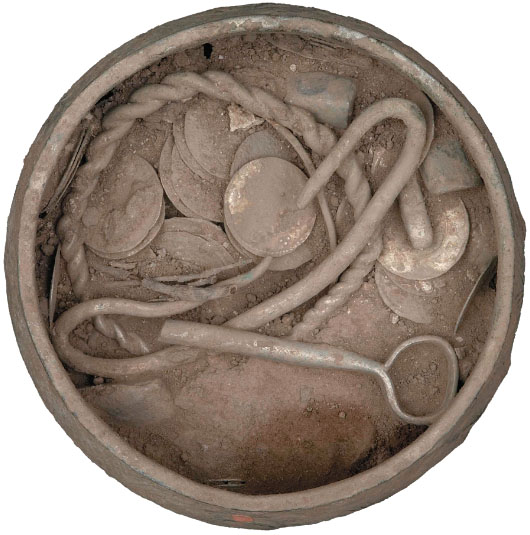 22
Loot found in silver bowl.
[/caption]
EUREKA! IT'S VIKING TREASURE
A father-son treasure-hunting team prowling around with a metal detector in a farmer's field near Harrogate has recently uncovered the largest hoard of Viking loot found in Britain since 1840. More than 600 coins and scores of gold and silver objects dating to the 9th century have been unearthed. Items were found manufactured as far away as Russia and Afghanistan. "This is a discovery that isn't just once a generation, but once a century," enthused Jonathan Williams of the British Museum.
[caption id="DatelineBritain_img6" align="aligncenter" width="436"]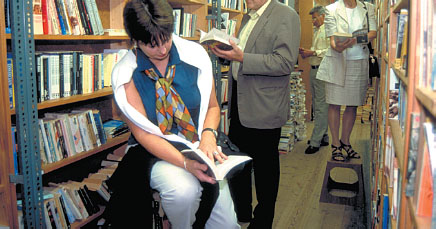 22
Britons yet read.
[/caption]
BRITAIN STILL LOVES BOOKS
It may be counterintuitive in this video age, but Britain still reads. In fact, according to a University of Manchester study, Britons spend an average of seven minutes a day reading a book—more than twice the three minutes so spent in 1975.
Cerne Abbas, Dorset

Homer on the Hill
[caption id="DatelineBritain_img7" align="aligncenter" width="1024"]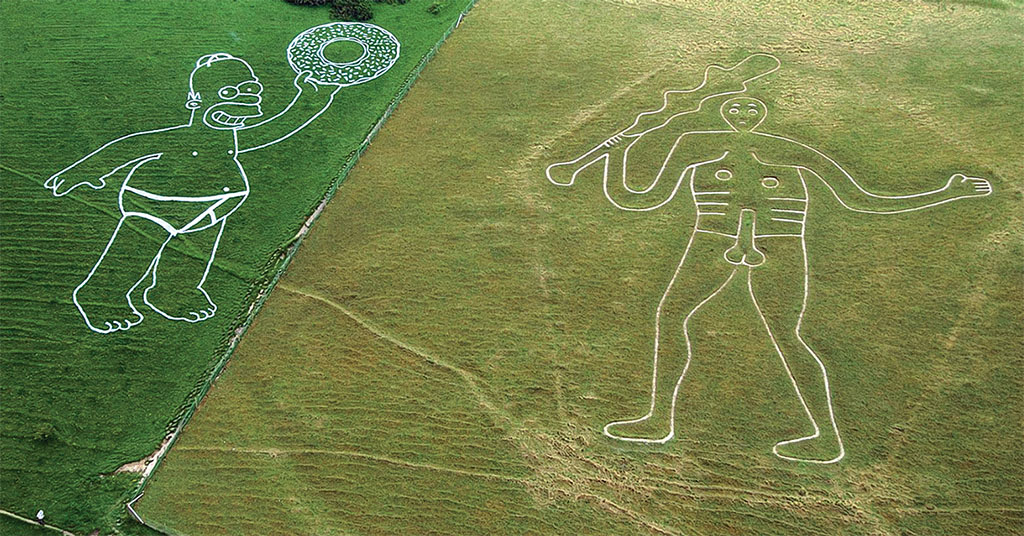 22
Yes, Homer Simpson joins the Cerne Abbas Giant in rural Dorset.
[/caption]
THE ANCIENT CHALK HILL–FIGURE known as the Cerne Abbas Giant was joined this summer on its Dorset hillside north of Dorchester by a doughnut-wielding Homer Simpson. Unlike the famous prehistoric fertility figure cut into the chalk ridge, Homer was spray-painted across the field as a publicity stunt to promote the summer's Simpson movie. The action upset local pagans, who claim some spiritual kinship with the aroused Giant. The "rain magic" they promised to wash Homer away was apparently successful all over England.
'The Crown owned the swans to assure a dinner table supply'
Royal Windsor

Swan-upping in the Rain
NEITHER HIGH RIVER LEVELS nor torrential rains deterred the Swan Uppers from their appointed rounds this year. Her Majesty's Swan Marker and his team of Swan Uppers carried out their annual census of the swan population on the River Thames on time. In an annual weeklong exercise, officials sail colorful rowing skiffs on the river to mark and tend the birds. Much tradition attends the process, including a ceremonial salute to the Queen, Seigneur of the Swans, at Windsor Castle that dates back to the 12th century. It was then the Crown claimed ownership of all the unowned mute swans in Britain—in order to assure an ample supply for the royal dinner tables.
[caption id="DatelineBritain_img8" align="aligncenter" width="728"]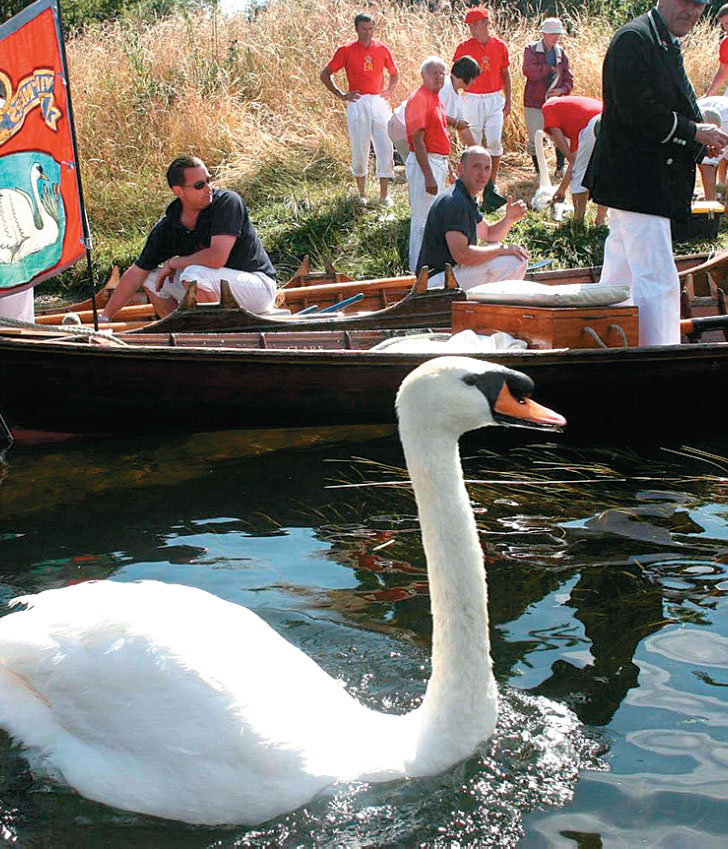 22
It's the annual census of the Queen's swans.
[/caption]
London

Nabu-sharrussu-ukin, You Say?
[caption id="DatelineBritain_img9" align="aligncenter" width="924"]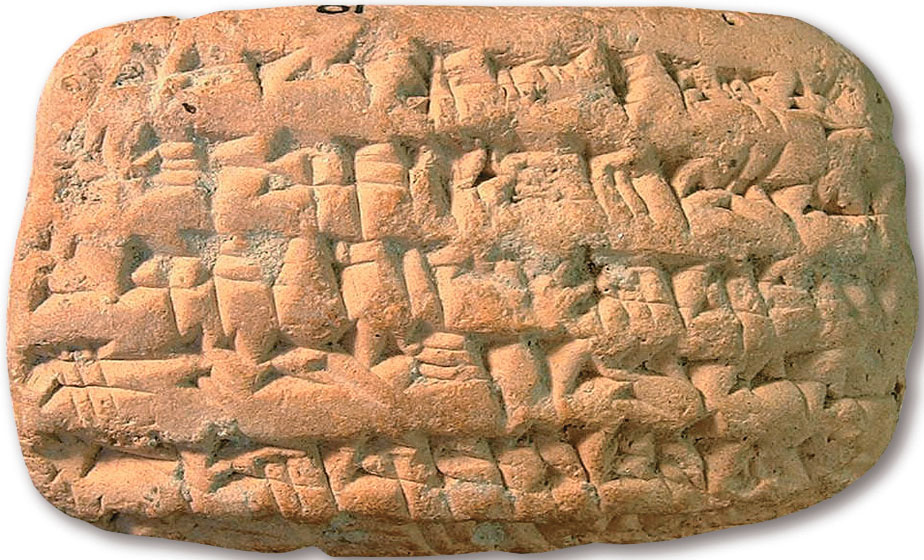 22
The Assyrian tablet is an important discovery in Biblical archaeology.
[/caption]
A TINY CLAY FRAGMENT found among the British Museum's collection of 130,000 Assyrian cuneiform tablets has caused uncharacteristic excitement at the venerable institution. The tablet holds a reference to one Nabu-sharrussu-ukin, described as the "Chief Eunuch" to King Nebuchadnezzar of Babylon, mentioned in the Old Testament book of Jeremiah. Discovered by a visiting professor from Vienna, the find is being hailed as the most important discovery in Biblical archaeology in more than 100 years.
Irving Finkel, assistant keeper in the Department of the Middle East at the British Museum commented: "Cuneiform tablets might all look the same, but sometimes they contain treasure. Here a mundane commercial transaction takes its place as a primary witness to one of the turning points in Old Testament history. This is a tablet that deserves to be famous."
'Here is a mundane commercial transaction…a primary witness to one of the turning points in Old Testament history'
The Green Belt

Housing Need Threatens Green Belt
SINCE GORDON BROWN became prime minister, the former chancellor has placed new housing for overcrowded Britain at the top of his agenda. Pledging 3 million new homes built by 2020, Brown also has promised to protect the open land surrounding existing towns and cities known as green belt. Now, a Social Market Foundation (SMF) study claims that 2 million of the new homes will have to be built on hitherto green belt land or on undeveloped countryside. While some parks and gardens seem doomed to be paved over, SMF suggests that tough choices will need to be made and that the target of 3 million homes was actually unlikely to meet rising demand for housing.
[caption id="DatelineBritain_img10" align="aligncenter" width="714"]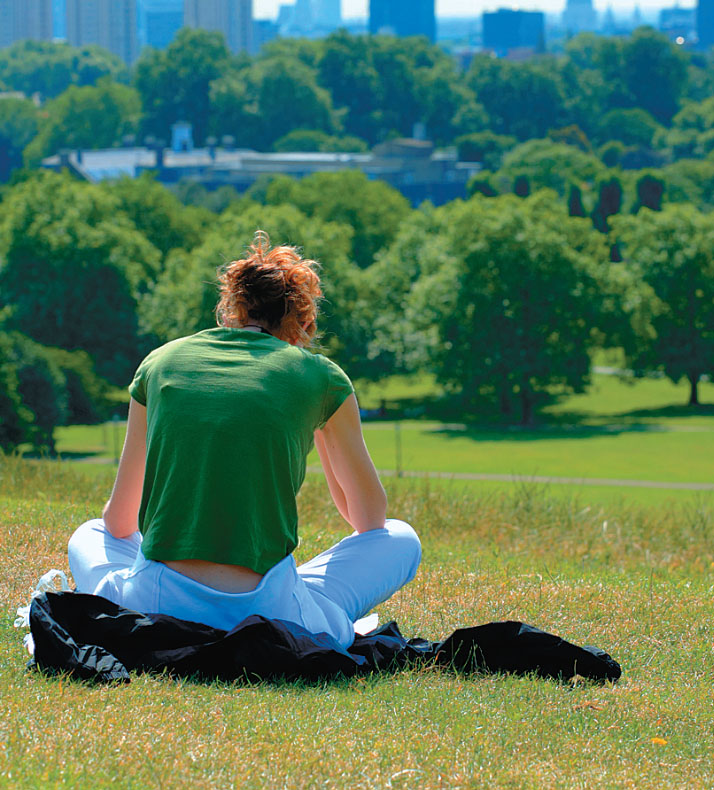 22
Where will 3,000,000 new houses go?
[/caption]
[caption id="DatelineBritain_img11" align="aligncenter" width="453"]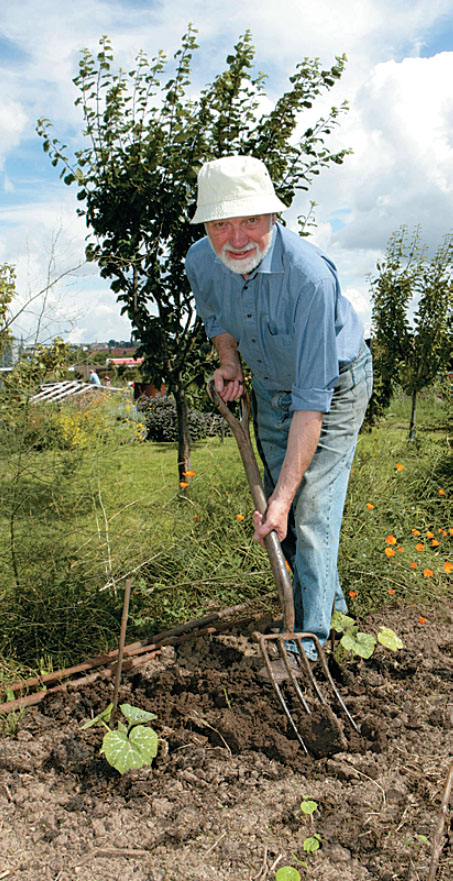 22
Gardens have growing pains too.
[/caption]
TRIMMING THE SIZE OF ALLOTMENTS
A surge in popularity in allotment gardening has pressured local authorities in several parts of the country to halve the traditional 300 square yard plot assigned to gardeners (see "Allotment Gardening," P. 44). Waiting lists continue to grow for the public garden plots, causing pressure on local authorities who are under statutory obligation to provide at least 15 allotments per 1,000 households.
[caption id="DatelineBritain_img12" align="aligncenter" width="563"]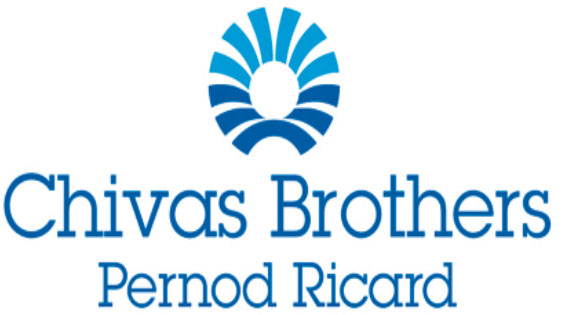 22
[/caption]
BOTTOM'S UP, LADDIE!
Ah, it's nice to know in this unstable world that one British industry is flourishing. Premium whisky-maker Chivas Brothers is expanding its plants at Dumbarton and Paisley. The nearly £5 million investment will both increase efficiency and capacity at both locations. Currently, Chivas employs 1,600 people at 31 Scottish sites. Scotch whisky is now reckoned among the UK's top five manufactured exports.
[caption id="DatelineBritain_img13" align="aligncenter" width="456"]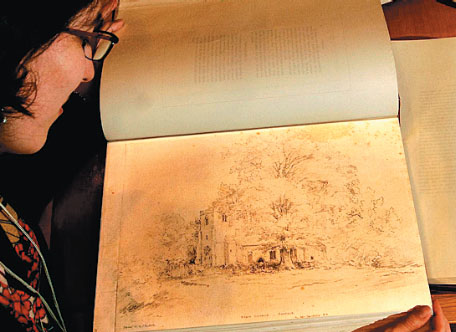 22
Sketch comes to light.
[/caption]
MISSING CONSTABLE SKETCH FOUND IN SCRAPBOOK
A sketch by John Constable, known to exist but missing since 1896, has been found in a scrapbook in the British Library. Titled "Hyam Church, Suffolk," the pencil drawing was discovered by a curator in a neglected 13-volume set of overstuffed books donated to the library in 1919. The scene depicted is indeed the village church at Higham, on the Essex-Suffolk border (see "The Stour River Valley," P. 24).
[caption id="DatelineBritain_img14" align="aligncenter" width="453"]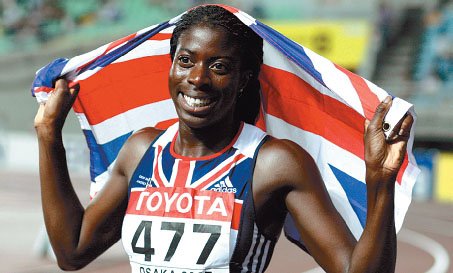 22
Ohuruogu wins the World.
[/caption]
GOLD AND SILVER FOR BRITAIN
With a come-from-behind victory in the 400m, Christine Ohuruogu became Britain's first women's gold medal winner at the World Championships since 1993. The silver went to fellow Briton Nicola Saunders—giving the country its first one-two event finish since the 1993 Stuttgart championships. The 23-year-old Ohuruogu set a personal best in the triumph and now hopes to challenge for Britain in next year's Beijing Olympics.
The Hedgerows

Hedgehogs in Danger
MEANWHILE, an updated list of wildlife in need of protection includes the humble hedgehog and the house sparrow. The Biodiversity Action Plan (BAP), considered among the most authoritative sources on British wildlife, now records 1,149 different species of flora and fauna and 65 natural habitats in Britain under need of some level of conservation protection. The new BAP list was the result of more than two years of research by more than 500 wildlife authorities. Red squirrels, grass snakes, otters and bottlenose dolphins are among other familiar names on the BAP list.
A new study just released by the University of London for the People's Trust for Endangered Species and the British Hedgehog Preservation Society confirmed the decline in the British hedgehog population. It cited urbanization and tidier gardens as key factors in the animal's decline.
[caption id="DatelineBritain_img15" align="aligncenter" width="724"]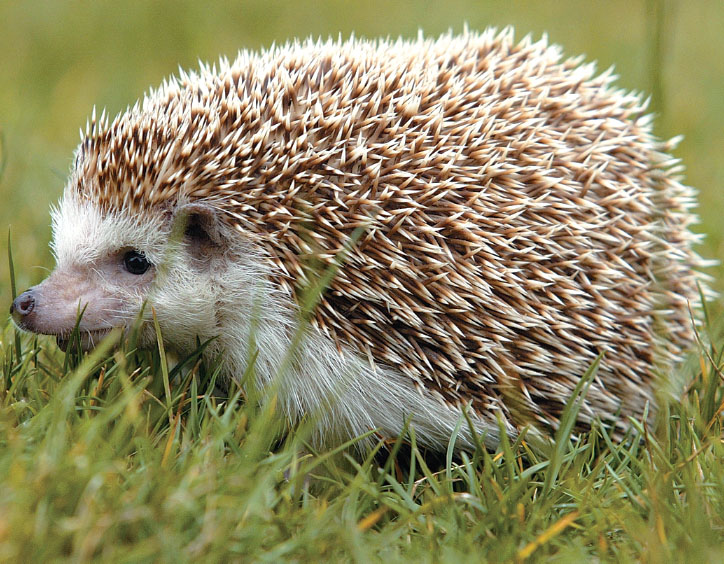 22
Loss of habitat slights the humble hedgehog.
[/caption]
'As it happens in military history, techniques and tactics the British Army tested and perfected in Northern Ireland have proven invaluable today in military action in Iraq and Afghanistan'
Lisburn, County Antrim

Operation Banner Lowers the Flag
[caption id="DatelineBritain_img16" align="aligncenter" width="986"]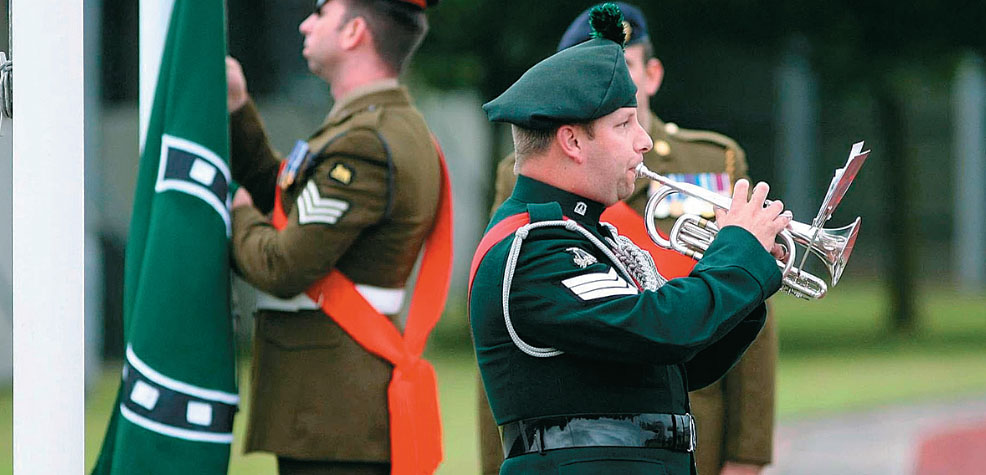 22
The British Army retires from Northern Ireland after 38 years.
[/caption]
THE FLAG OF 39 Infantry Brigade was lowered for the last time over Thiepval Barracks, Lisburn, in a low-key ceremony at the end of July. The ritual marked a formal end to Operation Banner, the military support of the Royal Ulster Constabulary that began in Northern Ireland in 1969. More than 300,000 soldiers served in Ulster during the long struggle against terrorism there. The military suffered 738 deaths and 6,116 wounded in terrorist action during the 38 years of Operation Banner.
The end of the IRA's armed struggle and a broad peace in Northern Ireland mark a successful conclusion to the British Army's longest ever military operation. As it happens in military history, techniques and tactics the British Army tested and perfected in Belfast and the province have proven invaluable today in military action in Iraq and Afghanistan.
Vale of Neath
Coal From the Valleys
THE FIRST COAL in nearly a decade has been taken in South Wales from a reopened drift mine. Unity mine in Cwmgwrach had been closed since 1998, but is estimated to have reserves as high as 90 million tons. Mine owners expect to provide 120 jobs by spring and produce 1 million tons of coal a year. Tens of thousands of miners lost their jobs in the collieries of South Wales as British coal become unsupportable in the '80s and '90s. Now, global market conditions that rendered mines uneconomic in the '90s have changed considerably, making a number of British coal mining operations commercially viable again.
[caption id="DatelineBritain_img17" align="aligncenter" width="481"]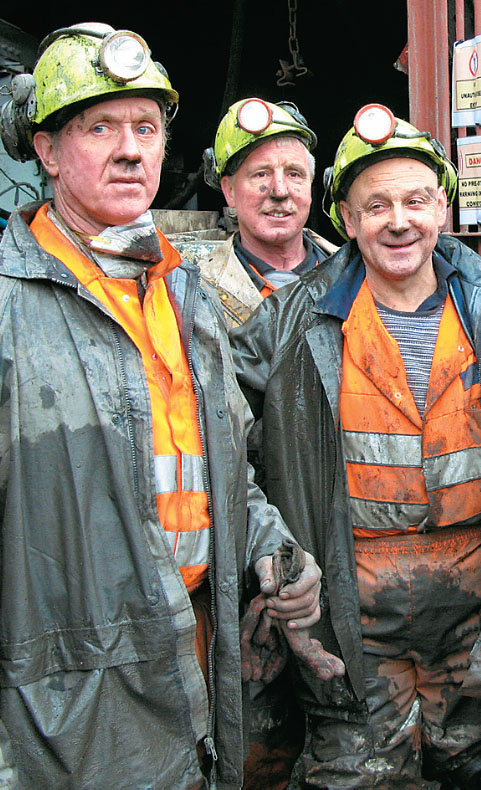 22
Coal makes a comeback in Wales.
[/caption]
River Valleys, Everywhere

The Soggiest Summer Ever?
[caption id="DatelineBritain_img18" align="aligncenter" width="308"]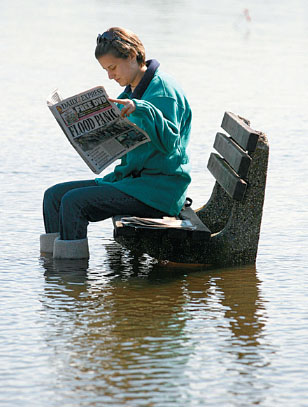 22
Rain, rain, go away.
[/caption]
THE WORST FLOODS in modern history struck Great Britain this past summer, with torrential rains causing rivers from Devon to Yorkshire to spill their banks. Britain's two largest rivers, the Severn and the Thames, poured into homes across the Cotswolds and the Home Counties, leaving 350,000 people without power and without running water for days on end. At least 10,000 homes were flooded in each of seven counties. Untold more faced interruptions in basic services such as phone, electricity and safe drinking water.
A warm spring and the unseasonably wet summer have combined to wreak havoc on Mother Nature. Daffodils, fooled into thinking they'd already survived another winter were blooming in August. Grain and vegetable crops have rotted in the field. Up in Scotland, the Royal Society for the Protection of Birds reports it has been a disastrous breeding season for seabirds, because chicks have not gotten enough food.
Peterborough, Cambridgeshire

Votive Offerings Miraculously Reappear
[caption id="DatelineBritain_img19" align="aligncenter" width="705"]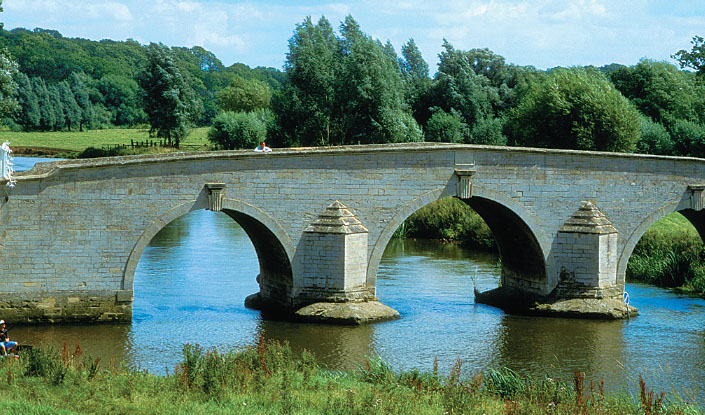 22
Iron Age sword was cast in the River Nene.
[/caption]
AN IRON AGE SWORD, mysteriously stolen from the Peterborough Museum in 1994, has just as mysteriously been discovered at an auction in Germany. Sharp-eyed collectors spotted the rare weapon and its bronze scabbard, which have been returned to their Cambridgeshire home.
Following ancient Celtic custom, the sword and its sheath had been cast as votive offerings into the River Nene more than 2,000 years ago. They were first uncovered during dredging operations at Orton Longueville in the 1980s, but nothing had been heard of them since their disappearance 13 years ago. Archaeologists regard the sword and scabbard as among the finest examples known in Britain, and describe the sword's recovery as "miraculous."
GREAT TASTE IN A PORK PIE
The tastiest food in Great Britain is a pork pie from Staffordshire. Made by Walter Smith butchers of Cannock, the proud pie was named Supreme Champion in the Great Taste Awards. It humbled 4,500 other food entries in the blind taste-testing.
[caption id="DatelineBritain_img20" align="aligncenter" width="453"]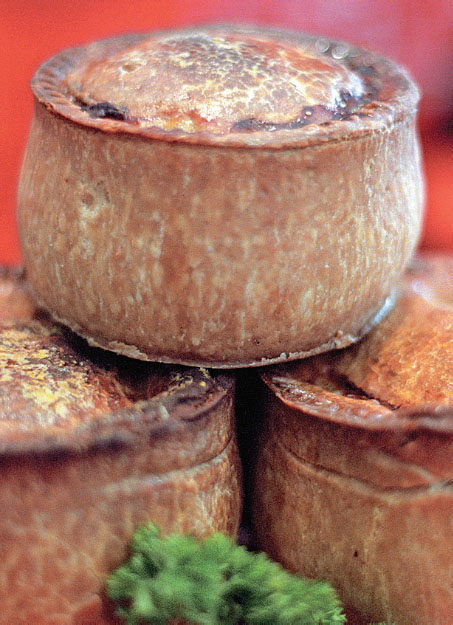 22
Tastiest food in Britain?
[/caption]
QUEEN WINS SCHOOL RAFFLE
At first school staff thought it was a joke when they heard the Queen had a winning ticket. Sure enough, though, Queen Elizabeth II was a winner in the Fox Primary School raffle. Her Majesty won bath oil and two bars of soap. "This is not the first time the Queen has taken part in raffles," a Palace spokesman commented. "Like most people she thinks they are a bit of fun and a great way to raise money."
[caption id="DatelineBritain_img21" align="aligncenter" width="453"]
22
And the winning number is?
[/caption]