London & the World
Tribute to the Falklands Fallen
[caption id="Dateline_img1" align="aligncenter" width="1024"]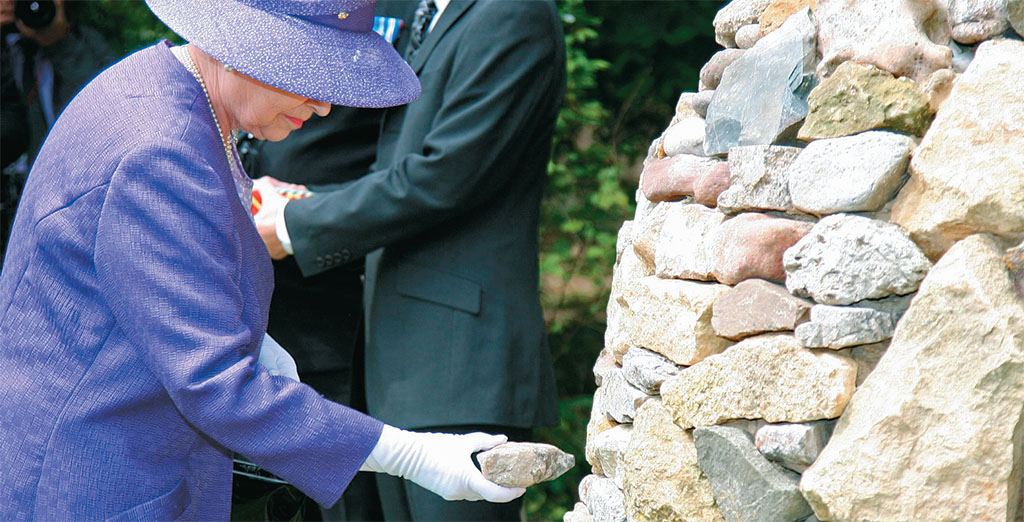 21
The Queen adds the final stone to a memorial cairn at the Falkland Islands Memorial Chapel in Pangbourne.
[/caption]
A QUARTER-CENTURY after the liberation of the Falkland Islands, the Queen and Baroness Margaret Thatcher joined veterans at a remembrance service in June for those who did not return from that war. At the Falkland Islands Memorial Chapel in Pangbourne, Berkshire, the traditional act of remembrance was led by Rear Admiral Jeremy Sanders, who served in the Falklands. Then, the Queen added the 255th and final stone from the Falklands to a memorial cairn—one stone for each of the British lives lost in the conflict.
While the Queen has placed many such memorials during her reign, this one must have been particularly poignant. In the Falklands War, she waited with the dread anticipation of any mother whose child is in combat. Prince Andrew flew naval helicopters during the campaign.
Shaped like the prow of a ship and adorned with a huge bright blue stained-glass window representing the South Atlantic, the Falkland Islands Memorial Chapel was opened in Pangborne in 2000.
Remembrance at Horse Guards
SOLDIERS WHO SLOGGED THEIR WAY under fire through the bogs of East Falkland and who liberated Port Stanley, sailors who dodged the air-raids in San Carlos and pilots who flew close cover across the wind-swept islands: some 3,000 veterans of the Falklands War gathered on Horse Guard Parade this summer to commemorate the 25th anniversary of Britain's victory.
Archival video coverage of the conflict was shown on giant screens, massed bands and veterans paraded and a satellite link connected the London event with a smaller ceremony at the Falklands, on the edge of San Carlos Water where the British frigates Ardent and Antelope lie sunk by Argentine bombs.
[caption id="Dateline_img2" align="aligncenter" width="478"]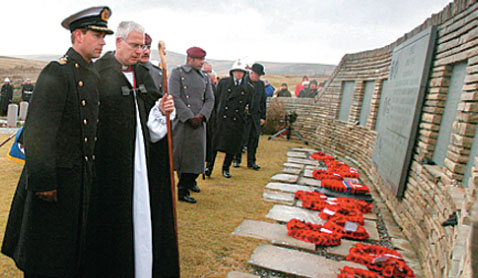 21
Prince Edward in Port Stanley.
[/caption]
The prime minister and the Prince of Wales were present, as was the Duke of York, who flew helicopters in the war. Senior serving and retiring officers led contingents from each of Her Majesty's Forces. The only standing ovation to greet arriving dignitaries, however, was reserved for Baroness Thatcher.
From Rudyard Kipling, Prince Andrew read:
We have fed our sea for a thousand years And she calls us still unfed.
Though there's never a wave of all her waves But marks our British dead.
And Just in Passing
[caption id="Dateline_img3" align="aligncenter" width="448"]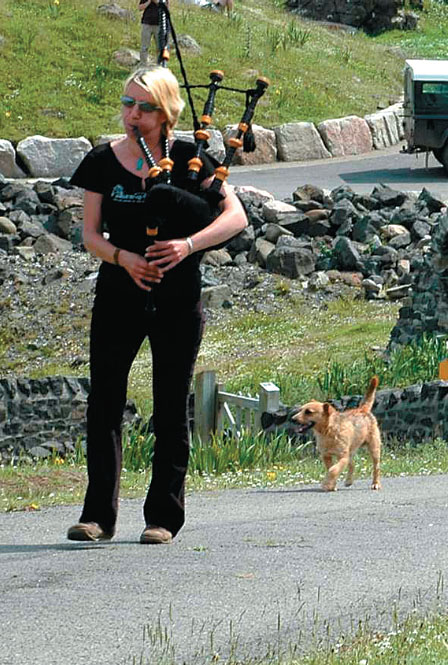 21
Eigg struts her stuff.
[/caption]
A DECADE OF EIGG INDEPENDENCE
Hebridean islanders celebrated 10 years of independence from an absentee landlord this summer. In 1997 the Isle of Eigg Heritage Trust staged an ambitious community buyout of the island. Located 10 miles off the Scottish mainland, Eigg held a massive anniversary party and celebrated their progress. Islanders have heretofore relied on private generators, but are now on the verge of having a 24-hour electricity supply for the first time. Now, that's something to celebrate.
[caption id="Dateline_img4" align="aligncenter" width="453"]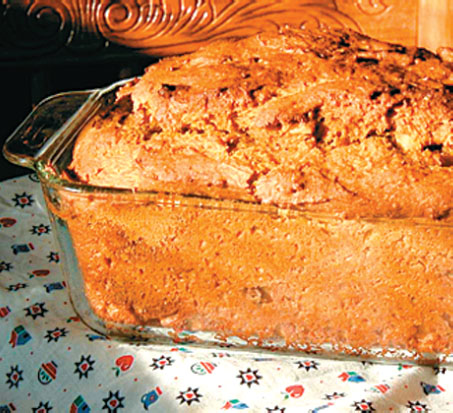 21
Whither, local bread?
[/caption]
CLOSING THE VILLAGE BAKERY
It's always sad to see the closing of village shops. Up in Aberlour, the village bakery where Joseph Walker began a shortbread empire has sold its last crumb. It's a familiar complaint: too much competition from supermarkets. Villagers mourn the loss of a shop that's been a fixture in town for more than 100 years. Walkers Shortbread continues to be a major presence in the place of its birth, however, with three factories in town and two more in nearby Elgin.
[caption id="Dateline_img5" align="aligncenter" width="453"]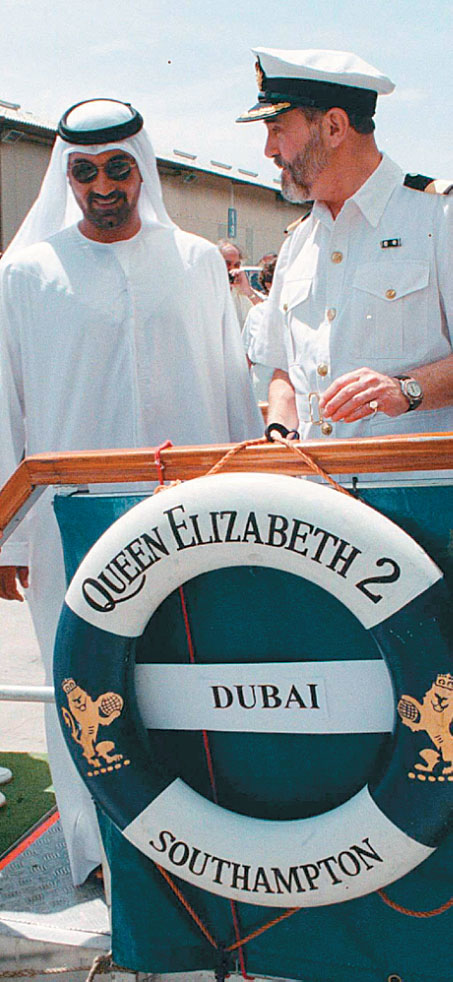 21
The QE2 heads for drydock.
[/caption]
QE2 FLOATS IN DUBAI
After almost 40 years as the world's most famous ocean liner,
Queen Elizabeth 2
has been sold to Dubai. The royal lady has completed more than 800 transatlantic crossings and 25 world cruises since entering service in 1969. With more than 5½ million nautical miles under her hull,
QE2
is thought to have traveled farther than any other ship in history. Now,
QE2
will find its final berth off Palm Jumeirah, Dubai's largest man-made island, as a luxury floating hotel and shopping arcade.
Lakenheath, Suffolk
Cranes Return to the Fens
[caption id="Dateline_img6" align="aligncenter" width="728"]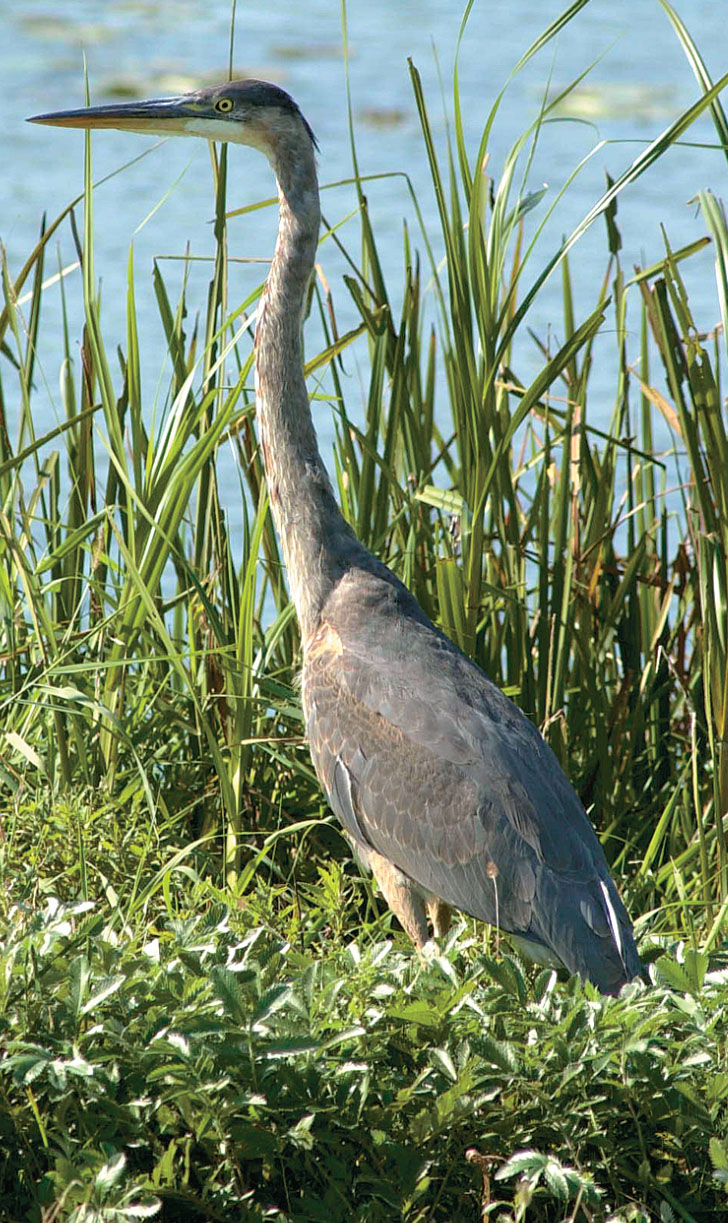 21
Cranes in the Fens are just wild!
[/caption]
WITH THEIR trumpeting call and 7-foot wingspan, common cranes are a dramatic sight in the wild. For the first time in 400 years, cranes have been found breeding in the Fens of East Anglia. Drainage of the Fens to create arable land centuries ago led to the disappearance of the crane as a breeding bird in the wetlands by the end of the 16th century. [See British Heritage, May 2007, "The Fens," P. 43.]
This year, the huge birds were discovered nesting at the Royal Society for the Protection of Birds' (RSPB) nature reserve at Lakenheath Fen in Suffolk. The site is certainly being monitored and has the RSPB and bird watchers everywhere warbling with excitement. As it happens, the discovery came just as the RSPB opened its new visitor center in May at Lakenheath Fen.
'Cromwell coined the phrase "warts and all" as he did not want to be flattered by his portrait'
London

Cromwell Looking Like a Million
[caption id="Dateline_img7" align="aligncenter" width="712"]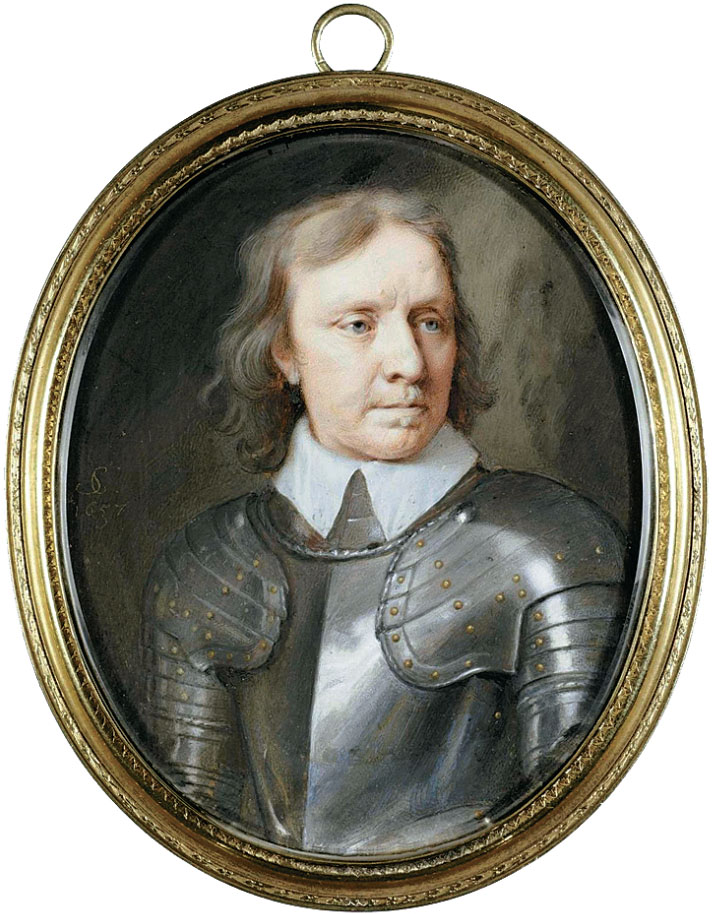 21
[/caption]
A 1657 PORTRAIT OF OLIVER CROMWELL was sold at auction this summer for r£535,300. The Warwickshire art gallery, Compton Verney, paid five times the guide price at Sotheby's in London for the famous painting.
Known as the Harcourt Miniature, the painting is by Cromwell's favorite artist, Samuel Cooper, and believed to be the image from which all later portraits of the Commonwealth leader were taken. It was while sitting for this portrait that Cromwell coined the phrase "warts and all," having told the artist famously, "Use all your skill to paint my picture truly like me and not flatter me at all." Sotheby's reports that the purchase price is the highest ever paid for a miniature in Europe.
[caption id="Dateline_img8" align="aligncenter" width="1024"]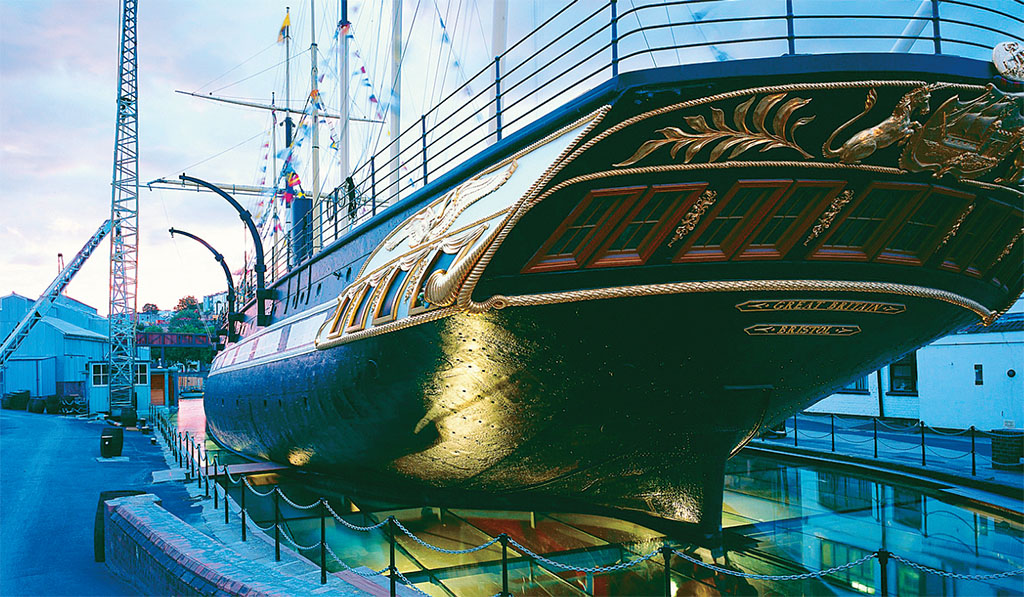 21
The magnificently restored steamship built by I.K. Brunel draws crowds to its drydock in Bristol.
[/caption]
Bristol

SS Great Britain Wins Tourism 'Oscar'
PERHAPS THE HEADLINE SHOULD READ "Brunel Triumphs Again." SS Great Britain has received a special award as Europe's top industrial museum for 2007 by the European Museums Forum. Built in a Bristol dry dock by the great Victorian engineer Isambard Kingdom Brunel, SS Great Britain was launched in 1843. The world's first iron-hulled, screw-propeller passenger liner was the largest vessel in the world at the time. After a long and checkered history, and years of restoration by its private owners, the SS Great Britain Trust, the steamship receives 200,000 visitors a year in dry dock in Bristol. The award recognizes the Trust's contribution to tourism, heritage, conservation and education.
Cardiff

If I Ruled Wales
WHEN THE QUEEN opened the third session of the Welsh Assembly in Cardiff early this summer, she heralded "a new era of devolution." Provisions of the assembly's extended powers under the Government of Wales Act mean that anyone in Wales is entitled to propose their ideas on how these powers should be put into law. Now, BBC Wales has launched an initiative named If I Ruled Wales, calling on people to formulate ideas on the laws they want implemented.
[caption id="Dateline_img9" align="aligncenter" width="728"]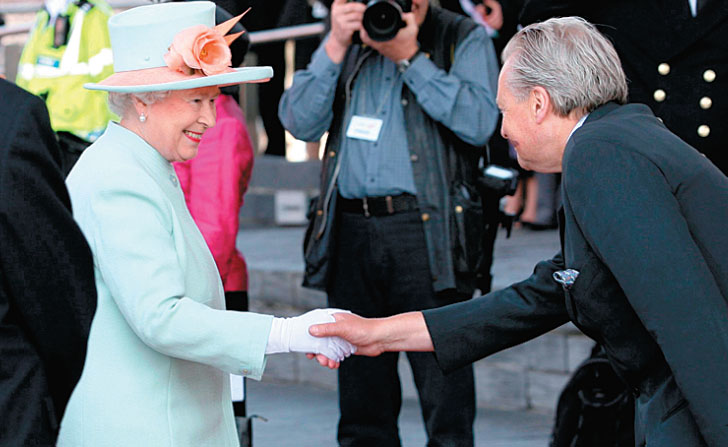 21
The Queen opens the Welsh Assembly.
[/caption]
The cauldron of ideas sent by e-mail, phone and post will be studied by a panel of experts who will decide what suggestions have the best chance of actually becoming laws. An audience will pick a winning entry, which will be ceremonially presented to the presiding officer of the Welsh Assembly for its consideration.
While the If I Ruled Wales initiative may seem a daft new take on government by populism, BBC Wales hopes the exercise will explain the legislative process to the public and educate them on what the Assembly can and cannot do under the new act of devolution.
[caption id="Dateline_img10" align="aligncenter" width="453"]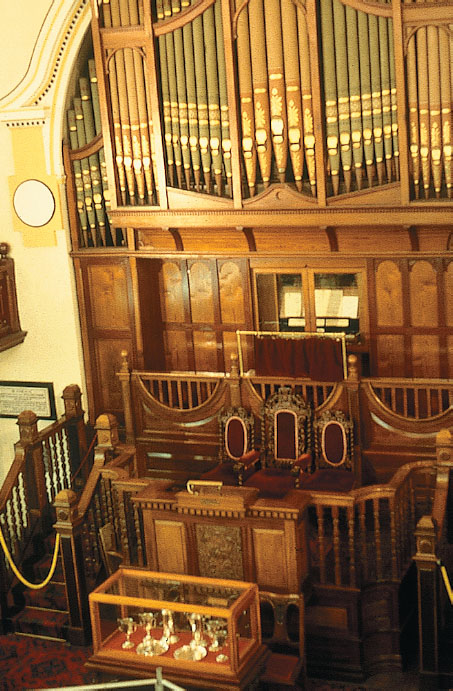 21
John Hughes composed here.
[/caption]
"CWM RHONDDA" REMEMBERED
One of Wales' best-loved hymns turns 100 this year. Sung by generations of Welsh male voice choirs and rugby fans, "Cwm Rhondda" ("Guide Me, O Thou Great Jehovah") was composed by John Hughes in Pontypridd in 1907. A service celebrating the hymn's centenary was held at Salem Chapel in nearby Tonteg, where Hughes is buried. The composer's gravestone has been restored for the occasion.
[caption id="Dateline_img11" align="aligncenter" width="561"]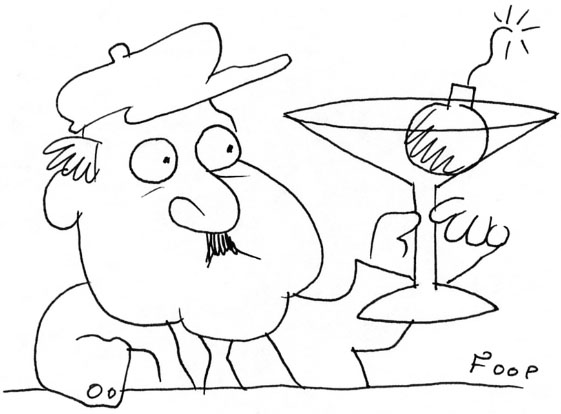 21
Years of quiet drinking?
[/caption]
BOMBS AWAY IN EAST LULWORTH
A man digging with a spade in the beer garden of the Weld Arms pub in East Lulworth, Dorset, uncovered an unexploded World War II bomb lying just beneath the turf. The pub and nearby homes were evacuated while a team from the Royal Engineers removed the 2½-foot device, taking it to nearby East Lulworth military range to detonate. Containing roughly 150 pounds of high explosives, the long-forgotten bomb could have taken down the pub and demolished surrounding houses. It's good they drink gently at the Weld Arms.
[caption id="Dateline_img12" align="aligncenter" width="448"]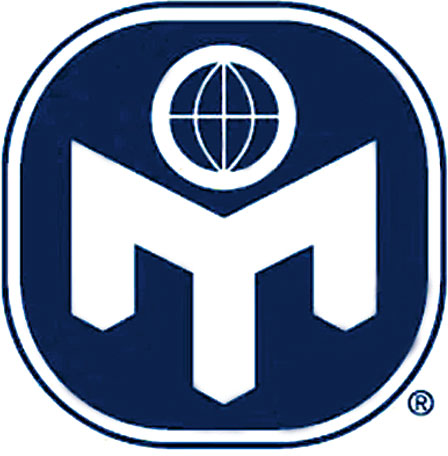 21
Georgia on Mensa's mind?
[/caption]
BRAINY TODDLER JOINS MENSA
At 2 years old, sweet Georgia Brown of Aldershot, Hampshire, has become the youngest member of Mensa. Her IQ score of 152 on the Stanford-Binet IQ scale has astounded experts. Baby Georgia was holding full conversations at 18 months. She can draw a perfect circle and answer questions most 6-year-olds cannot.
[caption id="Dateline_img13" align="aligncenter" width="453"]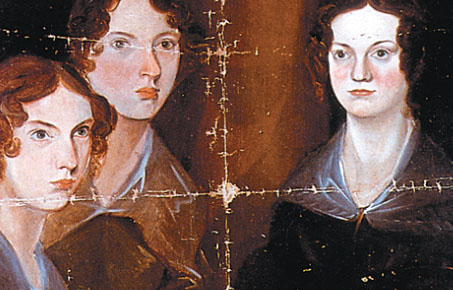 21
Bronte's birthplace for sale.
[/caption]
HERE'S A NOVEL IDEA
Fancy a four-bedroom house in Bradford? The Grade II-listed building that's up for sale on Market Street was the birthplace of each of the three novel-writing Bronte sisters. All were born there before the family moved to the more famous parsonage in Haworth in 1820.
Linlithgow, Midlothian

King's Fountain Flows Again
[caption id="Dateline_img14" align="aligncenter" width="1024"]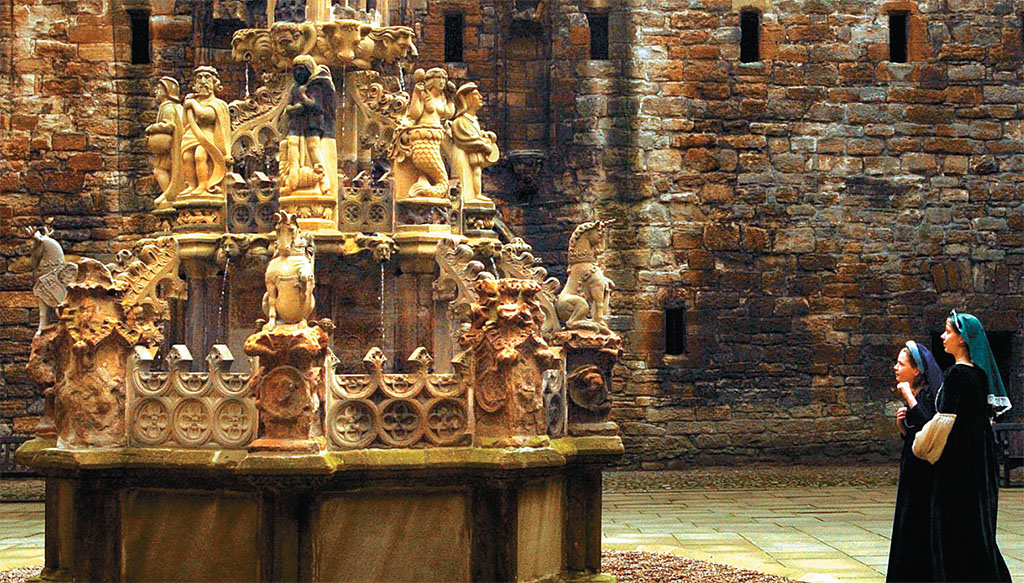 21
Water tumbles again from the Tudor fountain at Linlithgow Palace.
[/caption]
A MAJESTIC PIECE of Renaissance stonemasonry has been restored to working order after decades of neglect. The King's Fountain at Linlithgow Palace was built in 1538 by King James IV, largely to demonstrate the Scottish monarchy's pomp and circumstance to England's King Henry VIII. More than 5 yards across, the King's Fountain is elaborately shaped in the form of a crown. Water pumped up through the structure flows down through three tiers of stone bowls. Most famously, the fountain reputedly flowed with wine to celebrate the arrival of the Jacobite hope, Bonnie Prince Charlie, in 1745. In the early 20th century, chemicals that were used to kill algae caused debilitating damage to the waterwork.
After undertaking extensive restoration work, Historic Scotland has the King's Fountain in working order again. Though the age and fragile condition of the stonework means the fountain can only run part-time, visitors to the palace of Scottish kings now can see the unusual piece of craftsmanship in action once more.
The Old Royal Forests

Hug a Fat, Old, Gnarled Tree
[caption id="Dateline_img15" align="aligncenter" width="846"]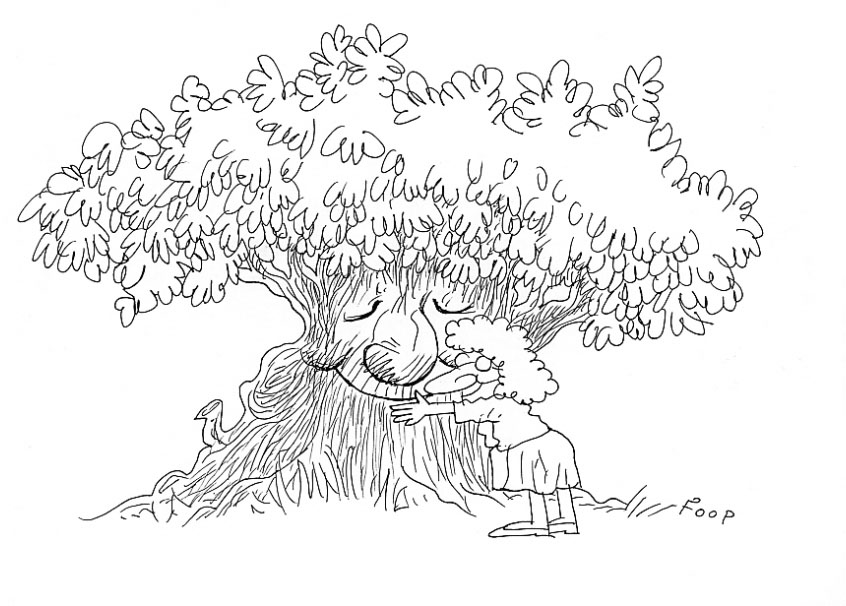 21
[/caption]
The Woodland Trust has announced a five-year project aiming to create a database of Britain's 100,000 most ancient trees. In launching the Ancient Tree Hunt, the Trust's president, TV personality Clive Anderson, said: "We want people to look out for and record trees which are particularly old, fat and gnarled, and I am just the person to get this message across."
Because of its royal hunting forests dating back to the Norman Conquest, Britain has more ancient trees than anyplace in Europe. Yews, oaks, Scots pine and ash are likely to show up on the resulting list. The Fortingall Yew not far from Rob Roy's grave near Callendar is regarded the oldest tree in Britain—at nearly 5,000 years. Folks can join the Tree Hunt in churchyards, old-growth forests and open country from Exmoor to the Highlands.
Machynlleth, Powys

Debut of The World
[caption id="Dateline_img16" align="aligncenter" width="638"]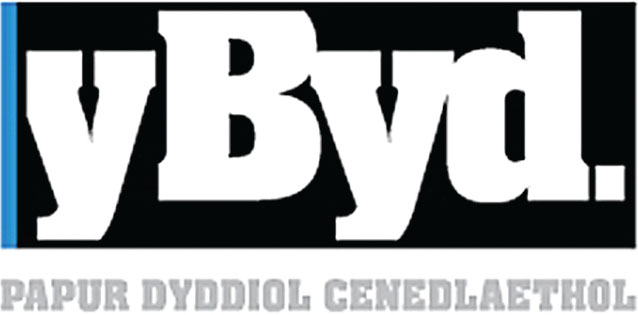 21
[/caption]
PLANS HAVE BEEN UNVEILED for launching the first national daily newspaper in the Welsh language. The first Monday in March will see the launch of the publication Y Byd (The World). Headquartered in Machynlleth, the paper intends complete coverage of Welsh, UK and international news, including sports, business, lifestyle and politics. Journalists and sundry talking heads are terming the venture both ambitious and historic. Former BBC Wales presenter Aled Price has been appointed editor.
"Y Byd will revolutionize journalism in Welsh," Price said. "For the first time Wales will have a national daily newspaper in Welsh."
York

Cutting the Ties That Bind?
[caption id="Dateline_img17" align="aligncenter" width="752"]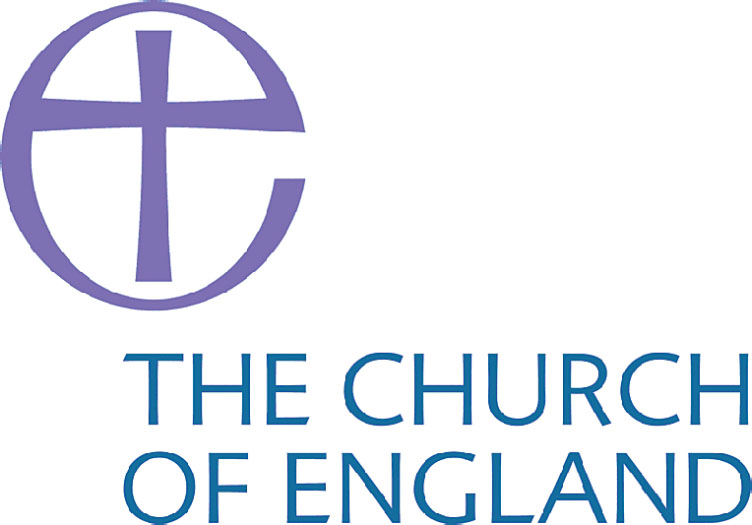 21
[/caption]
CHURCH AND STATE COULD BE MOVING farther apart in Britain. At its General Synod in York, the Church of England has been debating the role of the Government in ecclesiastical appointments. New Prime Minister Gordon Brown has indicated his willingness to surrender the Crown's historic right to appoint diocesan bishops and cathedral deans.
There is a strong movement in the Church to separate the affairs of church governance from its historic ties to the state, particularly in the choosing of its chief executives. Nonetheless, traditionalists fear that going too far in severing such ties will inevitably cost the Church the representation of its bishops in the House of Lords. Yes, even the Church can be guilty of wanting to both eat and have its cake.
Kirriemuir, Angus

Controlling Illegal Immigration?
[caption id="Dateline_img18" align="aligncenter" width="736"]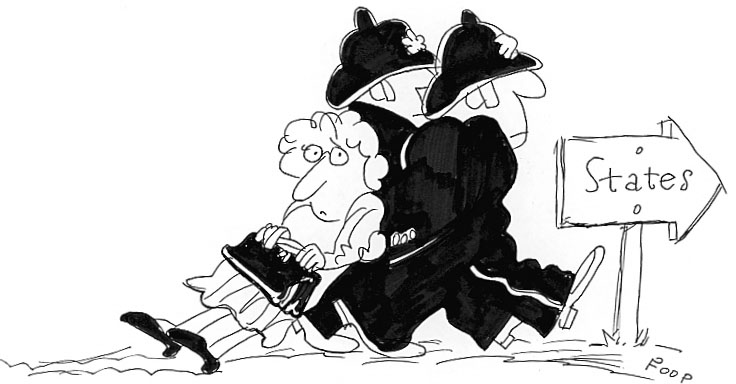 21
[/caption]
A WOMAN WHO HAS LIVED in Scotland 78 years is faced with deportation as an illegal immigrant. Marguerite Grimmond, born in Detroit in 1927, moved with her Scottish mother to Arbroath when she was 2. Grimmond had never actually applied for British citizenship. Upon Grimmond's return this year from her first-ever foreign holiday in Australia, immigration officials told Grimmond she would be legally required to return to America.
"I've been an illegal immigrant would you believe, but I've paid taxes and done all the right things," Grimmond said wryly. "I don't know anyone in America. I would just be fair lost, to put it mildly." Grimmond has now applied to become a naturalized British citizen. It is gratifying to see that British immigration officers are efficiently securing British borders.
[caption id="Dateline_img19" align="aligncenter" width="453"]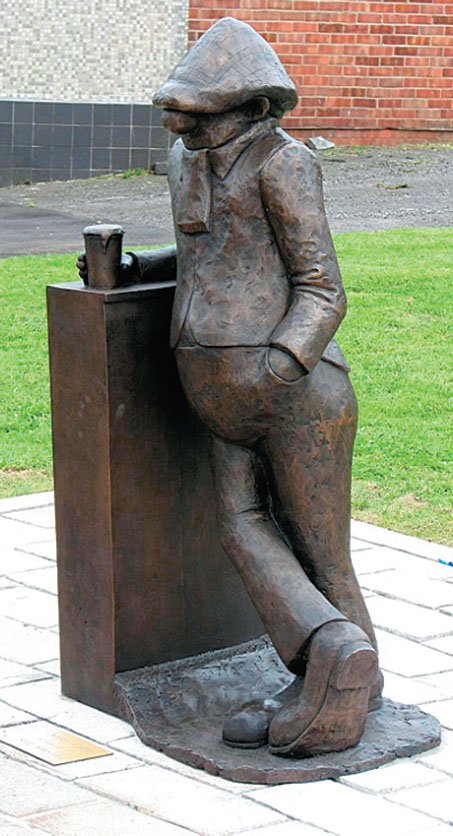 21
Andy Capp in Hartlepool.
[/caption]
HATS OFF TO ANDY CAPP
Half a century after Reg Smythe's Andy Capp first appeared in the
Daily Mirror
in 1957, a statue of Smythe's working-class hero has been unveiled by the cartoonist's widow in his hometown of Hartlepool. The 5-foot bronze sculpture of Andy Capp stands outside the Harbour of Refuge pub, and features Capp in his customary relaxed pose, pint of beer in hand.
[caption id="Dateline_img20" align="aligncenter" width="453"]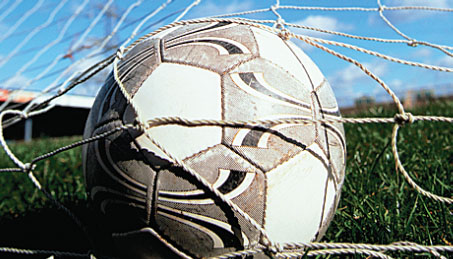 21
Combat on the pitch.
[/caption]
PEACE BEATS WAR IN BRADFORD
After a 1-1 draw, the issue was settled by penalty kicks in a 4-3 shootout. Bradford University's Peace Studies Football Club defeated the Kings College War Studies Football Club. The Peace Studies FC thus claimed the trophy, fittingly enough named the Tolstoy Cup, at the Intersonic Stadium, Valley Parade, Bradford. Sometimes peace wins.