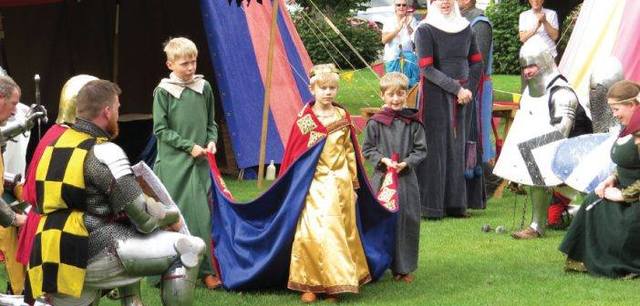 Travel Next Summer with
British Heritage Travel
13
W
ith the winter holidays approaching, veteran British travellers are already making plans for visits to our sceptered isle next summer. Early response to our new BHT tours for August has far exceeded our expectations.
13
Both Celebrating Jane Austen and Stately Homes of Oxford & the Home Counties promise exceptional travel
experiences in the company of fellow interesting BHT readers and our own popular gadabout London and resident Regency fan Sandra Lawrence.
Albionjourneys.com/british-heritage
Best in Show at The Fringe
A
s is custom, we always share with readers the winner of the prestigious best one-line joke award presented at the Edinburgh Fringe Festival. This year's giggle champion, quipped by comedian Masai Graham from West Brom, was about organ donation:



"My dad suggested I register for a donor card—he's a man after my own heart."



Plymouth and Boston Illuminate for Thanksgiving
AT PLYMOUTH, DEVON, AND BOSTON, LINCOLNSHIRE on November 26, Thanksgiving will be celebrated in style. The public celebrations Illuminate Plymouth Hoe and Boston's vast Market Square with elaborate paper lanterns and puppet creations in commemoration of the Thanksgiving of the Pilgrims. This will be the third year that Illuminate has filled the streets with parades and ceremonies held as part of Mayflower 400, counting down to the 400th anniversary of the Pilgrim crossing in 1620.
mayflower400uk.com
13
13
Another Historic Resident
I have been a subscriber for quite a few years, and I look forward to each and every issue. I have been most impressed with all the history (not just tourist info) incorporated into the magazine. I feel compelled to write you about a concern I have with the "Take Ten" feature on Heroes and Statesmen. I immediately recognized the photo of Broadlands in Hampshire. Though Lord Palmerston is indeed an iconic figure in British history, Lord Mountbatten of Burma certainly should have been mentioned, as he was both a hero and a statesman. Thank you once again for a splendid publication.
Ann Elizabeth Zibrat Kingwood, Texas
13
Editor's Note: Ann Elizabeth is certainly correct. Lord Louis Mountbatten was a hero as a naval commander in World War II, and later the last Viceroy of India, overseeing the partition of India and Pakistan and negotiating Britain's withdrawal as colonial power on the Indian subcontinent. Lord Mountbatten, uncle of Prince Philip, made his home at Broadlands. Readers may remember Mountbatten was assassinated by the IRA in a 1979 bombing at age 79. His grave and memorial lie down the street in Romsey Abbey.
Bryn Eryr Iron Age Farmstead at St. Fagans
13
THE FIRST BUILDING to be completed as part of the St. Fagans National History Museum redevelopment project, Bryn Eryr, the Iron Age farmstead, is now open to the public. Based on an archaeological site near Llansadwrn in the eastern corner of Anglesey, Bryn Eryr recreates a small Iron Age farmstead. The rural settlement consists of two roundhouses built with six-foot thick clay walls and large conical thatched roofs. The biggest redevelopment project in the history of St. Fagans National History Museum is helping tell the stories of life in Wales over 2,000 years and more. The second most visited open-air museum in Europe, and Wales most popular heritage attraction, St. Fagans attracts more than 600,000 visitors annually.
museum.wales/stfagans
13
Catch the Pantomime for Christmas Fun
13

T
here is no more uniquely British seasonal holiday tradition than the Pantomime. If you're in town at the Christmas season, London offers several opportunities to experience the laughter and the general insanity of the proceedings—and the audience of all ages. Don't pass by your chance to boo the archvillains, cheer the heroes and groan at the classic antics. From
December 10–January 15,
Cinderella
brings pantomime back to the West End for the first time in years at the London Palladium.
November 23–December 29
fly with
Peter Pan
at the National Theatre Olivier. Mother Goose waddles in fresh from Gooseland at Wilton's Music Hall for a stay
December 2-31
. Sleeping Beauty gets little rest at the Richmond Theatre from
December 2–January 8.
All together now: He's behind you!
www.londontheatres.co.uk
God Save the King! – Gloucester crowns a young prince
13
WITH RECENT frequent and frantic changes to British politics, you understandably may have missed the coronation of a new king. Crowds of citizens, and a few lucky tourists, packed Gloucester Cathedral on September 10th to witness the crowning of a young prince to become King Henry III. Yes, a re-enactment of course—but carried out with great reverence and attention to detail. The event commemorated the 800th anniversary of the actual coronation itself—the last time an English or British King was crowned outside London. Attended and blessed by the Bishop of Gloucester, the Right Rev. Rachel Treweek, the ceremony certainly had a feeling of authenticity, and drew great interest from all ages.
Young Frazer Martin (11) was the lucky applicant chosen to play the slightly younger 9-year-old Henry. Frazer had to have a head for heights as he was carried in procession through the city, and be confident enough to speak in front of a packed cathedral. He gave a regal and dignified performance, while the bishops and knights in attendance pledged their allegiance, and his modern day subjects took photos on cell phones.
13
In the fragile political vacuum caused by the death of a king in medieval Britain, loyalists wanted to see the young prince crowned as quickly as possible after the demise of his father, the very unpopular King John. Gloucester Cathedral was chosen as the venue—then St. Peter's Abbey—with the Pope's representative in attendance as well as Sir William Marshall, Henry's new guardian.
The Royal crown had been lost or sold in a previous skirmish, so young Henry was crowned in both 1216 and 2016 with a simple gold band. Gloucester citizens in 1216 were told to wear a gold ribbon around their heads to show allegiance to their new king. In 2016, all cathedral visitors were offered yellow ribbons to do likewise. With ribbons in place, enjoying this great sense of occasion, the modern congregation cried out "God Save the King"
loudly when instructed to by the imposing players in the nave.
[caption id="" align="aligncenter" width="558"]
13
A packed crowd in Gloucester Cathedral gathered a complete re-enactment of the coronation of 9-year-old King Henry on the 800th aniversary of the 1216 ceremony.[/caption]
As part of the inaugural and extensive Gloucester History Festival, the event was carried out with details to delight all the senses. Shafts of light shone through the west door that is usually closed, but opened on this special occasion, allowing the procession straight through to the pulpit. The cathedral floor was strewn with rosemary and sage and the scent of incense cast around the carved wooden throne.
13
 Visitors with plans for a late autumn visit to the Cotswolds may be able to catch the later talks and music events linked to Henry III at the end of October. A Henry III exhibition in Gloucester Museum will be running until early 2017.
The king's legacy as a monarch is always debated by historians, but the 9-year-old at his coronation had all this yet to come. God Save the King! At least for just one September day in Gloucestershire.
Rebecca Gardner