Producer or park-keeper for the 21st century?
[caption id="DownontheFarm_Feature" align="aligncenter" width="586"]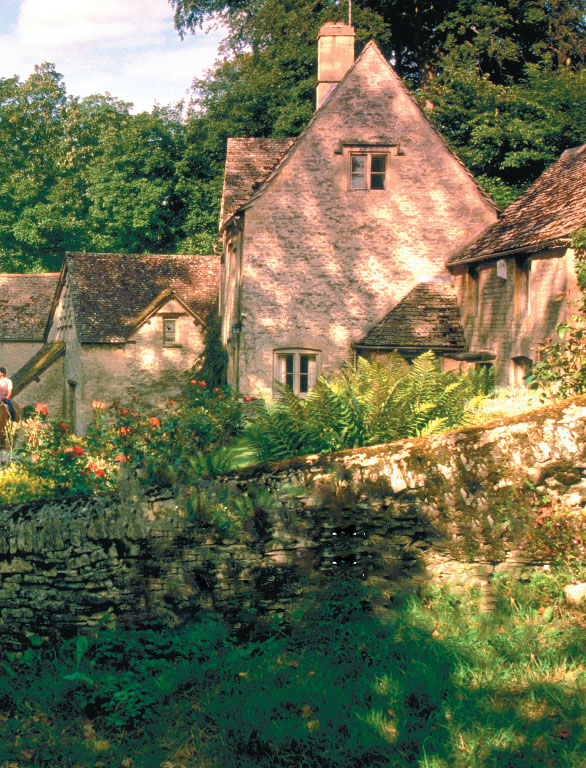 12
Across Britain's green and pleasant land, the agricultural economy and agrarian way of life face new challenges and prompt creative new survival strategies (www.britainonview.com).
[/caption]
More than 80 percent of the British countryside is farmland worked by farmers. Those idyllic rural scenes that delight—patchwork fields fretted by hedge or dry-stone wall, hill and moor grazed by sheep—are the visual fruit of centuries of agricultural labor. They've been the inspirational back cloth for countless artists and writers, for John Constable's The Hay Wain and Thomas Hardy's Wessex.
Given the importance of farming to the nation, historically and culturally, plus the suitability of its topography and climate to certain livestock and crops (cattle/sheep, wheat/barley to name the most obvious), it seems curious that Britain is just 60 percent self-sufficient in foods (73.3 percent in indigenous type foods). Put another way, its trade deficit in food is nearly £10 billion per annum. The country is less dependent on agriculture as a percentage of gross domestic product than any other major nation (less than 1 percent in 2004).
Figures vary according to sector—we usually produce enough milk to slake our thirst, for example, yet we're well short of self-sufficiency in butter, stocking supermarket shelves with New Zealand and Irish goods to cover the shortfall. We're net exporters of wheat and barley, but despite our ideal growing conditions for potatoes, staples of the British diet for two centuries, we're substantial importers.
Surprising? Behind the lyrical landscape, there's a knotty old tale covering several millennia of agrarian evolution that takes some unraveling to understand where we are today in the matter—and to address the pressing question, What exactly is the 21st-century role of the British farmer: producer or park-keeper?
The first British farmers emerged around 6,500 years ago, clearing the native wild wood to use open land to grow wheat and barley, and tend sheep, cattle, goats and pigs. Fast forward to the arrival of the Romans, and it's not just military might they brought to Britain but new crops such as cabbage, parsnip, walnuts and vines, better plows, scythes and techniques in storage. Larger estates and the beginnings of a market economy improved on native subsistence farming, and hedges, fences and ditches became more common.
[caption id="DownontheFarm_img1" align="aligncenter" width="1024"]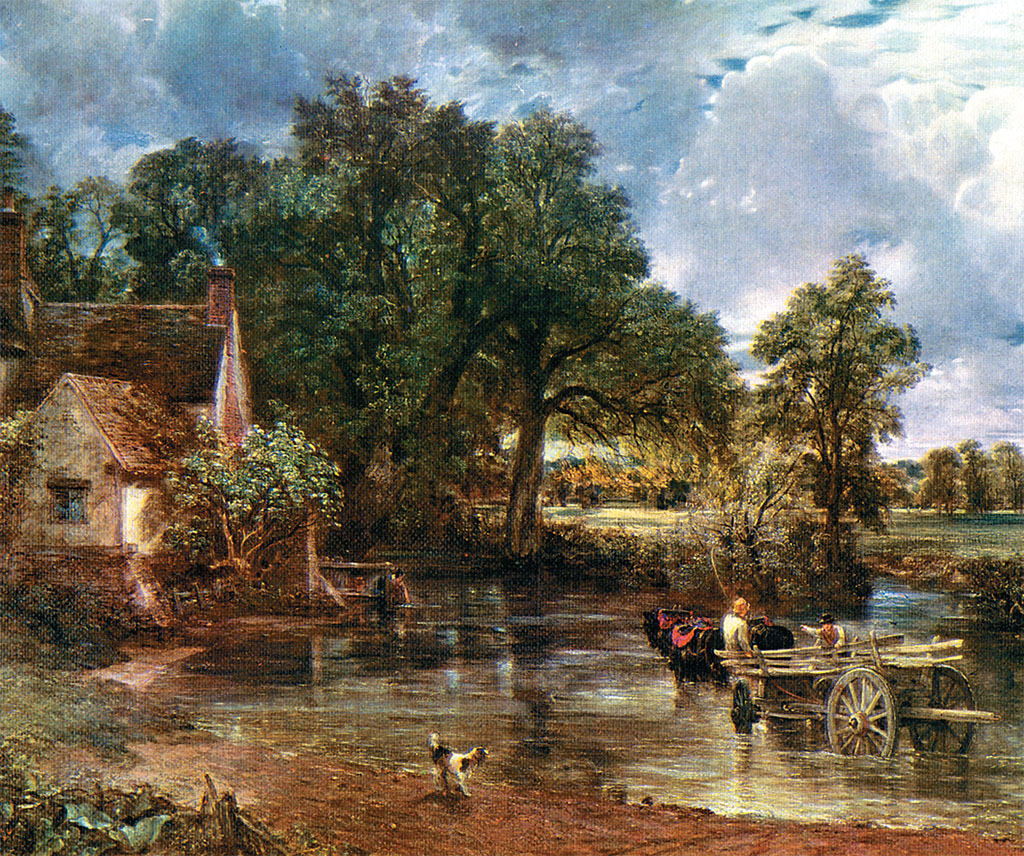 12
For centuries, the pastoral lifestyle captured famously in John Constable's painting

The Hay Wain

remained largely unaltered. Jethro Tull's seed drill (shown below) began a process of mechanization in the early 1700s.
[/caption]
[caption id="DownontheFarm_img2" align="alignright" width="1024"]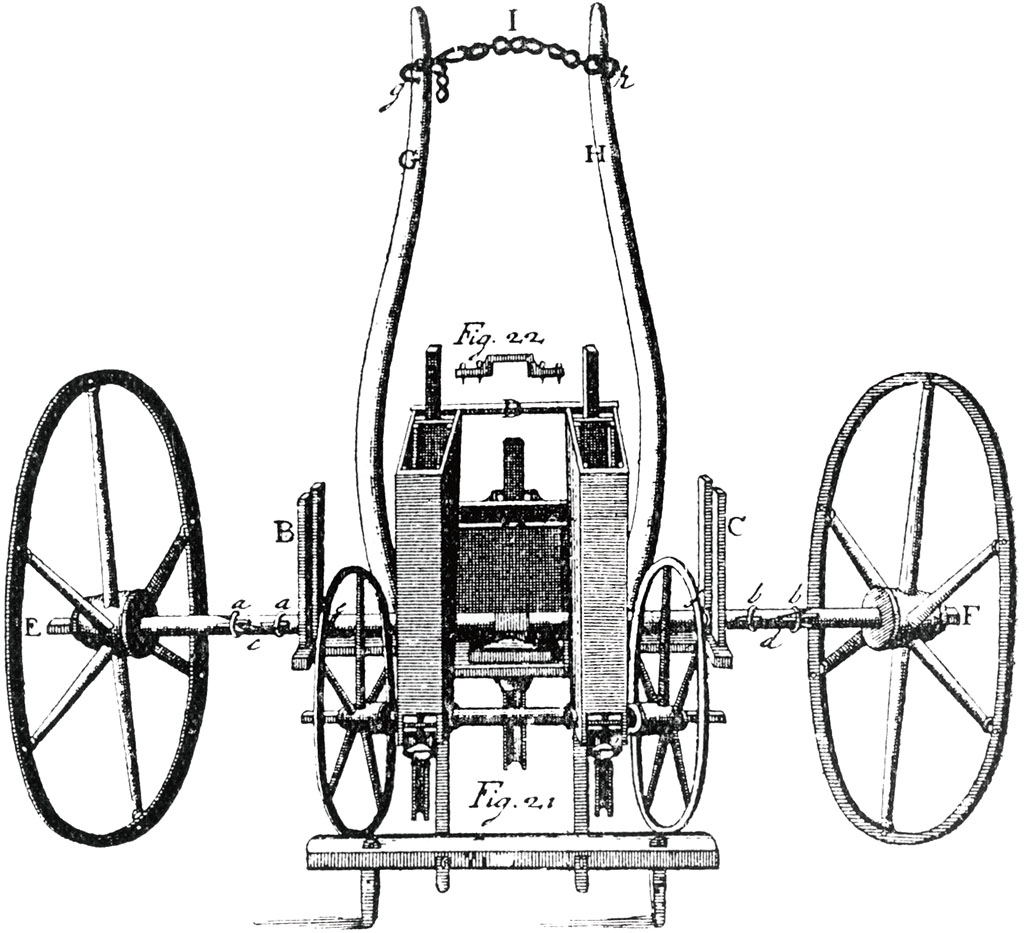 12
[/caption]
When the legions left, Celtic agriculture reverted to a subsistence structure. But a leap over the Saxons to the Domesday Book and its record of life under the Normans indicates that by the 11th century rural farmsteads in England had begun to nucleate, while the quintessential tableau of manor house, village and church was developing. Conquest had far-reaching consequences for land ownership, too: around half was concentrated in the hands of 170 tenants in chief, with the rest split between king and church.
During the Middle Ages, laborers worked the land in the open field system, with strips divided among the community. Of the circa 7 million population in 1300, most were still in some way connected with farming. This was also the golden age of wool exports, peaking at about 12 million fleeces a year, with flocks numbering nearly 20 million sheep. And an age of disasters—famine (1315-22) and plague (the Black Death from 1348)—cut the population by half. Some lords, unable to find enough peasants to work their land, took to letting it to farmers and tenants, who began enclosing their fields.
The process of field enclosure grew in momentum until, between 1730 and 1820, it was sanctioned by no less than 3,500 separate Acts of Parliament. Now an agrarian revolution was underway, and to push through innovation on a large scale, the abandonment of the medieval open field/strip system in favor of single enclosed fields was a necessity. The planting of some 200,000 miles of hedges transformed the rural landscape, to the great dislike of those smallholders who were dispossessed or lost out to larger, capitalist farmers. At that time in Scotland, the notorious Highland Clearances also saw tens of thousands of tenant farmers evicted by the aristocratic landowners chasing more lucrative uses of their domains.
The traditional connection, that the countryside is a by-product of growing food, is being broken
Much good came out of change, however. The same spirit of invention that fired the Industrial Revolution improved farming, making it a true commercial enterprise. Scientific stockbreeding and new agricultural implements such as Jethro Tull's wheeled seed drill, in place of scattering by hand, increased efficiency and output. Root crops such as swede and potatoes arrived from the Americas. "Turnip" Townshend—Charles, 2nd Viscount Townshend—championed the four-course rotation of turnips on his Norfolk estate, and other landed aristocrats were equally quick to espouse innovative ideas. Even King George III, "Farmer George," though he lost the American colonies and his mind, was passionate about farming, contributing to the Annals of Agriculture under the pseudonym Ralph Robinson.
Over the 19th century, farming became more distinctly regionalized, with cropping to the south and east of the country and pasture to the west and north. Steam engine–powered plows and threshing raised productivity, and famine became rare—though in Ireland 1 million died during the catastrophic potato blight in the 1840s. The latter half of the century turned gloomy in mainland UK, too, with bad harvests and international competition, including from the grain prairies of North America, throwing farming into a 30-year depression.
Fewer people now were employed in agriculture—just 22 percent of the 50 million population by 1850—and although the industry remained fundamental to feeding the UK, its economic importance was waning. From contributing 20 percent to national income in 1850, its share had sunk to 6 percent by 1900. Additionally, urbanization meant that for more and more people the countryside was becoming a distant land, though the spread of the railway network encouraged the birth of rural tourism. A familiar modern picture was forming.
[caption id="DownontheFarm_img3" align="aligncenter" width="1024"]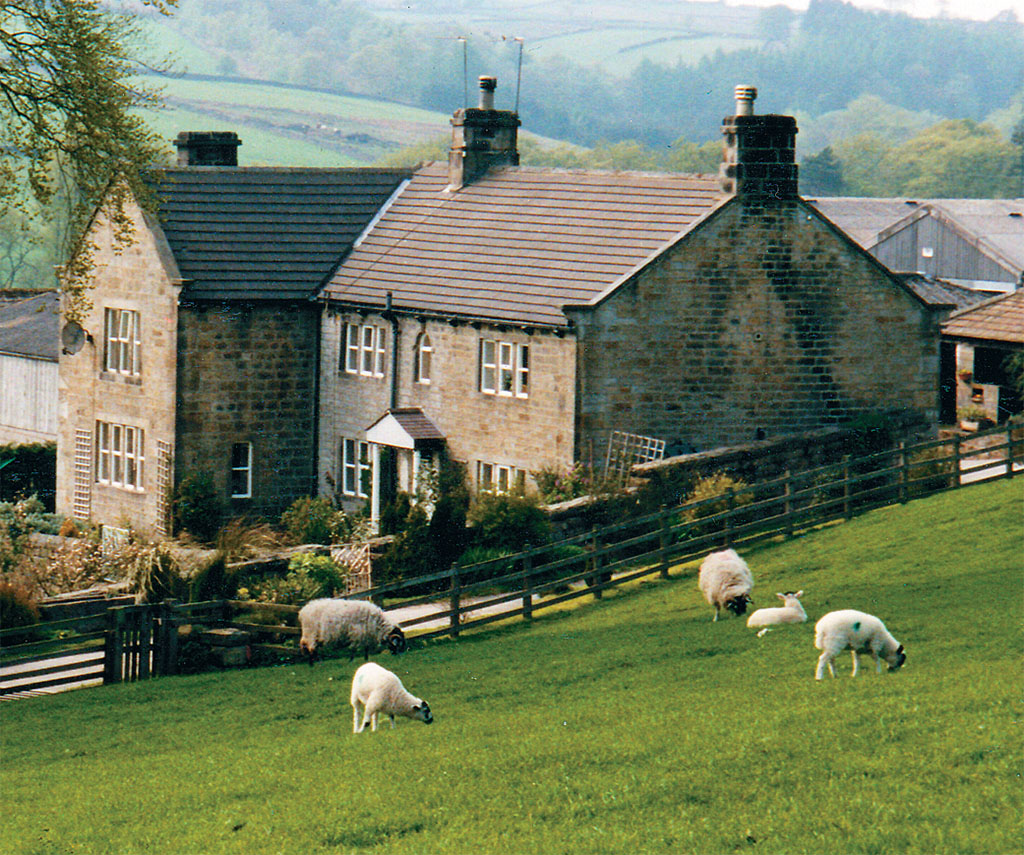 12
Most farmers today have had to diversify their means of income in order to survive on the farm. The Ryders at Scaife Hall Farm in West Yorkshire have been welcoming guests to their farmhouse B&B for the past 16 years.
[/caption]
[caption id="DownontheFarm_img4" align="aligncenter" width="677"]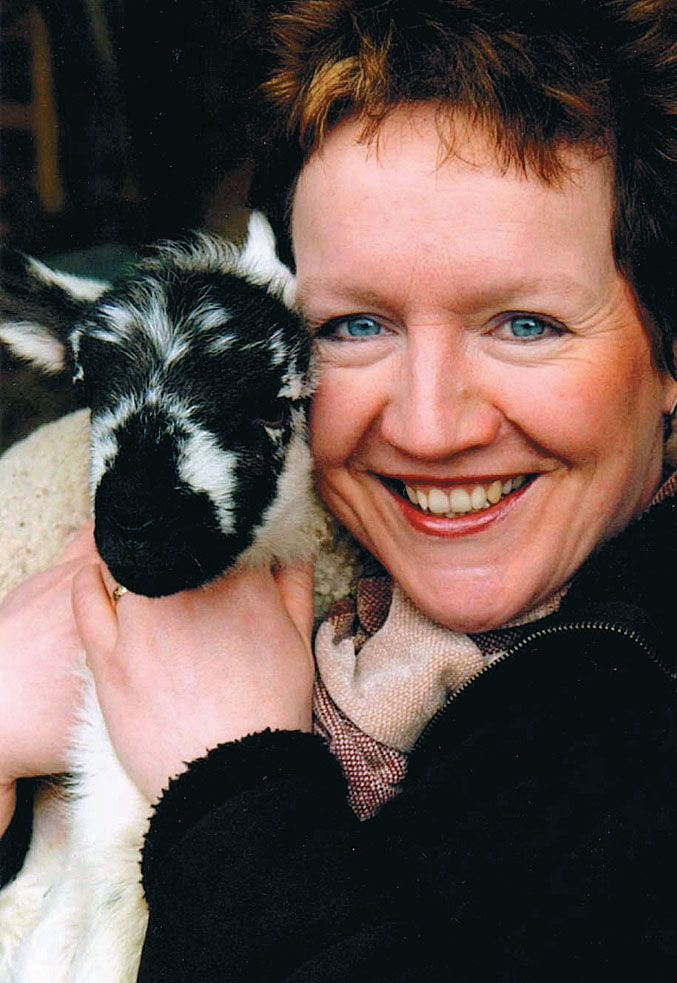 12
Christine Ryder fondly nuzzles one of the lambs on the 500 acres of Scaife Hall Farm.
[/caption]
In the early 20th century, the pattern of land ownership dramatically altered. The agrarian depression had taken its toll, and the introduction by the Liberal Government of death duties and a super tax forced many estates under the auctioneer's hammer. Between 1918 and 1922, a quarter of England changed hands. Many sitting tenants suddenly found themselves the owners of farms.
The other story of the century is one of further technological revolution and production intensification in pursuit of supply security. Both World War I and II prompted government intervention in farming in a bid to counteract blockade and disruption of imports, and to ensure that the nation could feed itself. Land that had been forsaken was plowed up and farmed again. A lesson had been learned. Postwar, the Agriculture Act of 1947, guaranteeing an assured market for produce, signaled that government policy would continue to underwrite agriculture. This was strengthened when Britain joined the Common Market—later the European Union (EU)—in 1973, and farming became subject to the Common Agricultural Policy (CAP) of the member states. Many times since have farmers and bureaucrats been at loggerheads!
Protectionism is nothing new—witness the 19th-century Corn Laws for example—and the aim of CAP was to create among members a single market for agricultural goods, protect the standard of living of producers and provide regular supplies at reasonable prices to consumers. This meant controlled imports (many in Britain felt historical trade with its Commonwealth countries was being betrayed), price support and a system of subsidies and grants to farmers. The policy has been the subject of much bickering between the growing number of member states and has been heavily criticized, particularly in Britain. CAP gobbles up £30 billion a year—50 percent of the EU budget—and financing it adds £9 to the weekly food bill for a British family of four.
One unfortunate consequence of CAP was wasteful overproduction, as some farmers exploited food-linked subsidies. Another was that intensive agricultural practices damaged habitats and landscapes. In Britain, as highly mechanized contract farmers running fewer, larger farms with huge fields began to dominate, more than 50 percent—200,000 miles—of hedgerows vanished post-1947. Once the disparaged chains of enclosure, they had become the much-loved threads that held the countryside picture together. Their loss sparked campaigns to save them, and hedgerow decline has now been halted and in some places reversed.
Crisis also hung over agriculture when it was hit by a series of livestock diseases, including "Mad Cow Disease" (BSE/Bovine Spongiform Encephalopathy), which peaked in 1992, and Foot and Mouth Disease in 2001. The industry now leads the way internationally in welfare-friendly production and standards of health and hygiene.
So where do we stand today? Throughout the 1990s, the government and EU encouraged farmers to produce less food and diversify their business. Many have embraced this idea, spurred by falling farm gate prices and the fact that in the 15 years to 2003 the British farmer's share in the food pound plummeted by 25 percent. The net average farm income today is £17,500—masking a range from £3,500 in lowland livestock grazing to £71,000 in specialist poultry. One survey estimates that 46 percent of England's 60,000 "full-time" farms (total number is just over double this) had diversified by 2005. In a quarter of the cases, income from diversification exceeded that from farming and, despite contrary public perception, a higher proportion of large enterprises than small ones have diversified.
[caption id="DownontheFarm_img5" align="aligncenter" width="1024"]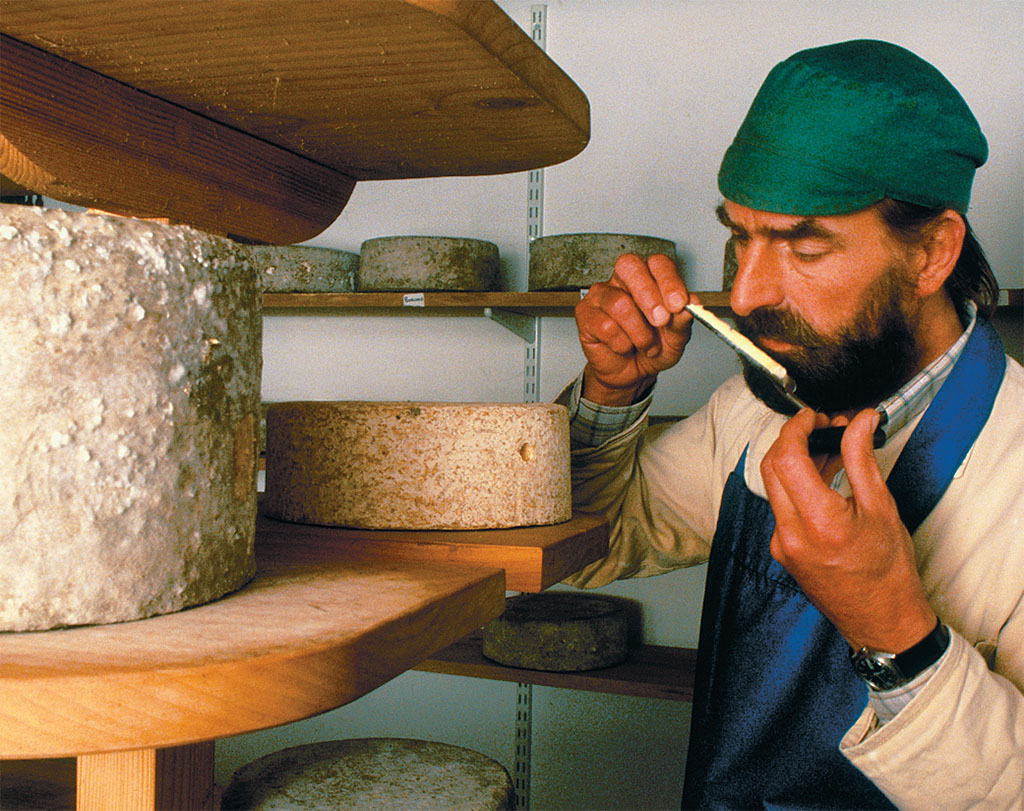 12
At Llangloffan Farm, cheese making is both an art and an income.
[/caption]
[caption id="DownontheFarm_img6" align="aligncenter" width="1024"]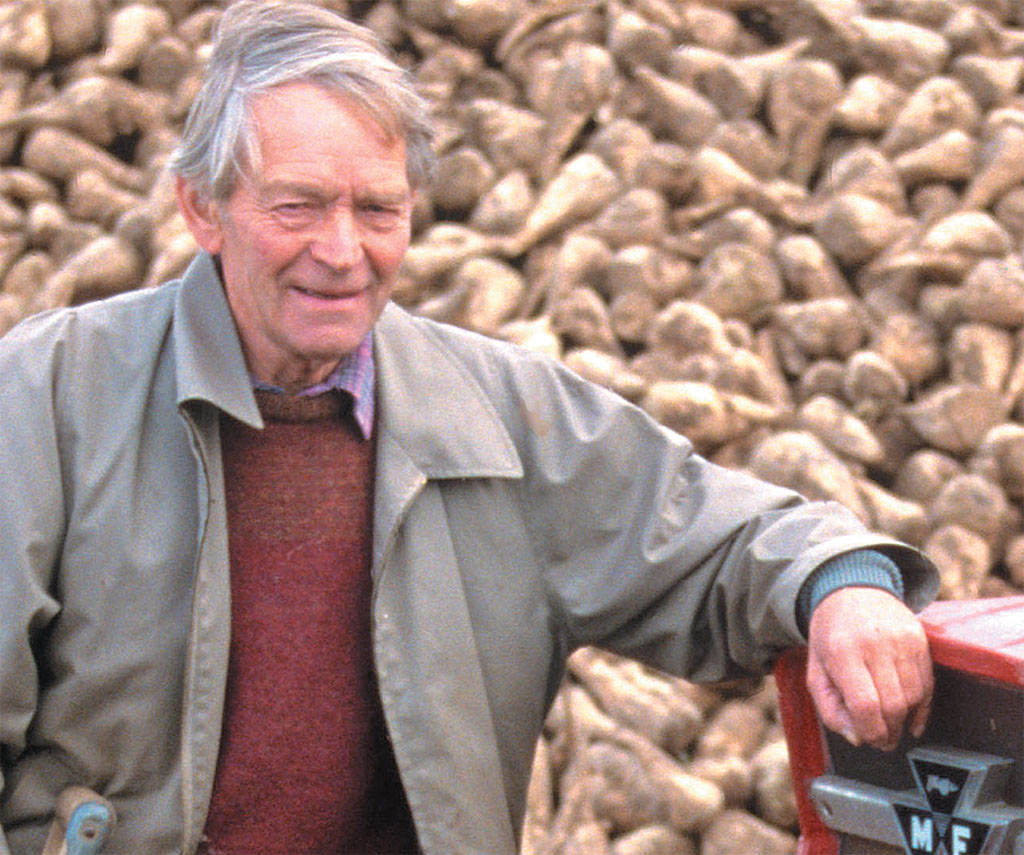 12
Sugar beets make a significant cash crop on the plains of Norfolk.
[/caption]
[caption id="DownontheFarm_img7" align="aligncenter" width="1024"]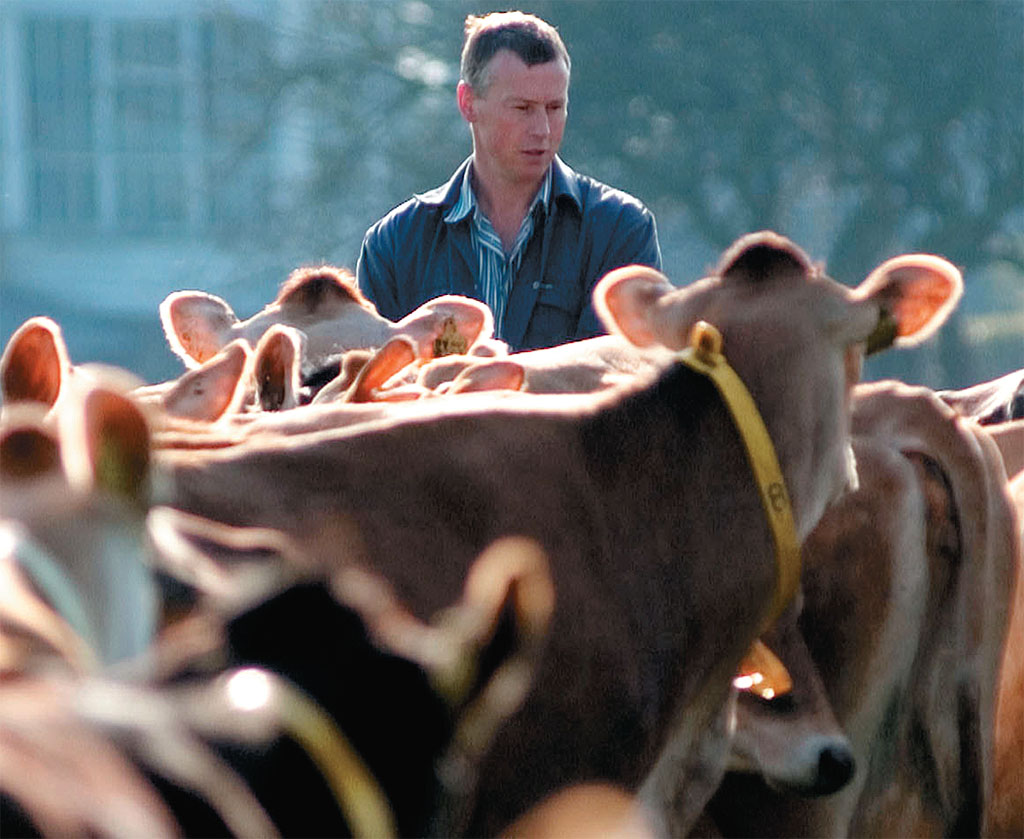 12
Jersey cows up in Northumberland give milk with the most butterfat.
[/caption]
Over the last few years I've met several farmers who have added a B&B to their business, offered horse hire holidays, moved into ice-cream and artisan cheese production, opened a naturist camp or set up sports facilities. Others have simply switched to niche markets and are producing biofuels or raising buffaloes for their meat. Chris and Christine Ryder are fairly typical of that trend. They run Scaife Hall Farm, a 500-acre sheep farm near Blubberhouses in West Yorkshire, and opened their house 16 years ago to B&B guests.
"You've got to look at all kinds of opportunities, utilizing what you've got," Christine says. In the Ryders' case, that means beautiful, peaceful countryside, the chance to bird watch and follow nature trails. "It's a challenge at lambing time when we've been on late-night and early morning shifts, and no matter how tired we are we have to remain jolly at breakfast!" Christine continues. "But doing B&B means we have a life rather than an existence. It pays for our social life and the upkeep of our home. In fact, some guests love to watch lambing and it's good for us to do some positive PR for British farming and food."
The couple have also diversified into directly selling their Wensleydale lamb to local restaurants and pubs, adding value to their product. It puts them less at the mercy of market vagaries, and means they avoid supermarkets altogether. Today, largely out of convenience, British folk buy 75 percent of their food from supermarkets—50 years ago it was just 20 percent. The village shop in many places is all but extinct. With such power, supermarkets have too frequently brought in imports from lower-cost countries, at the expense of home produce. You're as likely to find New Zealand lamb, beef from South America and chicken from China as homegrown goods. Cost versus quality—now there's a debate to be explored, if only there were room!
But there's a mini-revolution underway. Farmers' markets, where producers sell direct to customers, are flourishing across the country. Buy local, cut down on food miles to stop global warming, eat organic—all are buzzwords of our times. Prince Charles, outspoken on "green" issues, was in the vanguard of the organic brigade a couple of decades ago with his Home Farm at Highgrove in Gloucestershire. Restaurants and tourist boards have cottoned on, too, emphasizing their regional identity and quality through their food: Gloucester Old Spot pork, Cumberland sausages, Kentish ales, Stilton cheese. Even supermarkets, not slow to pick up on consumer trends, are now highlighting local fare.
Back to the EU: Momentous reform of CAP came into force in 2005 that broke the link between farm subsidies and food production. The "Single Farm Payment," to be phased in over several years, will eventually be totally "decoupled" (Eurospeak) from numbers of live-stock or acres of crops grown. Instead, farmers must observe various European directives and keep land in good agricultural and environmental condition, and there's encouragement to engage in environmental stewardship schemes to enhance landscape and wildlife. Hence the feeling among some farmers that they are becoming park-keepers not producers. The traditional connection, that the countryside is a by-product of growing food, is being broken.
[caption id="DownontheFarm_img8" align="aligncenter" width="1024"]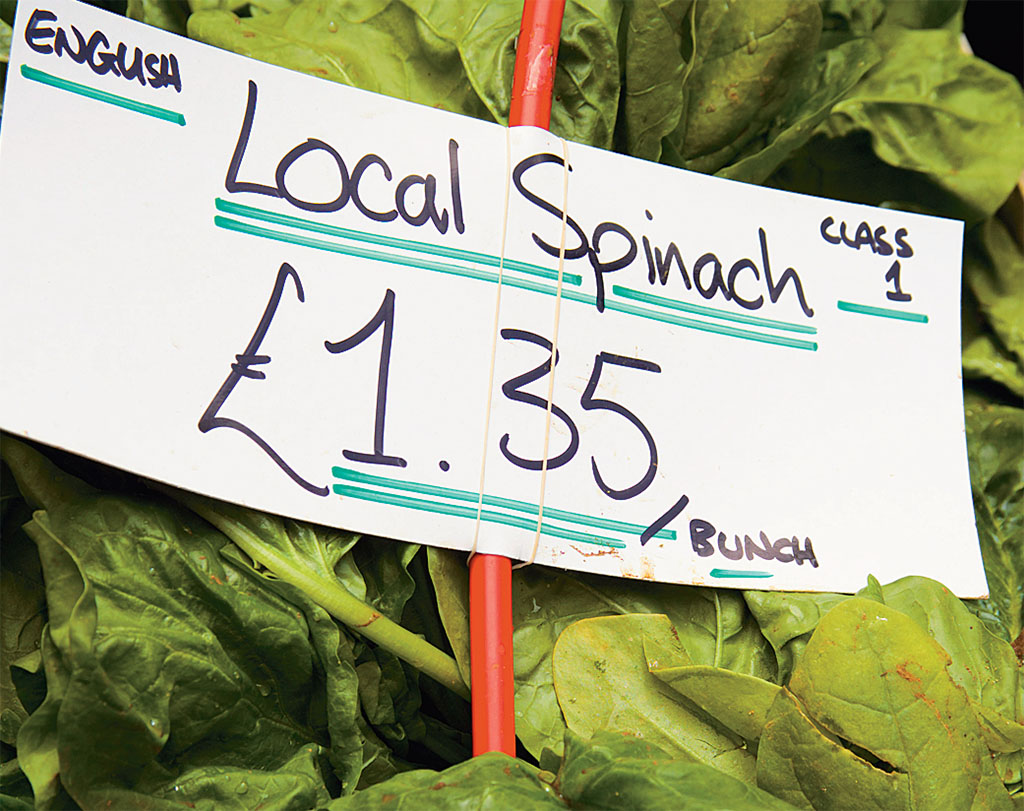 12
Even supermarkets today are proudly promoting native British produce.
[/caption]
[caption id="DownontheFarm_img9" align="aligncenter" width="1024"]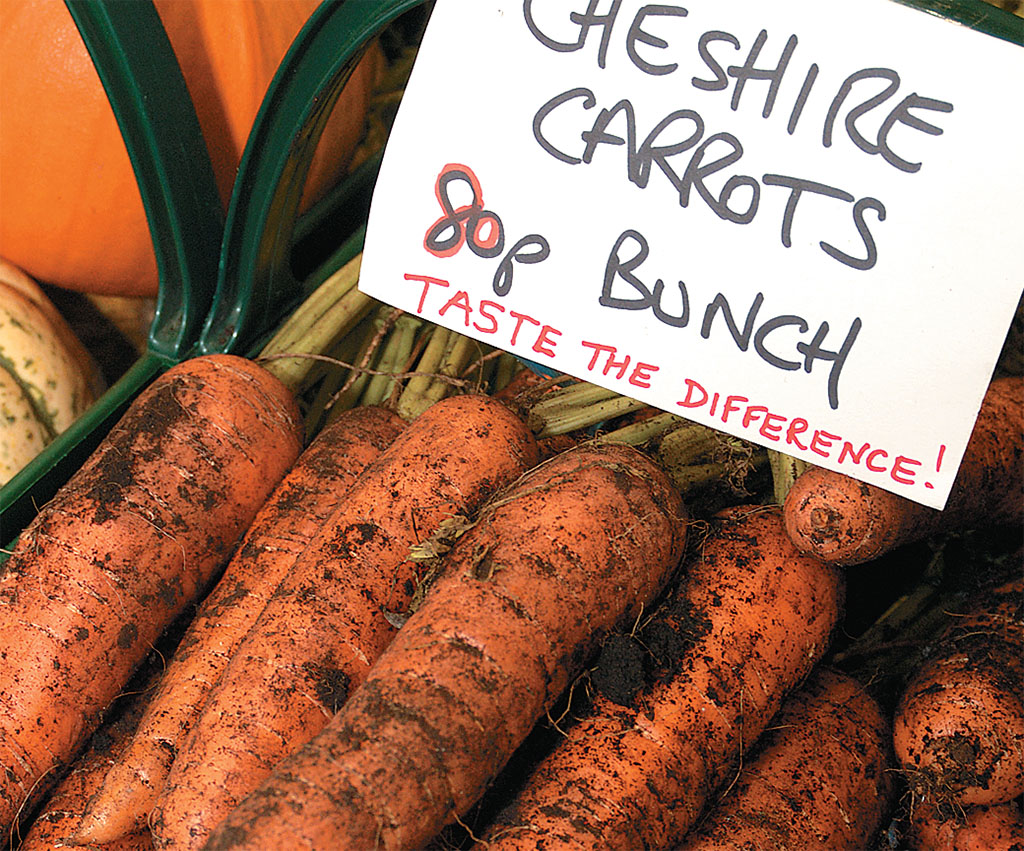 12
Yes, there is a difference in taste when vegetables are local and fresh.
[/caption]
[caption id="DownontheFarm_img10" align="aligncenter" width="1024"]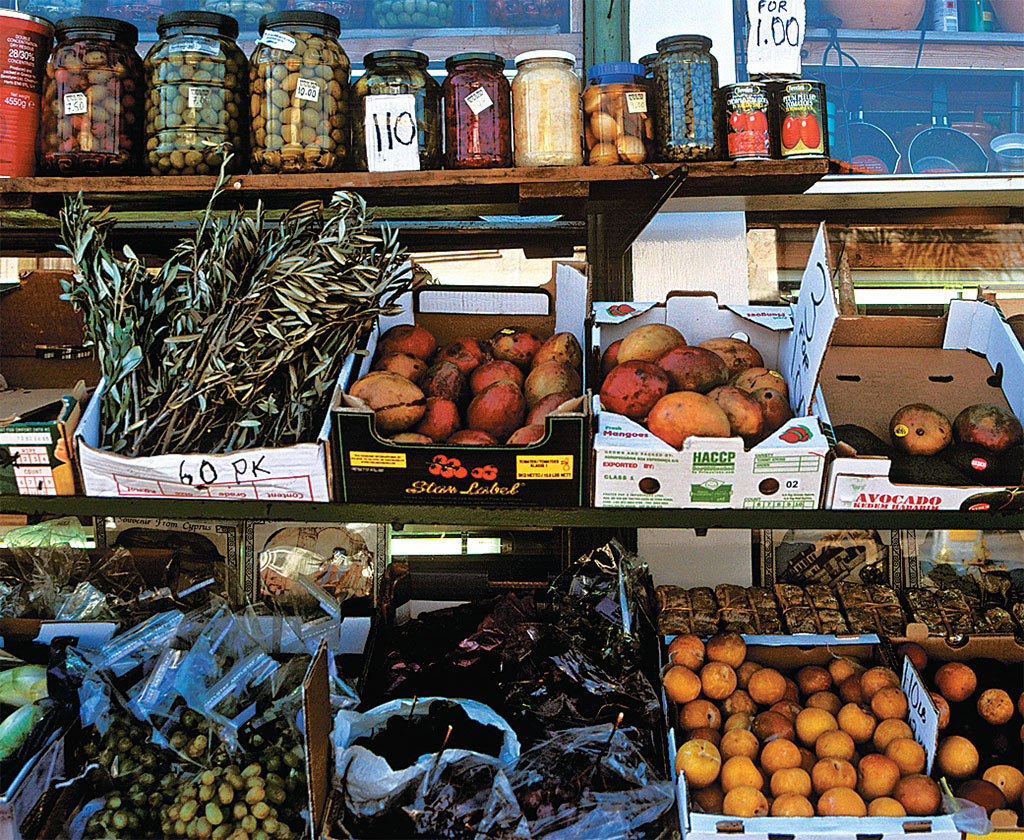 12
London greengrocers proudly champion the campaign to "Buy British."
[/caption]
Nobody knows the eventual outcome of this change. The government's "A Vision for the Common Agricultural Policy" (2005) foresees that in 10-15 years' time European agriculture should be "internationally competitive without subsidy or protection."
On the ground, volume of livestock and acreage of crops in Britain are likely to keep on declining. Farmers and farm workers will continue to drift away from the land—81,500 did so between 1995 and 2004, leaving a total workforce of 541,000 in 2005. Around 80 percent of farm businesses are run by families, but the average age of holders is approaching 60, and fewer children are following in their steps.
Questions are being asked: Is it wise not to be self-sufficient in food in a world that is somewhat unstable? Will global warming (resulting in reduced production in some regions), combined with rising world populations, draw a curtain on cheap world food and revive the importance of production agriculture in the UK? What future for biofuels? Who should run agriculture: bureaucrats or farmers?