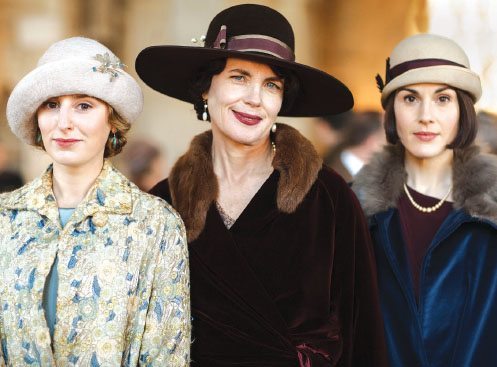 Where there are old friends waiting
A century has passed since the high-ceilinged rooms of Downton Abbey were filled with Tommies wounded in the trenches of the Great War. And yet it seems like yesterday.
For five years, British Heritage readers have been among the most avid followers of life at the great Yorkshire stately home of the Grantham family and its aristocratic household—upstairs and down. The personal lives of its scores of residents, against the backdrop of the early 20th-century's historic events and changes, have warmed us through the dark winter months. Now, with series 6, beginning January 3rd on PBS Masterpiece Theater, our curtain will ring down on Downton Abbey.
[caption id="" align="aligncenter" width="754"]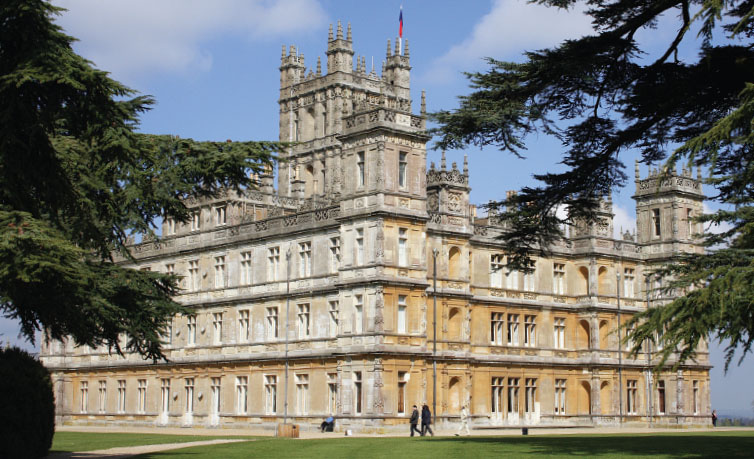 3
During the past six years, Highclere Castle near the market town of Newbury has hosted the cast and crew of Downton Abbey during its filming.
[/caption]
That's an apt metaphor, because Downton Abbey's curtain rings down as well—as it did through the mid-20th century on country mansions and the old land-based aristocracy across Britain. It was the end of a way of life. This over-arching motif has been the theme against which the lives of the Earl of Grantham, Lady Mary, Carson and Daisy, Anna and Bates, Mrs. Patmore and Lady Edith have played out. Downton Abbey is a paradigm of that world in a decline it could neither conceive nor perceive as it was happening.
Writer Sir Julian Fellowes has crafted a magnificent series. That he has made us care for such a large, diverse number of characters is a remarkable artistic achievement in itself. Fellows' only real dramatic license has been in the relative familiarity between "the family" and its Downstairs retainers. Even that was not quite without precedence, however, and might even be creditable to the kind, caring and American Lady Grantham.




Gone forever is the way of life that created and nurtured those great country stately homes.



Ironically, those of us that have watched and loved the series, can really identify with neither the Upstairs lives of the Crawley family, nor with the Downstairs lives of the broad domestic staff. We've never lived in either world, yet somehow Fellowes has given us leave to walk a way in their moccasins.
All good things, of course, must come to their proverbial end. Fellowes and the production execs of Downton have done the only thing they could: ended when the story was over. The lives of Carson and Mrs. Hughes, the Bateses, Lady Mary and all will play out as lives do in fiction and reality (we're likely to hear much speculation). Downton Abbey's story, however, has come to its natural and inevitable conclusion.
Why have we loved it so?
Julian Fellowes ability to portray character in such brief conversational exchanges is exceptional. However, the scriptwriter alone could not accomplish that without the art of a sensitive and talented cast. From the writer to the actors and actresses to the production team, Downton Abbey may not have been a labor of love at its beginning, but clearly was at its end.
During an interview on the series conclusion, Fellowes acknowledged wistfully, "The unreality of the show I slightly forget, because they've been so real to me for so many years now. I think I'm in love with all of them."
[caption id="" align="alignleft" width="362"]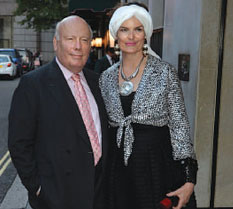 3
Downton Abbey creator Sir Julian Fellowes arrives at The Ivy for the wrap party.
[/caption]
In late July, cast and crew threw a garden party in Bampton, to say goodbye and thank local residents for their hospitality and tolerance over the past six years. The Oxfordshire community served as the principal exterior set and village setting of Downton. Cast members served and mingled with guests on the occasion.
The dress and setting were a little tonier at the formal wrap party in August, held at central London's classic The Ivy. It was smiles all around for the media photo calls. With the cameras off, I'm sure the atmosphere was a bit more bittersweet and poignant.
Of course, Downton Abbey will be around for years, just as Brideshead Revisited proved its staying power, now a generation ago. Highclere Castle, our Downton Abbey, has a new lease on life. The Newbury home of the Earl of Caernarvon will for years draw visitors eager to see its familiar rooms and grounds.
Gone forever is the way of life that created and nurtured those great country stately homes—Highclere, Chatsworth, Floors Castle, Tatton Park, Goodwood House and several hundred others—that we love to visit, and imagine in their heyday. Between the Great War and the '60s revolution, some 200 such grand country houses were just destroyed or abandoned, left to crumble into the landscape or torn down to make way for new construction.
Many such places, certainly, we visit today courtesy of the resources and efforts of the National Trust and its millions of members. Others have survived in their families because they adapted to the fast-moving times changing around them—with far-sighted management, diversification, retrenchment and wise investment. There's a reason Tom Branson (Allen Leech) decided to seek his fortune in America. Today, at Berkeley Castle, Burghley House, Woburn Park and Longleat, still in their ancestral families, our admission helps maintain their fabric and support their maintenance.
At many stately homes, owned by the NT or privately, the family still resides. Their apartments are tucked quietly away from the lofty, elegant reception rooms, galleries and libraries once lively with family life, friends and house parties that we see as visitors. The long table in the grand dining room is now set once a year for Christmas lunch. Now, the family lives behind the green baize door.
The Dowager Countess, Lady Violet (the incomparable Maggie Smith) could scarcely imagine.
So, this winter we will gather for one last season before the flickering flames on the hearth and return again to Downton Abbey. The storm clouds of World War II are on the horizon. We still have some silver linings to look for.