Tucked onto the edge of Dartmoor, with central heating
[caption id="DrogoTheLastCastle_Feature" align="aligncenter" width="1024"]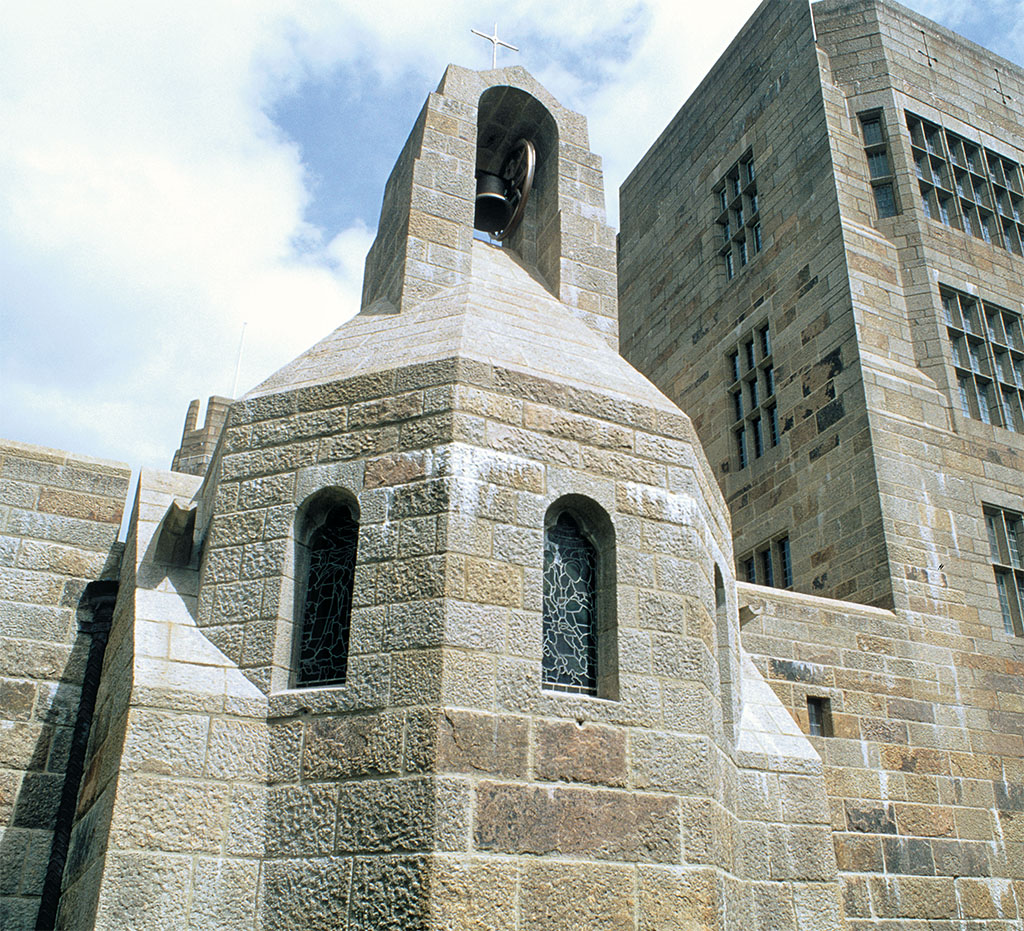 6
Designed by Sir Edwin Lutyens for Britain's first supermarket magnate, and built between 1911-1930, Castle Drogo appears as a medieval castle with all the modern conveniences.
[/caption]
[caption id="DrogoTheLastCastle_img1" align="aligncenter" width="148"]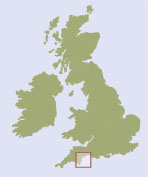 6
[/caption]
In 1910 Julius Drew, London grocer, became a multimillionaire, and decided that it was time for him to enter Devon's aristocratic society. To achieve this end he cobbled together a suitable genealogy, changed his name to that of an established aristocratic family (Drewe), snapped up a large amount of acreage near the Dartmoor village of Drewsteignton (named for the noble Drewes) and started to build himself a massive baronial castle. The name he picked, "Drewe." was indeed ancient, a noble line dating back to the Norman Conquest, when its founder, Drogo, served as one of William's freebooters. The aristocratic Devonshire Drewes do not seem to have rippled the waters of history since then and, except for snubbing Julius most pointedly, have made no note of themselves. Drogo the Norman freebooter has gained some recent notoriety, however, for Julius Drewe named his new family seat after him: Drogo Castle.
Julius Charles Drew, born in rural Bedfordshire in 1856, started out as a tea merchant in China, then ran a tea shop in Liverpool before opening a small grocer's shop in Paddington in 1883. His plans for London, however, went well beyond being the neighborhood shopkeeper; with partner, John Musker he aggressively expanded, creating the Home and Colonial stores with outlets in major industrial cities. By 1888 he and Musker had accumulated enough wealth to retire from active management—while the new managers quickly expanded the chain, reaching 500 stores by 1903. By the time of Drewe's death in 1931, the Home and Colonial dominated the British grocery business with 3,000 outlets, the prototype of the British supermarket. (The chain changed its name to "Allied" in 1961, and was absorbed by Safeway UK in 1987.) Drew, its founder and holder of great piles of its stock, was very rich indeed.
By 1910 Drewe (his name now changed) was ready to settle down to the life of a landed aristocrat. To this end he hired Britain's leading architect of the era (and some say of the 20th century), Edwin Lutyens, to build for him a suitably baronial manor. Lutyens had been in practice for more than 20 years, and had produced a series of private houses and churches, mainly in the Arts and Crafts style, to great critical acclaim. By the time Drewe obtained his services, however, Lutyens had begun to alter both his style and his practice, moving away from private homes to monumental and governmental buildings, and stripping his designs down to spare, classical lines. He designed and built Drogo Castle over the same period that he designed and built New Delhi, India's shining new colonial capital, so that these two commissions stand as the starting point of his new approach. It was this shift in approach that moved Lutyens, in the eyes of later historians, from "good" to "great."
Dropping by Drogo
Drogo Castle is owned and operated by the National Trust. It opens daily from 11 a.m. to 5 p.m., mid-March through October, and on weekends 11 a.m. to 4 p.m. the rest of the year. Admission is £8.20, including the grounds and the castle; prices are lower for grounds only and for off-season. Web site:
www.nationaltrust.org.uk/main/w-castledrogo
.
[caption id="DrogoTheLastCastle_img2" align="aligncenter" width="1024"]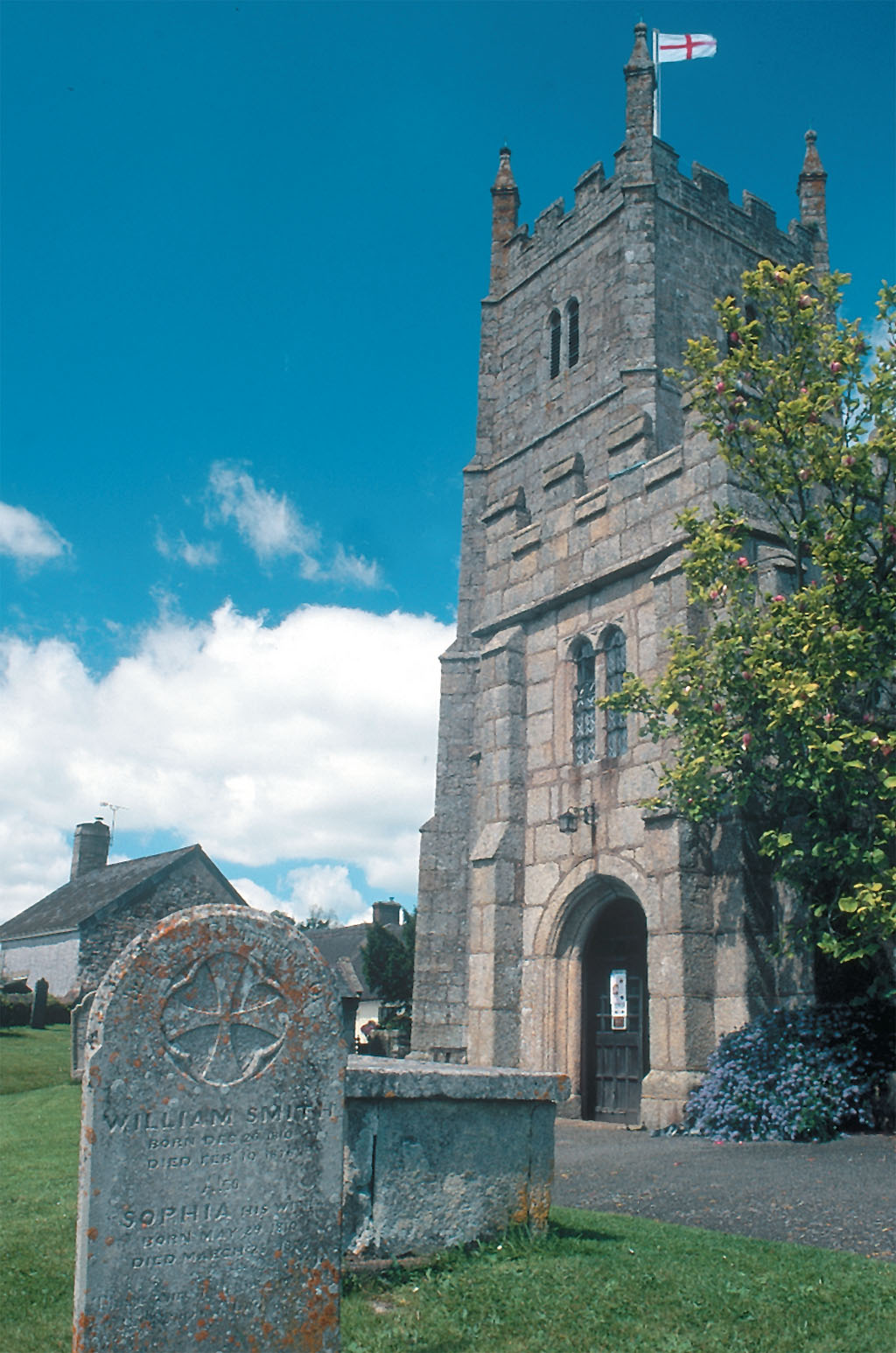 6
The medieval parish church in Drewsteighton undoubtedly remembers the original noble family.
[/caption]
The castle he designed for Drewe (with Drewe's active participation) was on a grand scale, even for the standards of the hyper-wealthy in those happy days of negligible taxes. It was meant to be a U-shaped mass, a castellated manor encircling a bailey, echoing the Norman fortifications of Drewe's purported ancestors. It was to be built of massive granite blocks that would be seen inside as well as out, a statement that Drewe's wealth, combined with Lutyen's mastery, made no modern steel skeleton necessary. Modern conveniences, however, were not eschewed; the castle was completely electrified, using DC power off generators placed in the Teign River below. The foundation was laid in 1911, but the War interfered with construction, and when Drewe's eldest son died in battle in 1917, Drewe scaled back the project. The west wing and great hall were abandoned, and, much to Lutyen's distress, the side entrance became the main entrance. The building you see today, large as it is, is only half of what Drewe and Lutyens had originally planned. The Drewes moved into the castle in 1925, with construction finally completed in 1930.
Today, Drogo Castle is little short of overwhelming—and not always in a good way. Try as we may, it can be remarkably difficult to place it back into its original Edwardian innocence. Lutyens meant it to look classical in the broad sense, a clean and handsome distillation of the major features of a Norman castle. And so it did when it was built, but the times have changed around it. Today it looks Modernistic, Bauhaus, Minimalist, all movements that, in architecture, did not yet exist. When Lutyens laid out Castle Drogo, the earliest Modernists had just begun to cry, "We want no part of it, the past!" and rush to embrace (as an anonymous Wikipedia contributor nicely puts it) "…speed, technology, youth and violence, the car, the airplane and the industrial city, and all that represented the technological triumph of humanity over nature…." In the years after 1925, this increasingly gave us an architecture that was not only ugly in itself, but whose ideology sought to obliterate the past, and whose palette was used in the worship and projection of power. Today, Castle Drogo's clean, simple lines can bring memories of buildings now old, but still in its future and unbeholden to it: the concrete bunker meant for war, the government office block meant for intimidation, the public housing project meant for control. The resemblance is accidental; Castle Drogo reflects the Indian summer of the 19th century, not the dark times that came later.
[caption id="DrogoTheLastCastle_img3" align="aligncenter" width="1024"]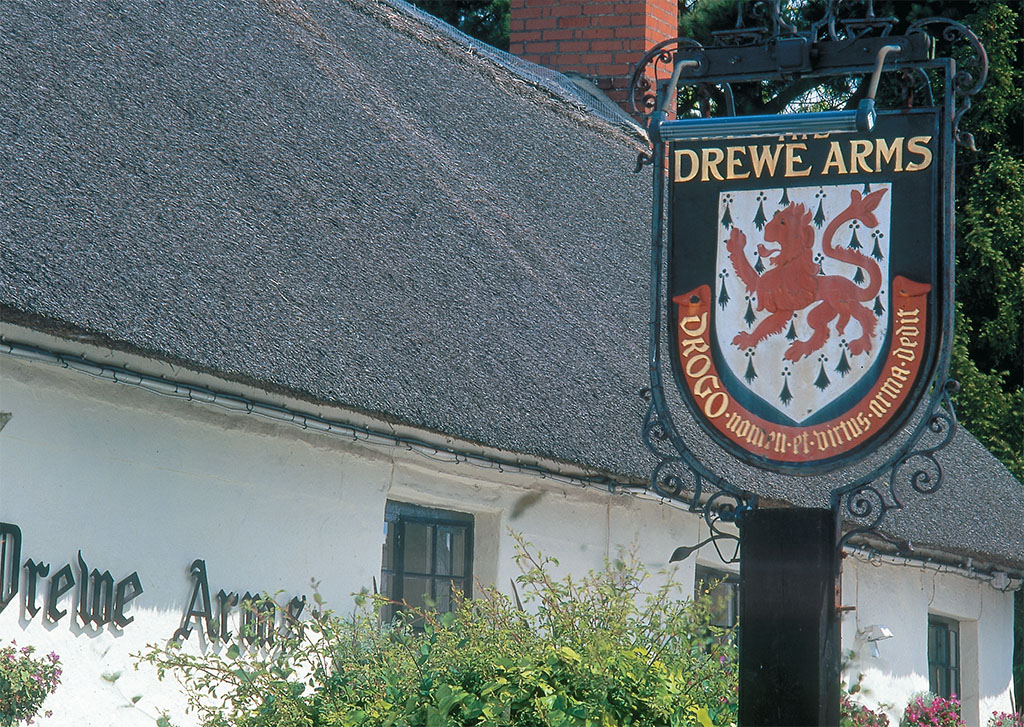 6
Julius Drew assumed the name of an ancient aristocratic family, Drewe, to lend gravitas to his baronial manor.
[/caption]
Compared to its outside, Drogo's interior couldn't be more surprising or delightful. It, too, was built to overawe, but it does so in, well, a nice way. Everything is both grand in scale and an expression of the finest craftsmanship; yet the effect is surprisingly livable and homelike. There is a sense of fun and of theater, as rooms flow into each other in a series of bends and stairs, gray granite contrasting with rich wood. The paintings that ornament walls in strategic places are not so much the great masters of classic art that you might expect, but large and beautifully executed portraits of Julius and various members of his family, reminding you of a fond parent sticking family photos all over the drawing room wall. It would be a great place to visit for a party (for which it was intentionally designed), and a greater place to live. In fact, the descendants of Julius Drewe still live there, as with so many National Trust great houses, ghosts of the past that come out when the mortals have departed.
While Castle Drogo makes for a worthy morning out, the immediate surroundings— as little as a mile and a half in any direction—complete a wonderful day. The gorge of the River Teign is a classic English waterside walk, with a lovely forest along the banks and sweeping views on a return along the top. An easy goal is Fingle Bridge, a medieval stone bridge built for pack horses carrying tin ore, one of the prettiest of Dartmoor's half-dozen or so such structures. Beside Fingle Bridge is a fine old pub, The Anglers Rest, with good local ale and a large patio overlooking the river and the bridge. Best of all the surroundings, however, is the lovely thatched village of Drewsteignton, a bit over a mile from Drogo's entrance. Here you'll find a traditional English village, unspoiled, with a post office shop, a small inn and a very nice pub, the Drewe Arms. Nearly every building retains its thatch, and cottages alternate between gay colors and whitewash. Sweet little Drewsteignton with its thatch and Fingle with its old stone bridge make a satisfying end of a day centered on Castle Drogo, the harbinger of the 20th century.
[caption id="DrogoTheLastCastle_img4" align="aligncenter" width="1024"]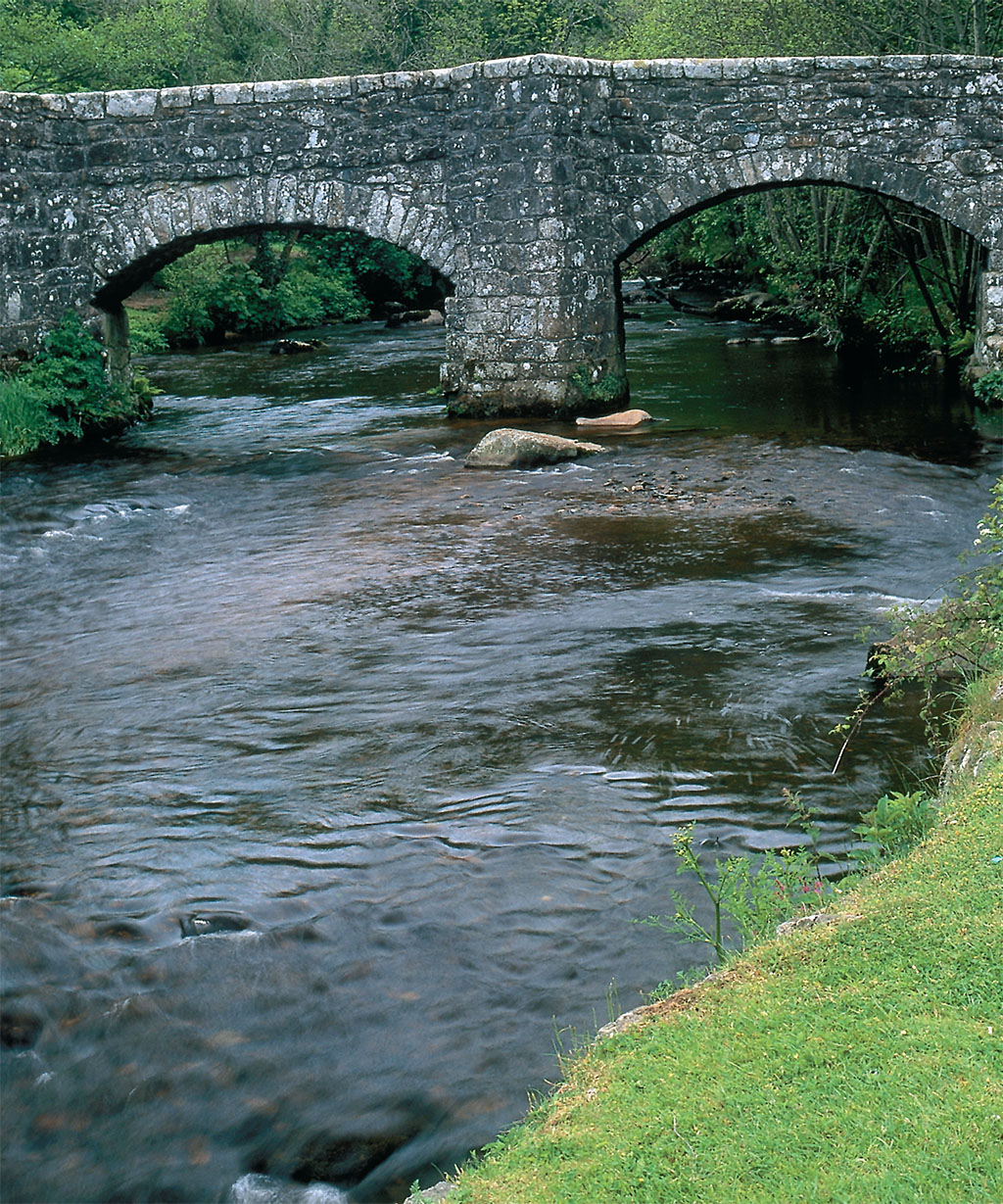 6
A short stroll from the castle, medieval Fingle Bridge crosses the River Teign on Dartmoor's eastern edge.
[/caption]