1,000 years of horticultural fashion
It was the English philosopher Sir Francis Bacon (1561—1626) who declared the garden to be "the purest of human pleasures," and the Brits have always sported the telltale traces of soil beneath their green-fingered nails. That is certainly true in the Cotswolds, where, unusually for any one region, you can take a gallivant through 1,000 years of changing garden fashions covering just about every era and style of horticultural heritage. More than simply a colorful floral tour through time, such gardens reflect—and provide fragrant insights into—the changing social, economic and cultural moods of their days

.
The early, essentially utilitarian English garden flourished amid the medieval manors and monasteries where monks grew herbs for medicine and flowers for the altar, taking meat from the dovecote and carp from the stew pond. Step into the five-acre sanctuary of Abbey House Gardens, beside the 12th-century Abbey Church in the center of Malmesbury, and you immediately feel a deep-rooted peace from such times.
"We respect and honor the time the monks were here, who would garden second only to prayer in the worship of God," says Barbara Pollard, whose family came to Abbey House in 1994.
With the singular boast of having Athelstan, first King of England, buried in the garden and two saints thrown down the well, Abbey House Gardens are nothing if not surprising. Three fishponds were recorded at the abbey in medieval days, and the 13th-century abbot's lodging had a vinery and herbarium. Abbey House was built following the Dissolution in the 16th century, using its medieval foundations.
[caption id="GallivantingGardensoftheCotswolds_Feature" align="aligncenter" width="841"]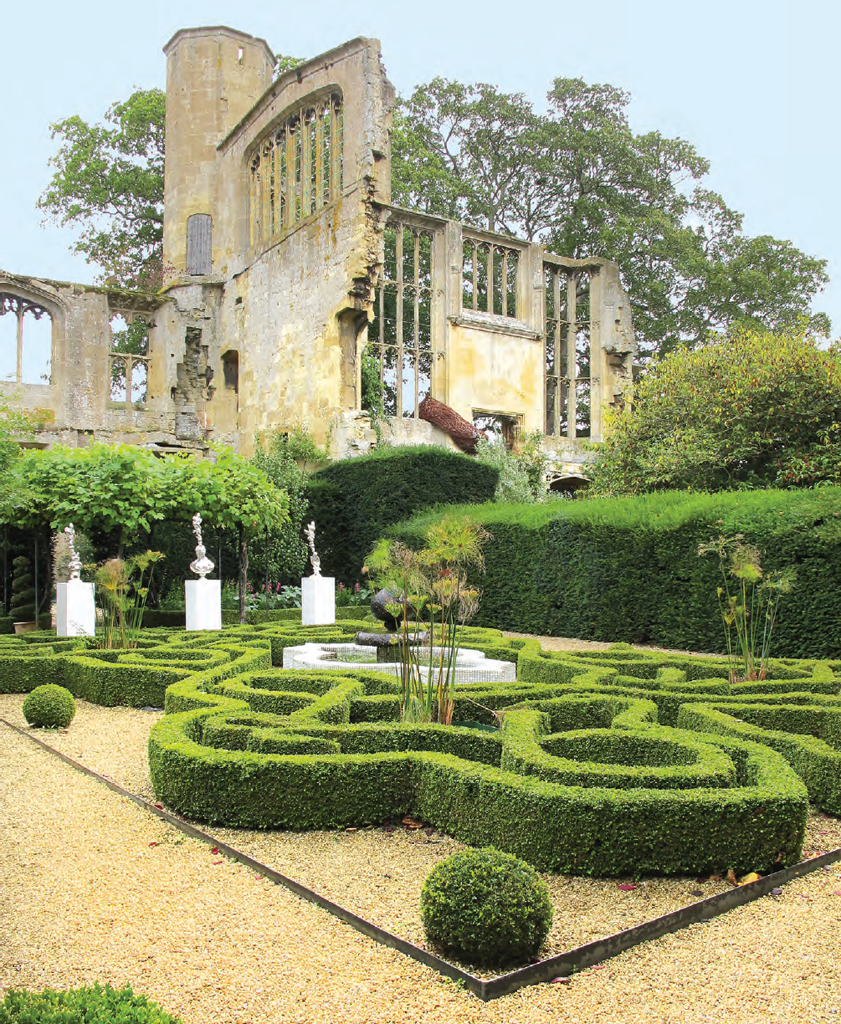 6
The intricate Tudor knot garden at Sudeley Castle was based on a dress pattern worn by Queen Elizabeth I in a portrait that hangs in the castle.[/caption]
Today, ponds in the river gardens mirror the original carp ponds, and afternoon tea beside the stew pond watching koi drift in the water induces calm reverie. Walks and yew hedging in the upper garden have been laid out to replicate the footprint of the missing parts of the original abbey; there's an herb garden to explore, and from late May roses burst into flower.
Roses also make a stunning picture in June at Sudeley Castle, Winchcombe, vividly coloring the Queens' Garden that is sited on the original Tudor parterre and named for the four queens—Anne Boleyn, Katherine Parr, Lady Jane Grey, and Elizabeth I—associated with the castle. While Sudeley's heritage stretches back more than 1,000 years, its most famous chapter in history is Tudor, not least because it was once home to Catherine Parr, Henry VIII's sixth and surviving wife, who is buried within St. Mary's Church in the garden.
The Tudor era heralded the building of fine houses as status symbols, fired by Renaissance ideas and the rising affluence of the selfmade merchant classes eager to show off alongside the established aristocracy. Deer parks and knot gardens—intricate geometric patterned gardens best viewed from above from a long gallery—were among the necessary must-haves.
Though no original English knot gardens survive, one has been re-created at Sudeley based on the pattern of a dress worn by Elizabeth I in a portrait that hangs in the castle. The box hedges interspersed with colored gravel are overlooked by the romantic ruins of the Banqueting Hall, where a feast celebrating the defeat of the Spanish Armada (1588) lasted three whole days. There's also a re-created Tudor physic garden featuring culinary and medicinal plants, a project led by Sudeley's present-day chatelaine, Lady Ashcombe.
[caption id="GallivantingGardensoftheCotswolds_img1" align="aligncenter" width="696"]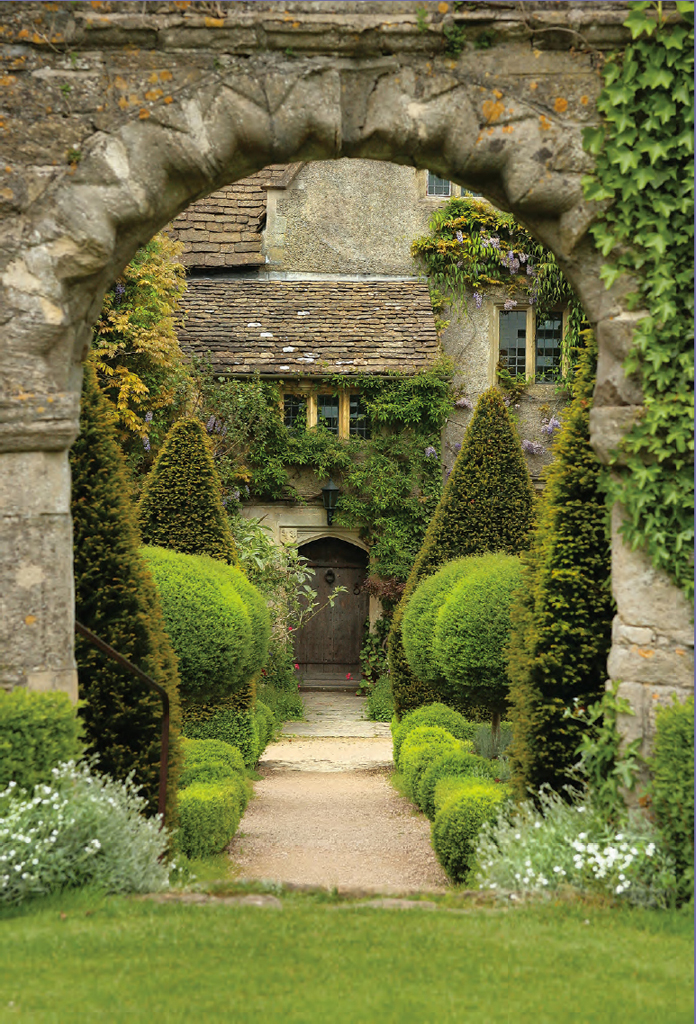 6
Somewhere on the grounds of Malmesbury's Abbey House Gardens lies the body of Athelstan, England's first King.[/caption]
Then, let's time travel on to Chastleton House and Garden near Moreton-in-Marsh. The Jacobean country house was built by a prosperous wool merchant between 1607 and 1612 to impress the neighbors. Through the generations, however, Chastleton's owners grew more impoverished, with the result that their home has remained essentially unchanged for 400 years, and is now in the care of the National Trust.
Wander the gardens—there are also guided afternoon tours—and you find them still largely laid out in the typical Jacobean way, with divisions according to use, as garden supervisor Rosy Sutton explains: "To the east of the house is the Best Garden, which is circular in design with topiary and originally had extensive herbaceous plantings. To the north of the property were the games lawns, originally for lawn bowls, then croquet and finally tennis. To the south is the Forecourt and entrance to the property, a garden designed to set the property and make it look more impressive. To the west were the utility areas, entrance to the kitchens, wells and areas to hang washing."
[caption id="GallivantingGardensoftheCotswolds_img3" align="aligncenter" width="878"]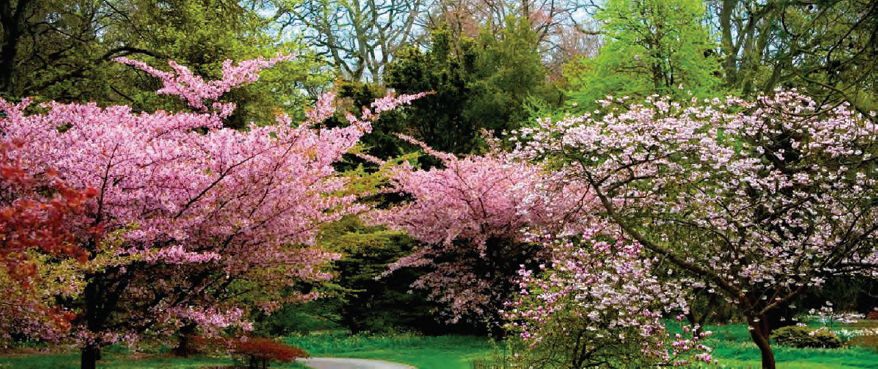 6
Near Chipping Camden, Batsford Arboretum displays a riot of spring color in exotic ornamental plantings.[/caption]
There's a mulberry tree reputed to be nearly 400 years old and a Boscobel Oak allegedly grown from an acorn taken from the tree in which King Charles II hid when fleeing Cromwell's troops in 1651. Two Scots pines are said to indicate the Jacobite leanings of Chastleton's erstwhile household. In the troubled years of the Stuart Kings, who would be finally ousted from the throne, it was best to conceal your political affiliations except through covert symbols.
Charles II, when he returned from exile, brought a taste for French formal garden designs, and the later arrival of William of Orange and Mary on England's throne toward the end of the 17th century brought Dutch influences to bear as well. Terraces, avenues, canals, fountains and other waterworks, as well as topiary, became the height of fashion. At Westbury Court to the west of the Cotswolds at Westbury-on-Severn you will find a unique restored Dutchstyle water garden first created in 1696-1705.
[caption id="GallivantingGardensoftheCotswolds_img4" align="aligncenter" width="882"]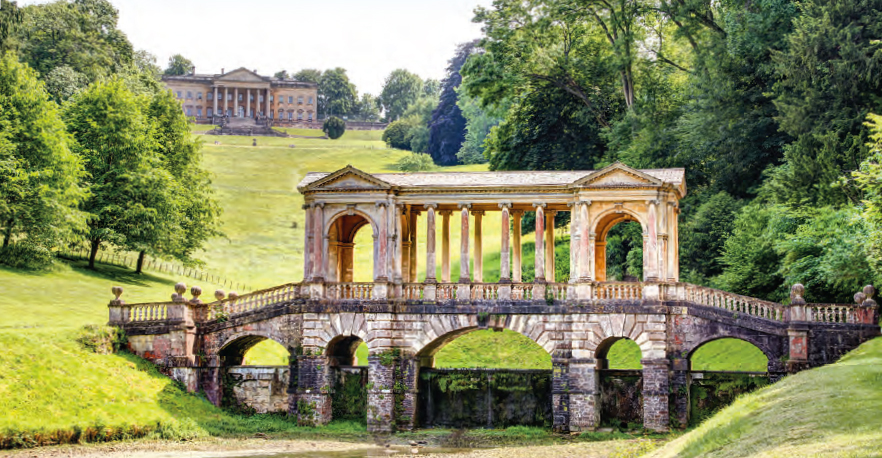 6
Prior Park's landscaped parkland highlights this Palladian bridge—one of only four in the world.[/caption]
Soon enough, 18th-century folks tired of symmetry and formality where, as poet Alexander Pope scoffed, "grove nods at grove, each alley has a brother." As all self-respecting scions of well-to-do families went on Grand Tours of Europe and returned with romantic classical ideas, the age of the landscape designer dawned. Enter William Kent, Charles Bridgeman, Lancelot "Capability" Brown and Humphry Repton, ushering in idealized bucolic landscapes in which garden and parkland merged, generously sprinkled with "eye-catcher" classical temples, bridges and statuary; sprouting with strategically placed clumps of trees and shimmering with sinuous lakes.
In the Cotswolds, you can explore the great Capability Brown parkland at Blenheim Palace, Woodstock or Prior Park Landscape Garden at Bath, created from 1735 to 1764 for local entrepreneur Ralph Allen with advice from Brown and Pope (who turned his hands to garden design as well as verse). Set in a sweeping valley, Prior Park provides superb views of Bath, while its iconic Palladian Bridge is one of only four in the world. Enjoy refreshments at the tea shed beside the lakes, or borrow picnic blankets from here if you want to head off to your own quiet spot.
For every action there's a reaction, and after the ubiquitous sweeps of green sward that characterized the typical landscape garden, people began to hanker again after more variety of color. They got it in spades as Victorian plant hunters trekked around the world bringing back exotic new species, their intrepid daring perfectly in tune with the confident, expansionist global outlook of a British Empire at its height: Fuchsias, camellias, rhododendrons, azaleas and many more now-common plants erupted onto the scene. The new phenomenon of the arboretum also took root, including two outstanding examples at Westonbirt and Batsford near Chipping Campden, each a riot of color with spring blossoms and autumn leaves.
[caption id="GallivantingGardensoftheCotswolds_img5" align="aligncenter" width="885"]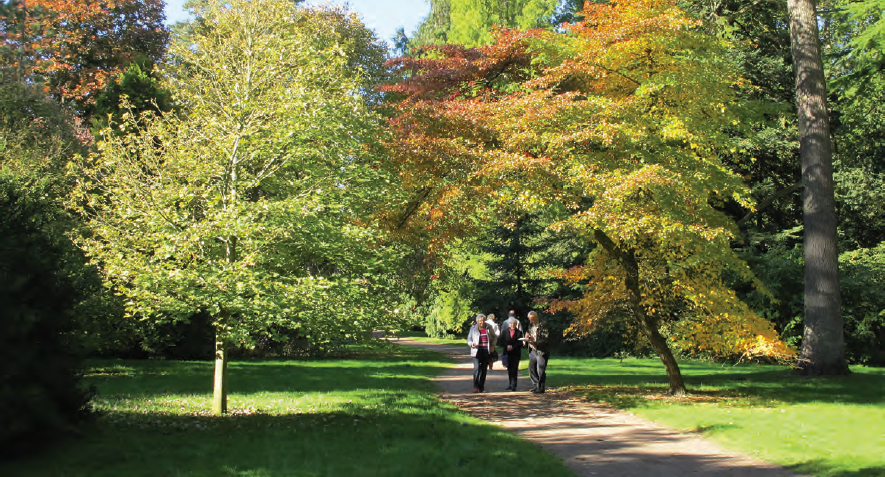 6
Victorian enthusiasm for collecting plants from across the Empire found expression in places like Westonbirt Arboretum.[/caption]
Moving through the Edwardian years into the 20th century, Hidcote, also near Chipping Campden, is the standout Arts and Crafts garden that has influenced designers to this day. Every bit as quintessentially English as—but in total contrast to—18th-century landscape gardens, its series of individually styled "outdoor rooms" has an intimacy that makes you feel as though you have stumbled into someone's private domain.
You can wander with an audio guide or simply soak up the kaleidoscope of voluptuously planted flowerbeds, the Red Borders and mazy stone footpaths leading hither and thither: scenes first created by quiet American turned British citizen Major Lawrence Johnston, a soldier, watercolorist, plant hunter and gardener who arrived here in 1907.
Snowshill Manor and Garden near Broadway with its "different courts for varying moods," Kiftsgate Court, renowned for its eponymous rose cascading like a frothy white waterfall, and Prince Charles' modern interlinked organic gardens around his family home at Highgrove near Tetbury (British Heritage Travel, March/April 2016) all channel appealing ideas of gardening on a scale that we can relate to (if not actually replicate!), colorful contrasts and outdoor rooms.
You do need to prebook tours of the Prince's gardens, but they are a treat, ranging from the classic English order of the Old Cottage Garden to the yellow, pink and blue riches in the New Cottage Garden, inspired by HRH's travels in Tibet; from the pastoral vision of the Wildflower Meadow to whimsical topiary: a rare chance to peer into the soul of the future King through his green-fingered labor of love.

COME INTO THE GARDENS
Also look out for:
Painswick Rococo Garden

, Painswick
: This unique restored 18th-century pleasure park of follies, water features and dramatic vistas is squeezed into a hidden valley where Georgian gentry played.
Sezincote, Bourton-on-the-Hill:
an astonishing early 19th-century Mogul Indian palace (said to have influenced plans for the Royal Pavilion, Brighton) in a Humphry Repton landscape, it contains exotic temples, waterfalls and canals.
Blenheim Palace

, Woodstock
: Famous for its Capability Brown parkland, the palace also has wonderful formal gardens, including the Water Terraces (1920s) and Churchill Memorial Garden (Sir Winston was, of course, born at the palace).
Stanway House & Fountain

, Stanway
: The world's tallest gravity-fed fountain, built in 2004, is a spectacular addition to the water garden (1720s).
Visiting our highlighted gardens:
Abbey House Gardens
Sudeley Castle
Chastleton House and Garden, Westbury Court, Prior Park Landscape Garden, Hidcote, Snowshill Manor and Garden
Westonbirt
The National Arboretum
Batsford
Kiftsgate Court
The Royal Gardens at Highgrove