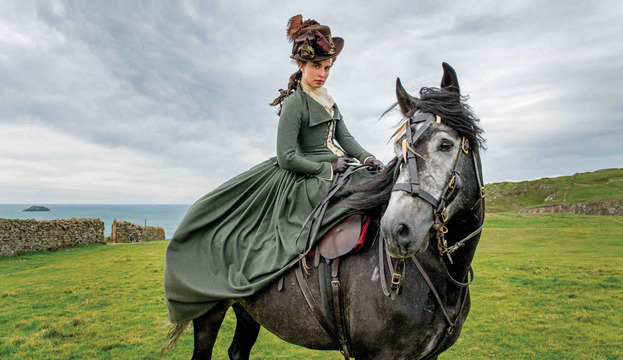 The actress on her 18th-century character's limited options—and the sometimes surprising 21st-century responses
S
eason Three of
Poldark
commences with equal parts beauty and danger: Elizabeth, (Heida Reed) heavily pregnant and seemingly terrified, galloping along the steep, breathtaking Cornish cliffs at a perilous clip. Her horse bucks, threatening to throw its rider, before Ross (Aidan Turner) saves the damsel in distress—but all is not as simple as it seems and his bravery isn't rewarded as expected: "Please let go! I can manage!" an indignant Elizabeth blasts a confused Ross.
"She's desperate for sure," says Reed. "Her riding stunt failed and she needs to make the potentially early labor look like it's been brought on by an accident."
Though the new season of Poldark includes the usual concerns of mining, property and survival in Cornwall during the late 1700s, there's also a dramatic plot on questionable paternity—played, by Reed, with a strained, brittle grace that barely covers the ever-rising panic: "She's very much in denial. So much so that she can't even think about it in any real way," says the actress.
Following a passionate, controversial night with Ross—married to Demelza (Eleanor Tomlinson)—at the end of Season Two, Elizabeth quickly weds the rich and dastardly George Warleggan. Her new, adoring husband is almost comically disturbed by his pregnant wife's behavior, just eight months after the wedding: "Yesterday, I find you lifting heavy books; before that, a three-mile walk!" Finally, he finds her in a situation which she may or may not have staged. "I think at that point she's just improvising," adds Reed.
Though her character didn't create such a complicated scenario all by herself, viewers, says the actress, tend to put all the responsibility—for the adultery, for her marriages—on Elizabeth: "Everyone thinks Ross is so perfect and nothing is his fault…everybody blames the woman," the actress told the UK's Radio Times magazine in June.
[caption id="attachment_13703852" align="aligncenter" width="702"]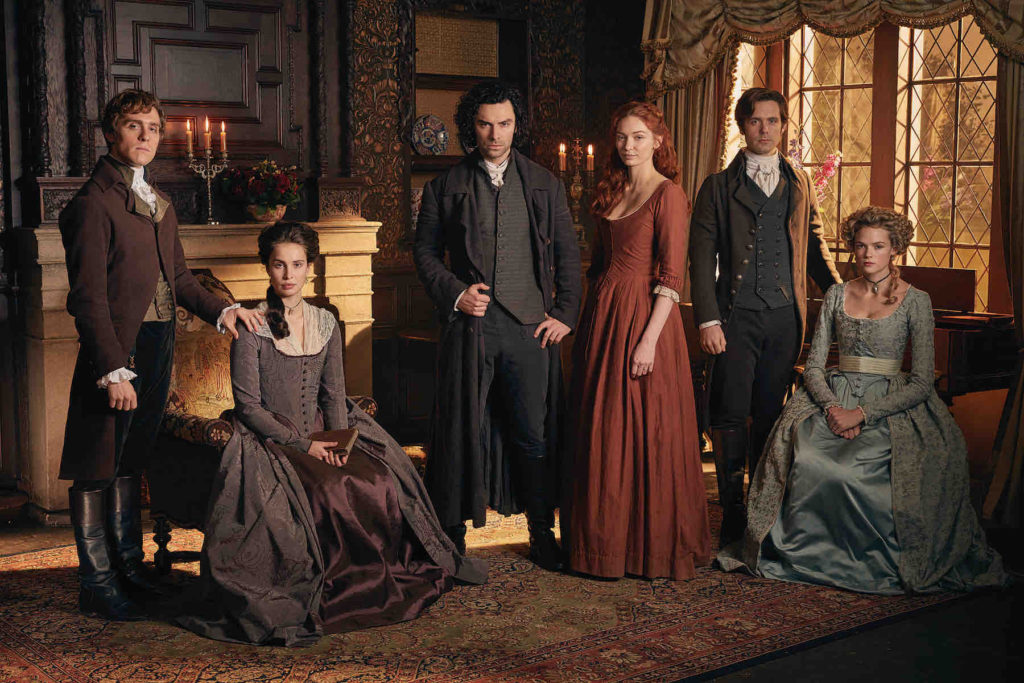 2
"Elizabeth was born into a certain world where she's expected to marry into a great family and bring children into the world and smile and be charming and elegant," says Reed.[/caption]
Reed, who views her character within the show's historical context, explains to BHT: "I feel like a lot of people who tend to judge Elizabeth might not realize that she didn't have a choice. It's not like she can educate herself or vote, or provide for herself or even move normally in her attire. She's constrained in every way, whether she wants to be or not."
A questionable pregnancy diminishes an 18th-century noblewoman's options even further—with disastrous consequences if anyone suspects. "It's definitely up there with the scarier things that could happen to a woman at that time. In general, they had no independence. They were completely reliant."
Later scenes even show Elizabeth's chilly behavior toward her new babe, perhaps experiencing what we'd now call postpartum depression. "[Her fear] comes out as this disengagement to her child where she can't accept him fully because deep down she knows he might be the result of a very wrong deed, and the biggest heartbreak of her life."
Hopefully, fans will be able to view the character with more sympathy this season. Though Reed generously understands the loyalty to Ross—"In these [types of] storytelling, people will most of the time side with the protagonist, which is how these things are structured"— she also hopes today's viewers can spare some sympathy for the plight of her Elizabeth, trapped in circumstances out of her control and, despite her beautiful dresses, possessing only few paths for survival. "There was just a kind of accepted inequality. Now it's very different, but we still have a long way to go."
Poldark returns for its third season on October 1 on Masterpiece on PBS.