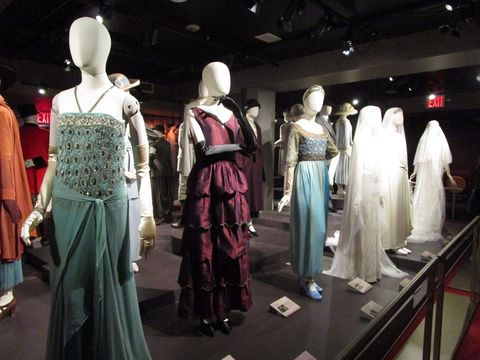 The halls and rooms of Downton opened again on Friday, shockingly far from the idyllic English countryside. Now, after a "soft launch in Singapore," Mrs. Patmore's kitchen, Lady Mary's bedroom and much more form a beautiful anachronism right in the heart of midtown Manhattan, just a few blocks from the subway. The world of the Crawleys, transformed into an exhibition, is packed with dresses, behind-the-scenes props and even interactive CGI to make fans swoon. "It really brought a tear to my eye, to see everything curated together in such a beautiful way," Joanne Froggatt (Anna) told BHT at the show's VIP opening on Friday night. "You really do feel like you're experiencing Downton."
[caption id="attachment_13704101" align="alignnone" width="702"]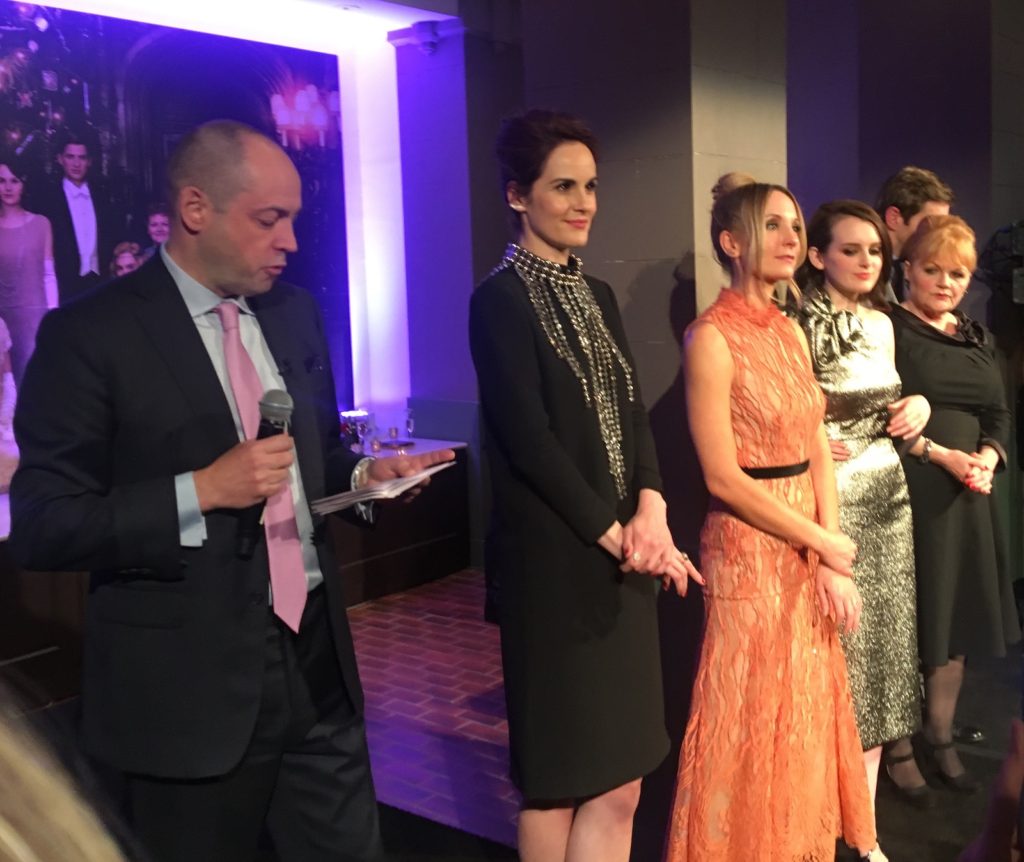 11
EP Gareth Neame, Michelle Dockery, Joanne Froggatt, Sophie McShera, Lesley Nicol and, hidden, Allen Leech[/caption]
The exhibition takes guests through the world's favorite fictional home, but also teaches quite a bit about the program's greater setting, the late Edwardian era. "I think it works on two different levels--for the fans who love the characters, the costumes and the storylines, but you'll also see it's full of historical details," Executive Producer Gareth Neame told us. "How women got the vote, about technological changes, about the war, employment—all the things, all the social changes, that happened in the early 20th century. So for people who aren't mad about the show, just as a history exhibit, it's very rewarding."
At the VIP opening night, no one was more moved than the stars themselves. Those actors who lived at Downton for six years were emotional to return, and each had his or her own favorite room. "I have to say, I loved seeing Mary's bedroom. It brought a lump in my throat," Michelle Dockery (Lady Mary) told us. "The whole thing is just so nostalgic for all the actors."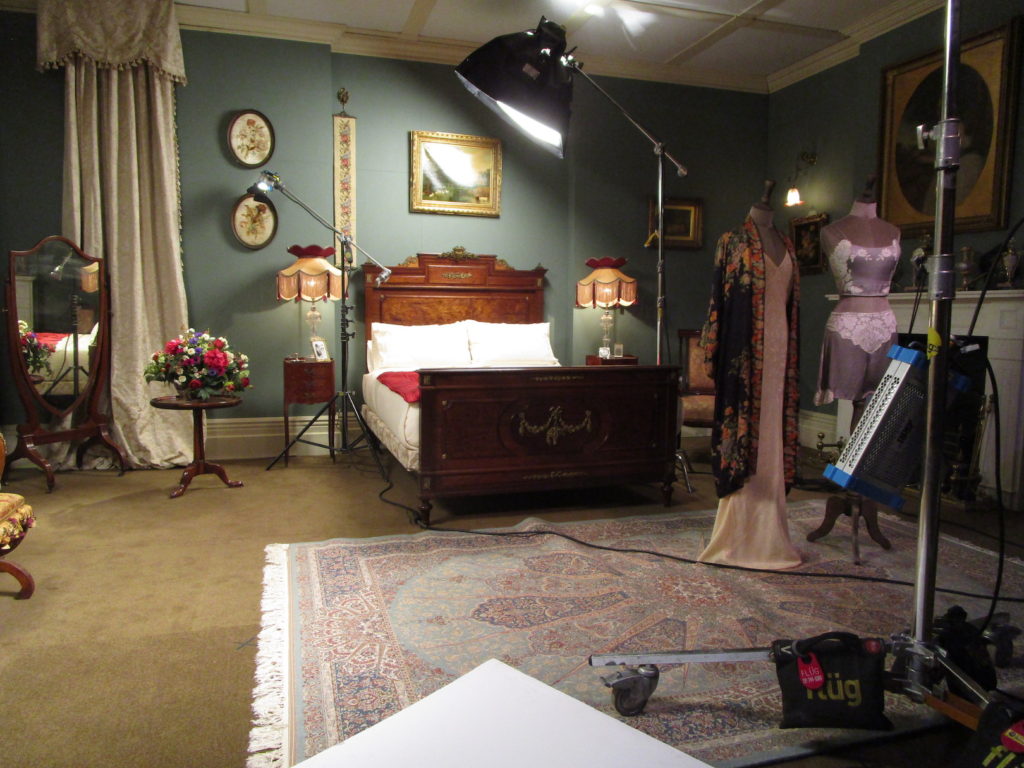 11
Sophie McShera (Daisy) echoed that sentiment—"so nostalgic!"—on entering the replica of the Downton kitchen: "Going there with Leslie [Nicol, who played Mrs. Patmore] was very strange because it's exactly the same—to scale, to size." McShera noticed one prop in particular. "My tea towel! I couldn't believe that every single thing was in there. Leslie and I used to fight over this tea towel because it meant you didn't have to touch food. You could just wipe things," she laughs.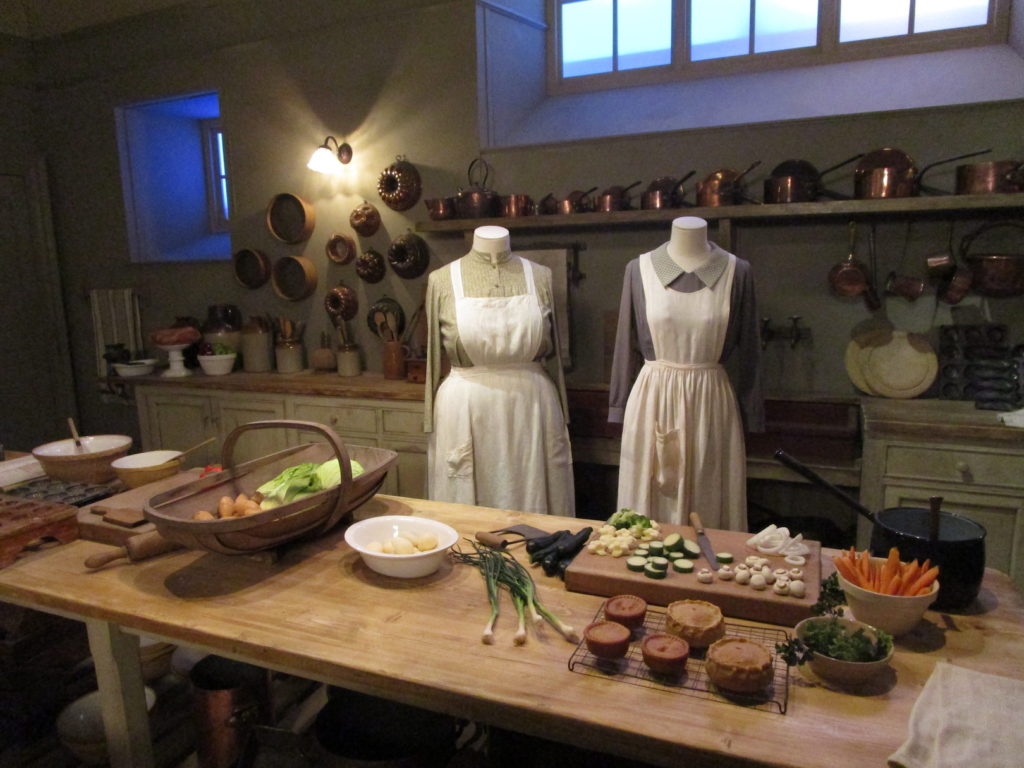 11
[caption id="attachment_13704098" align="alignnone" width="702"]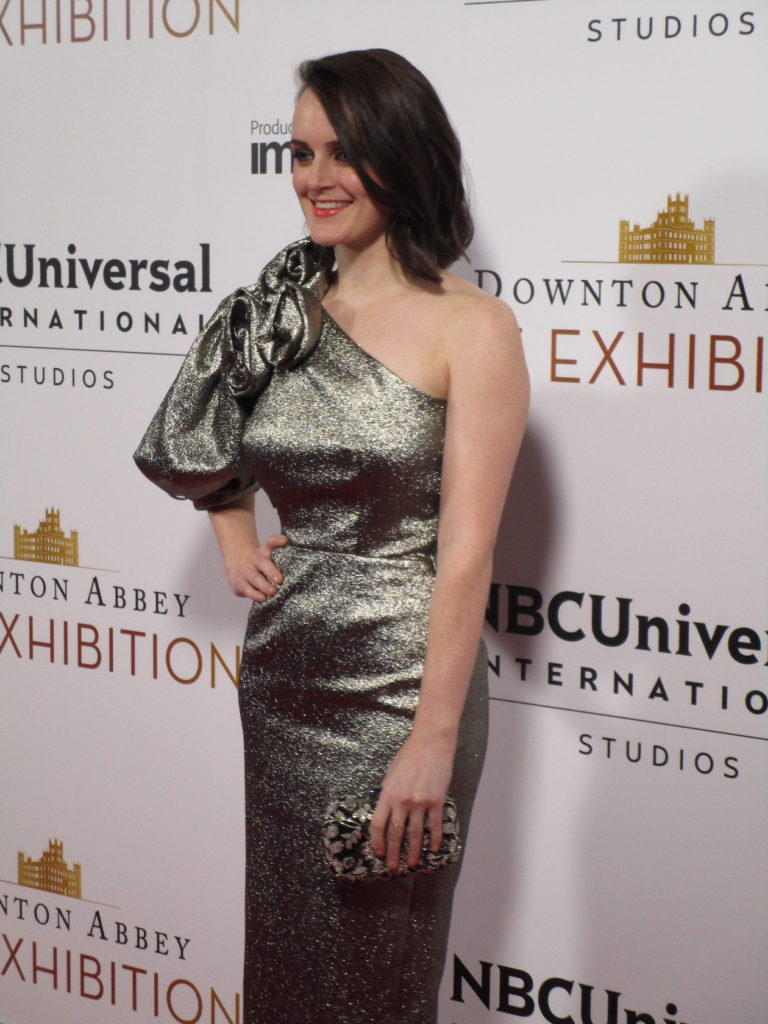 11
Sophie McShera[/caption]
McShera's partner was also impressed with the many small bits gathered. "It's littered with stuff we used for six years! We recognize props and go, 'Do you remember that?'" said Nicol. "You open a drawer and you can see the letters from the show. And they're all the real thing. Nobody knew, viewers would not know, but that's how I found out my name was Beryl. I had a letter in one scene from my sister. The props manager gives me a letter and it goes, 'Dear Beryl,' and I go, 'Is that random or is that my name?' And they say, 'Yes, Julian says you're Beryl!'"
[caption id="attachment_13704107" align="aligncenter" width="702"]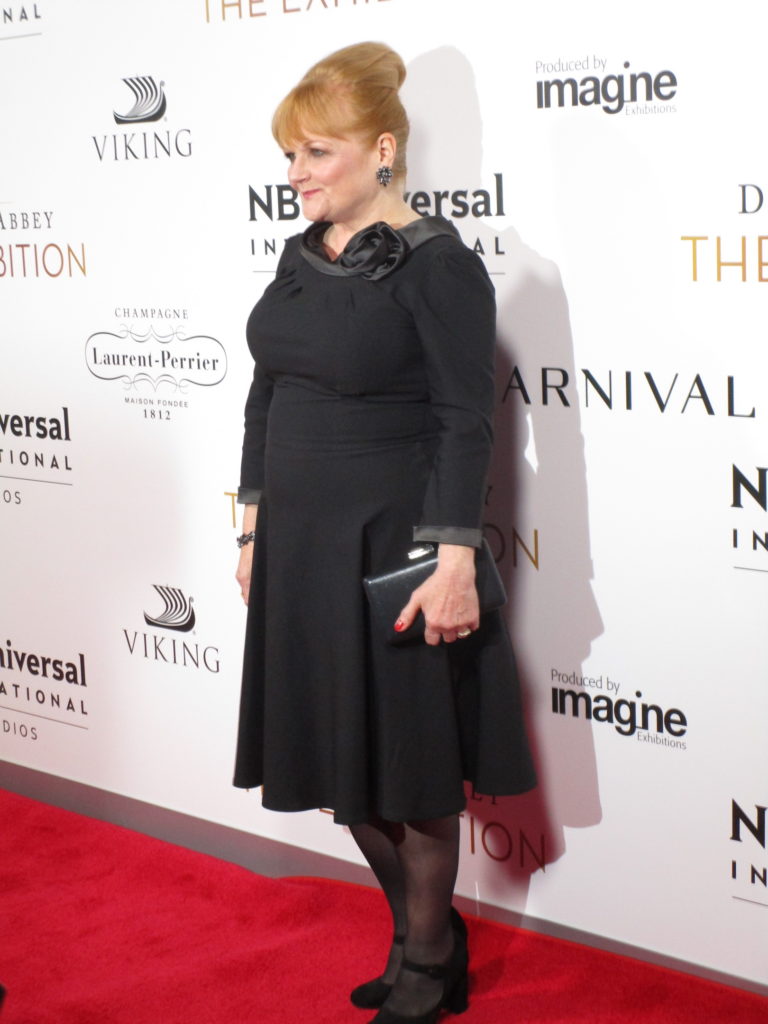 11
Leslie Nicol[/caption]
Froggatt was surprised to find Anna's arrest warrant for the first time on display. "I hadn't ever seen it before. That was given to Mr. Carson, I think, when the police came to arrest Anna. Little pieces that are all here."
[caption id="attachment_13704120" align="aligncenter" width="702"]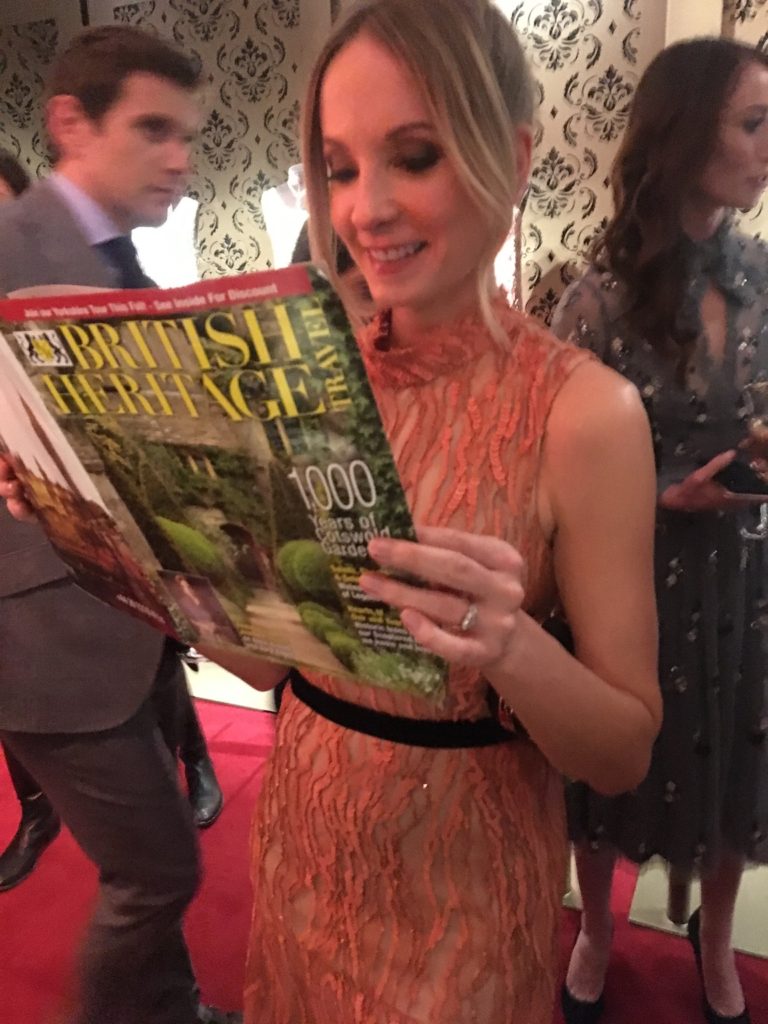 11
Joanne Froggatt reading BHT with co-star Allen Leech passing by.[/caption]
Allen Leech (Tom Branson) told us that the dining room, glittering with all the precious silverware in place, gave him "the sweats." (A video hologram of Mr. Carson, played by Jim Carter, gently warns visitors about sticky fingers: "One note: I do keep a very strict inventory.")
"Whenever we had a scene in the dining room, it meant you were in there for forty-eight hours straight. Saying the same thing, watching that piece of food, whatever was edible originally, slowly melt into the lights," said Leech. He was also impressed with the show's technology, including a CGI room that "gives people a real sense of the house, and I really got that feeling again."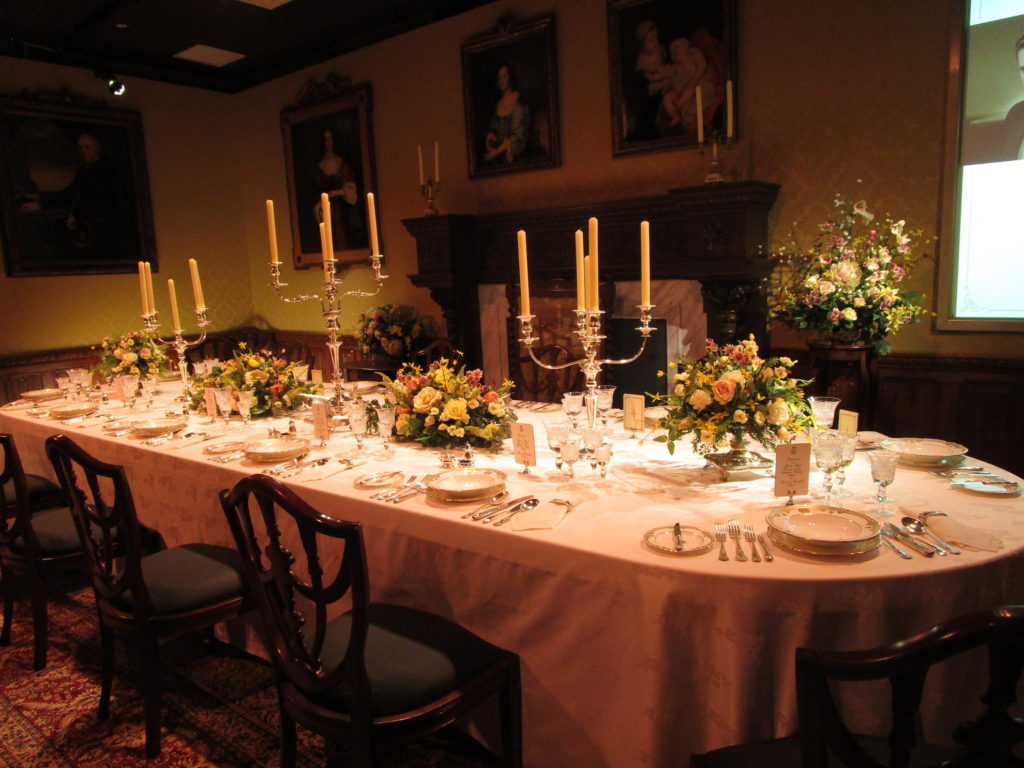 11
The same experts who built the show came together again for this immersive, entertaining history lesson. "Anna Robbins, who looked after all the costumes for series five and six; Donal Woods, who has overseen all of our art design, was responsible for the same for the TV series. Even all of the historical content—and there's a lot throughout—has been approved and, in many cases, written by Alastair Bruce, Downton Abbey's historical adviser," explains Dominic Burns, director of the exhibition, who gave BHT a personal tour.
As you enter, after a short video welcome from Downton creator Sir Julian Fellowes, you're greeted by your own electronic docent—a resonant voice every fan will remember: "My lords, ladies and gentlemen, a very good day to you. My name is Carson, though you may call me Mr. Carson. Now you are cordially invited to explore the world of Downton Abbey, both above stairs and below."
[caption id="attachment_13704102" align="aligncenter" width="702"]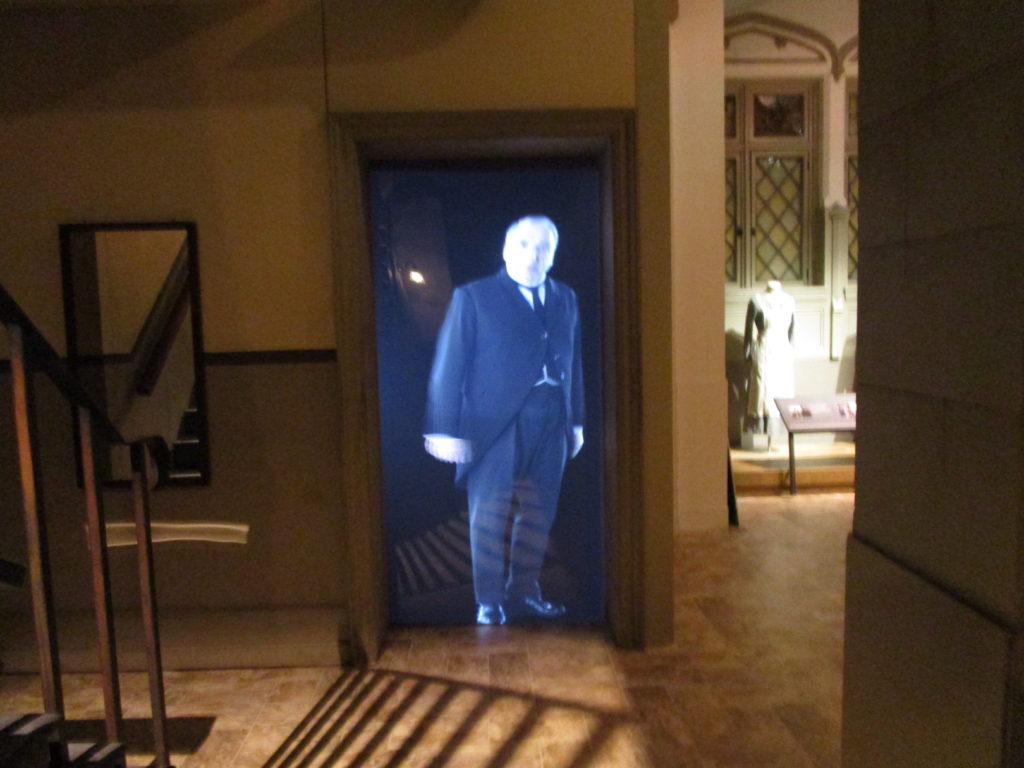 11
The hologram of Mr. Carson is watching you![/caption]
Past the servants' quarters are the kitchens, the servants' dining room, the aforementioned bedrooms, "upstairs" dining rooms and more. Each section brings a certain surreal feeling—of being thrown back a hundred years into the past, a fictitious setting you know so well, while videos of Mr. Carson and others guide you—like the dream of a well-researched historical fiction writer.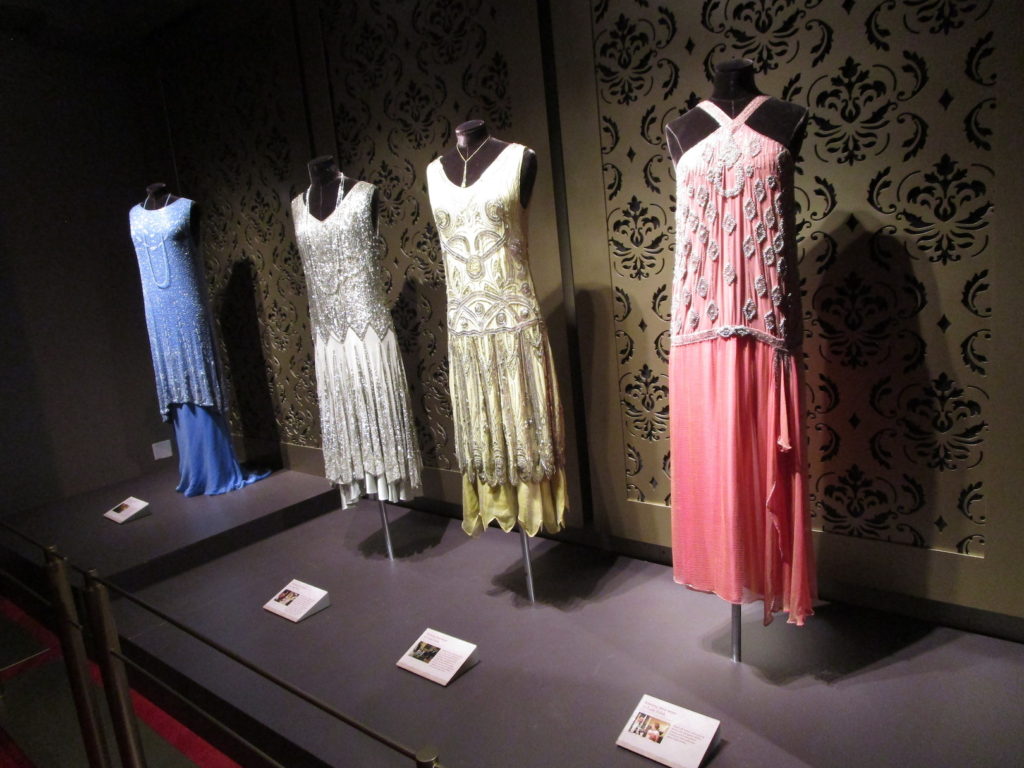 11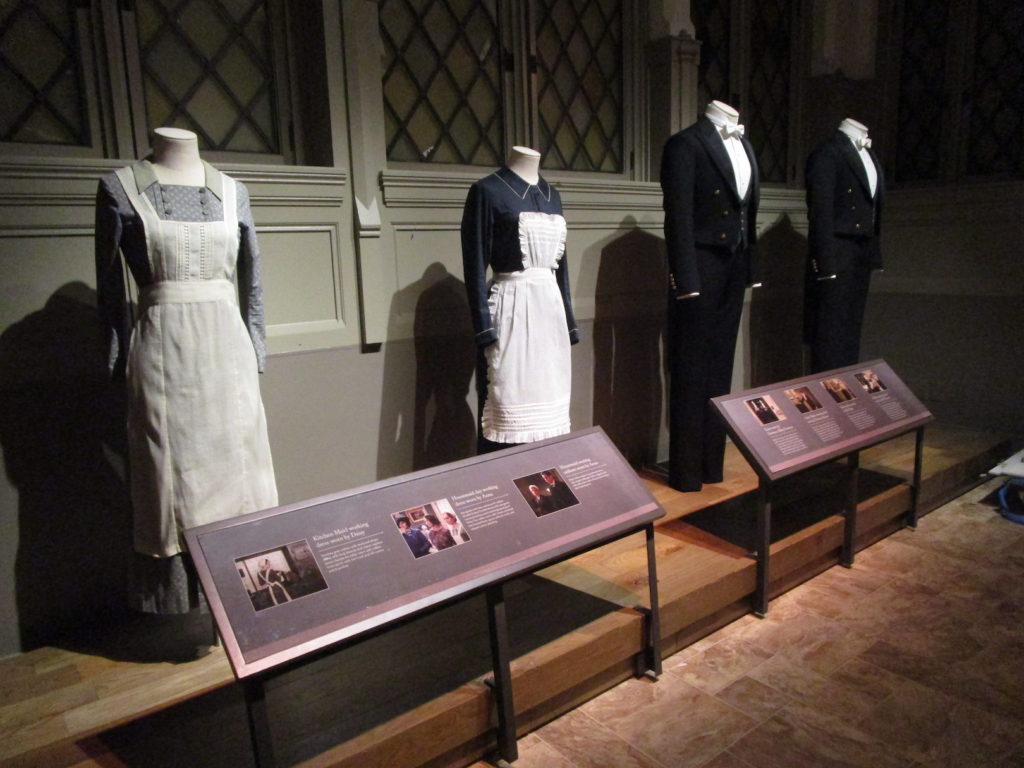 11
"We've tried to deliver some 'wow' factors, those extra elements," said Burns.
The flashy rooms filled with glamorous dresses and costumes will thrill anyone interested in the fashions. History buffs, however, are in for a special treat. Displays about the era, the history, the themes, the major events, just as Neame promised, expand on the context of the show, many with recordings. "You can hear Alastair Bruce all around when you pick up those receivers and listen to him speak," said Leech.
In the end, Lord and Lady Grantham (Hugh Bonneville and Elizabeth McGovern), Mr. Carson and the adorable Mrs. Hughes bid farewell to their guests in a final video installation. "Well, hello again, my lords, ladies and gentlemen. I do hope you have found everything of interest, both up here and in our more workaday setting downstairs," says the head housekeeper, played by Phyllis Logan.
That bit of time travel—seeing the texture of the Crawley home and life in the early 1900s--seemed to make fans and reporters even more desperate for new plot, dialogue and storylines. When will the movie come out? the cast was asked over and over. Sadly, they couldn't reveal much. "I feel so bad because everyone is going to say the same thing. We're all as clueless as you are," said McShera.
"I'll jump at the chance. People don't seem quite done with it, so we'll see," added Dockery, cautiously.
Nicol was more forthright—"I do know it's in development. We're allowed to say that. Whenever we're in a group, everyone says, 'Yes, I'd like to do that!' "—whereas Leech advised patience. "I'd love to be able to say right now that it's definitely happening. I have hope that by early next year we'll be able to say it." And Joanne Froggatt, hearing the same question for the umpteenth time, looked around for the show's executive producer with a smile and said, "Where is Gareth? You need to accost him. Please do! Because he's not listening to us!"
Until that grand premiere, Downton Abbey: The Exhbition will be the escape fans crave from our turbulent times—back to the Grantham ancestral home, a place and era that seems to forever entertain, comfort and soothe. Where else will you be able to smell Mrs. Patmore's cooking, hear the Dowager Countess' perfect zingers and be gently instructed by Mr. Carson about rules and customs? It's certainly the only place they'll be able to break the fourth wall and speak straight to you with a nod and a wink. "I confess that I'm slightly surprised by the clothes that some of you have decided to wear today," hologram Carson says a one point. Even fictional characters, it seems, prefer the late Edwardian era.
Find out more about Downton Abbey: The Exhibition, located at 218 W. 57 Street in New York City, by visiting downtonexhibition.com.