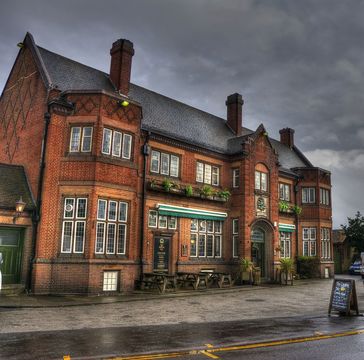 Try a Ploughman's, pie or pasta—informal and fresh, while pubs may not be available to us right now during the COVID pandemic it's fun to dream... right?!
From Lincolnshire bangers and mash with onion gravy at the Blue Bell Inn to a cheddar Ploughman's lunch with a pint of cider in the heart of Devon, traditional (and not so traditional) pub food is a serious component of Great British fare. Most British pubs serve up hearty pub grub at lunchtime and many in the evenings.
The range of pub foods has expanded considerably in the last generation, with fine-dining gastropubs adding a new dimension to traditional offerings down at the neighborhood local. Regional specialties show up on chalkboards and menus across the island too. You can't get a more authentic Cornish pasty than one in a Helston or St. Austell pub. (Those West Country beers make a perfect pairing.) In Shropshire, try fidget pie, rich with bacon and apple. On the coast from Aberdeen to Inverness, sample the delicately smoked haddock chowder known as cullen skink.
Read more: What is the British delicacy stewed cheese?
Across the island, most pubs proffer a bill of fare that incorporates both long-traditional British staples and the increased diversity of tastes that have entered the culture since the end of World War II.
Fish and chips. Chicken and chips. A ham sandwich with chips. Or even a bowl of chips. There is a theme here somewhere. That Ploughman's lunch has stoked field workers (and office workers) for generations. Add crusty rolls or farmhouse bread and butter to that chunk of cheddar or Stilton, or a slice of ham off the bone. Then accent with pickled onions, a bit of salad and fruit.
There'll always be a fresh soup of the day, sandwiches and baguettes. And a couple of classic pies—steak and ale, chicken and leek or a fish pie with haddock, salmon, and shrimp nestled in a cream sauce beneath the flaky crust—most often served with, yup, chips. Cottage pie (with beef) or shepherd's pie (with lamb) get their crust from the buttery mashed potato brown glazed on top.
Read more: A staple pub fare, tearooms, and kitchens everywhere - English Cheddar cheese
Less expected, but quite commonly, you'll find individually baked lasagna or pasta with bolognaise meat sauce on the menu. At least as often, look for a curry, either generic chicken curry or the popular Anglo-Indian chicken tikka masala served with nan bread or pappadoms and chutney.
On a cold winter day in front of the fire, pub fare makes rib-sticking comfort food against the British damp. On a sunny summer lunchtime in the beer garden, it fortifies equally well for the rigors of afternoon sightseeing! Anytime you need a restoring nibble, grab this classic British bar snack, or make it yourself.
Pickled eggs recipe
 Ingredients:
- 1 dozen eggs
- 1 quart cider vinegar
- 6 cloves
- 1 bay leaf
- 1 tablespoon peppercorns
Method
Hardboil and shell the eggs.
Add cloves, peppercorns, and bay leaf to vinegar in a 2-qt. pan.
Bring to a boil for a minute; set aside to cool.
Put eggs in a large glass jar, or split between jars with tight-fitting lids.
Pour the spiced vinegar over eggs to cover and refrigerate.
Eggs will be quite pickled after three days and will keep in the refrigerator for several weeks.
Read more: Hearty traditional favourite - mince and tatties recipe
* Originally published in May 2017.