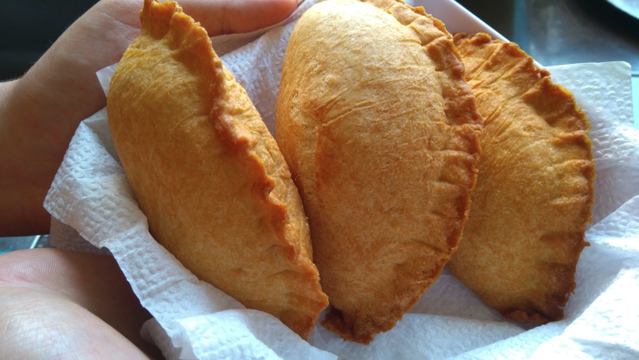 Pride in the Cornish pasty runs deep throughout Cornwall, so much so that they even have an annual Cornish Pasty Week!
* Originally published in Jan 2018.
The Cornish Pasty Week is an entire week dedicated to celebrating the county's most famous contribution to the culinary world. Organized by the Cornish Pasty Association, the festival features an array of activities, events and special offers, culminating in an annual World Pasty Championship. The competition attracts professional and amateur pasty makers from across Britain and the globe.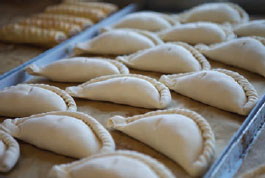 5
"It's fiercely contested, but in a way that's friendly," said Ruth Huxley, a representative of the Cornish Pasty Association and managing director of the organization Cornwall Food & Drink, back in 2018 when it first launched.
"It's a wonderful way of encouraging people to share in the culture and heritage that is so important to us here."
The Cornish pasty has come a long way since its humble origins when 19th-century tin miners shoved the baked meat-and-veg filled pastries prepared by their wives into their pockets before heading underground to work early in the morning. The portable snack likely remained warm until their break at 10 a.m., known as crib time (crib meaning a bite to eat in Cornish dialect), and the distinctive crimping around the curved side served as a handle for the miners to grasp with their dirty hands. Some say they would leave the uneaten crusts on ledges to feed the knockers, elfin creatures thought to live in the mines, although others argue that the workers never would have wasted valuable food and instead held the pasties wrapped in paper or muslin and ate every last scrap, according to Huxley.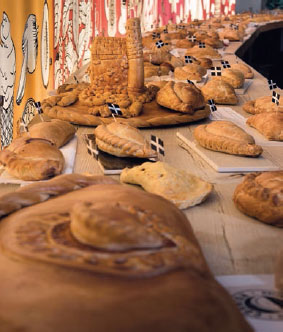 5
The pasties were traditionally filled with uncooked potatoes, onion, swede (turnip) and skirt beef before going into the oven. "It's a really tasty cut of meat, and if it has that long, slow cook inside the pastry with the other ingredients, then all those juices mingle together and produce their own gravy," said Huxley. "If they don't go in raw, and you use cooked meat or onions as you would in a pie, it tastes very different. That's one of the fundamentals of the Cornish pasty."
In more recent years, as the convenient, compact comfort food gained popularity around the country, many began selling "Cornish pasties" that had little in common with the genuine product. The Cornish Pasty Association was formed by a collective of Cornish pasty makers who were concerned about this trend and wanted to protect its authenticity. In 2011, the Cornish pasty was granted Protected Geographical Indication (PGI) status by the EU, and the association now administers this designation and helps ensure that the traditional recipe is up-held. Additionally, any product labeled a Cornish pasty must be made in Cornwall itself.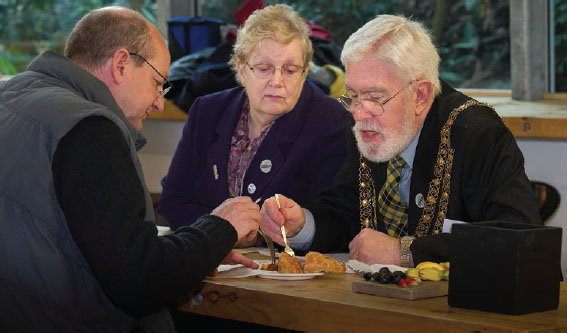 5
"There's a reason for protecting it—it's not just a question of local pride. It's quality control as well," said David Rowe, head of media relations for the Eden Project, the organization that hosts the World Pasty Championships. He added that the Cornish pasty's PGI status doesn't mean that experimentation is frowned upon. "We're not poker-faced about it! At the same bakeries in Cornwall where you can buy a Cornish pasty, you can get a chicken and cranberry pasty at Christmas, a gluten-free pasty, cheese and potato pasty, and many different varieties. The whole range exists very happily."
Contestants in the World Pasty Championships can compete in both the Cornish pasty categories, as well as the open savory categories, which allows for pasties with nontraditional or unusual fillings that have been made outside of Cornwall. "We're very inclusive. As long as it looks like a pasty and tastes like a pasty, you can enter our competition. One of our winners last year was a guy from Canada. We get a good mix of international, British and, of course, Cornish participants," said Rowe.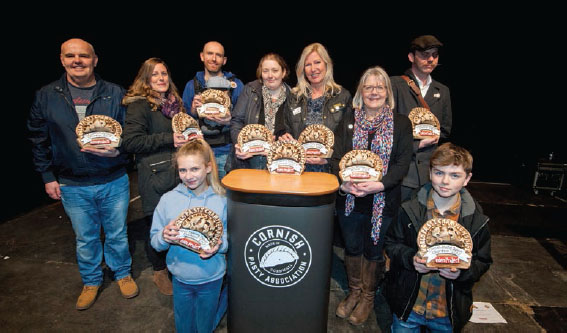 5
About 140 people compete in the championships, also known as the Oggy Oscars—oggy being another name for the pasty. A panel of judges scrutinizes the flavor, texture, and presentation of each entry, and winners are declared at the end of the day. A special award is also presented to a Pasty Ambassador, who receives a clay trophy shaped like a pasty. Last year around 4,000 people came to be a part of the day's festivities, and Rowe hopes that with the new Cornish Pasty Week preceding it, this year's championships will be the biggest and best yet.
"The pasty is not a giant on the world food map, but it's a giant on the Cornwall food map. I've eaten a few thousand in my lifetime," he laughed. "Certain foods around the world are synonymous with the place they come from—they embody them. You'd absolutely say that about the oggy."
* Originally published in Jan 2018.