Regular British Heritage readers are accustomed to following along on the editorial adventures that I customarily pursue in Britain for a fortnight spring and fall. There are always stories to be found and images to capture that make their way to our pages over several issues. Come on along, as I retraced the coast of Wales and got up to the Orkney Islands for the first time this autumn.

Day 1 – West to The Marches
The clouds glowered as I pulled out of Heathrow and caught the M4 heading west. By the time I got to Reading it was raining. That wasn't an auspicious start, but then rain is quite par for the course in mid-autumn. Just past Swindon, I pulled off at the service area for coffee and a stretch. It's about two and a half hours to the Severn Crossing from the M25.
My destination was Chepstow, right across the "old" Severn Bridge, and sitting on the border of Wales, just over the River Wye from Gloucestershire. It had been about eight years since I'd been to town. But, then, 1,000-year-old castles don't change a lot in a mere eight years these days, and that's Chepstow's biggest attraction.
Day 2 – On the Banks of the Wye
British Heritage
writer Sian Ellis and I rendezvoused for coffee this morning; she lives in a nearby valley farmhouse. Actually, we had cappuccino at the local Wether-spoon's pub, with talk of stories past and to come. Then, we drove a few miles up the valley to Tintern, so I could take pictures of famous Tintern Abbey—and for a lunch of Welsh rarebit at the Anchor Inn.
Later that afternoon, I drove over to Caerphilly to shoot pictures of Caerphilly Castle, and to meet up for supper with old friends, Norman and Carol Jarrett. Norm and I go back 20 years now—to when he was secretary of the Aber Valley Male Voice Choir. I rang him up and asked if I could visit rehearsal—chasing a story even then for
British Heritage
.
[caption id="FromtheBristolChanneltotheNorthernIsles_img2" align="alignright" width="524"]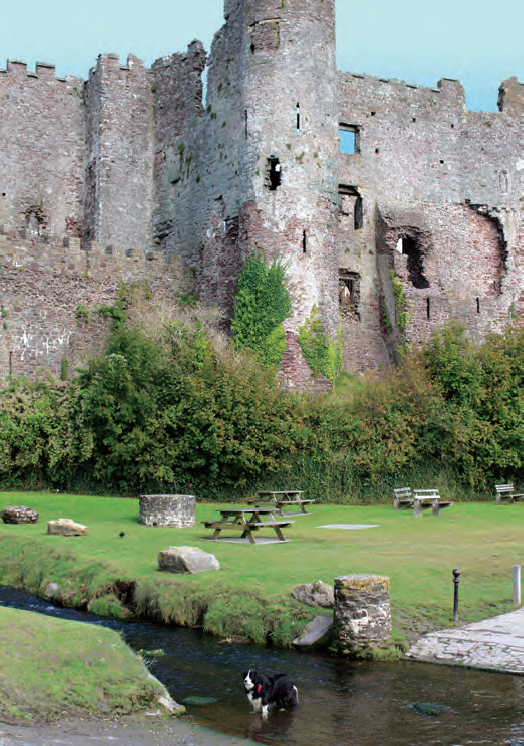 3
A center of Welsh rebellion from its 12th-century origins, Laugharne Castle was destroyed and rebuilt several times.
[/caption]
Day 3 – To Pembroke, the Little England Beyond Wales
This morning I headed West, under the Valleys and above Swansea (where the M4 runs out) to Carmarthenshire and on to Pembrokeshire. From Carmarthen, I detoured a few miles to the harbor village of Laugharne, home and resting place of Dylan Thomas—largely regarded as the great Welsh poet of the 20th century. Thomas maintained that he ended up in Laugharne by accident, "I took the bus in one day and forgot to leave." Much of his poetry as well as his iconic verse-play
Under Milk
Wood was written in a tin writing shed perched cliffside above the water, and above the boathouse where he lived with his daughter and wife Caitlin.
My overnight was the tidy harbor town of Tenby, perhaps South Wales' most popular beach-holiday destination, and with good reason. Broad, sandy beaches line the half-moon bay for well over a mile, while the compact town center huddles above the 100-foot cliff within medieval walls.
Day 4 – Along Wales Wild West Coast
Everyone in Wales knows that a dominant characteristic of the country is that there is no way to get between South Wales and North Wales. No motorway or proper highway of any kind connects them. From Tenby I traced the coast to Pembroke Dock, then crossed Pembrokeshire to the ferry port of Fishguard, and north along the coast of Cardigan Bay on the A487 to Aberystwyth. Any mapping is deceptive; the A designation for that route is purely honorary, and speeds average less than 40 mph along the winding, shoulderless rural road.
[caption id="FromtheBristolChanneltotheNorthernIsles_img3" align="aligncenter" width="325"]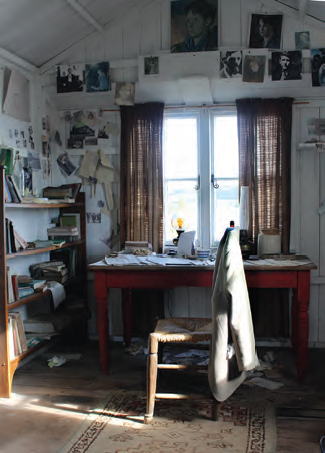 3
Dylan Thomas composed in a tin writing shed perched clifftop above the River Taf estuary.
[/caption]
Midway on Wales' coast, the town of Aberystwyth feels in the proverbial middle of nowhere. Nonetheless, the holiday destination on the Irish Sea (complete with classical pier) plays above its weight in importance to Wales. The town is evenly split, with a population of 10,000 doubled by 10,000 students at the University of Aberystwyth. Here is where you go to study Welsh history or the Welsh language. Aberystwyth houses as well the National Library of Wales, and you hear folk speaking Welsh on the streets.
Following the A487 north into the Snowdonia National Park, had I another couple of days, it would have been great to carry along the coast to Harlech, Porthmadog and Caernarvon—lovely towns all. With time limited, however, I turned across the peaks east of Mount Snowdon past the slate quarries and slag mounds of Blanaeu Ffestiniog. Before nightfall, I was ensconced at The Royal Oak in the forested mountain village of Betws-y-Coed, where the River Conwy turns north to the sea, and popular staging area for outdoor pursuits.

Day 5 – The Lush Vale of Conwy
Though the Vale of Conwy is short, it is loaded with history and attractions. I made my way north to Trefriw and its famous woolen mill (see p. 48) and then for Conwy on the river estuary. King Edward I built perhaps the most dramatic of his many medieval fortresses here, and surrounded the town in its shadows with walls that stand today. It is my favorite North Wales town, and I spent several hours revisiting with camera in hand. Then, I crossed the river to its eastern bank, and the most famous North Wales seaside resort town—Llandudno. The tidy beach town has a half-mile long pier, and enjoys a certain celebrity as the place where Lewis Carroll penned
Alice in Wonderland
.
Day 6 – Beware of Rugby Fans
Above Llandudno rises a dramatic headland known as Great Orme. Take a tram or gondola chairlift to the top. I drove. In addition to spectacular views over the River Conwy estuary, Great Orme has a cooper mine (oldest known in the world) dating from 2,500BC. Wear a hard hat. On the other side of the outcrop sits St. Tudno, a Celtic church dedicated to one of Wales' earliest saints.
It was time to turn East. I had a morning flight from Manchester, and figured to drive the couple of hours into that neighborhood for the night. Alas, I was blissfully oblivious that England was playing Uruguay in the Rugby World Cup in Manchester that evening. It took me three hours to find a place to stay; there was no room at the inn or anywhere else within 20 miles of Manchester. I ended up getting the last room at a Travelodge in Macclesfield, for which they extorted $165. Ah, travel is always an unexpected adventure.
Day 7 – Joining
Boudicca
My morning flight from Manchester airport carried me to Dublin, Ireland. At the bustling Port of Dublin, I caught the (relatively) small cruise ship
Boudicca
, heading through the Western Hebrides to the Orkney Islands. That adventure, however, is another story—a few pages further along. I jumped ship in Rosyth, across the Firth of Forth from Edinburgh five days later, and took the fast train to London. That was waking up in a different place 13 mornings in a row, which may be a personal record.