The scone: undoubtedly, the perfect Brit treat. "Other than red postboxes and the White Cliffs of Dover, I don't think there's anything more quintessentially British," jokes Sarah Clelland, author of The National Trust Book of Scones. Yet admirers of this wonderful cake-and-bread hybrid somehow still find reasons to quarrel.
"If you're born in Scotland, or the North, you say scone to rhyme with the word gone, but the further south you go, the more likely you're going to say it like the word bone. This debate has really been raging lately," she claims. (A survey this past fall found the UK to be pretty evenly split down the middle—with 51% of Brits preferring the first option.)
But all that is nothing compared to the greatest rift within the "scone world": Do you put the jam or the clotted cream on first? "That one is our civil war!" says Clelland. "People from Cornwall insist you add the jam first, and those who live in Devon believe it simply must be the cream. It is truly a minefield!"
Politics and phonetics aside, the author ultimately has one tip for anyone baking: "They must be fresh! Bake them, leave them to cool for maybe half an hour, then serve."
For those craving a sweet, fruit-filled version, Clelland suggests this recipe with apples and blackberries. "They add lovely flavors to the scone," she says, favoring the northern pronunciation. "I have to say it that way," she admits. "My dad is Scottish."
Blackberry and Apple Scones

Makes 10
Ingredients:
500g (18 oz.) self-rising flour
125g (5 oz.) soft brown sugar
1 teaspoon ground cinnamon
125g (5 oz.) salted butter, cubed
2 small apples, peeled and diced
175 ml (3/4 cup) milk
1 egg
125g (5 oz.) fresh or frozen blackberries
Method:
Preheat the oven to 375 degrees F. Line a baking sheet with parchment paper.
Sift the flour, sugar and cinnamon into a mixing bowl, add the butter and rub in until it resembles fine crumbs. Add the diced apples and mix briefly to distribute them evenly.
Pour the milk into a jug, crack in the egg and stir to mix. Make a well in the center of the dry ingredients and gradually pour in the liquid, adding enough to draw all the mixture into a damp dough, but not enough to make it sloppy and wet.
Add the blackberries and sift through gently.
Turn out onto a lightly floured surface and roll out to about 3 centimeters (or a little more than an inch) thick. Stamp out using a 3-inch round fluted cutter and place on the baking sheet. Gently knead the trimming together, re-roll and stamp out more rounds.
Bake for 15 to 20 minutes, until risen and springy to the touch. Transfer to a wire rack to cool slightly. Serve warm with blackcurrant jam and clotted cream. (Choose the order wisely!)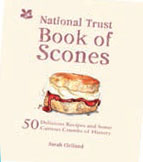 6

The National Trust Book of Scones: 50 Delicious Recipes and Some Curious Crumbs of History goes on sale July 1.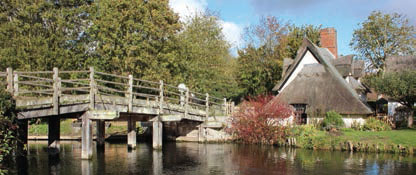 6
Clelland's favorite place to enjoy this particular scone is the Flatford Bridge Cottage in Suffolk. A 16th-century thatched cottage by the River Stour, it appears in a few paintings by local lad John Constable. But that's not the only reason to visit. "They grow the fruit for their scones right there," Clelland says. "They use the blackberry bushes and apple trees from right outside the tearoom."
Almond-Topped Apricot Cake

If you'd like to accompany your cuppa with a somewhat more decadent dessert, tea expert Jane Pettigrew (who has written 15 book on tea) offers this recipe from Petworth House in West Sussex—the great manor house famous for its art collection. "There's also a very nice tearoom there," Pettigrew adds.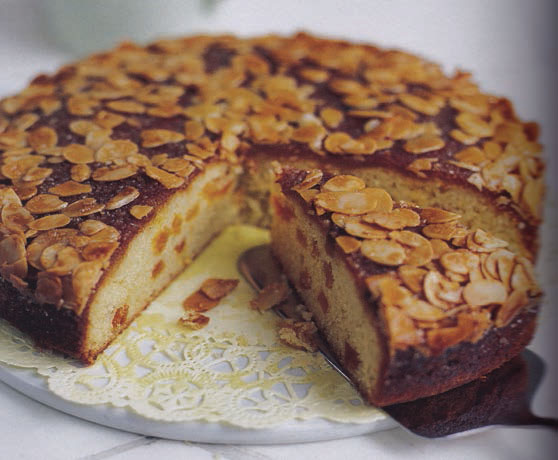 6
"It's a cake that marries well with the teas we love in Britain," she says. "It goes really well with those strong black teas; it goes very well with an Assam." For those wondering about the basic principles of pairing, start by complementing powerfully flavored foods with equally powerful teas. "It's a bit like wine drinking that way," Pettigew explains.
Almond-Topped Apricot Cake

Ingredients:
For the cake:
175g (6 oz.) butter, softened
175g (6 oz.) caster (or superfine) sugar
3 eggs
175g (6 oz.) self-rising flour, sifted
75g (3 oz.) ground almonds
100g (4 oz.) ready-to-use dried apricots, chopped
For the topping:
50g (2 oz.) butter
50g (2 oz.) demerara sugar (or substitute light brown sugar)
1 tablespoon of golden syrup
50g (2 oz.) flaked almonds
Method:
Preheat the oven to 350 degrees F. Grease and base-line a 9-inch loose-bottomed round tin. Beat together the butter and sugar until light and fluffy. Beat in the eggs one at a time, adding a tablespoon of flour with each. Fold in the remaining flour, the ground almonds and the apricots and mix well. Turn into the prepared tin and bake for 40 minutes. Meanwhile prepare the topping. In a small pan, mix together the butter, sugar and syrup and heat gently until the sugar dissolves. Remove from the heat and stir in the almonds. When the 40 minutes cooking time is up, remove the cake from the oven and spoon the topping over. Return to the oven and bake for a further 10 to 15 minutes, until golden brown. Remove from the oven and leave to cool in the tin.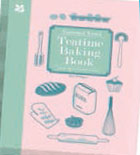 6
This recipe appears in National Trust Teatime Baking Book: Good Old-Fashioned Recipes by Jane Pettigrew.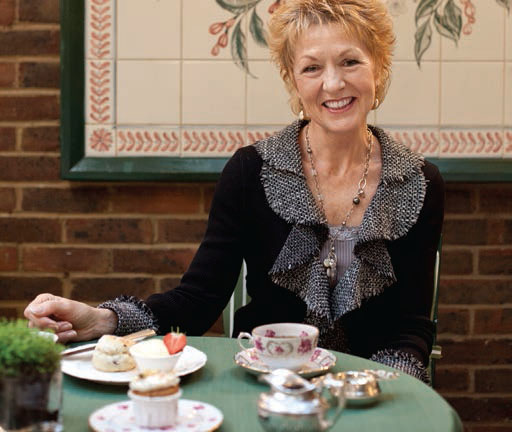 6
We asked tea historian Jane Pettigrew how Brits came to love tea more than just about anyone. "During the 17th century, most European countries were drinking tea. Then everybody except Britain went down the coffee route, but we stayed with tea," she says. "The East India Company had a monopoly on the trading of tea, so they made sure that the supply came here. Also, coffee was transported into Europe through the South, up through France, and through the 17th, 18th and 19th centuries, Europe was ridden by all sorts of wars. Tea, which came around the coast, was on a very safe route."