[caption id="GinGoblinsChocoholicsandFaberge_img1" align="aligncenter" width="113"]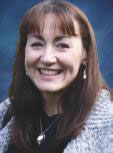 5
[/caption]
[caption id="GinGoblinsChocoholicsandFaberge_img2" align="aligncenter" width="683"]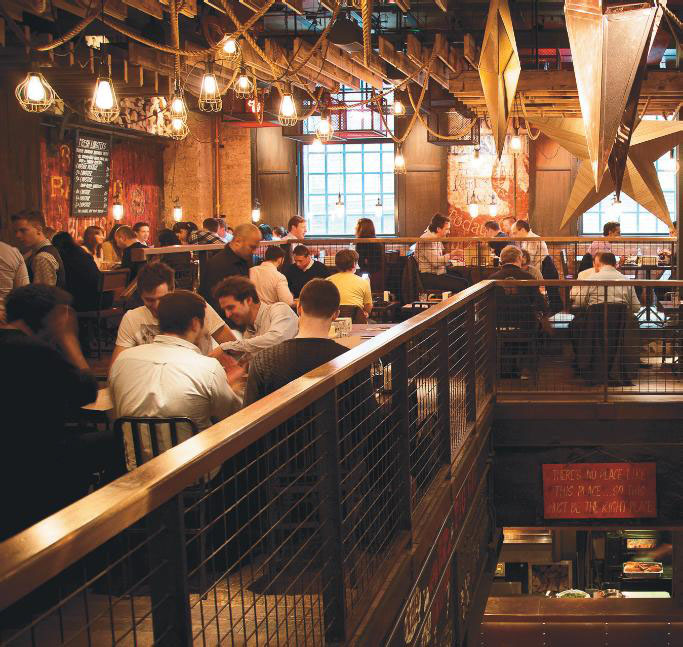 5
BIG EASY
[/caption]
THIS MONTH HAS BEEN one of surprises and unexpected delights. I've gone along to events expecting one thing and found something completely different.
Take the new Big Easy burger restaurant, for example. A pal and I visited of a Monday evening, expecting a new eaterie in a Covent Garden backstreet to be empty. We were staggered to find the Maiden Lane ex-warehouse, converted into a New Orleans-style roadhouse, absolutely packed. Every table taken, a queue out of the door, the bar heaving and a band in the basement pounding out the kind of music to get hot and sweaty to. The food is, as you might expect, the kind of fare a homesick American might pine for (of course I'm sure no British Heritage readers are ever homesick when visiting Blighty). Lobster bakes, Hush Puppies, BBQ ribs, burgers—good ol' boys' fare—but this is a place for socializing rather than fine dining. Large groups of happy people enjoying each other's company before a night on the town. Even, it would seem, on a Monday.
JUST AFTER THE WAR, hundreds of families made homeless by the Blitz were moved into temporary prefabricated bungalows. They were not beautiful, a cross between holiday camp and caravan park, but they were carefully designed to give maximum light, space and comfort for least cash. My mum remembers being jealous of the kids in prefabs: they had previously unheard-of luxuries like central heating, indoor loos and fridges. They're nearly all gone now, but the residents of the Excalibur Estate in South London are flying in the face of a council who wants to tear it down for tower blocks.
It's the usual stand-off. Half the residents can't wait to get out, the other half are digging in while the bulldozers rev their engines. The fight is nearly over, but for a last few months prefab enthusiasts are conducting guided tours round the estate's strange combination of half immaculately-tended garden and eccentric customization, the other half abandoned and shut. One of the prefabs, complete with the Meridian Line going straight through its front room, is open as a temporary museum. It's one of the most unusual visits to be had in the city. I went with my friend Paul who, to the age of 6, lived in a prefab. Watching his face as we walked around this almost-forgotten piece of social history convinced me the council should at least keep some memory of it. What has been saved, is the charming prefabricated St. Mark's Church, whose concrete flying buttresses still perform the task of medieval stone cathedrals—keeping the whole thing up.
YOU'D BE HARD-PRESSED to find buildings less prefab-like than on Chocolate Ecstasy's tasting tour in Mayfair. Over a cup of creamy hot chocolate in Conduit Street, Chocolate Ecstasy's founder, Jennifer Earle, talked our small group through the history and production of fine chocolate and gave us a quick lesson on how to taste it before allowing us on a walk through a century's worth of chocolate history. Gorgeous, intense chocolate truffles first invented in the 19th century by Prestat's French émigré founders. Rich fruit creams in England's goldest chocolatier Charbonnel et Walker. Nuts roasted in-house at new Piccadilly chocolate shop Carpo. The quirky crunch of chocolate-coated coffee beans in a reinvented East India Company in Conduit Street. Then the twist—the extraordinary work of maverick chocolatier Paul Young, pushing the candy envelope to its limits with bizarre, yet perfectly balanced creations involving ingredients such as port & stilton and—heavens—Marmite. This is chocolate tasting at its most extreme, yes, but a real treat for the adventurous.
[caption id="GinGoblinsChocoholicsandFaberge_img3" align="aligncenter" width="328"]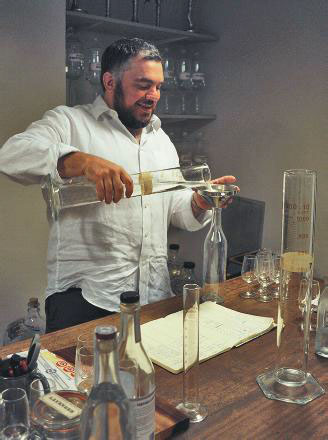 5
[/caption]
For More Information
Wartski
www.wartski.com
Big Easy
www.bigeasy.co.uk
Chocolate tasting tour
www.chocolateecstasytours.com
Excalibur Estate
www.facebook.com/PalacesForThePeople
Venice Preserv'd
www.thespectatorsguild.org
Gin blending
www.ginstitutelondon.com
[caption id="GinGoblinsChocoholicsandFaberge_img4" align="alignright" width="325"]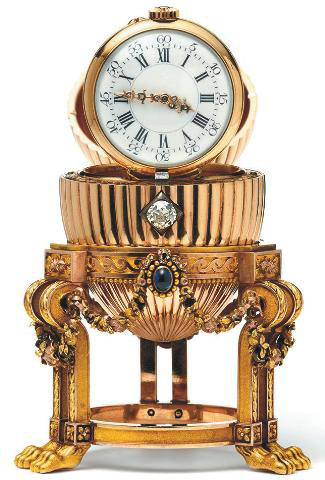 5
FABERGÉ EGG
[/caption]
SECRET CINEMA, which I've written about before—site-specific movies, where the audience becomes part of the action on-screen—is always a surprise. That Secret Cinema alumni have a hand in London's latest immersive theater venture is not a surprise, though practically everything else is. The Spectator's Guild's choice of play: little-known Restoration tragedy Venice Preserv'd by Thomas Otway. The venue: a newly redeveloped but as yet empty riverside warehouse in Deptford. The setting: Venetian carnival. As with Secret Cinema we met at the prow of the Cutty Sark in Greenwich, to became part of a procession of commedia de I'arte actors, musicians and clowns, before ourselves being cloaked in red satin for a promenade performance in a dark, dangerous, 17th century "Venice." My biggest surprise was the clarity of the text. When I got home I actually looked up the script to find that it was as "modern" as it had sounded. There appear to have been lascivious old fools who called their mistresses "Nicky-Nacky" even then.
GIN IS MASSIVE just now. Just a couple of years ago, there was only London Dry Gin distillery left in the capital (Beefeater), but they're suddenly fashionable again and they're springing up everywhere. When I signed up for a gin-blending evening at the new Portobello Road Gin company's "Ginstitute," I was expecting to learn to mix a few cocktails. Instead, we took a crash course in the drink's troubled history over a G&T before each creating our own unique bottle to take home. I was very taken with the names the old gin palaces gave to their (generally highly toxic) brews—The Celebrated Butter Gin, The Regular Flare-Up, The No Mistake and my own particular favorite, The Real Knock-Me-Down. Taking the basic spirit, produced on site, we learned about the botanicals that give London gin its flavor, testing the raw ingredients—from juniper, mace and coriander to wormwood, heather and bitter orange—and tasting their distillates before making our choices. Gin-instructor Jake Burger guided each of us with combinations and amounts. But the final choice was down to us. In homage to the old gin palaces I called mine "At Your Own Risk."
A word to the wise—this is a very popular workshop. If you fancy blending your own bottle of London Dry Gin, do book as far ahead as possible.
FEW OF US HAVE EVER discovered that we bought a priceless Fabergé Easter egg at a garage sale. After the Russian Royal family's spectacular fall, the extraordinary series of 50 Fabergé Easter eggs commissioned by the Tsar for his Empress fell into the hands of the Bolsheviks. Forty-two were sold, five were destroyed and three just disappeared. Then a chap picked up a gold trinket at a flea market in the American Midwest, intending to resell it for scrap. Idly browsing the internet, however, he noticed his gold geegaw looked a lot like one of the lost Imperial Fabergé eggs. No, surely not. He got onto a plane for the UK, strolled into a Mayfair jewelers and thrust a photograph under the nose of a flabbergasted Kieran McCarthy, director of Wartski and world Fabergé expert. It has just sold for "an undisclosed sum." Before it disappeared into a private collection, the egg went on display for four days, and Kieran McCarthy himself showed me the tiny, surprisingly understated jewel. It was indeed a marvel, but for me the joy was in seeing McCarthy's delight: the perfect example of an expert's passion.
If you're wondering about the other two lost eggs, they're the 1889 Necessaire Egg (heavily-chased gold set with gem-stones) and the 1888 Cherub Egg (a golden egg in a chariot drawn by a cherub). Keep your eyes peeled, folks.