Winston Churchill Called It "The Good Companions;" We Call It Delicious
THE LONG BELOVED national dish, fish & chips, does not have the ancient antecedents one would imagine for an island nation. The beer-battered and fried flaky white cod, haddock, plaice or skate with its accompanying thick cuts of fried white potatoes, all toasty and wrapped up in newspaper, have been national treasures for really only two centuries.
While there is evidence of fried fish during the Roman Britain era, this recipe didn't really start spreading in popularity until the 1500s, when Jewish immigrants fleeing Spain and Portugal brought their taste for fried fish with them. During the Industrial Revolution, large-scale fish trawling in the North Sea transformed fish and chips into a common, affordable dish for the working classes. According to John Walton's Fish and Chips and the Working Class, storefronts began serving the crispy delight in the 1860s.
Here are five standout London chippies to visit. In the meantime, fry up your own version tonight with this classic recipe.

TRADITIONAL FISH & CHIPS
Easy and quick, this recipe is perfect for a weeknight dinner—even if you don't eat it on rolled-up newspaper. Back in the day, beef dripping or lard was used, but a light vegetable oil is a perfect substitute.
Makes 4 Servings
Ingredients:
Sunflower or peanut oil, for deep-frying 8 oz. white fish fillets
Sea salt and freshly ground pepper
8 oz. all-purpose flour, plus extra for dusting
3 tsp. baking powder
10 oz. beer
2 lbs. potatoes, peeled and sliced lengthwise into chip shapes
1. In a large frying pan or deep fat fryer, heat the oil until it reaches 375°F. Meantime, also fill a large pot of salted water and bring to a boil over high heat.
2. Season the fish with salt and pepper. In a medium bowl, combine the flour, baking powder and beer until well mixed.
3. Dip the fish, one by one, into the batter, allowing the excess to drip off. Gently add to the hot oil and cook each, one by one if necessary, for 4 minutes or so, until the batter is golden and crisp. Set down on paper towels to drain.
4. As the fish is cooking, add the potatoes to the boiling water and cook for about 5 minutes until just tender; drain on paper towels.
5. Fry the potatoes in the oil that the fish were cooked in until golden and crisp, about 4 minutes. Drain again, season with salt and serve with the fish.
FIVE SWIMMINGLY GOOD CHIPPIES IN LONDON
THERE ARE upwards of 400 chippies in London alone, down dramatically from the early 20th century when you couldn't swing a haddock without hitting one. Here are some stellar plaices, we mean places…
Open since 1871, London's oldest fish and chips spot, ideally located in Covent Garden, offers the classic method just right.
Olley's
Named after Oliver Twist, this adorable spot has an old-fashioned vibe, but a 21st-century sensibility as it serves only sustainable fish.
The Fryer's Delight
Old school and super casual, this decades-old spot is a favorite of cabbies and couturiers alike for its inexpensive and fast service. No website;
19 Theobalds Rd.
Vintage Salt
Come for the haddock, stay for the rhubarb and custard sundae at this little spot near the London Wall opened up by former Ivy chef Des McDonald.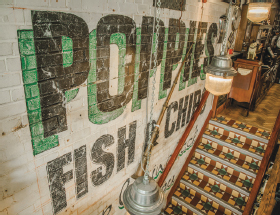 2
Poppie's Fish & Chips
Begun in the 1950s, Poppie's is highly popular with locals for its retro look and delicious light cod and haddock.